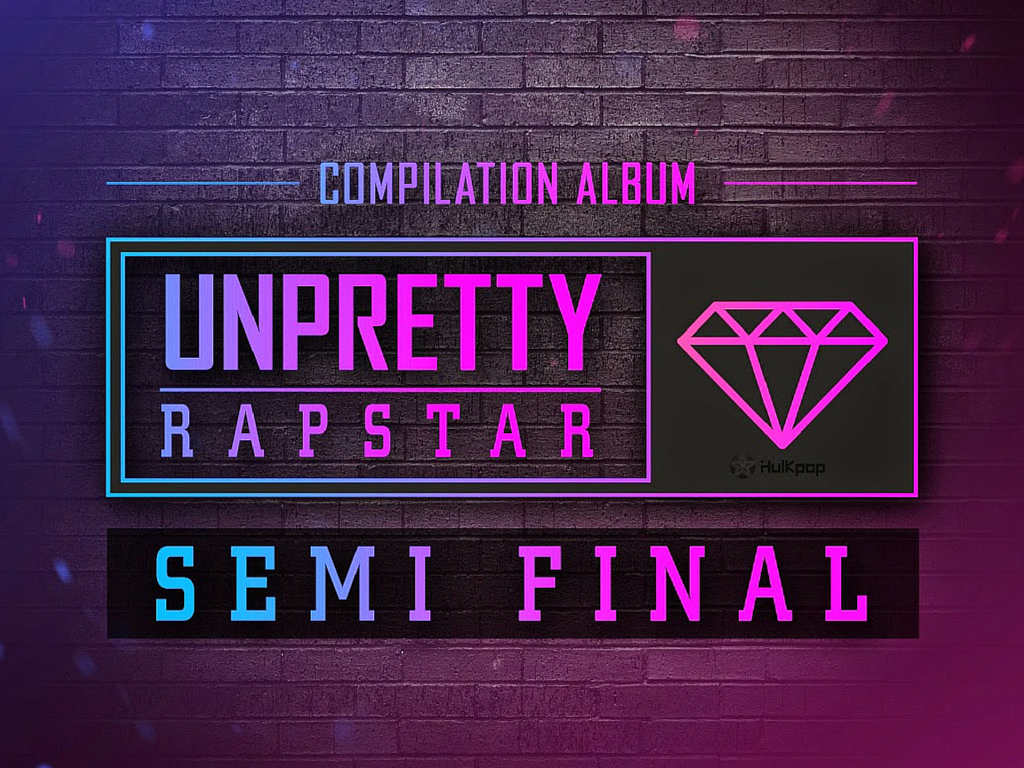 I'm going to start this review off with saying that I have watched none of Unpretty Rapstar, so I may not be in the best position to really speculate on the outcome of the show. But after watching a couple of the raps, I felt compelled to listen to them all. What followed were four blistering tracks showing a great range in emotion and tone but all were personal for better or worse. I'm trying to look at these in a purely musical way ignoring the troubling mechanics of the show in order to get a better grasp of these girls as rappers. If we do that, then the show can turn out to be a force for good in giving some of these smaller female rappers a stage to shine on.
The semi final was split up into two rap battles, one between Cheetah and Jimin, the other between Jessi and Jolly V. These were less rap battles and more match ups, as they just performed one after the other.
Cheetah Coma 07
Rap does many things very well like boasting, dissing, and partying, but for me it works best with personal statements. This is what Cheetah delivers with Coma 07, a song about her experience being in a coma. It's not everyday you get to hear someone rapping about this, but Cheetah uses it to tell us of her incredible strength in a more typical rap fashion.
The track is a raucous but straightforward enough piece of EDM to give the lyrics centre stage. It includes a beeping line throughout which acts as a heart monitor constantly following Cheetah's every move. The music is a slave to her, every time she rises in speed and emotion it rises with her. She's in total control not only of the music but of her life.
This is completely crazy, whatever you say, I'm a god here.
It all comes together to create a boast track into something bigger than what we're used to. Cheetah is showing her vulnerable side but explains this is what makes her strong. The emotion she displayed on stage authenticates this; it is clearly a big moment of her life and she uses her body and voice to communicate this.
I'll become a living legend, the miracle everyone's looking for is right here, just look at me
---
---
Jimin ft. Iron Puss
Like most people, I was skeptical about Jimin's real quality. With Puss, however, she has proved to many that there is more to her than an idol rapper. She blasted onto stage with this dubstep track that perfectly suited her new style. Her opening rap is startlingly impressive, hitting speeds most rappers would kill for. Not only this, she had the ability to transition straight into a little dance sequence. That transition was one of the moments of the semi final and Jimin's charisma was undeniable. The crowd loves her and she loves them.
After that though, the song falls flat on its own. Iron comes along and does his thing excellently, but Jimin becomes a supporting player to him. As a song, this does not necessarily hurt it too much. But in the context of a competition, it seems a strange choice. The lyrics as well don't hold up, especially following Cheetah. They again are about how great the rapper is but offer nothing new like Cheetah. They don't even feel like Jimin's own words as she talks about popping champagne. I do like the line about stealing money from uncles though, damn those uncle fans.
Jessi Unpretty Dreams
The first thing I thought of when listening to Jessi was Yoon Mirae. Not only does her voice and delivery sound similar but also the use of singing and strings sounds like it could come from a Drunken Tiger track. Sounding like the queen of Korean rap could be a blessing and a curse for Jessi. It makes her automatically listenable but she could also be forgotten as a mere clone.
The song itself is the most complex of the four. It mixes a lowkey R&B beat with interjections of strings and a looping electro sound at the end. Jessi herself also shows a great vocal range with her strong raps and beautiful soulful voice. She comes off as a complete artist, someone who is ready for the limelight.
This is reflected in the lyrics. ''I needed a chance, the end of my wandering''. She's angry about those that stabbed her in the back but remains resolute in her dream. It comes across as less a boastful track and more a sincere outpouring of the heart. She says she's ready and that music is her life, but is this enough for her to stand out? The sincerity feels true but it doesn't lift the song above any other one similar to it. Jessi doesn't offer any real reason for us to see her as anything more than a Yoon Mirae clone.
---
---
Jolly V It's Alright
The final track from Jolly V, It's Alright, once again features a simple hip-hop beat in order to focus on the vocals. It tells of her moving to Korea from the US and the difficulty she had in the process. It's an interesting look into a sort of existential crisis of the young woman. In a rap world of constantly boasting people, it plays like an honest and different look at how rappers truly feel. Her struggle is a common one but she sees light in it all, as long as you're doing what you want you can be happy.
The live performance of this is by far the best version. The official track lacks any emotion or vocal range and becomes hard to listen to after a minute. She raps the verses and sings the chorus in basically the same register, letting the song drift by her. It all builds to a layered chorus of her voice that falls flat along with everything else. On stage, she brings it hard. The song is allowed to soar as she does. The details of it are exposed and it is so much the better for it.
Verdict

Each of the girls showcased great quality here. The rapping ability of them all is unquestionably good and they have shown they can all perform on the stage. They do not all, however, show us something more than an average rap song. Jimin has charisma for days, but is not ready to stand on her own as an artist. Jessi shows incredible craft, yet little discernible features. Jolly V relished the live stage but fell flat on track. Cheetah is the only one of the girls who, for me, created something of real greatness. Matching vulnerability with power, musical simplicity with lyrical density and a huge amount of raw emotion; Cheetah was a true artist on that stage.
What do you think of these four songs? Who do you think will win the show? Share your thoughts in the comment section below and be sure to subscribe to the site and follow us on Facebook, Twitter, Instagram, and Tumblr to keep up with all of our posts.
https://kultscene.com/wp-content/uploads/2015/03/Unpretty-Rapstar-Semi-Final.png
768
1024
Joe Palmer
http://kultscene.com/wp-content/uploads/2018/02/KULTSCENE-LOGO-2018-TRANSPARENT-RED.png
Joe Palmer
2015-03-23 18:43:54
2015-04-20 04:26:12
Unpretty Rapstar: Semi-Final Review