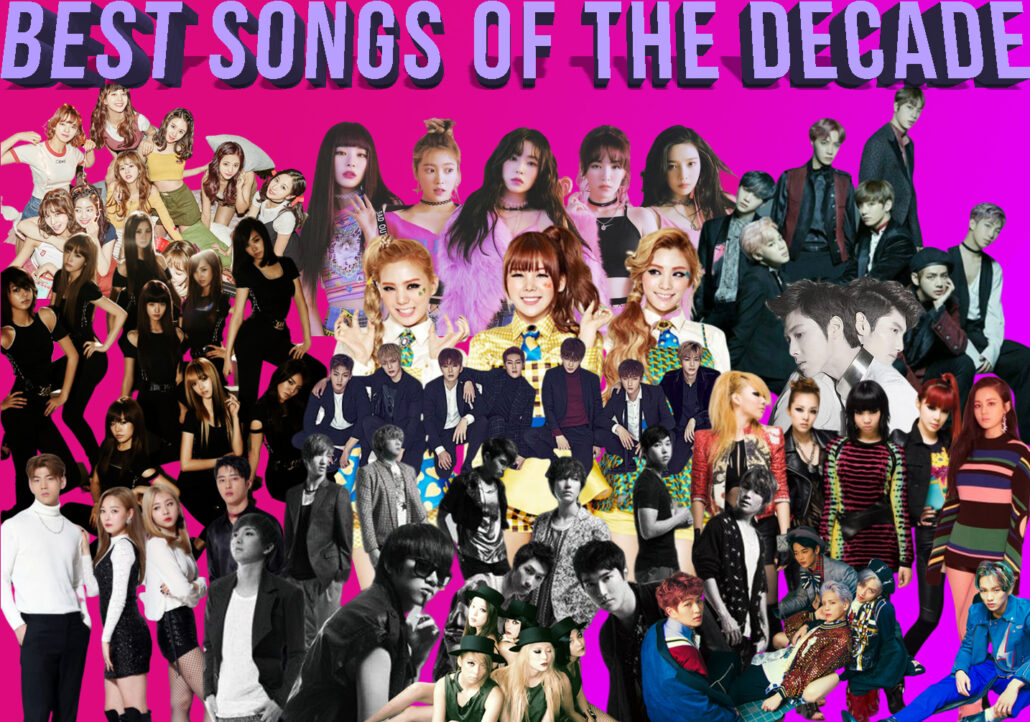 The last 10 years in K-pop have been monumental —we've experienced the highest of highs to the lowest of lows. Music-wise, the 2010s gave us a myriad of different Frankenstein monster-like songs that only K-pop fans can love. The soundscape experienced many shifts, going from the electropop productions that made the late aughts great, to the transition into EDM, then there was that weird dubstep phase we prefer to forget, to the dark deep house stuff all the male groups are playing with nowadays.
As K-pop reached a wider global audience and more and more acts emerged, The K-pop Sound evolved and ushered in an age of diversification, where nothing was off limits or too crazy.
To celebrate all the amazing music that the 2010s brought us, the KultScene staff came up with the 100 best songs of the decade. We're not focusing on impact involving numbers, but on the lasting impressions these songs had on the public. Or, you know, just whatever we liked for the past 10 years.
100. "A" by Rainbow, 2010
Rainbow kickstarted this decade with the relentless sonic force that is "A." Surf guitars propel the song's double chorus while horns boom throughout to hold down the rhythm. All this gleeful energy helped to build Rainbow into a group of unending fun for a decade that sorely needed them.
— Joe
99. "Sixth Sense" by Brown Eyed Girls, 2011
Brown Eyed Girls threw themselves onto "Sixth Sense." The rolling orchestra is constantly tempting them further, pushing their bodies and voices to the limit. They are a match for every moment, not once relenting but embracing this sense that is "more than emotion."

— Joe
98. "Shampoo" by After School, 2011
The original, and still best, melancholic K-pop house banger, the delicate balance of Daishi Dance's twinkling pianos and fuzzy synths alongside the punchy vocals and legendary performance of After School, is unmatched to this day.

— Joe
4Minute's venture into experimenting with more traditional hip-hop sounds was, of course, a bubbly Brave Brothers production, following the success Hyuna had with her solo "Ice Cream" just the year before. It marked a transition in the group's emphasis, centering Hyuna's rap verses in every single until their ultimate disbandment. "What's Your Name?," with its inoffensive and fun electronic hip-hop, sounds and looks like what every innocent, girl crush-lite girl group is doing nowadays.

— Alexis
Perhaps because it is often eclipsed by Taeyang's other single "Wedding Dress" off of his first studio album Solar, people often forget that "I Need a Girl" was actually its head song in charge. Everything we love about him is there — the R&B influence, his steady falsettos, the thirsty lyrics. A playful rap featuring from fellow Big Bang member G-Dragon is always a plus, too.

— Shelley
Covered in neon lights and projections of fireworks, Chung Ha sings of newfound love with a certain electricity. "Rollercoaster" pulsates with energy, like a beating heart full of excitement and nerves. Her vocals are tender yet commanding, "ooh ahh"-ing and riffing through the choruses with the fragile confidence of getting closer to a lover. Dropping one of 2018's catchiest songs, Chung Ha would hit her stride on this track, leaping to new heights as I.O.I's first solo alumnus. As 2020 approaches, "Rollercoaster" not only recalls Chung Ha's biggest hit, but also describes the craziness of the years ahead of her as her star continues to brighten.

— Kushal
To f(x), love is a shower in technicolor lights, a glare in your eyes as the sun hits your face, a geometric structure whose insides are impossible to navigate. "4 Walls" itself is a metaphor, but the track evokes new ones in your head as you listen and imagine. A trance-pop number with electronic dance fusions, the song is as catchy as it is ethereal and shiny. It's almost as if someone took the glimmer of a sun-lit lake, or the clear starry sky and put it to a melody for Luna, Victoria, Krystal, and Amber to sing. And it lingers in our heads as one of the 2010s' most beautiful, but also enigmatic, songs.

— Kushal

93. "Run Devil Run" by Girls' Generation, 2010

An iconic moment often overshadowed by predecessor hits like "Gee," "Genie," and "Oh!", "Run Devil Run" made clear that the most powerful characteristic of a Nation's Girl Group is none other than versatility. Musical acts around the world whose heydays were before and after that of Girls' Generation have rarely been able to pull off such a 180 degree turn in appearance, vocal tone, and performance. An angry breakup song, "Run Devil Run" offered layered vocals and explosive jazz in a way that was simultaneously abnormal, yet somehow current and on-trend with 2010 K-pop nonetheless. It was from here and on that GG would begin to depart from its cutesy origins, and demonstrate new confidence as the decade's premier K-pop act.

— Kushal

92. "Bad Boy" by BIGBANG, 2012
The start of the decade was a tricky time for music, given that the trends were a very specific kind of pop-EDM that didn't age well just a few years later. BIGBANG survived this by not going this route with their lead single "Bad Boy" (instead reserving it for "Fantastic Baby," which albeit a bop, sonically is very representative of the time it was released in) and going a mellow hip-hop route. This track transcended K-pop, as it garnered attention from the locals outside of the fandom. It defined what a boy band looked and sounded like in 2012.

— Alexis
Having played a big role on what K-pop sounded like since its inception, SM Entertainment fell behind with the sonic shift towards quote-unquote authentic hip-hop that the growing global audience prefered for most of the decade. NCT 127 was the answer to that change, and the R&B, grungy, electronic, and anthemic hybrid "Limitless" was the song that marked the group's arrival into the game as tastemakers and disruptors.

— Alexis
90. "LATATA" by (G)I-DLE, 2018
Amidst a girl group landscape saturated with cute-concept songs and performances, (G)I-DLE took the time-honored alternative approach of debuting with the opposite concept to get heads turning. "LATATA" is a well-brewed mix of electronic dance and tropical house, with reggae and hip-hop influences to boot. The track progresses with impressive momentum, starting from bouncing, seductive verses and Minnie's hypnotic pre-choruses only to explode into the Miyeon's dramatic chorus lines and subsequent EDM dance break. Every second of the track was engaging and sonically interesting—a foreshadowing for the exciting career and discography (G)I-DLE had coming.
— Kushal
T-ARA was the type of group that could pull a sad song, with the nostalgic vibes of Korean traditional music, and still make it sound powerful and modern. "Day by day" is one of these songs. The combination of flute and acoustic guitar stands out amongst the other singles of the group, which are heavily focused on electronic beats. Although T-ARA's unapologetic take on ludic, fun dance tracks was a big part of their brand, "Day by day" brought us a very refreshing side of the ladies that I would've love to see more as well.

— Ana
On "Oh! My Mistake," April finally hit their peak thanks to focusing on their members' strengths. It's a pitch perfect slice of '80s pop and each member has a part to play that fits them, as well as helping the group as a whole. They sustains the playful bouncing feeling of the song built so well by those lolling synths and processed beats.

— Joe
After a lineup change, U-KISS came back stronger than ever. The layering of all the vocals in "Neverland" showed just how well they complement each other while also showcasing their vocal talents. And with its synth-pop beats and repetitive but catchy chorus, the song was bound to be a hit.

— Katherine
This electropop earworm, which was I.O.I's final single as an act, will run itself around your brain for a very, very, very long time, with the members of the act exuberantly hitting the mark perfectly with the delivery of each paunchy verse and catchy refrains.

— Tamar
85. "No" by CLC, 2019
CLC wanted to start 2019 with a big splash, with female anthem of the year, "No." Like the title suggests, these ladies aren't afraid to say no to others' opinions and desires; they'll live however they wish to, wear what they want, and will do as they feel like. In a society where women empowerment is looked down upon and where people shy away from doing what they want while on their own terms, "No" let's you know that it's perfectly okay to be your own person. No one owns you, only you do.
— Tam
Even plagued with plagiarism allegations, "Bboom Bboom" was still able to climb the charts making it the groups most popular song to date. The quirky and fun tunes were a perfect fit to Momoland's playful images.
— Katherine
82. "Tonight" by BIGBANG, 2011
More than the song itself, the filming for BIGBANG's "Tonight" music video is what made it shine (in my eyes). "Tonight" could've been just another song that was on every club's rotation that was overplayed. But when accompanied with the video, it becomes more relatable and transparent and a bit contrary to the lyrics; that at the end of the day, everyone just wants to have a good time, no matter where they are. It reminds you of all the beauty that is in the world and to live out the moment while you're in that moment.

— Tam
81. "Snapping" by Chung Ha, 2019
Chung Ha has been slowly working her way up the ranks of solo female K-pop artists, and "Snapping" is a great stepping stone. The sensual dance track exudes a ton of drama and attitude with the vocals. With its more intense chorus and slower hooks, the dynamic pace keeps the listener absorbed in the song.

— Katherine

80. "This Is War" by MBLAQ, 2012
Dramatic is an understatement when it comes to MBLAQ's "This Is War." The full orchestra playing throughout the song provides softness that is complemented by the sorrowful lyrics and vocals of Lee Joon and Thunder, while creating a contrast with the powerful vocals of G.O and Seungho and the rap verses from Mir.
— Katherine
Jinyoung's layered vocals, Baro's fun raps, guitar-driven instrumentals, sudden chord progression changes… "What's Happening?" showcases everything that is great about B1A4's music. Be it with sad or upbeat tracks, the group never fails to make you feel something; their music is so full of life! And amongst the tracks that prove that, "What's Happening " certainly deserves honorary mention.
— Ana
78. "B.B.B" by Dal Shabet, 2014
"B.B.B" builds the greatest '80s nostalgia piece of the decade over a bed of heavy, satisfying synths. They allow for some fun to happen around them, so Dal Shabet don't just fit in with them but grow alongside. They open with Subin's sexy, almost pained questions, its then anchored by Woohee in the chorus whose pain is not being hidden, and then crushed by the maternal cries of leader, Serri.
— Joe
77. "Warrior" by B.A.P, 2012
"Underneath the sky, you cannot be hidden. Even if you hide, you will kneel before the truth." It's a villainous world out there, wrongful acts are done around the clock and B.A.P ignited the flame to get people to start thinking and acting against it with their debut track "Warrior." The song encompasses ways to which one can little by little stop the acts of war, rebellion and corruption in our society. Topics that are not spoken off as much as they should be because the thought of repercussion and the aftermath embodies one's thoughts versus the changes that could be made if acted upon. These guys weren't playing around when this was decided to be their title track, as these are heavy topics. B.A.P, a group that's been fighting destruction since debut and "Warrior" a song before it's era.
— Tam
76. "Fly" by GOT7, 2016
When a new group debuts, it's hard to pinpoint exactly what their core concept will be, for they will try many things before getting to really know their identity. This was GOT7's case, until "Fly" came out. "Fly" was the perfect cover letter of what GOT7 had grown to be and would showcase from then on: intricate and precise choreography, hype-beast aesthetics, and the perfect blend of crazy electro amalgamations with R&B vocals.

— Alexis
AOA and the Brave Brothers pretty much go hand in hand, and in 2014 AOA took over the Kpop scene as one of the most popular girl groups. Throughout the year, the group played the cute and sexy card and "Like a cat" was no exception. With both pop and rock elements, the song gave a more sultry feel compared to their previous releases.

— Katherine
SISTAR take listeners through the realization of falling in love with someone from the strange feeling of having a pounding heart to gathering the confidence to confess. All the while, dance-synths and trumpets create a convivial foundation for the group's sweet vocals. In its success, "Loving U" sparked the beginning of SISTAR's legacy as "Queens of the Summer."

— Nnehkai

After going viral with a fancam and becoming one of K-pop's top female acts with "Up & Down," EXID's 2015 follow-up "Ah Yeah" spends it time taunting and aggressively taking on the typical ways men approach women they're interested in through its brassy, sassy hip-pop nature.

— Tamar
With a high-budget "Fahrenheit 451" reminiscent music video, 2NE1 made a full-force return to the K-pop scene with "Come Back Home" in 2014. The song quickly flips genres with surprising cohesiveness. While Minzy and CL carry the reggae-influenced verses, Dara handles the pre-choruses with her trademark tenderness. Park Bom nails the emotional delivery on the chorus, serving what could easily be a ballad's refrain as the epicenter of an electronic vocal pop moment, all leading up to the song's iconic EDM dance break. After two years of randomly released singles and comeback delays, the song was not only pleading to a long-gone lover, but also as a message to Blackjacks to return after their many sporadic hiatuses. In the aftermath of 2NE1's disbandment, however, "Come Back Home" gained a third meaning: a plea from fans for the group to return to their roots and reunite.

—Kushal

Laidback and infused with reggae rhythms and pop-rock melodies drawing inspiration from the '70s, "Why So Lonely" brought Wonder Girls' band concept to the forefront, with the act's members not only writing the song but also playing the instrumentals for the recording, pushing the boundaries of the act's musical fluidity and career in a bright direction. It was their last formal single prior to disbanding in 2017, though they released one final song "Draw Me," and left things on a captivating, groovy high.

— Tamar

70. "Trouble Maker" by Trouble Maker, 2011
HyunA and Hyunseung shook the table when they debuted as Trouble Maker. Straying from societal norms, the subunit's suggestive mannerisms caused a stir both on and off screen starting with their teaser performance at Mnet Asian Music Awards in 2011. Their eponymous debut single featured an enchanting whistle while staying true electro-pop's influence. HyunA's distinctive rapping and Hyunseung's smooth vocals were a dream pairing that earned them a triple crown on local music shows. Their accomplishments opened the door for the success of K-pop's co-ed groups.

— Nnehkai
69. "Girl Front" by ODD EYE CIRCLE, 2017
"Girl Front" is the miracle of the 2010s. Not only does it incorporate the sounds of three previous LOONA solo songs, but the themes of them too. Producers Ollipop and Hayley Aitken smashes them into an unforgettable explosion of teen emotions with an unending list of sounds that includes, thumping kick drums, razor-sharp synths, slap bass, and a killer vocal harmony.
— Joe
68. "All In" by Monsta X, 2016
Count on Monsta X to drop a title track that will always hit you with an alluring intro, dynamic chorus, entrancing hook and clean outro. "All In" fulfilled every aspect of that and more. Even without watching the music video, you'll be at the edge of your seat when you're listening to the song, anticipating and playing out what's going on with each verse and just when you think the song has slowed down it reaches a climax and sends you on yet another thrill ride.
— Tam
Only Brave Brothers could make generic sporting event music sound good in one of his electro-pop songs, and "Heart Attack" is aural proof of that. There's never a lagging moment among the persisting synthy beats, gung ho stadium chants, or the girls' honey vocals. AOA peaked with this one.

— Shelley
Before they rose to fame following their participation on the second season of Produce 101, NU'EST was that group with an impeccable self-produced discography that went largely unnoticed by the general public. With "Overcome," the group was at their creative and experimental peak and delivered an avant garde, smooth tempo rollercoaster with a cascade of glitchy synths and instrumentals, and a bunch of random sounds and noises that somehow all work together.

— Alexis
65. "Cupid" by Oh My Girl, 2015
No other debuting group this decade had a marching band announce them, so Oh My Girl were stepping way ahead right from the off. The marching drums of "Cupid" are loud and clear and take an age to repeat themselves, giving the track a chance to constantly feel like fresh. It provides a bed for Mimi's best verse of her career, a chant that doesn't wear itself out, and enough vigour to sustain an impossible level of pep.
— Joe
64. "Hero" by Monsta X, 2015
In the mid-2010's when brass was the choice instrument in pop, Monsta X decided to throw their hat in the ring and came up with "Hero." The result was a delicious concoction of 8-bit video game soundbytes and erratic saxes, along with a helluva bridge from Jooheon taking it all home (and probably ending a few idol rappers' careers in the process). "Hero" made enough noise to catch our attention, and we have not been able to peel away since.
— Shelley
63. "Bonamana" by Super Junior, 2010
With heavy Auto-Tuning, a funky beat, and clap-happy electro-pop-meets-house melodies bolstered by a series of chanty phrases, "Bonamana" is explosive in its dynamism and a stalwart example of the sort of brash, earworm-focused songs Super Junior focused on in the first part of this decade.
— Tamar
62. "Lipstick" by Orange Caramel, 2012
As quirky as ever, Orange Caramel brought us "Lipstick" off of their first full-length album of the same name. With cartoonish horns and accordions, the trio rode the line between cute and strange to create a sort of funhouse pop tune. Staying true to their aesthetics, Orange Caramel creates fun and whimsical songs that continue to delight us.
— Katherine
61. "%%" by Apink, 2019
Arriving just a few days into the final year of this decade, Apink's "%% (Eung Eung)" is a twinkling, synth-fueled tune that epitomizes the direction where this girl group is heading in in the second part of their career, and continues relaying the shift from cute girlishness to confident songstresses that they started in 2018's "I'm So Sick." It's atmospheric and propulsive, with clap-happy, tinny beats driving much of the song towards its quirky, digitally-inflected choral melody. All the while, each of the act's members are given a chance to shine, relaying how each of their distinct tones have helped perpetuate Apink's legacy as an A-class act in South Korea's music world throughout much of the decade.
— Tamar
60. "Tomorrow, Today" by JJ Project, 2017
"Tomorrow, Today"'s steady percussion beat guides the JJ Project's harmonies and melodious tones showing the duo's maturity since their boisterous debut in 2012. The song's simple composition compliments its intimate lyrics that capture the uncertainty of foraging a meaningful future.
— Nnehkai
59. "Crazy" by 4MINUTE, 2015
With bombastic confidence and potentially appropriative aesthetics, 4MINUTE set the 2015 winter on fire with "Crazy." Unlike many K-pop girl group songs, including ones in 4MINUTE's earlier discography, there is little singing on this track. The verses and chorus are dominated by different rap lines, while Gayoon and Jihyun handle the song's only melodic parts in the prechours and bridge, respectively. While Hyuna has always been the public darling and center of the girl group, it was Jiyoon who really shined on this track, serving as a fierce rapper and dancer (despite her role as the group's main vocalist). This song goes down in K-pop history as one of the 2010s' fiercest bops.
— Kushal
58. "Secret" by WJSN, 2016
WJSN found their ultimate collaborator in producer e.one. His trademark style of editing vocals, a slight but almost alien whine, gives form to the Cosmic Girls' name and concept, while his always tight and groovy rhythm section grounds it in reality. This combination gave us "Secret," a masterful balancing act that gives teen girl problems the kind of grand scale that the girls likely feel is truly plaguing their lives.

— Joe
Two entries on this list and two '80s throwbacks, Dal Shabet have surprisingly stuck their place in history with an electrified use of nostalgia. This time, alongside Brave Brothers, the rolling synthesized drums, splashes of horns, and big vocal hooks capture the sound but it's lines like "Hey go meet someone, stupid like you" that catch the spirit so well.

— Joe
When TVXQ came back as a two-piece band with "Keep Your Head Down," they came back stronger and more cocksure than ever. Left unchecked, that kind of energy is contagious. From the drum warfare working in time with the triumphant horn section to the visceral cries and grunts, everything about this song begs reaction. So give into your body and music; there is no use in resisting its lure.

— Shelley
As the Super Junior members have grown up while being active, their concept has matured with them. Though mostly known for their electronica-heavy singles and point-dance choreographies, the group spent most of the decade crafting a funkier, more soulful side to them, and the jazzy, falsetto festa "This is Love" is a prime example. "This Is Love" opened the door for Super Junior to become Super Grown.

— Alexis
miss A's take on the girl-crush concept was nothing short of exceptional. From the firm declaration of "you don't know me" to the gallant "so shut up boy," "Bad Girl Good Girl" was a warning for gossips to mind their own. While it didn't present extraordinary moments, the track's subtlety drove its success. Also, who could forget the iconic choreography?

— Nnehkai
53. "Whistle" by Blackpink, 2016
Rarely do we see groups debuting with two title tracks simultaneously, but Blackpink's "Boombayah" and "Whistle" showed they were a force to be reckoned with. While "Boombayah" had all the elements for an expected YG debut, "Whistle" proved the quartet to be juggernaut rookies. Combining spoken word-inspired rhymes, acoustic guitar riffs, and a mesmerizing whistle motif, the minimal hip-hop track was a breath of fresh air among the year's releases.

— Nnehkai
What happens when you pair up two of SM's most talented, young dancers? Electricity. The way Ten and Taeyong bounce off of each other and complement each other in both dance and vocal ability is so effortlessly seductive and entrancing.
— Alexis
51. "U&I" by Ailee, 2013
If the word "diva" wasn't already a perfect fit for Ailee until then, with "U&I" she left no doubts. Co-written by Shinsadong Tiger (who crafted iconic K-pop hits such as T-ARA's "Bo Peep Bo Peep" and 4Minute's "What a girl wants)," the song showed that, besides being a vocal powerhouse, Ailee is also capable of commanding the stage with just as much style.
— Ana
50. "Some" by Soyou & JunggiGo, 2014
"Some" centers around the "some" phase of a relationship in which each person is developing feelings for the other but are unsure of its reciprocity. Its dreamy falsettos, head-nod inducing beat and relatable lyrics broke records and became an essential to any karaoke night.
— Nnehkai
Park Bom's sugary voice never really sounded out of place amongst the overall ferocious vibes of 2NE1's songbook. But watching her have her own moment in "You & I," a ballad that showcases her vocal range and her unique delivery, was definitely a needed thing. In late 2019, a revamped and emotional rendition of the song performed by Bom during her participation in the reality show Queendom proved that, almost a decade after its release, the song still has the power to bring people to their softer side, especially with the touch of nostalgia added by Bom's very own presence, dearly missed by her fans.
— Ana
48. "Face" by NU'EST, 2012
As Pledis Entertainment's first boy group, NU'EST did not disappoint with their debut. "Face" set the tone for what it meant to be an urban electro band, playing with vocal distortions and tasteful dubstep breaks without managing to lose their voice.

— Shelley
47. "Tempo" by EXO, 2018
I can't believe it took until 2018 for a capella to make its way into the lead single of an EXO track, but it was well worth the wait: "Tempo," with its bed squeaky approach to groovy, alt-R&B dance track and its lush, layered vocals, was the perfect packaging for the boy band's artistry, feeling all at once like something brand new and something wholly EXO.

— Tamar
46. "Lo Siento" by Super Junior, 2018
Riding the Latin crossover trend, Super Junior released "Lo Siento" featuring Dominican-American artist Leslie Grace. While many K-pop groups dabbled in adding Spanish words or phrases in their songs, none went to the extent that "Lo Siento" did by actually having full verses sung in Spanish. The song merges the tropical styling of Latin pop, smooth guitars, dance, and hip-hop, creating a perfectly balanced representation of both its Latin and Korean roots.
— Katherine

THIS! This is just what 2019 needed and GOT7 served it. Just when we thought GOT7 was done for the year, the seven member group released "You Calling My Name" leaving fans in a frenzy of emotions. This time, the group delivered a well contemporary mix of R&B and funk. The fluidity and transitions between genres within the song and sultriness in each members voices is absolutely memorizing. The maturity that transcends this song (and the rest of their album) and an addictive beat that makes one "oh and ah" on repeat. Is it fair to say that this is a great part two to their 2015 masterpiece that was "If You Do?" You've come a long way boys and this was the exact glow up we needed to wrap up the decade.

— Tam
No one needed another tropical house song in 2017, but we all really really needed Winner's. "Really Really" is their entry to the music trend, and while they went on to put out more singles of a similar variety, none had a hook as straightforward or a buildup more climactic as this one.
— Shelley

43. "Alone" by SISTAR, 2012
516 plays it said on my iTunes by the end of 2012. 516 plays solely on my iTunes for a song and a group that never appeared on my list before. SISTAR's "Alone" happened and I was hooked. The vocals, falsettos, and rap were all on par and blended well with one another. Each member had a distinctive role for their parts, and it notably showed. The sorrowful and loneliness in their voices were able to depict a story of what happens when one gets left, the grief, heartache, and withdrawnness that you're left with, was surely felt through this song.

— Tam
It's hard to say what makes "Spring Day" most special: the lyrics, the melody, the production, the vocal performance of the members, or the memories that the song brings up, as built by the group with their fans. "If I was a snowflake, I could reach you faster" is easily one of BTS' best lyrics. But, sonically speaking, the entire track evokes just as much poetic despair. Starting with a sentimental hook, and ending with an "oh oh oh" choir that became a memorable concert-closing, the song is amongst BTS' classics. Until today, almost three years after its release, "Spring Day" refuses to leave the Korean charts, and brings fans from all over the world to tears.

— Ana
41. "Galaxy" by Ladies' Code, 2016
A dark and enigmatic love song, "Galaxy" brought Ladies' Code back to the spotlight after some years of hiatus. It also did so within one of the decade's most interesting and brilliantly crafted instrumental landscapes, mixing jazz influences in the choruses with lush sprinklings of trance in the verses. The circumstances surrounding this comeback were, of course, tragic, but also triumphant nonetheless. I've always been a bit perplexed as to why this song never received the critical and commercial acclaim it deserved. Still, it lives on as one of the most musically unique and soulful comebacks K-pop has ever seen.

— Kushal

40. "Easy Love" by SF9, 2017
You know a song (and group) is worthy when a group of people who have different music taste, can agree that said song belongs on not only the top 50 song K-pop songs of 2017, but it was in ninth place. Remember that time, Kultscene? Like others out there, I wish I had discovered SF9 sooner, but am glad "Easy Love" was what lead me to them. One of my favorite things about this song is that although it's a song about a break up, it was still much alive. Granted, the members are expressive in showing their own emotions on heartache through the song. The instruments are soft but the beat keeps you entertained and vibing, making you too busy to be sad.
— Tam
39. "I Feel You" by Wonder Girls, 2015
Many were skeptical when Wonder Girls returned with a new lineup and concept, but these ladies proved that they aren't K-pop legends for no reason. Going from a dance group to an instrumental band is a huge feat but they did it with style. The opening electric piano chords suck you in and transport you to a nostalgic delight of '80s synth-pop. Between the posh nonchalant singing to the more upbeat chorus, "I Feel You" is the perfect mix of retro style and JYP flare.

— Katherine

It's been six years since ZE:A graced us with "Ghost of the Wind" and it still remains a mystery how the underrated group have not received their breakthrough moment yet. Under the creative leadership of producer Duble Sidekick, the hit favored orchestral strings and operatic backups over the group's previous reputation for questionable autotune. It was a step in the right direction, and, after peaking at number 21 (the highest for any ZE:A songs) on Gaon, the charts would have to agree.

— Shelley

Though it may be called "Red Light," this f(x) classic is a full blown "go for green" when it comes to listening experience, to the degree that you'll never want it to come to a stop. An explosion of sounds —it starts with a phone ringing and there's a tick-tock percussion guiding much of the bass-driven melody— the act's final song with its original five-member lineup is all at once haunting, quirky, and a true testament of pop perfection that goes nowhere expected yet still lands at the perfect destination.

— Tamar

The world wasn't ready for "The 7th Sense" when it dropped. More than a song, "The 7th Sense" is an insanely bass heavy spell that bewitches the listener with the myriad of different sounds, vocal tones, rap flows, and more on its overall dream-like soundscape. It's incredibly seductive and mysterious, and unlike anything else in K-pop before or even after it. Not to mention the choreography is simply… insanely intricate and artistic. Three years later, "The 7th Sense" is still largely not given the attention it deserves, being one of the most perfect songs to have ever come out of SM Entertainment.

— Alexis

When you got a compelling melody and strong vocalists, you might not need much more than one steady beat to produce a good song. In "What is Love," the line "Except you, everything is in slow motion," besides being the best lyric of the song, could very well describe its vocals in contrast to the longstanding instrumentals. The strength of the song is, definitely, leaving room for the competent members of EXO to shine.

— Ana

"Love Shot" ended 2018 with a much needed bang. Its slick grooves and stacked vocals effortlessly blend into its 808 bass and eccentric synths while adding an edge by including a gunshot before the chorus. The track's crescendos to full intensity with Chanyeol's and Sehun's raps leaving listeners breathless as it shifts back into its reggae-infused melody. "Love Shot" reminded us of EXO stands in its own league when it comes to melding unconventional sounds.
— Nnehkai
33. "Gashina" by Sunmi, 2017
After Wonder Girls' disbandment and leaving her long-time record label, Sunmi ventured off and grabbed herself her first solo No. 1 on the Korean charts with "Gashina." The song delivers trop beats, sassy vocals, and a whining chorus that is strangely appealing, not to mention killer dance moves that everyone was emulating.
— Katherine
No matter where you were or if you liked K-pop or not, you knew of Taeyang's song "Wedding Dress." The song was the successor to the single "I Need A Girl," but seemed to rise well above in the popularity ranks. The R&B song was delivered beautifully by Taeyang's smooth voice and the sorrowful lyrics just pulled at your heartstrings.
— Katherine
31. "Hush" by miss A, 2013
Much like its lyrics, "Hush" builds intensity with each verse. Starting with soft vocals, the track builds into a mid-tempo dance track equipped with guitar interludes that offer a twist to the song's coy lyrics. Reverting back to its slow beginning, "Hush" ends on a gentle note reiterating the anticipation their holding in for an admirer.
— Nnehkai
30. "Up & Down" by EXID, 2014
Dropping in late summer 2014 with a strange (and annoyingly low-volume) music video, EXID would prove themselves worthy of industry-wide attention with this bouncy track. Written about the difficulties of trying to understanding a lover's intentions and interests, the song quickly jumps from L.E.'s slow-then-fast, breath-defying raps to Hani's seductive pre-chorus. It then sticks the landing on the bright, belt-heavy chorus sung by Hyerin and Solji, the stylings of which would become a staple of EXID's music going forward. The track shows us not only the power of a well-filmed fancam can be, but also the overlooked talent of some K-pop groups that only sometimes get to see the spotlight.
— Kushal
For only a warm-up single, "Oh NaNa" did a perfect job at neatly packaging and trademarking the KARD brand into one that promises contemporary sounds and a good time. The sensorial experience from the airy, dancehall synths further augmented by shifts between masculine and feminine energies produces an almost romantic quality that can only be enjoyed by a co-ed group with a gifted production team.

— Shelley
MBLAQ's crowning achievement, "Smoky Girl" is a glossy, utterly satisfying ode to momentary club romances. It is predicated on the smallest of details. Thunder's slight coo right before the opening dance break, an ever evolving beat always giving the members time to move, Mir's forceful rap over a four on the floor beat. Each element is part of the romance but equally they are a reminder of the transient nature of love at the club.

— Joe
27. "Likey" by Twice, 2017
It's only natural Black Eyed Pilseung would create his masterpiece with Twice, the chaotic nature of his production style becomes laser focused when paired with the anxieties tied to modern technology. Vocally, Twice feel at ease, they throw parts to one another without a hint of drag. Ultimately, it all revolves around the vocal performance of the decade by the unlikely Momo.
— Joe
Summer romance is reimagined in what is possibly Red Velvet's most adored track to date. Heart-thumping basslines, dreamy sighs and a titular earworm allude to the serendipitous feeling of love. The quintet's sweet vocals accompany the song's effervescent atmosphere as they compare their favorite summer flavors before deciding their favorite flavor is you.
— Nnehkai

The best outcomes come from having little to no expectations. And that's not to say that a subunit formed by JB and Yugyeom of GOT7 wouldn't be interesting, it's that nothing could've prepared us for just how damn good it would be. Jus2 tapped into JB and Yugyeom's affinity for R&B and paired it with their stellar performance backgrounds by way of deep house. "Focus On Me" is a slick, sultry, ethereal, and delicious R&B marvel —the most sophisticated and grown we've seen from any GOT7 member, both as a concept and musically.

— Alexis
It was late January of 2018. Would IKON have known ahead of time that they were about to drop what was about to be the song of the year with "Love Scenario"? This song became a sensation, you just couldn't escape it. It truly became an anthem and could be heard in much of Seoul, South Korea. Whatever business you owned, this song must've had played at least once a day on your speakers. But it didn't stop there. If you had access to the internet, it was almost guaranteed that wherever you were on the internet, especially YouTube or Korean related websites, there was always at least 1-2 "Love Scenario" video listed as suggestions —most of them dance covers (a range of all ages and all ethnic backgrounds). This song did exceptional well with the younger audience, elementary and middle school students. It had an easy tune and chorus to follow. If you didn't groove with it right off the bat, there must've been one point in 2018 (or even now), a song so mellow and cheerful, how could you not enjoy it?

— Tam
Everything about this smooth synth and rock-fueled dance track exudes a sense of drama and sleekness, reflecting KARA's dynamic at this point in their career, when they were one of the top female acts in the Asian market and were showing the world how they could mature in the spotlight while still keeping their distinct, addicting style.

— Tamar
"A.D.T.O.Y." is 2pm down to a T. Lush R&B vocals, sex and sexiness at the forefront, and questionable dance moves that we hate to love. Even without knowing what the song is about, the anguish and longing for a lover jumps out and hits you right in the feels. Who hurt 2pm for them to be pouring out their souls on this song? Whoever you are, thank you for the art you inspired, but let's hope Hottest never finds you.
— Alexis
"If You Do" was a turn away from the bright, hip-hop driven songs of earlier GOT7, and no one seemed to mind. The dark tone of the song was a product of the light synth notes and heavy bass lines and then was elevated by the sorrowful vocals and deep rap verses. This song marked the beginning of GOT7's evolution into the artists that they are today.
— Katherine
20. "Eyes, Nose, Lips" by Taeyang, 2014
You can always count on Dong Young Bae, better known as Taeyang, to produce a pass-me-a-kleenex kind of ballad. "Eyes, Nose, Lips" was not only about his break-up with actress Hyorin, but it's a song of admittance. Admittance to the wrongs that manifested during the relationship and the painful memories that then haunted him, something we've probably all gone through or know someone who has at some point which makes this all the more empathic. It was a song that showed the truth behind its words not as a cover up but as a belated apology, something you don't hear too often, as love/break up ballads get sugar coated. Not only did "Eyes, Nose, Lips" see success on the charts and became the song to perform on Korean music songs, but the outcome was also beautiful, as Taeyang and now wife Hyorin are in a blossoming marriage.
— Tam

19. "I Got a Boy" by Girls' Generation, 2013
With "I Got a Boy," Girls' Generation ensured that 2013 would start off with a bang. A lot has been said about this song, from its musical scatteredness to its bombastic confidence, but critics and fans alike have rarely noted how well this track fits into the larger Girls' Generation narrative. Here you have a girl group who has already mastered almost all K-pop concepts on the earth putting them all together, mixing them chaotically into one song to, as Tiffany said, "put it down another way." The song would serve as a turning point in the girl group's career—from then on, there's no telling what kind of music they would drop next. And the uncertainty added to the excitement. It was definitely Girls' Generation, and we were all just living in it.
— Kushal
As veterans of the idol industry, Shinhwa has experimented with several musical styles throughout the years so it didn't come as any surprise when they dropped "This Love" (the voguing still has me shook) in 2013 off of their eleventh studio album. Although it leaned more towards Western musical style, it still has a lively and catchy beat, reminiscent of club-esque music which can be refreshing every now and then. The simplicity of it all made it easy on the ears, even if it's more of a dance track, especially with the memorable chorus. How can you forget "we live for this love" when it's repeated 11 times? Hm, 11 "love"'s for their eleventh album? Could there be some sort of correlation? But that aside, despite the members are approaching their 40's, they continue to show us that they still got it going on. The appeal is truly real and it's safe to say, once legends, always legends.
— Tam
17. "Breathe" by Lee Hi, 2016
For anyone who has had a long day today or feel especially defeated, please, listen to "Breathe." Listen to Lee Hi's warm words of consolation over the beautifully sad twinkle of ivory keys. Listen to them even when they become desperate and when instrumentals weep. Be mindful of the frisson sweeping over your body or the tears that stream down your face the same way raindrops zigzag window panes because everything the late composer and songwriter just said about how things will be okay and how you did a good job is all true.
And then breathe.
— Shelley
16. "Dope" by BTS, 2015
Around the end of 2014 and through 2015, pop & EDM songs with a sax hook were a big trend in the U.S. and South Korea. BTS, however, was clever enough to ride the trend in a way that would stand the test of time. RM opening the song with "Welcome, is this your first time with BTS?" couldn't be more propitious, as "Dope" can indeed work as a great introduction to the group: provocative lyrics over catchy instrumentals, creative choreography, and a strong commitment to their brand. Like Jungkook sings in the song's bridge: "This is BTS style."

— Ana
15. "Bad Boy" by Red Velvet, 2018
Versatility is Red Velvet's very own concept, with the "red" representing their quirky and upbeat songs, and "velvet" representing their smoother songs. "Bad Boy," however, took the concept to a new level. The glamorous and captivating R&B tune was an interesting moment of Red Velvet's career, in which the velvet side borrowed a bit of the red, while also bringing a new and sassy color that fits the group's palette in an incredibly natural way.

— Ana
14. "Wild" by 9MUSES, 2013
The very fact that this track ranks so high on our list serves, if nothing else, as a reminder that 9MUSES was one of the decade's most underrated and underserved acts. 9MUSES is "burning for love, love," and don't doubt them for a second—they are very much on fire. A sensual track about longing for a lover, "Wild" is 9MUSES at its utter prime—a group of powerful vocalists who execute difficult belts and harmonies with ease, complete with multiple rap lines and impeccably synchronized choreography. It's a shame that this song—in all of its melodic, high BPM glory—was not a chart-topper around the time of its 2013 release. Still, it will live on in our old iTunes libraries and playlists in the decade to come.
— Kushal
13. "Move" by Taemin, 2017
Many associations can come to mind when listening to "Move" or watching its music video —especially if you're old enough to have known the golden era of Michael Jackson and Prince. And while such grandiose associations would actually be a compliment to Taemin, they don't make "Move" less unique. Echoing the drums and basslines of new wave music from the 80's, along with a sophisticated R&B-influenced melody, the song is an ode to the beauty of the human body (no gender in particular) in motion. But "Move" is not just a song; it's a moment, a testament of an artist fulfilling a unique layer of his potential, in a way few others – if any – could do. With his magnetic aura shining through every detail of the song, the style with which Taemin leads it is just unmatchable.
— Ana
12. "Growl" by EXO, 2013
Most groups endure a couple years of trial-and-error before they produce their representative song, but for EXO that arrived to them only a year after their debut. "Growl" is different because, unlike its prequel "Wolf" or any other of their releases, it possessed a winning stylistic consistency and an unmistakable repetition. That immediate beeping, tonal motif which kickstarts the song is the crux of "Growl," supporting the hook and hammering that passage in even when it is no longer the refrain. It's original and memorable enough as to define EXO's best year when they were at the height of their fame, when they were complete.
— Shelley
Once again in this list and in BTS' musical journey, we see the group giving their touch to a trendy sound (tropical house and moombahton, which were huge in 2016), and instantly taking away its ephemerality. "Blood, Sweat and Tears" speaks of temptation, lust, sin, and guilt. As for the vocals, special praise must be given to Jimin, whose voice is, paraphrasing the song's lyrics, "sweeter than sweet," but also sensual and bewitching, which makes it perfect for a song like this. But, actually, all members and creators involved did an amazing job on the song, which makes it easy to understand why it was a major turning point in the history of BTS. It was their first track to sell one million copies in their home country, and marked the best week ever for a Korean album on Billboard. And it would only go up from there. Fallen angels might have been amongst the inspirations of "Blood, Sweat and Tears," but what followed it was, actually, ascension.
— Ana
10. "Lucifer" by SHINee, 2010
SHINee's "Lucifer" draws on the brief biblical story of the angel Lucifer, who met his demise through narcissism and pride. The BeBe Rexha-penned track compares an entrancing whisper to Lucifer and explores the feeling of being trapped in attraction. "Lucifer" effortlessly entwined SHINee's signature sound and electro-dance. It's confined geometric choreography and engrossing beat catapulted SHINee into their niche. The quintet explored the vastness of electro and its subgenres establishing them as prominent figures in the genre's revival. Through "Lucifer," SHINee set the tone for the decade's releases challenging artists to push the boundaries of concepts, presentation and vocal colors.
— Nnehkai

9. "Shine" by PENTAGON, 2018
"Shine" is placed in PENTAGON's trajectory as an embodiment of the two facets of their most expressive year. On one side, it was the group's biggest hit. On the other, it was their last single to feature the rapper and songwriter E'dawn. Listening to the song, though, there's hardly room to think of the sad side. "Shine" was neither the only nor the first K-pop song of 2018 to go for the mid tempo hip-hop piano style, but it was definitely the catchiest and most fun.
— Ana
8. "I Am the Best" by 2NE1, 2011
After offering the melancholic and relatable "Lonely," 2NE1 set out to deliver the stuff of K-Pop legends in June of 2011. While this song has been written about time and time again, it ages with grace, becoming increasingly iconic with each "Top 100" or "Best Girl Group Songs" list it makes. From Dara's bright and bouncy verses to CL's "billionaire dollar baby," 2NE1's four distinctly different personalities fit together perfectly on this track, showing us that there are many sizes, sounds, and shapes that knowing one's self-worth can take. More than anything, "I Am the Best" cemented the fearsome foursome as one of K-pop's most globally relevant acts, beginning to open doors alongside a handful of other second and third generation K-pop acts that would ultimately give the genre the massive global following it wields today. K-pop legends indeed.
— Kushal
7. "Call Me Baby" by EXO, 2015
The epitome of EXO's R&B-infused classic boy band styling with some new jack swing thrown in for good measure, "Call Me Baby" is a song that grooves along to brassy horns and the members' artful, layered vocalizing that showcases each singer's distinct tone even while creating a cohesive sound for the group. As the sonic sequel to their megahit "Growl," this later track perfected the musicality of that song and expanded on it, creating something that was immediately iconic and will be a song to be sung throughout the ages.
— Tamar
6. "The Chaser" by Infinite, 2012
Two and a half years into the decade and K-pop had no reason to be worried. There had been countless hits from many legends of the industry and an ever creeping but strong international fanbase. Then "The Chaser" happened. "The Chaser" felt like an explosion not just for Infinite but for K-pop as a whole. Infinite and Sweetune dragged everyone into the new modern era with a song that defines the decade. Sweetune's synths were well worn even by then, but they never felt so alive as they did on "The Chaser." Layers of them cascade over and over throughout the track, building a heightened sense of drama that they would also never quite replicate. This was thanks to Infinite themselves, and in particular thanks to Sunggyu and Woohyun, the two best dramatic voices in the game.
— Joe
5. "Expectation" by Girls' Day, 2013
There's perhaps nothing brand new about the exuberant sexiness of this electro-pop track, but Girls' Day's complete dominance of "Expectation" makes it one of our favorite tracks of the decade. Throughout its entirety, the song is the very definition of an earworm, with the taunting "ooh, ooh, ooh," raising expectations at the very start of the song and leading into its dramatic, oftentimes coy, verses, only to pull back its restraint during the pre-choruses, before leading into the explosion of the titular refrain. Towards its end, the song features a dramatic EDM build, which is blended with the members' building vocals, turning the song from being merely a fun dance track into a prime example of Girls' Day's talent as singers. Paired with a music video that features their now-iconic suspender dance, "Expectation" is an experience quite unlike just about anything else out there and still has us playing it on repeat years later.
— Tamar
4. "View" by SHINee, 2015
SHINee re-envisioned dance music's influence in K-pop with this LDN Noise produced track. The track consists of easy-going aura that aligns with the liberty displayed in its video as the quintet embark on mischievous adventures across Thailand. Tapping into garage house and retro subharmonics, "View" focuses on fluttery vocals with amusing adlibs against its deep, recurring beat. "View"'s legacy lies within its undeniably impressive vocal delivery and its ability of merging the elements we loved from their debut track "Replay" with the tensity they've developed since. "View" is a refreshing moment for the group, foreshadowing their continued exploration into retro-inspired releases.
— Nnehkai
3. "Be Mine" by Infinite, 2011
"Be Mine" catapulted Infinite into the K-pop stratosphere and they haven't come down since. Throughout the decade, Sweetune and Infinite were a winning combination that could do no wrong. The group's amazing and diverse vocals do well to not get lost or muddled in the dynamic synth notes and bold bass beats while the furious rap verses at the end close out the song, stamping their mark as heavy hitters in the K-pop industry.
— Katherine
2. "Fiction" by Beast, 2011
Many songs by Beast own KultScene's members hearts, but collectively we all agreed that "Fiction" is the one that everyone enjoys across the board. With its lyrics equating love to a work of fiction, the song fittingly incorporates the scritch-scratch sounds of someone writing on paper into the melody, starting off the song with the effect before turning into pounding beat and haunting, synth and piano melody. Collectively as a group during the chorus, Beast is expressive and despondent about the song's narrative, while during each individual verse and rap sequence, each man melodically pushes the song further towards perfection as he expresses the anguish of "Fiction." Though lists like this may be based around individual tastes, it's hard to deny the fact that "Fiction" is a classic.
— Tamar
1. "Step" by KARA, 2011
If there's a song that one can point to and say "That's what K-pop's about," that would be "Step" by KARA. It checks all the boxes for what makes a song and its music video "K-pop." An electric and brassy club banger, check. An alarmingly colorful and vibrant music video, check. An earworm hook perfectly paired with a memorable point dance, check and check. Sweetune defined an age in K-pop when the experimentalism in the production was unhinged and uninfluenced by a global appeal that followed set music trends, making "Step" is one of his crown jewels. There's a sense of bliss that comes from listening to "Step": you may or may not know what the lyrics are about, but the combination of all its parts just makes you feel damn good and happy.
A lot has happened since the decade started, on and off of the stage. From ever-evolving music trends to the disbandments of classic groups to global successes to tragic losses, including that of KARA member Goo Hara. As we step (wink, wink) into 2020, it's essential to look back at what, at its core, makes K-pop great: Fun. And you don't know fun until you've let loose and danced to "Step."
— Alexis
Alexis Hodoyan-Gastelum, Tamar Herman, Joe Palmer, Tam Huynh, Shelley Foo, Kushal Dev, Ana Clara Ribeiro, Nnehkai Agbor, and Katherine Villalon contributed to this article.
What was your favorite K-pop song this decade? Share your picks and thoughts in the comment section below and be sure to subscribe to the site and follow us on Facebook, Twitter, Instagram, and Tumblr to keep up with all of our posts.
https://kultscene.com/wp-content/uploads/2019/12/BEST-SONGS-OF-THE-DECADE.jpg
1005
1434
KultScene
http://kultscene.com/wp-content/uploads/2018/02/KULTSCENE-LOGO-2018-TRANSPARENT-RED.png
KultScene
2019-12-22 22:16:29
2019-12-24 11:35:25
The 100 best K-pop songs of the 2010s