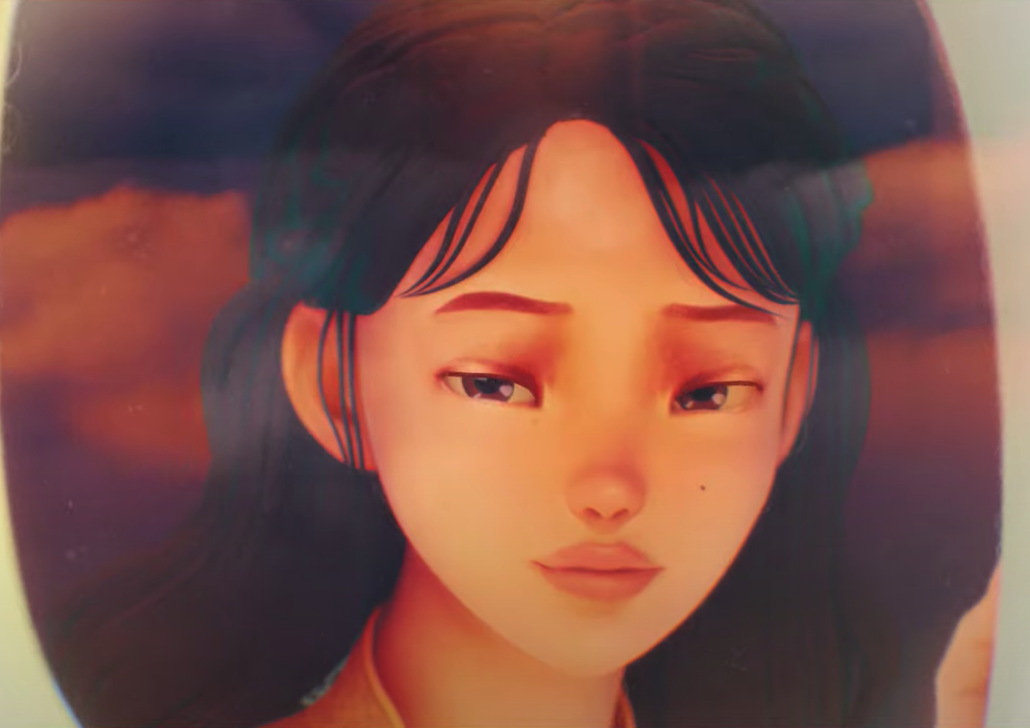 I don't really know what "eight" is about, but while listening to it there was a lot flying through my head. IU and Suga have both been longtime loves of mine, people whose music I often turn to when I'm sad and need to find kinship in the music of those who have put their feelings and thoughts on adulthood and life into the world. Many artists do it, and, of course, I listen to many others, but this pair are two I especially turn to time and time again when I get introspective. So when they announced their collaboration, I knew immediately that it would be devastating and something I seek solace in. Once I read that the song by the soloist and the BTS rapper-songwriter is about their feelings of being 28 (as per Korean age reckoning) and the latest in IU's series of age-based reflective singles, I knew I was going to be spending a lot of time thinking about it once I heard it.
Waking up this morning to a text from a friend about whether I had heard the song yet, I sat there staring at my phone. I couldn't. I knew I needed to shower and have coffee before I was remotely in the mental space where I could absorb it; I have been having a lot of sleep problems lately, and I knew that I wasn't in a state of receptiveness for something I was sure was going to make a sizable impact on me. That was a bit of a mistake on my part, though, because as I was checking my email and Twitter while making coffee I inevitably saw other responses to the song, and went into it and its music video with some preconceived notions, the most notable one being, based on a series of connections audiences had made, that the song is about Sulli and Jonghyun, two stars IU was close to before their untimely passings, both of whom have relations with the number "eight": Jonghyun's birthday was April 8, 1990, and Sulli and IU were friends in the public eye for eight years.
Watching the music video, I feel inclined to believe that there is the potential of that interpretation being intentional, considering that IU's "Love Poem" similarly felt reflective and, more importantly, the animation adds to this theory: the cartoon IU exists in reality, on a plane crying, while watching the fantastical view of another woman flying around on the back of a dragon after the futuristic, real-life IU tears up when the woman jumps onto the dragon's back. The woman she's looking upon is clearly not IU herself; she doesn't have the singer's iconic beauty mark. Is she Sulli? I don't know; she too had a beauty mark and the animated woman does not. But it feels like that's who she is an allusion of, similarly to how the dragon is a near-reference to Jonghyun's well-known dinosaur-like features. Does this mean the song is about the pair, and that's who the woman and the dragon are representing? I don't really know; I may be looking too deep into it and they're mere representations of childhood whimsy that's been left behind. We won't really know unless someone who worked on the song and/or music video lets us know that, but I'd like to think that they're homages to the pair, with the song's lyrics expressing how beautiful goodbyes take place in memories.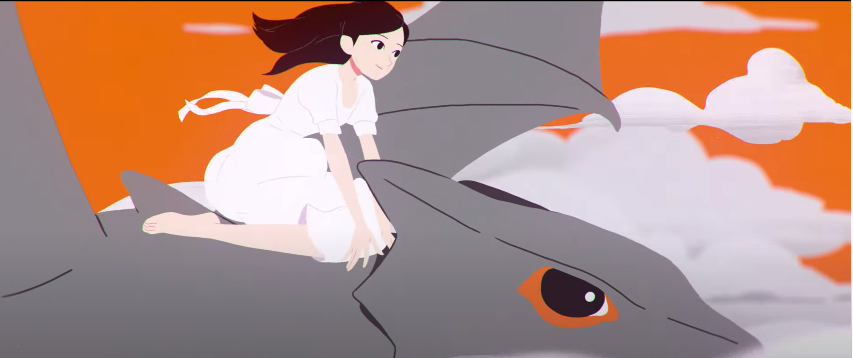 ---
---
While I wouldn't put it beyond the pair to dedicate the song to the duo of beloved individuals, and I've thought much of the same about other recent songs from IU, I've spent a lot of the morning (it's around 2PM as I'm writing, but I woke up at 10:30am so… don't judge) thinking about how the song may not, or not only, be about lost loved ones but also lost selves, with "eight" serving as a reflection of an apparent conversation between the self of the present and the self of the past, an individual who travels between memories. In fact, even though I already had the idea that people were interpreting "eight" to be a memorial song, this was what took up the forefront of my mind as I was watching the music video for the first time; I could see the connections to the lost pair, but I was drawn more to the allusions I saw towards the past of IU herself.
Not only are the lyrics reflective, poignant in the way they look back on the past, but the music video jumped out at me with what I thought might be intentional references to past IU music videos, such as with the white dress she wears not only reflecting the color of mourning in Korean culture but also the dress she wore in "Mia (Lost Child)" while the maroon shirt with a peter pan collar immediately recalled what she wore in "You&I," which fit in the trend of IU self-referencing past releases in her work. While watching again, I also saw glimpses that reminded me of "Palette" and "Twenty-Three," but I couldn't decide if I was looking too hard for a pattern.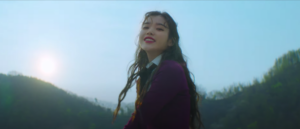 In "eight," IU is singing about being "forever young" and happiness, and the music video begins with her actively choosing to save her memories; it's unclear based on the futuristic setting whether she's offloading her memories to a storage system entirely, or merely saving them beyond her own mind because they're something of value that she wants to make a backup of. Either way, the interpretation can align with the emotions expressed in the song, about how memories are beautiful things that remain "forever young," the way they were, as memories crumble into the sands of time, with only the "sandcastle" of memory, as Suga adds, impermanent and impossible to recreate in the exact same way, with the exact same specifics, ever again, both wonderful and poignant.
To be honest, I haven't watched the music video for "eight" enough times, and I haven't listened enough times yet. In part because there's no such thing as "enough," and in part because I constantly reassess art as I interact with it in different moods, and that's the most wonderful thing about art, in my opinion: it changes and shifts as we as humans do. I'll probably watch a few dozen more times before the end of this week, as I try to get lost in the artistry rather than in my own thoughts. "eight," like so many IU and Suga songs, make me think about how we, as humans, interact with our thoughts and memories, how those memories shape how we interact with the world, and how everyone's interpretation of memories and the past is different, so I wanted to turn some thoughts into words before I lost this stream of consciousness as I found comfort, and contemplation, in "eight."
What are your thoughts on "eight?" Let us know in the comment section below and be sure to subscribe to the site and follow us on Facebook, Twitter, Instagram, and Tumblr to keep up with all of our posts.
https://kultscene.com/wp-content/uploads/2020/05/Screen-Shot-2020-05-06-at-11.08.12-AM-1.png
800
1132
Tamar Herman
http://kultscene.com/wp-content/uploads/2018/02/KULTSCENE-LOGO-2018-TRANSPARENT-RED.png
Tamar Herman
2020-05-06 12:52:16
2020-05-06 14:23:29
Thoughts on IU & Suga's 'eight'