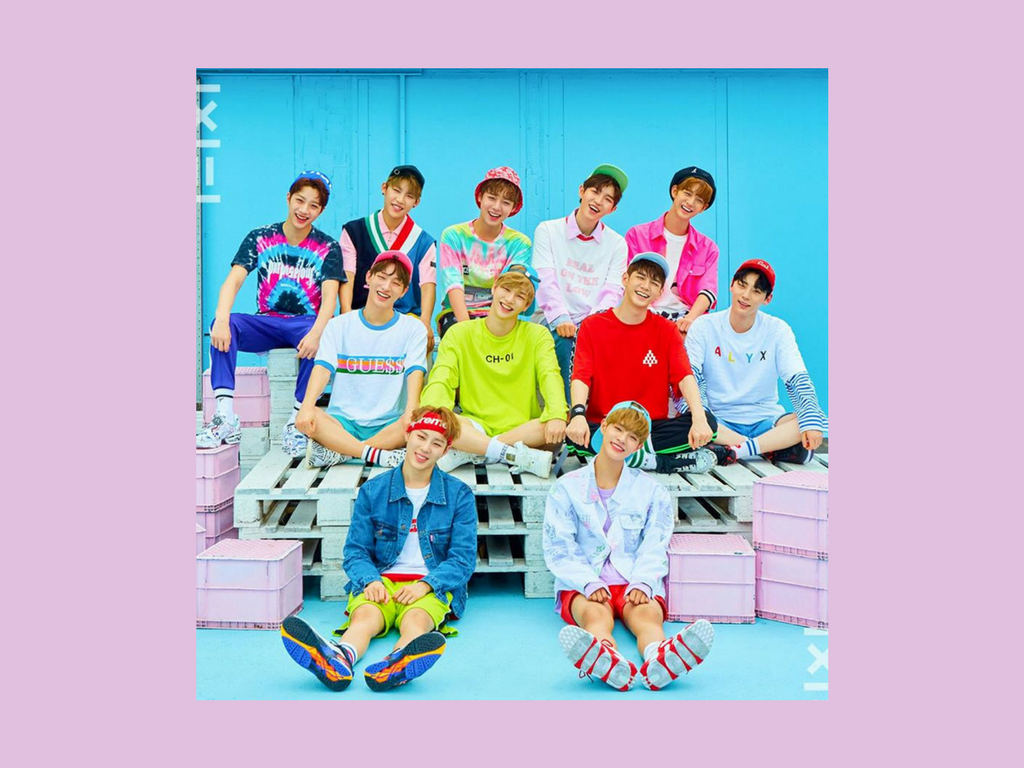 Korea's "national" boy group has finally made their grand debut. On Aug. 7, Wanna One released their upbeat EDM title song "Energetic" to the public. After being chosen by the public on the second season of Produce 101, the 11 members are ready to take the K-pop scene by storm with their charm. The title track was chosen by fans by voting between "Energetic" and "Burn It Up." "Energetic" won the public vote with over 2,227,041 votes.
---
---
Song
"Energetic" was produced by Flow Blow and Hui, a member of Cube Entertainment's newest male group Pentagon. Hui and fellow Pentagon member Wooseok wrote the track. Notably, the duo also wrote the Produce 101 song "Never," which did pretty well on the charts and was performed by most of the current Wanna One lineup. "Energetic" talks about the love of two people who have an instant attraction to each other, and how it sends sparks between them.
The song starts off with the sound of a piano, which is perfectly represented in the choreography, with the boys emulating playing a grand piano. We hear Minhyun's vocals first, then Seongwoo and Jihoon's vocals follow in. Seongwoo kicks off the chorus, which is strong and distinct. The chorus alone adds an extra punch, with the help of him leading the first couple of lines.
The line distribution in big groups is always tricky, especially a group with eleven members. Of course, members with stronger vocals will get more lines. On this particular song, it could have been a bit better if Jisung and Jihoon were given more lines. Guanlin receiving fewer lines is fair, since he is still learning Korean and the fact that the group has two other rappers. Daniel's rapping was a surprise to me because I wasn't expecting it, but he held his own and did a good job. Jaehwan and Sungwoon's voices were showcased very well, which helps them stand out to listeners.
The response to the track has been overwhelming. After one hour of its release, "Energetic" went to number one on Melon and six online music charts, earning the group their first all-kill.
Music Video
The video gives a playful and relaxed vibe between the members. There were scenes of most of the members being pushed around inside grocery carts, spraying each other with water hoses, playing tee ball, eating doughnuts, knocking down plastic bowling pins while on a skateboard, and other fun antics. The choreography, for its part, is very strong in the scenes where the boys were decked out in denim. As aforementioned, the scene at the beginning where the boys formed a human piano stands out because it showed a lot of creativity.
---
---
Overview
Wanna One is looking to be one of 2017's successful rookie groups, which comes as no surprise due to the popularity of the members thanks to Produce 101. "Energetic" is a strong song to debut with, given it shows their charm. Just like I.O.I, Wanna One's time is finite, given they'll only promote for two years, so it will be interesting to see what they can show us within that time length. For future comebacks, it would be nice to test out different sounds, but keep that boy-next-door concept they have. Overall, this was a solid debut and makes us all look forward to what Wanna One keeps having in store for fans to see.
How did you like Wanna One's debut? Share your thoughts in the comment section below. Be sure to subscribe to the site and follow us on Facebook, Twitter, Instagram, and Tumblr to keep up with all of our posts.
https://kultscene.com/wp-content/uploads/2017/08/Untitled-design-1.png
768
1024
Naomi Osuji
http://kultscene.com/wp-content/uploads/2018/02/KULTSCENE-LOGO-2018-TRANSPARENT-RED.png
Naomi Osuji
2017-08-12 14:15:30
2017-08-12 14:15:30
Wanna One's 'Energetic' song & music video review