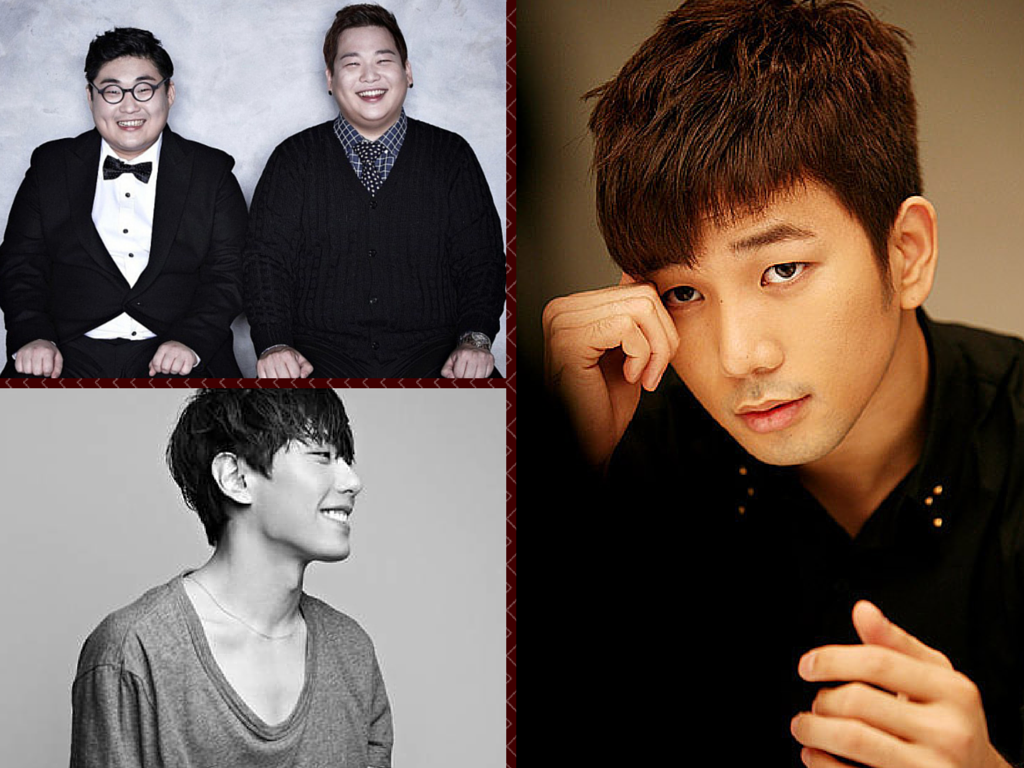 It's one thing when an artist does a cover of a song, but it's another thing when that artist is able to move you and convey an even stronger message than the original singer. And it's even more astonishing when the language of the song isn't even the singer's first language.
If you're a YouTube junkie, then you might've seen these covers floating around before, and if not, you're in for a treat! Here are my top five English covers by Korean male singers.
5. 2BiC I'm Not the Only One
Although RnB duo2BiC has released a few songs since they debuted in 2012, the pair of singers (Jihwan and Junhyung) only became a little more known to the public most recently, and a lot of it had to do with their astounding covers uploaded onto YouTube. 2Bic have done covers of both Korean and English songs, ranging from Taeyang's Eyes, Nose, Lips to the most popular song from the Frozen soundtrack, Let It Go, and most notably, a song by British singer and songwriter Sam Smith, I'm Not the Only One.
Jihwan and Junhyung both have soulful voices, but each are able to bring a different distinctive set of emotions to the table when singing. While English may not be their first language, and I'm sure it took a lot of practice trying to perfect the lyrics, you can see and the feel emotions exuding from them as they sing. 2BiC uses their powerful voices as their lethal weapon to express what their hearts really feel. They might not be Korea's next big thing right now, but one day, they're going to blow up, and if you didn't already know about them, now you do and you'll be glad that you did!
4. Park Hyo-shin Like A Star
The build up before Park Hyo-shin opens his mouth to sing can leave one feeling antsy with anticipation. His cover of Like A Star is a new take on the original version, since it was originally sung by a female singer, Corinne Bailey Rae. Before listening to his cover, I wondered how Park Hyo-shin was going to pull this off; I thought it'd be interesting to hear him cover a delicate of a song as Like A Star, since he's known for his deep and husky voice. But to my surprise, his voice radiates with charm that then quickly entrances you into a sweet daze.
---
---
Park Hyo-shin has sung many ballads for the soundtrack of a number of Korean dramas and he's notorious for his wide compelling vocal range, whereas his cover for Like A Star is rather gentle and serene. His English pronunciation is nearly perfect in this song, and he sung it so beautifully that it was enough to turn a song that I never found emotionally appealing into one that completely moves me. Park Hyo-shin is a bit older than many popular Korean singers, and has probably garnered many experiences from his own personal relationships so he could relate with the lyrics and express them in a deeper and more passionate way, rather than how a younger artist would sing it.
3. EXO Open Arms
There have been a number of American artists who have covered this song, but this is the first time a Korean act has taken this song on. EXO members and vocalists, D.O, Chen, Baekhyun and ex member, Luhan, took on Open Arms, written and originally sung by American rock band, Journey. For those who have listened to EXO's music and watched their many music videos you're aware that one of the biggest things that EXO is known for is intricate and high-energy choreography, which works wonders for the group since there are so many members. It's nice seeing the vocalist, who were featured prominently in some of EXO ballad-based music videos, come together to take on a classic American soft rock song and turn it into their own.
The member's voices are in total sync with one another throughout the song. From D.O's accurate English pronunciation, Baekhyun's husky voice, to Chen and Luhan's angelic and calming voices – each was able to attribute a different asset to the song while showing off their beautiful harmonization skills. The final product is be incredible.
G.O (MBLAQ) Hurricane
2. G.O, also known as Jung Byunghee, of MBLAQ, has been singing long before joining the idol group, so it's no surprise to see videos of him singing some of his own originals and his infamous covers online. He revisited his past and showcased his heavenly and silky voice with his cover of Eric Benet's Hurricane. There's something magical and calming about G.O voice, and Hurricane is an example of how fully immersed he gets when he sings, especially when it's a more intense ballad.
---
---
G.O is a veteran on the Korean singing show Immortal Songs, where he sings his own renditions of Korean past time favorites, and he does a splendid job at that. But for some reason, I find that his English covers are more affectionate and those covers tend to bring more warmth to the listeners and viewers. With such a pure and heavenly voice, you can always rest assured that G.O will always deliver.
1. Kevin (ZE:A) Home
Kevin, also known as Kim Jiyeop, is probably the only exception to this list. Although he was born in South Korea, Kevin spent a majority of his childhood and teenage years in Australia, so he's quite fluent in English. Whenever ZE:A goes on a show, the host will usually ask Kevin to sing a snippet of whatever his current favorite song is, and because of that, he's been able to showcase his mesmerizing voice with covers from artists ranging from the Backstreet Boys's As Long As You Love Me, Sting's Rise and Fall, Ne-Yo's One In a Million and, my personal favorite, Michael Buble's Home.
Kevin captivates listeners with his honeyed tunes and he doesn't just sing with his voice; he does these simple yet alluring gestures with his body to make you vibe along. I think what makes his cover of Home all the more personal is the fact that, even though he was born in Korea, a majority of his family and friends are still in Australia and it's not like he can easily pack up and fly to see them whenever he wants to; therefore by using those emotions, you can really feel the sincerity and loneliness that he portrays with his golden voice.
If you've ever had any doubt in the abilities of these male vocalists before, I hope you'll give these covers a shot and maybe it'll change your mind a bit. And if you've now been converted and have become a fan, then go on and check out their other (just as fabulous) covers!
What are some of your favorite covers? Share your thoughts in the comment section below and be sure to subscribe to the site and follow us on Facebook, Twitter, Instagram, and Tumblr to keep up with all of our posts.
https://kultscene.com/wp-content/uploads/2015/04/English-Covers.png
768
1024
Tam Huynh
http://kultscene.com/wp-content/uploads/2018/02/KULTSCENE-LOGO-2018-TRANSPARENT-RED.png
Tam Huynh
2015-04-22 17:23:53
2015-09-15 20:20:06
5 English Covers by Korean Male Singers