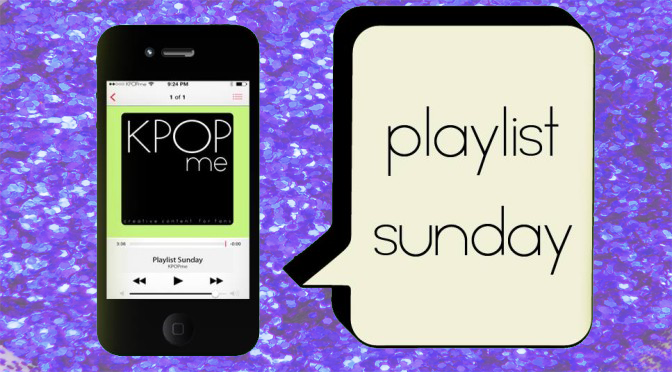 We already went over our favorite girl group songs, so why not move on over to the guys for this week's Playlist? The ladies definitely hold their power in the K-Pop industry, but let's not forget about the guys who also demonstrate powerful vocals and release addicting songs! Here's our picks for what we're currently listening to for male idols:
VIC's 굴 (Oyster) is not only emotional, but it shows off his amazing vocal skills and accompanies quite a depressing music video. It's such a shame that he's not an extremely popular artist, because I can't seem to find the translation of these lyrics! This doesn't take away from the powerful feelings of anger and anguish you get from VIC, though. I remember when I first watched this; I didn't know why, but it hit something inside, and I ended up with moist eyes afterwards. I have a special place in my heart for this song, even if I can't really understand it, and I think that's one of its best attributes.
–Thuc
Check out these cool articles around the web
Last week, I finally downloaded Crush's Crush on You album, and I have been listening to one song on repeat since then. Hey Baby featuring Zion.T is (so far) my favorite song off of the album. The song begins with Crush beat boxing and his beautiful falsetto. Then the beat comes in and suddenly I feel like I'm listening to an 80s Michael Jackson track. As you listen to the song it is clear that Crush was influenced by MJ for this track. At one point Zion.T even says "MJ baby".
Crush's vocals are amazing in anything he sings. Zion.T adds his flair throughout the song as well. I love this pairing of Crush and Zion.T. This song is super upbeat and a fun song to listen to and sing along to. I'm never disappointed with anything Zion.T does and Crush has already proved to me that he's an extremely talented artist and producer.
— Tara
A lot of people know Seo In Guk as an actor, but I've liked him ever since I heard My Baby U. I've lately found myself listening to his romantic song Tease Me, for no apparent reason other than the fact that it's playful, yet the melodious sound is exactly what I think a good song should sound like. Seo In Guk's smooth vocals asking to fall in love slowly is absolutely beautiful.
The music video depicts Seo In Guk as a stuntman who falls in love with the lead actress, who ignores him. He thinks they're a perfect fit, but she teases him because they're so far apart in the film industry. However, when he performs a stunt where his car overturns, the audience, and singer, sees that she actually likes him also. The nervousness in the confessor's voice as he sings repeated lyrics makes it clear that this isn't a song just about a stuntman and an actress; Tease Me is a song for anyone who's ever felt that they've been teased by someone they've had a crush on.
–Tamar
One day, while binge watching all of 2PM's Youtube videos, I stumbled upon Jang Woo Young's solo Sexy Lady, and instantly fell in love with it. The song might not be much vocally, but the beat, catchy chorus, and dance moves lured me in on the first listen (or watch, for that matter). Moreover, there's just something about a guy singing about lusting over a sexy woman over a demure one that just gets to me! And strangely, I completely dig that blonde look on Woo Young; he looks like a sexy man himself.
–Alexis
After watching B1A4 at KCON 2014, I fell more in love with them. Each members' personalities really stand out and they are very funny. That's why I love their comeback song Solo Day. If you tie in the video, the choreography, and the song, it's a perfect combination. The video is very funny and has a quirky ending. Their vocals in the song are very soothing and make the upbeat ballad lift you up and lets you know it's ok to be solo. Beware, after you listen to this song you will end up doing the whistle and singing along to the addicting chorus.
–Alejandro
Who are some of your favorite male idols and artists? Share them with us in the comment section below and be sure to subscribe to the site and follow us on Facebook, Twitter, Instagram, Tumblr, and Bloglovin' so you can keep up with all our posts.
https://kultscene.com/wp-content/uploads/2014/08/PS4.png
372
672
KultScene
http://kultscene.com/wp-content/uploads/2018/02/KULTSCENE-LOGO-2018-TRANSPARENT-RED.png
KultScene
2014-08-10 17:06:16
2014-08-10 17:12:59
Playlist Sunday: All Guys