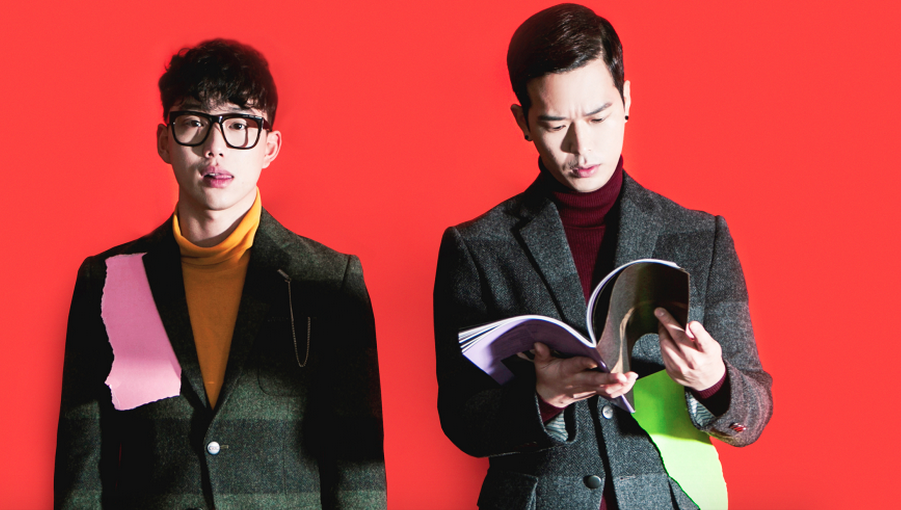 Since 2010 the Korean acoustic indie band 10cm has been making waves in South Korea, offering the perfect coffee shop tunes to the most coffee-obsessed nation in Asia. It's no surprise that the duo's big break came from a song about coffee.
10cm, comprised of main vocalist and percussionist Kwon Jeong Yeol with secondary vocalist Yoon Cheol Jong on the guitar, tambourine, and anything else they decide to include in their folk-inspired songs. The two worked together in the early 2000's while part of the rock band, Hyerung. The two left that path, and rejoined in 2010.
With simple jazz and folk-inspired sounds and soulful voices, the group is one of South Korea's most promising, musically innovative musical acts. Many of 10cm songs are filled with bits of humor, sarcasm, and evocative lyrics, matching the nostalgic feel of their music.
Americano I like I like I like
The group's most prominent hit, Americano is an upbeat, addicting song filled with 10cm's tongue-in-cheek lyrics, which resulted in the song getting blocked from airplay in South Korea.
---
---
When getting some air after fighting with your girlfriend
When getting a smoke after kissing another girl
Despite being banned about a year after being released (due to the slow process to ban many songs in South Korea,) Americano became one of the most popular songs of 2010 and 2011. It, and the group's other hit song Tonight I'm Afraid of the Dark, helped 10cm win multiple awards, including "Best Pop Song" at the 2011 Korean Music Awards.

10cm has a generally upbeat yet melodramatic, style of music, and songs like I'm Fine Thank You and You became hits in South Korea. The simple acoustic strumming of the guitar matched with and the beats of the jembe, a barehanded-played drum favored by Kwon, are reminiscent of the type of songs that made Jason Mraz and Ed Sheeren famous.
10cm occasionally introduces some new elements to its songs, and a few more rock-esque sounding are certainly in the duo's retinue, but creating beauty out of simple chords and lyrics is what 10cm thrives at. For coffee addicts who were drawn in by the coffeehouse style (and focused) tunes, 10cm's harmonica-utilizing Love in the Milky Way Café is an example of 10cm's songs that offer midway point between the upbeat, faster-paced Americano and the band's more emotional songs like Tonight I'm Afraid of the Dark.
---
---
10cm's latest release was 2014's 3.0, the follow up to the pair's previous albums 1.0 and 2.0. The title song, Missing You, is a softer song with a more melancholic, mature message while other songs on the album offer a range of sounds, including creating a unique 10cm style of acoustic-rock music on Cigarette Smoking King, which includes elements typically associated with screamo songs. The album goes together as an ode to 10cm's experiences, but nothing is filled with as much self-mockery as the first track,3rd Album Burdens.
10cm has collaborated with a variety of artists (Leessang,
Yoonmirae
(Tasha/T) of MFBTY, Haha,
Orange Caramel
, Verbal Jint) over the years, and has teamed up with the female duo Okdal for a concert series. The two bands will be performing in New York City on June 5, thanks to Urbansiders. You can find out all of the information on the
concert's website page
.
What song of 10cm's resonates with you? Share your thoughts in the comment section below and be sure to subscribe to the site and follow us on Facebook, Twitter, Instagram, and Tumblr to keep up with all of our posts.
https://kultscene.com/wp-content/uploads/2015/04/Screen-Shot-2015-04-21-at-5.18.42-PM.png
510
901
Tamar Herman
http://kultscene.com/wp-content/uploads/2018/02/KULTSCENE-LOGO-2018-TRANSPARENT-RED.png
Tamar Herman
2015-04-21 17:10:59
2015-04-23 07:13:19
Artist Spotlight: 10cm [NYC Concert Update]