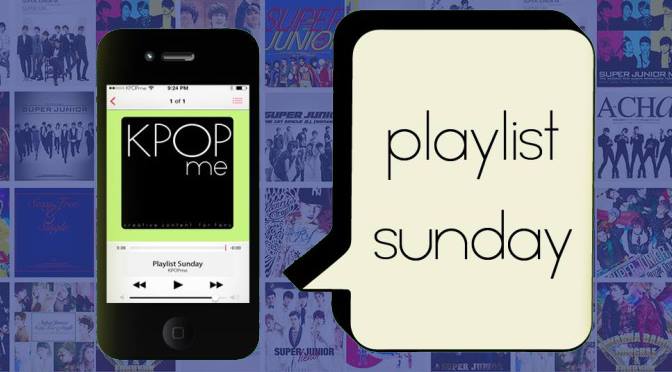 With the long-awaited release of Super Junior's Mamacita, there was unanimous agreement that this week's KPOPme Playlist Sunday would be dedicated to the super group. With seven studio albums since debuting in 2005, Super Junior has something for everyone, and KPOPme's staff members each have our own favorite song.
Super Junior was and remains my favorite Korean group ever since 2009 when I listened to It's You. This song was the follow up track to Super Junior's hugely successful track Sorry Sorry, which I thought was extremely catchy, but wasn't what did it. It's You's sound, mixing a dance track with a melodious, heartfelt melody, is one of Super Junior's most underrated songs. Each member of the group has his own time to shine, with clear, distinct vocals that blend into the chorus of the song when they all come together to create a beautiful sound.
This song is also dear to my heart since it's the last music video that features Super Junior's 13 primary members (Sorry Sorry Answer was released afterwards, but filmed prior to It's You). Kim Kibum appears as an actor, and this is the last song that Han Geng (known then as Hankyung) promoted with Super Junior. The song's poignant, yet dramatic, sound perfectly suited the end of an era for Super Junior.

–Tamar
Check out these cool articles around the web.
In all honesty I do not know a lot of SuJu songs, but I do enjoy their sound. I chose Superman for this week's playlist for a number of reasons. To begin with, that intro… whoa, so strong and great. It immediately draws you into the song. The beat throughout it is constant and fits perfectly with the guys' deep voices.
Superman keeps it simple musically so we can fully appreciate the array of vocals throughout the group. Every time I listen to this song I turn up the volume and bob my head to the beat. It may not be their best song vocally or production-wise, but it is definitely worth a listen or two.

—Tara
The first time I roamed through Youtube watching K-Pop videos, all it took for me to become a hardcore fan was one Super Junior music video. I mean, 10+ guys dancing and wearing awesome clothes? Yes please! This groups is definitely my favorite in the genre, and while it's hard for me to pick favorites, I just have to go with Bittersweet from their previous album Sexy, Free, & Single.
All it took for me to get hooked on this song were Kyuhyun's breaths at the beginning. Oh my god, my feels! This song is KRY at its best, complemented by Sungmin, of course. Yesung, Ryeowook, and Kyuhyun are some of the best vocalists in all of K-Pop, and deliver a powerful, heartsick ballad with Bittersweet. Even if you don't understand Korean (or have read the lyrics' translation, for that matter), you can feel the heartache conveyed in the song. And that's what singing is all about!

–Alexis
Super Junior has a very special place in my heart. Even if they are not my favorite boy band out there, I truly love what they do. In their recent comeback album MAMACITA, there's a song that really captured my attention, Evanesce. The song is an uptempo ballad that got me right away.
The start with Kyhyun's beautiful voice gives me chills, and the chourus comes into the song very smoothly. You can hear in their vocals their suffering when they sing, "tell me why, don't know why!" The instrumental for the song is amazing –very '90s R&B. And that synthesizer really gives me life, which is why I love this song so much.

–Alejandro
What's your favorite Super Junior song? Be sure to share it with us and follow us on Facebook, Twitter, Instagram, Tumblr, and Bloglovin' so you can keep up with all our posts.
https://kultscene.com/wp-content/uploads/2014/08/10579261_10152212928811627_9482575_n.jpg
372
672
KultScene
http://kultscene.com/wp-content/uploads/2018/02/KULTSCENE-LOGO-2018-TRANSPARENT-RED.png
KultScene
2014-08-31 13:39:59
2014-09-12 03:08:32
Playlist Sunday: Super Junior Edition