Taemin, member of popular boy group SHINee, debuted six years ago and has now blossomed into a solo artist. This summer, SHINee's youngest member released his first solo album. Not only is it his first solo project, but Taemin is the first member of SHINee to have a solo album.
Six years ago, I don't think anyone would have guessed that Taemin would go solo before his other group mates. Did you think this young kid…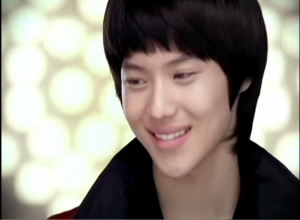 … would turn into this grown man?
Let's revisit Taemin as the first SHINee member to have a solo debut. First of all, Taemin's solo was hush hush until the end of July when rumors speculated about a solo debut. SM Entertainment did later justify the rumor, but with little information given. Finally, a week before his debut, SM released his teaser photos (see photo gallery above).
Not much was provided in terms of build up for the debut. Maybe SM wanted to go with the element of surprise with this one. And who would blame them? If there was a lot of talk leading up to his debut, there would most likely be more people questioning why Taemin received a solo before Onew and Jonghyun, the main and lead vocals of SHINee.
Check out these cool articles around the web
Publicly talking about and acknowledging Taemin's debut months ahead of the release also opens up the door for a lot of speculation and expectation from fans. Doing the project in as much secrecy as possible allows for an organic process with little interference from fans and others not involved in the project. It also creates a better experience for fans as they do not know what to expect and will hopefully be impressed with the entire project.
Since SHINee's debut six years ago, people haven't really noticed (for lack of a better word) or talked about Taemin until SHINee's most recent comebacks. Most notably, Dream Girl, when he famously went from Taemin to TaeMAN. With each SHINee comeback, fans have seen him grow in age, maturity, and not to focus on looks, but in his looks as well. But the most notable improvement from the dance machine, has been his singing voice.
Again, starting with Dream Girl, Taemin received more singing lines, and when Jonghyun was out during their Why So Serious promotions, Taemin sang his parts during their live performances. Maybe this was SM's brilliant idea all along. Give Taemin more singing parts so fans can see how much he has improved, and one day, we'll give me a solo debut. But that's just speculation…
The meat of this article is about Taemin and his solo debut. Initially, when it was announced that he would have a solo, I questioned it. I thought Jonghyun would be the first SHINee member to have a solo. BUT after watching Taemin's music video and live performance of Danger, I realized SM made a great decision.
Taemin has many qualities that make him a suitable artist for a solo debut. First, he can dance. We all know this. Since debut, that kid could dance. Obviously as he's gotten older his dancing has improved and matured. He's always fun to watch during the dance breaks in the music videos and at live performances. SHINee as a whole are AMAZING dancers, but Taemin just has that extra oomph that puts him above his hyungs. Although he is the best dancer in SHINee, he doesn't brag about it or flaunt it. Yes, he usually shows how to do the dance moves before the other members, but he doesn't go around stating he is the best dancer in SHINee. He's humble, and that is what makes a great solo artist.
Second, Taemin has grown up. It's hard to imagine what a 15-year-old boy will look like at 21. And Taemin clearly has good genes because he has grown into a handsome young man. Aside from being handsome, he has a tall and thin frame. And although he is thin, he doesn't look fragile or weak. Instead, he is elongated and elegant, which adds to his powerful and impressive dancing.
Third, Teamin can sing. He is finally past puberty and actually has a great singing voice. It may not be very powerful or soulful, but that doesn't matter because it's own sound that's different from others. In order to have a solo debut, it would serve that person best to have their own sound that isn't like anyone else's. Not only that, but he sings live while hitting his dance moves hard. That is talent.
Finally, when you watch Taemin perform his solo songs, it's clear he is doing this for the love of music. The choreography for his songs are perfect for him. He puts his all into every dance move and makes the whole dance his own with his charisma and overall dancing skills. After watching his Danger music video (in the above playlist), it is also clear that Michael Jackson was the inspiration for the choreography, outfits, and even some of the singing in the song.
All of these qualities are what make Taemin a solid choice for a solo artist. The numerous videos SM posted of his dance practice with Ian Eastwood and the full choreography, and his Ace video concept show that he is a true performer. His stage presence is unbelievable, which he has had six years to craft and he surely has done that.
As fans and non-fans listen to Ace in it's entirety, it's clear to hear that this mini album is Teamin's style. The vocals, the beats, the music, everything feels like a perfect fit. These are the types of songs Teamin was meant to sing and he does so with confidence and gusto. He has proven once and for all that he is more than just an exceptional dancer and a handsome maknae. He is a vocalist and I can't wait to see his role in SHINee's next comeback, whenever that may be.
Until then, listen to Taemin's solo debut mini album Ace and you will see why Taemin is the first SHINee member to have a solo debut. What is your favorite song from Taemin's mini album? Leave your thoughts in the comment section below and be sure to subscribe to the site and follow us on Facebook, Twitter, Instagram, Tumblr, and Bloglovin' so you can keep up with all our posts.
https://kultscene.com/wp-content/uploads/2014/09/Untitled-design.png
768
1024
Tara
http://kultscene.com/wp-content/uploads/2018/02/KULTSCENE-LOGO-2018-TRANSPARENT-RED.png
Tara
2014-09-16 17:04:04
2015-01-04 09:28:20
Why Taemin Was First in SHINee to Go Solo