Expats living abroad in the same country tend to bond with one another, and that's definitely true about Korean idols who speak English. Whether because of similar work activities (like working at Arirang, Korea's English language channel), or simply because they lived similar lives at one point, transitioning from Western society to becoming iconic Korean figures, English-speaking Korean idols are drawn to one another.
Even though these idols may not necessarily be the most popular ones in their group, fans from all over the world adore them and follow their SNS since English speaking idols are often more accessible than idols who only speak in Korean. With K-Pop growing popular around the globe, idols who speak English can play a real role in connecting directly with fans around the world. Imagine K-pop stars using the services of something like Effortless English Club to help improve their English! That would be so cool. There's always that one member of K-pop groups that is fluent in English, so you see them speaking the most during interview.
And lately, many of them have been doing it in a very public way. English speaking idols have shown that they have friendships that cross company lines.
Girls' Generation's Tiffany and 2PM's Nichkhun Dating
Do they speak English to each other when on dates? Not necessarily, but both idols lived in L.A. prior to becoming trainees at two of the biggest entertainment companies in Korea. Touted by their groups for their English language skills, both Tiffany and Nichkhun became some of the most popular idols abroad- they each have huge fan followings, partially due to their accessibility to international fans. At the time of their debut, a contact explained:
Since the two have known each other for a long time and are both from the States, it was natural for their friendship to go to another level.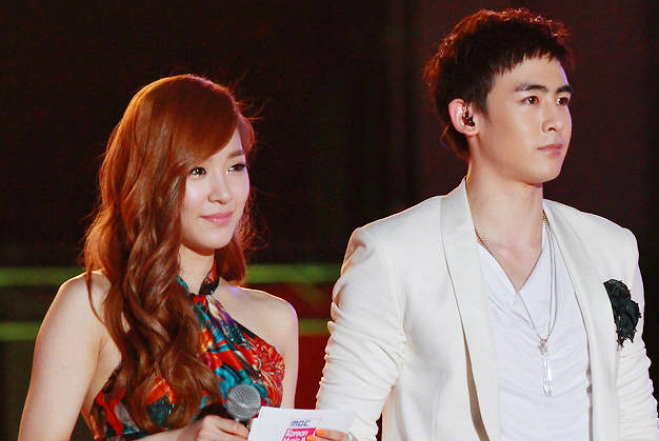 Check out these cool articles around the web
Eric Nam, Miss A's Min, Ailee, U-KISS's Kevin, BTOB's Peniel, f(x)'s Amber, and Royal Pirates' James Played On Twitter

Eric and Kevin were celebrating Kevin and the Royal Pirates' Moon becoming MCs of the show After School Club, and some other people felt left out. Ailee and Amber joined in and convinced Kevin and Eric to get fat. Ailee invited the Miss A dancer along too.
Min only studied in the US for a short period of time, but her inclusion in the English club makes sense. Kevin faces James a shout out, and then James started correcting peoples grammar. After that, Amber initiated on shouting out Peniel and he was initiated into the group of English speaking idols.
(Credit: Soompi)
Eric Nam, U-KISS's Eli, and NS Yoon-G Also Tweet Together

The two solo artists and U-KISS members have shown time and time again on Twitter that they are on very good terms. Kevin and Eric work together at Arirang, and Kevin had a cameo in Eric's Ooh Ooh, and the two have promoted one anothers songs on social media. Eric, Eli, and NS Yoon-G gained attention earlier this year for a set of tweets that revolved around the boy's commenting on Yoon-G's sexy concept for Yasisi. They playful thread of Tweets showed how friendly they are.
Again, is it because they all lived in English speaking countries for a time? Not definitely, but the shared language and experience definitely seems to have a role there.
Celebrating Min's Birthday
Several of the English-speaking group came together this weekend to celebrate Min's birthday. Eric shared the pictures on Instagram, once again proving how language has bound the group together.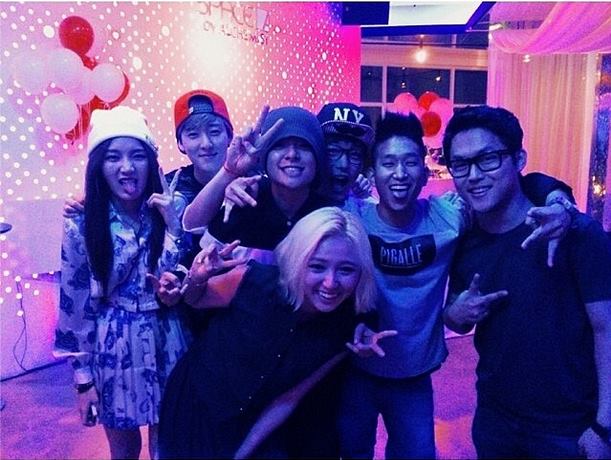 There are countless other idols who have lived in English speaking countries- Solo artist and Super Junior-M member Henry Lau, Girl's Generation's Jessica and her sister f(x)'s Krystal, Jay Park, 2PM's Taecyeon, Nu'Est's JR and Aron just to name a few.
What do you think, are English speaking idols more likely to get along? Are you more likely to like them because you understand their language better (I'm assuming you are reading this because you speak English just as well as they do)? Don't forget to subscribe to the site and follow us on Facebook, Twitter, Instagram, Tumblr, and Bloglovin' so you can keep up with all our posts.
https://kultscene.com/wp-content/uploads/2014/06/Untitled-design1.png
500
1500
Tamar Herman
http://kultscene.com/wp-content/uploads/2018/02/KULTSCENE-LOGO-2018-TRANSPARENT-RED.png
Tamar Herman
2014-06-22 17:13:07
2014-06-22 17:25:06
The English Club In K-Pop