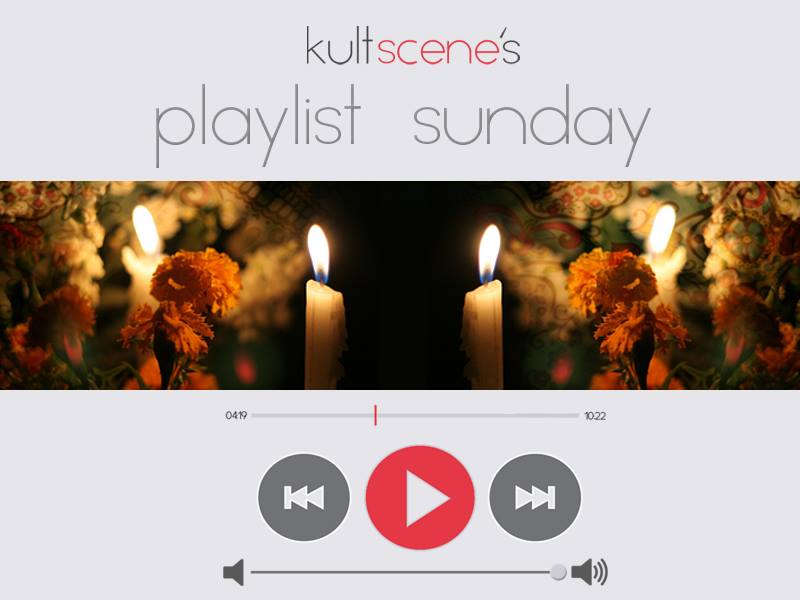 Following the holiday theme for our Playlist Sunday, this week's focus sets on The Day of the Dead. Although it may sound macabre, November 2nd is a day dedicated to remembering and honoring deceased loved ones. And while it's very unlikely that K-Pop groups would have songs about the Day of the Dead, we're interpreting it in our own way by choosing songs with similar festive makeup, about lost love, and saying good bye.
Even though it's not a real Catrín (dapper male skeleton), Jay Park donned skull-like makeup for the music video of his album's intro New Breed. The track was not a single, but Jay Park decided to release a video for his album's intro by the same name with the eye catching makeup to further enhance his message of him being different to other artists in the game. The look was inspired by Rick Genest, aka Zombie Boy, rather than the Day of the Dead, but the similarities and loose connection to the Catrín are there. This song is full of curse words, so listeners wary and click play at your own discretion.
–Alexis
My pick for this week's theme is not related in any way to the Mexican holiday. Instead, I am playing off of the name "Day of the Dead" for my pick. Primary's Poison featuring E-Sens talks about an array of feelings and emotions that make the narrator feel half dead and wanting to be more free. The lyrics show the pain the narrator experienced through a period of time. He went through a lot of dark and rough times and it took awhile for him to realize that he is in control of his happiness. He was in such a dark place that he didn't realize all of the things he was losing. The end of the song brings some clarity in the form of these lyrics:
If I rush to follow along, I keep forgetting which one is me
If I rush to follow along, I keep forgetting which one is me
If you need to stop, then stop now
We lose too many important things in life
If I rush to follow along, I keep forgetting which one is me
— Tara
Nell's The Day Before may not be exactly what The Day of The Dead is about, but the song's video remind me of the feelings that someone has towards the passing of a loved one. The lyrics are seemingly about a couple that's broken up, but Nell's music video shows that the band wrote it with the thought of death in mind.
It was difficult at first
More than I will admit
It was burdensome
But after accepting it,
it makes me too sorrowful.
Losing a loved one is difficult, but even after you accept that you will never see them, that pain never goes away. It's hard and burdensome to love and lose someone, but as humans it is what we do.
–Tamar
Day Of The Dead is a holiday to remember the loved ones that passed away. In HA:TFELT's song Nothing Lasts Forever, she talks about losing someone you love and not being able to say goodbye to them. This song is very dear to my heart because I wasn't able to say goodbye to my grandmother before she died, and listening to this song, it gives me a lot of peace. In her voice you can hear a very fragile tone and how regretful she is of not saying that last goodbye. She knows that even if she didn't have the chance to say what she wanted to say, at least she has that last memory of her loved one. That's what Day of the Dead is all about, knowing that your loved ones who have passed away are at peace and in a better place, even if it's hard at first to accept it; you will always remember them.
–Alejandro
What's your favorite Day of the dead-like K-Pop song? Leave your pick in the comment section below and be sure to subscribe to the site and follow us on Facebook, Twitter, Instagram, Tumblr, and Bloglovin' so you can keep up with all our posts.
https://kultscene.com/wp-content/uploads/2014/11/10743543_10152329692581627_9107493_n.jpg
600
800
KultScene
http://kultscene.com/wp-content/uploads/2018/02/KULTSCENE-LOGO-2018-TRANSPARENT-RED.png
KultScene
2014-11-02 16:07:55
2014-11-02 16:10:24
Playlist Sunday: Day of the Dead Edition