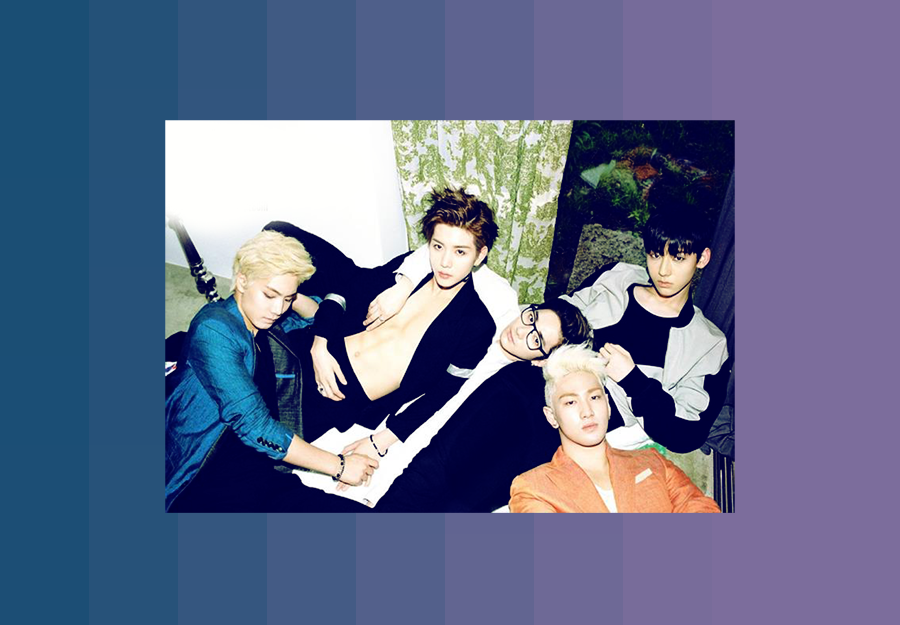 I mentioned to one of my fellow KPOPme writers that I need to broaden my K-Pop horizons when I saw the teaser for NU'EST's comeback. She suggested I use that as a basis for an article (or many to follow in similar format). So here I am, about to write a Let's Discover article about NU'EST.
Why NU'EST, you may ask? Well, for me personally, I really do not know much about them. I know Ren of NU'EST, because he is the most recognizable out of the group and he was the only one I ever really heard about. In all honesty, I thought NU'EST was a well established K-Pop group, thinking they have been in the industry for at least four years.
So imagine my shock when I found out they have only been together for two years! This was both shocking and a warm welcome to me. Shocking, because the way they were talked about online made it seem like they have been around longer. Now as I write this I realize that they debuted in 2012, which was the year that I really became interested in K-Pop, and that may be the reason why I heard so much about that at the time. The fact that they have only been together for two years meant there were only two years of music for me to discover.
Check out these cool articles around the web
NU'EST is a five-member male K-Pop group that debuted two years ago in 2012. One thing that I initially noticed is that there are only five members. It feels like the majority of K-Pop groups these days are made up of more than five members. I wasn't sure I was counting correctly at first. I think five is a good number for a group. There aren't too many rappers, main singers, dancers, etc. Everyone has a chance to shine and it's easier to learn about each member.
The fact that there's a Korean-American in the group, Aron, also shows that NU'EST wishes to appeal to international fans. I watched some of NU'EST's videos online and there's a lot of times that Aron speaks to his fans in English, which I really enjoy being that I am a native English speaker.
Before I listened to NU'EST's older songs, I began with their Judgement teaser, which was what caught my attention in the first place. After watching the teaser I was intrigued. From there I began to watch their other music videos and naturally I have seen a few of them before, but they never left a lasting impression on me. I noticed that with K-Pop and other music genres for that matter, I have to like an artist at my own pace.
Judgement and their looks (let's be honest guys) was enough for me to explore more. A quick side note, why are there four members born in 1995? They should be older!!!!! These boys, especially Baekho, have mature faces for 19-year-olds. Ok, back to the music.
I watched all of their music videos, at least most of them, and have come to the conclusion that I love Action. The chorus is what gets me. So good. I grew up in the 90's with NSYNC and Backstreet Boys and this song's beat and production remind me so much of those boy bands. I would recommend Action to any new fans of NU'EST. It's upbeat and so catchy.
The five guys seem to work well together, based on their music videos and some behind-the-scenes videos I discovered. I would like more videos of them together though because a lot of the videos online are older. I did discover that on their YouTube page, they had a series of videos showing what the members were up to leading up to this comeback. It's nice for fans to see their idols and for new fans, like me, who don't know much about the group. Those types of videos make the idols more personable.
After watching Good Bye Bye, it's clear to see that these boys (yes boys, they're only 19 and 21!!) have come back with a more mature concept and look. Throughout the video, they look and act masculine, and Ren looks so different now! He looks much more mature and more handsome.
With each listen the song grows on me. At first I wasn't really into the song, but while writing this article I've gone back and listened to it a couple of times and I like it more and more after each listen. Anyway, I absolutely love the instrumentals and the production of the song. They fit the tone of the song and video perfectly.
I hope NU'EST has a successful comeback with Good Bye Bye and their first full length album, Re:BIRTH. I listened to the album, and I love, love, love Big Deal. Based on the comments, the fans love it as well, and they hope for a music video (I'm totally down for a music video for Big Deal, it would be sooo good).
All in all, I'm glad NU'EST made a comeback this week so I can discover them even though they have been together for two years. That's one of the beauties of K-Pop, there are so many groups (old, new, disbanded, still together, etc) for people to explore and a lot of them have their own style, which makes finding new music so easy.
Based on their comeback spoiler episodes on 1theK, the boys put A LOT of hard work into the new album and their comeback. They clearly love to sing and dance and are humbled by the support of their fans. For that, they have gained a new fan.
Are you guys new fans to NU'EST too or have you been a loyal fan from the beginning? What are some of your favorite NU'EST songs I should check out as I explore NU'EST's music? If you have any ideas or topics you think we should discuss in these Let's Discover articles leave your comments below! Don't forget to follow us on Facebook, Twitter, Instagram, Tumblr,and Bloglovin' so you can keep up with all our posts.
https://kultscene.com/wp-content/uploads/2014/07/discover-nuest.png
625
900
Tara
http://kultscene.com/wp-content/uploads/2018/02/KULTSCENE-LOGO-2018-TRANSPARENT-RED.png
Tara
2014-07-12 15:08:24
2014-07-12 15:08:24
Let's Discover: NU'EST