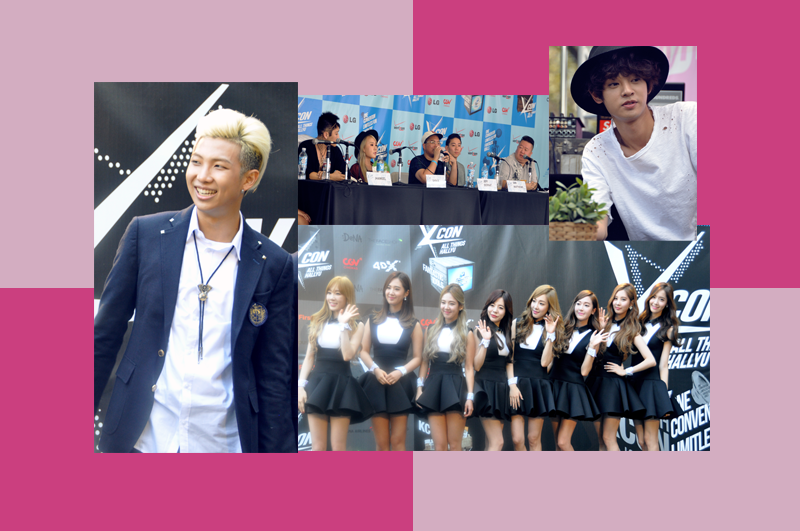 After a pretty good experience on Saturday, the first day of KCON 2014 at the Los Angeles Memorial Sports Arena, expectations were high for the following day on August 10th. Needless to say, fans definitely enjoyed themselves throughout this two-part convention and concert event. Here's our review on the highlights during the day!
---
Overview
---
The line wasn't as bad in terms of aesthetic appeal on Sunday (it didn't stretch across a block or so around the venue), but it was still a force to be reckoned with. Luckily, it was an easier process as most of the con-goers bought tickets for both days.
As mentioned before, the Marketplace was quite the popular spot for fans waiting for the convention gates to open at 10 a.m., as everyone checked out the booths, food trucks, and outdoor stage. In contrast to Saturday, which had many G-Dragon fans, Sunday brought forth a large population of the Girls' Generation and BTS fandom, which made up a majority of the attendees.
In the beginning, day two appeared to be more organized with less crowds than day one, but, upon the time of the concert, three ambulances showed up by the entrance to the venue. It was certainly a shocking sight, but it seemed like everything was under control by the time the concert began.
Much like the previous day, the second day of the convention offered more workshops, panels, performances on the outdoor stage, Danny from L.A tapings, a red carpet event, fan meetings with artists, and much more.
---
Danny from L.A. taping
---
Due to our busy schedule, KPOPme unfortunately missed BTS' Danny From L.A. taping. But thankfully we were right on time to see Korean rocker Jung Joon Young's appearance. Different from idol groups, Jung Joon Young's presence was very laid back. He kept his really cool I don't care appearance. His English was very  fluent and natural that he even forgot that it was being taped and constantly used curse words, which kept everyone in the audience laughing.
He played a game with Danny and Parker in which they had to drink lime juice and soy sauce and see who would last longer without making a bitter face.  Ultimately, Jung Joon Young won and the audience cheered for him.
Here are some pictures from the taping:
---
Red Carpet
---
Similar to the fan engagements, access to this event required attendees winning a pass on their scratch off cards given in their goodie bags. And the despite the events with artists being closed off to press, the red carpet was not. Photographers lined the first row of barriers separating the public from the artists, while the fans were situated behind press and another barrier.
Eric Nam hosted the event, introducing each act, adding his funny commentary, and just being his adorkable self. The red carpet featured the acts that would perform at M! Countdown that night, including BTS, CNBLUE, SPICA, and Girls' Generation, as well as actors Lee Seung Gi and Lee Seo Jin.
As each artist came out, Eric would interview them for a little bit, and then the first would pose for pictures. Some of the acts, when coming out, would pause to greet fans who stood closer to the door. Stay tuned for we will later post a video from this event so you can see for yourself all that happened!
By the end of the event, Eric stayed behind and took many, many pictures with fans, despite this not being part of the show and him having a fan meeting at the Viki tent earlier on the day and the previous day.
Check out some of our pictures from the red carpet event:
This slideshow requires JavaScript.
---
Panels
---
Discussion: The Best and Brightest Rookies
One of the first panels of the day took place at 11 a.m., called the Best & Brightest Rookie Groups, with Johnny Au (The Au Review), White Boy KPOP, Nadia Leong (TGM Events), Lyra Jazmine (Hallyu LA), Colleen Lee (Japako Music), and June Saladino (Hallyu Magazine) taking charge of discussing rookies in the industry.
Statistically speaking, Johnny brought up the issue of how, generally, only five percent of rookies make it in the industry; he took the time to ask the panelists to each give their opinion on the low number. White Boy KPOP talked about how rookies often took on concepts that didn't work, while Lyra and Nadia both decided that it was dependent on the companies. June referred to White Boy KPOP when saying that appealing to the global music style was important in order to succeed, and Nadia added, "Korean agencies don't listen" to our recommendations and advice, looking back on 100%'s unfortunately named 2nd mini album, BANG the BUSH. Colleen also emphasized on a working concept and built upon that idea by saying how music stages also need to work with the group as well.
When moving onto what made rookies succeed, Nadia took no time in simply saying that they have to be "really pretty or talented," with the other panelists agreeing and adding that having both attributes ups the ante for success. She referred to EXO as an example; although they had some recent issues, she said that they had "no visual flaws" and thus gained a lot of popularity. In regards to newer, highly popular rookies, White Boy KPOP couldn't help mentioning BTS due to their overwhelming "charisma, confidence, and stage presence," to which the panel and the crowd unanimously agreed.
Of course, failed trainees and their outcomes were the next topic at hand; the panelists lightheartedly talked about how these specific trainees end up as stylists, back-up dancers, or just move on to other groups. This led to different tangents of conversation, as questions were raised about companies targeting specific areas or countries and reaching out to publications about upcoming rookies. SM Entertainment was brought up in terms of dominating the Chinese market, as Nadia talked about how they actually created Chinese headquarters to ensure that EXO would have no problems with performing in the country. She pointed out that, due to SM's control of China, YG focused on Japan while JYP looked towards Thailand for popularity.
The panel then went over shock tactics for rookies and the increase of shocking debuts as time passes, bringing up WASSUP's "twerking" and A.KOR member Kemy's diss rap towards Park Bom. To close off the panel, everyone talked about their favorite rookies, with GOT7, WINNER, Kiss & Cry, Red Velvet, Megan Lee, Bob Girls, Mamamoo, and Royal Pirates being some of the honorable mentions.
This slideshow requires JavaScript.
Cooking with Crazy Korean Cooking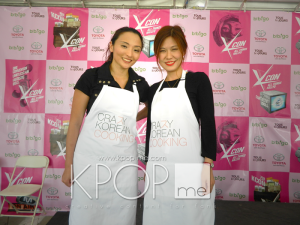 Right after this was Crazy Korean Cooking's interactive cooking panel at 11:30 a.m., in which they made kimchi fried rice and hotteok (sweet Korean pancake) for the crowd to sample. Volunteers were asked to come and help Grace Park and Stephanie Maing as they put their multitasking skills to the test, talking about ingredients, Korea's food culture and history, and cooking the very delicious food, all at the same time. Much like in their videos, the ladies were a comedy duo that retained all their seriousness in food while making everyone laugh with timely jokes.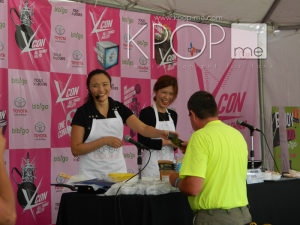 In addition to showing the panel attendees how to cook the featured dishes, Grace and Stephanie went over the health benefits of foods like kim (seaweed), giving out some sheets to hesitant newcomers to try out the ingredient that would be going into their kimchi fried rice. KPOPme had a hands on experience with the panel and helped out with making hotteok as Grace cooked the kimchi fried rice while Stephanie fed hungry fans. By the end of the panel, the food on the plates was wiped clean, and the crowd happily applauded the ladies for their hard work.
This slideshow requires JavaScript.
Stay tuned for an upcoming interview with Crazy Korean Cooking, as KPOPme asked these ladies about their KCON experience, current missions, and future goals.
Asian American Artists
As the Danny from L.A. taping featuring Jung Joon Young took place over at the Mnet Square at 1 p.m., panel tent one garnished a sizable amount of attendees looking to hear and see rappers Shin-B and DANakaDAN, singer Jhameel, producer Jeff Bernat, and moderator Christian Oh. More than focusing on K-Pop, the panelists addressed being of Asian descent and making it in the U.S., including the support of their families, the fans, and the industry as a whole.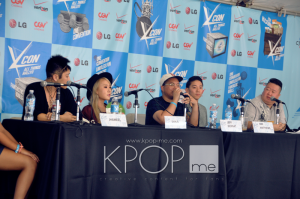 In regards to promoting yourself, the panelists talked about how Soundcloud was the platform for emerging artists since corporate America hasn't figured it out, as opposed to Youtube (even though there's money there, but competition is high). Jeff proclaimed that "Asian Americans are going to be the new face of the music industry… you'll be seeing a lot of us in the future." As for already established Asian American acts they look up to, the consensus among the panelists were Dumbfounded and Far East Movement, and Jeff brought up Blue Scholars.
When it comes to art and Asian Americans, the issue of family support often comes up. Shin-B shared her experiences being a female rapper in a world where parents think rap is all about sex, drugs, and misogyny, and that only, and how she has had to work hard to make them change their minds. But Jeff broke it down perfectly by saying, "at the end of the day… don't listen to your parents about your career… your life, your choices."
During the audience questions portion of the panel, the topic of the downsides of being associated with K-Pop came up. And while none of the panelists said anything negative about the genre and industry, Jhameel shared some insight by saying, "K-Pop has really good production, like, crazy good… that's just hard to compete with, but it pushes you [as an artist] as well." He also talked about K-Pop excelling at branding their idols, and how its hard when fans want to see you under the same standards –especially when you're pushing for a different image yourself. Shin-B brought into the discussion the matter of because South Korea has the fastest internet connection in the world, trends come and go just as fast, with fans following you one day and gone the next:
It's very hard to compete in that market because its production value is super up there. [And] for someone that's not already working with those people that are behind that, it's very, very hard [to compete], because [the audience] are going to compare you [with them]… It's very hard to keep [the fans'] interest going.
Because of an audience question, the panel came back to the topic of promoting yourself as an artist. While Dan encouraged people to put yourself and your work out there, Shin-B said, "It's all about the collaborations. The more we all come together and collaborate on each others' tracks –there's power in numbers… it will get more attention." Jeff agreed with Shin-B and added, "in the art scene, it's who you know." He also recommended to meet other artists –even if they're not big– and make "good music."
K-Pop's LGBT Fandom: WE LOVE IT!
This panel gathered a lot of support from the crowd. Special guests AJ O'Day, Andy La, Desmond Kwok, Miles Jai, and Nicola Foti where moderated by Derek Graves. The panel touched bases on how K-Pop idols influence the gay community, and how it has even elevated the way that heterosexual men dress and enables them to wear makeup without being judged.
Continuing on the topic of fashion, Nicola Foti applauded everyone by saying, "[KCON] is the most stylish convention I've ever been to!" This got the crowd giving him cheers and screams of support.
After wrapping up the fashion conversation, they went on to a more serious topic. Derek asked the panelist how they felt about Korea not being very accepting of the gay community.  Everyone in the panel stated how it was time for a gay idol. Even though the gay community already aspires on K-Pop artists, they really needed an openly gay idol to connect to.  They also said they loved how K-Pop brings not only the gay community together, but everyone as a whole.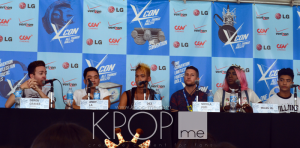 ---
Workshop
---
Fan Art Workshop & Battle!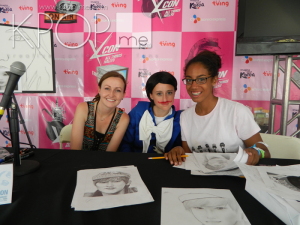 Shannon Rudder, a fabulous 17-year-old who caught attention at last year's KCON with a beautiful rendition of the EXO members, headed this workshop at 4 p.m., teaching the crowd about her experience in art and having a draw-along session that featured Girls' Generation member, Taeyeon.
Due to the time restraints, Shannon explained to the attendees that she would focus only on establishing a good outline for her portrait, which was blown up on a large easel to help those in the back. She gave everyone paper and pencils, along with other options for drawing: B1A4's Jinyoung and VIXX's N.
From beginning to end, Shannon went over basics of drawing, like how to establish proportions and having an eased hand to maintain control. She also brought up her own experiences in art: "I've always liked drawing." It was only when she "was a freshman in highschool that [she] learned how to draw," and it was very obvious to see that Shannon truly has a knack for art.
In regards to the K-Pop fandom, Shannon expressed happiness that "fan art" was "alive in the community," adding how she really enjoyed looking at other pieces of fanwork and having this connection with so many other people.
For the battle portion of this workshop, the participants were reminded that Shannon would be picking three top pieces to win signed albums (complimentary of KCON). Many fans were new to artwork while others were very experienced, but Shannon's teaching helped everyone create great works of art in the end. With difficulty in choosing the winners, Shannon finally picked three wonderful artists: Elizabeth Medina, Carina Li, and Ronni Seth. Here's their happy faces when they found out they had won:
Here's some of the entries: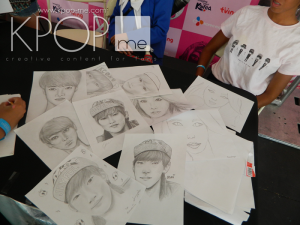 Did you attend KCON 2014? What was your favorite part of the convention? Don't forget to subscribe to the site and follow us on Facebook, Twitter, Instagram, Tumblr, and Bloglovin' so you can keep up with all our posts.
https://kultscene.com/wp-content/uploads/2014/08/DAY-2-FEATURED-IMAGE1.png
531
800
Thucydides
http://kultscene.com/wp-content/uploads/2018/02/KULTSCENE-LOGO-2018-TRANSPARENT-RED.png
Thucydides
2014-08-14 17:57:11
2014-08-14 17:57:11
KCON 2014 Day 2: Convention Highlights