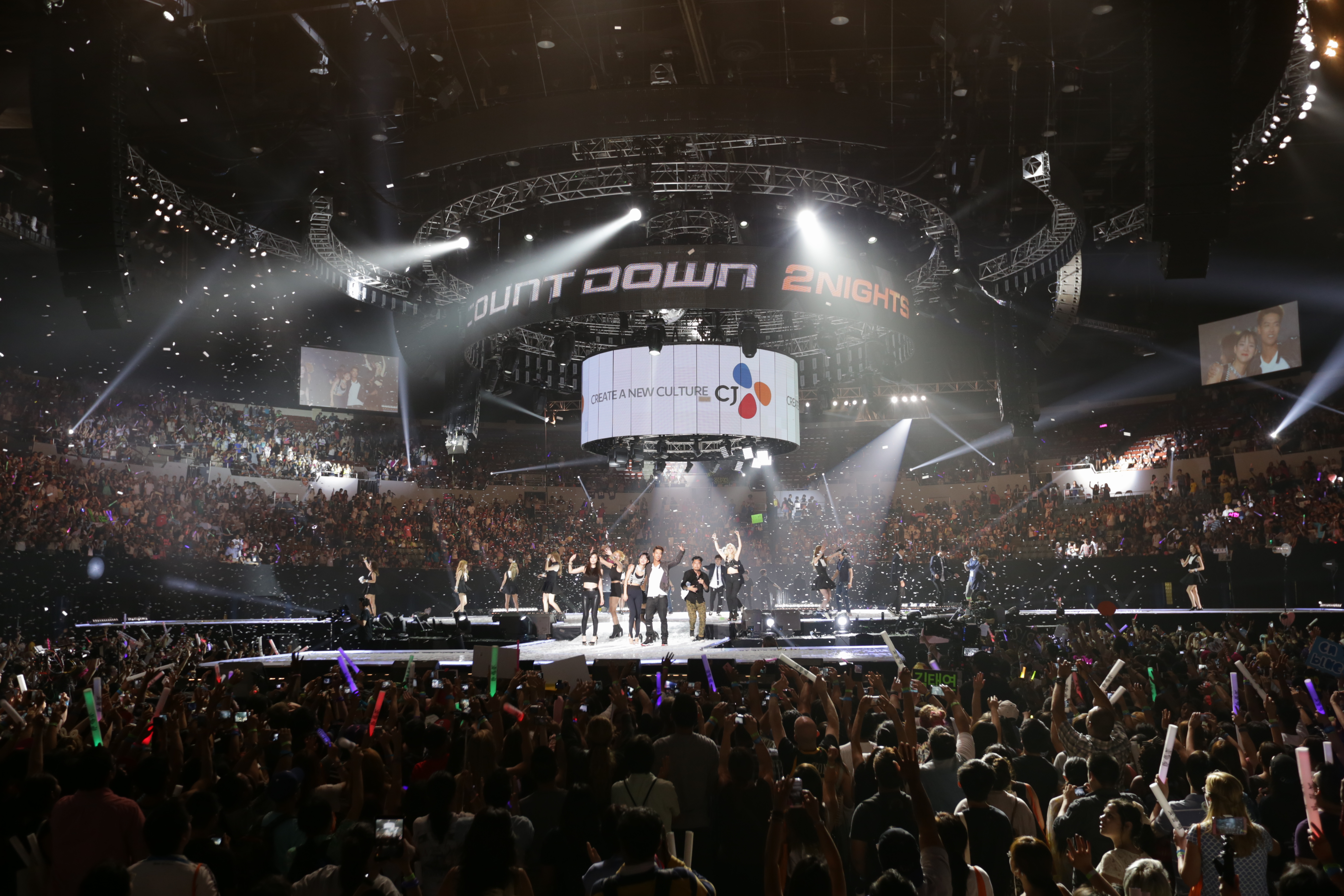 The second filming of M! Countdown 2 Nights in LA at KCON on August 10th began similarly to the first night, with a pre-show hosted by Parker (formerly Dumbfoundead). The rapper introduced two performers: contestants from Dancing 9, who performed two solos and a duet, and Asian American artist Jhameel. Jhameel performed an indie-pop mashup of Fiesty, T-Pain, and Frank Ocean.
Check out these cool articles on the web.
After the pre-show, the M! Countdown show began in earnest, and it was clear from the very first seconds of the concert that BTS was the big winner of the night. While the audience was excited about later acts in the evening, like Girls' Generation and CNBLUE, BTS was greeted with such fervor and applause that the reaction seemed almost disproportionate for a group that debuted barely a year ago.
With deafening cheers, the audience fully appreciated BTS' performances of Boy In Luv, No More Dream, We Are Bulletproof pt. 2, I Like It (Pretty Woman ),and Rise of Bangtan. The members of the group had a great stage presence, controlling the attention in the room and setting the tone for the entire night.
The energy that they showed as they danced and interacted with the fans was infectious, and it didn't feel at all like this was a rookie group. BTS may be a normal rookie group in Korea, but the concert in L.A. that night made it seem like BTS was a leader of Hallyu.
Then, Girls' Generation member Tiffany took to the stage and proclaimed her awe about the fact KCON was being held in her hometown, L.A. and to introduce the upcoming act. With her appearance, the noise level in the venue dramatically increased; she definitely pushed up the enthusiasm and excitement from the fans.
But following BTS and Tiffany would be hard for any other idol group, so it was perhaps wise planning that the rock singer Jung Joon Young was next in the lineup. If he felt anxious about following such a crowd-inciting act, the rocker didn't show it. In fact, the general feeling through Jung Joon Young's performance was that he didn't care about anything other than his music. Even though he speaks perfect English, the singer slurred his words every time he paused to introduce a new song and seemed eager to get back to performing.
It was clear throughout the set that Jung Joon Young was a musician, first and foremost, and a performer second; it was a completely different feeling than the idol groups that took the stage before and after him. He performed The Sense of An Ending, Hold On, From Me To Me, Teenager, and a Michael Jackson tribute of Black and White with BTS' leader, Rap Monster.
The girl group SPICA followed Jung Joon Young, made up of five powerhouse vocalists. They may not be the most popular of idol groups, but you wouldn't have known that based on their performance. SPICA released their first English song, I Did It, last week, and their M! Countdown stage was their debut music show performance in America.
And while SPICA's dance performances didn't have as much energy as BTS' or Jung Joon Young's, the members' powerful vocals and sexy bodies had the crowd rioting.
SPICA also sang You Don't Love Me, Tonight, a melody mash-up of No Diggity, and an absolutely perfect performance of Painkiller. The members were able to alternate between serious and playful moods, while playing up to the crowd's emotions with each song, earning a lot of applause. Between SPICA and BTS, these two relatively new groups showed KCON that they could keep up with larger and more widely known acts.
During a brief break from the concert, MCs Parker and Jung Joon Young brought out famous Korean actor Lee Seo Jin. Lee Seo Jin expressed his happiness about Korean acts becoming accepted all over the world thanks to Hallyu, to which the MCs agreed and thanked the fans for their support.
Four member idol band CNBLUE then rose to the stage to riotous cheers, as adoring fans clung to the barriers and sung along to the group's most popular songs. While lead vocalist Yonghwa moved around the stage throughout the performances, switching between two sides of the stadium, the other members remained relatively sedentary. And even though the songs were well known and people were singing along, CNBLUE's performance was less visually exciting than the other acts.
Even if the members weren't as active as the idol groups that danced along the stage's length, CNBLUE's performance was excellent. Throughout the set, people singing along to Can't Stop, Intuition, I'm A Loner, Love, and I'm Sorry filled the arena… All eyes were on the four handsome, talented idols.
Jung Joon Young and Danny Im then came out and introduced the night's headliners: Girls' Generation. With the entire arena cheering adoration, Girls' Generation took the stage. Arguably the queens of K-Pop today, eight members of the girl group launched into their most recent hit, Mr.Mr.
The members then introduced themselves, several of them speaking in English. They also addressed Sooyoung's schedule conflict due to her current drama filming leading to her inability to attend. Nostalgia was on the mind when the ladies surprisingly launched into their older hits, Hoot and Genie.
Tiffany then thanked fans for their support, noticing quite the number of supportive signs commemorating the group's seventh anniversary, and the idols sang a shot acapella version of their debut song, Into The New World. The evening ended with the entire arena singing and dancing along to Mr. Taxi and, as the most pleasantly astounding ending to a magnificent night, Gee.
While Girls' Generation's performance was near flawless, there were two things that caused some concern: Jessica had to rush off stage at one point, causing a bit of confusion. Taeyeon was also visibly tense at the beginning of the performance, although she loosened up throughout the set. Even though there was this slight awkwardness, the eight members of Girls' Generation finished up their stage to a crowd that couldn't get enough of them.
No news on who will be performing at the next KCON, but it's a no brainer that more big names will show up as the convention grows in presence and popularity.
What do you think of the second night of M! Countdown at KCON? Be sure to share your thoughts and follow us on Facebook, Twitter, Instagram, Tumblr, and Bloglovin' so you can keep up with all our posts.
https://kultscene.com/wp-content/uploads/2014/08/2014-Kcon-2-FULL-7.jpg
3648
5472
Tamar Herman
http://kultscene.com/wp-content/uploads/2018/02/KULTSCENE-LOGO-2018-TRANSPARENT-RED.png
Tamar Herman
2014-08-13 18:32:11
2014-08-25 07:25:40
KCON 2014 Day 2: M! Countdown 2 Nights in L.A.