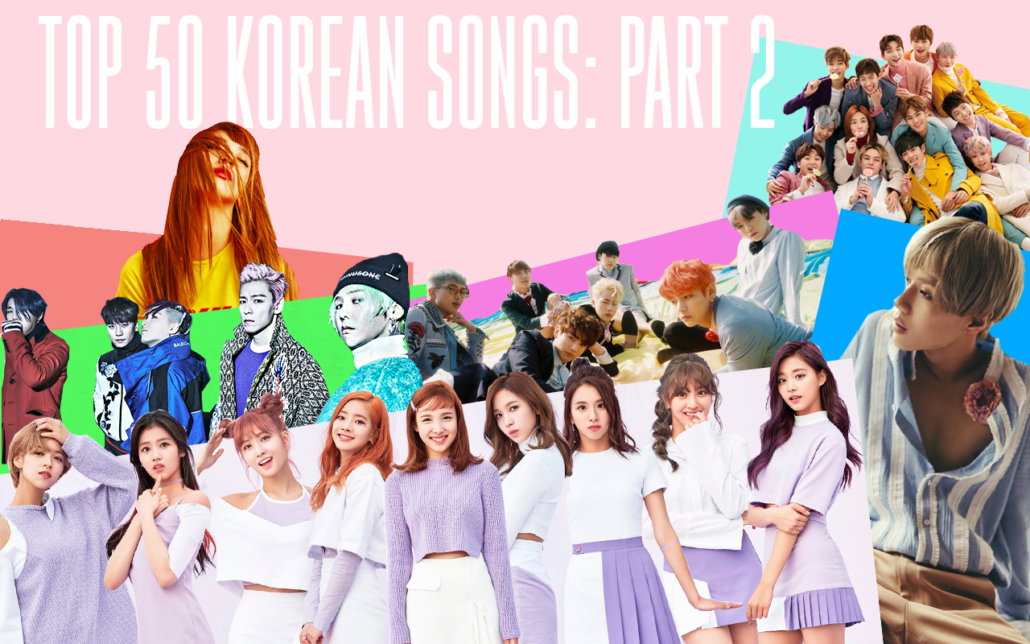 As mentioned in part 1, 2016 turned out to be a year full of surprises in the world of Korean entertainment. Groups we held dear disbanded or lost key members, but it does not do well to dwell just on the negatives. 2016 was a transformative year that saw K-pop's generation shift, with second-tier groups rising to the top spots and the explosion of new groups, especially girl groups. This year may not had been the best for older fans and their groups, it was a tall glass of fresh water. K-pop's all about innovation and reinvention, and that's just what we got this year.
After 2015 being a nearly perfect year in music releases, 2016, on the surface, might seem like it didn't live up to expectations. However, this was the year of more variety in the industry and a much deserved and needed shakeup. And after much consideration, the KultScene staff painfully narrowed it down to our favorite 50 songs of the year. Make sure to get all the way to the end to see a special year-end video!
25. "Monster" by EXO
The single off of their Ex'Act album, "Monster." has the same air of self-seriousness as some of EXO's most iconic works ("MAMA," "Wolf," etc.) while shedding the corny lyrics and audiovisuals. The distorted synths are eerie like the monster inside of them, and Chen's repetition on the word "creepin'" at the end stresses this, well, creepy factor. But what carries the tune throughout are the up and down contours of the refrain, which are inevitably designed to be an earworm. Even if you have never been a fan of the group, you can at least agree this one has staying power.
— Shelley
24. "Drip Drop" by Taemin
In terms of Taemin's 2016 singles, "Press Your Number" was an extremely digestible track. However, the lead-up single "Drip Drop" made for a much more interesting audible experience. "Drip Drop," with it's massive blend of R&B, pop, dance, and hip-hop, together with the beat shifts and whatever's happening on the chorus, is a song you either love or hate. However, the juxtaposition of the smooth vocals and verses paired with the up-tempo, futuristic chorus and progressions on the second half of the song, and how it dips again on the pre-chorus is a masterpiece in itself. "Drip Drop" is a rollercoaster, but an exciting one we'd keep riding on and on.
— Alexis
23. "Letting Go" by Day6
The unofficial princes of breakup songs return with their sophomore release Daydream and the title track "Letting Go." In this pop rock ballad, Day6 does what they do best: deliver a heart-wrenching song about young love lost. The boys create lovely harmonization between the vocals and instruments, with none of them overpowering or outshining the rest. But this release was a bittersweet mix of emotions for fans, with keyboardist Junhyeok leaving the group a month before the release. And though the song may or may not be about him, the music video surely plays homage to their lost member with the empty keyboards throughout the video. Overall, "Letting Go" is the perfect combination of music, lyrics, and visuals to get all the feels happening.
— Katherine
22. "Press Your Number" by Taemin
By the time Taemin's first full-length album Press It dropped, audiences already knew SHINee's maknae could hold his own from his previous mini album Ace. Moreover, much buzz resulted from the fact that Bruno Mars and the Stereotypes had produced his lead single "Press Your Number." And while the artists didn't get to actually collaborate, the American songwriter/producer gave Taemin a real gift, for it completely complimented his style. "Press Your Number" builds up perfectly, starting with snaps, light twinkles, and Taemin's sorrowful vocals before exploding at the chorus into a full-fledged dance song. Plus, you don't even have to understand Korean to feel the yearn behind Taemin's interpretation. K-pop groups are a dime a dozen. So when a real performer comes out of a K-pop group, survives, and excels, they deserve all the kudos. While we all hold SHINee dear to our hearts, we can't help and crave more Taemin solo singles for they show him at his absolute best.
— Alexis
21. "All In" by Monsta X
Following tradition, Monsta X's "All In" retains much of the noisy ambitions and fighter attitude that the seven piece hip-hop group have shown in the past with hits like "Hero" or "Trespass." The opening, with its yawning horns, revving engines, rhythmic claps, and warped electronic beats, is overwhelming, and the raps about patriotic loyalty and protection in the name of love lyrically manifests the song's belligerent tones and war motifs. In both themes and music, the song is characteristically Monsta X, so then, what about it causes such a visceral reaction? It could be that this time, the clamor and riot of its heavy beats act as a thin veil for the song's sublimely melodic undertones. The "go hard" sentiments of the past is only second to the optimistic pre-chorus and ballad-like chorus. Especially integral in these hopeful moments are the subtle percussive rings of increasing pitch, which provides us with a much needed contrast and softening effect. It is here where the song's contours change when we least expect them to. Indeed, under all the polyphony is a delightful gem, a magnum opus.
— Shelley
20. "Angel" by Berry Good
Berry Good's most glorious moment of the year is a triumph of personality over production. "Angel's" cheap sheen is the first obvious thing about it. It'd be very easy to switch it off after 20 seconds thinking it won't go anywhere. Yet the longer it goes, the more you get out of it. There's a tenderness that grows to absolute euphoric love. The girls hold nothing back; every ounce of them is on this track. Their climactic vocals burst through any sense of balance. You forget everything else that came before and just want to hear it again and again.
— Joe
19. "Knock" by KNK
Hands down and without a doubt, KNK had one of the most impressive debuts of 2016 with "Knock." KNK couldn't have debuted at a better time, considering how boring of a year we were having. With a noticeably catchy chorus on the mid-tempo, rich ballad, it's no wonder they garnered fans so quickly. 2017 can be a blossoming year for these guys if they continue at the pace they've gone at in the last nine months.
— Tam
---
---
18. "The Rain " by Ladies' Code
Musically, Ladies' Code had a fantastic year. "The Rain" is an incredible continuation of themes established by "Galaxy" in both song and visuals. While it is sad that the Korean public hasn't taken as much notice of the group's musical blossoming, we here at KultScene definitely have. Taking the soul, trance-influenced vibes of "Galaxy" and adding a dance element, "The Rain" adds another level to an already complex musicality and demonstrates the members' collective prowess in both vocal and emotive performance. Bravo, Ladies' Code. The three talents have come back from one of K-pop's worst tragedies with some of 2016's best music.
— Kushal
17. "Tell Me (What is Love) by Yoo Young Jin X D.O
SM Station hasn't always worked out commercially, but it has done a great job as a platform for sometimes experimental and fresh K-pop. It's also an avenue for several idols to collaborate with other singers, as in the case of EXO's D.O and Yoo Young Jin's remake of EXO's song. Both singers are extremely skilled and they build on each other's strengths successfully to create the beautiful soulful track "Temm Me (What is Love)." The song has a pretty complicated rhythm, but they sing so effortlessly, it's just a work of art.
— Anna
16. "Secret" by Cosmic Girls
After a rocky start, Cosmic Girls fulfilled the promise their otherworldly name suggested. "Secret" combines space age synths and symphonies to great effect, creating something befitting the cosmos. Despite this, it still moves with an insatiable groove. "Secret" is grounded by the rhythm section and soars thanks to its contrasts sounds. Similarly, vocals are put against each other to accentuate the range of WJSN's voices. This works best in the lead up to the chorus with it moving from Cheng Xiao to Mei Qi to Seola. Quivering strings and fluttering voices make "Secret" one of the greatest songs of the year.
— Joe
15. "Very Nice" by Seventeen
Seventeen had one of the most exciting debuts we've seen in awhile last year. And while "Pretty U" was a lovely song, "Very Nice" takes the cake for their best single of 2016. "Very Nice" is like taking a big bite out of a cotton candy ice cream on a summer day. It's sugary, it's big, and it's fantastic. Seventeen single-handedly brought back bubblegum pop for K-pop boy bands in a time when everyone was trying to be edgy and swag-tastic. Seventeen, coming from a smaller company, is one of those groups that started from the bottom and have excelled purely based on their talent (and not on the prestige of their company, cough, cough). With "Very Nice," Seventeen further cemented their brand and showed us all they're here to stay.
— Alexis
14. "Pieces of You & Me" by Fromm ft. Giriboy
One word: woah. "Pieces of You & Me" is just one of those songs you question where has it been your whole life and is a great introduction to K-indie for anyone who has been thinking about testing its waters. From the gentle toots of the trumpets to the mellow acoustics of the guitars, the song uses grassroots instrumentals to stay true to the independent genre. The slow tempo and brilliant lyrics (Let's build a castle of our own / I'll drink all the sad tears) is reminiscent of a simpler time, and is quite fantastic in the word's original "existing only in imagination" sense. I feel not only protected in Fromm's fair vocals, but I believe that such a dreamworld exists. Likewise, I also find reassurance in Giriboy's contrastingly deep and soothing lullabies, for to simply write them off as mere vocals don't nearly do justice to his feature. Now if only the duo could collaborate on more music in the future, world peace may actually be an attainable goal.
— Shelley
13. "Free Somebody" by Luna
Keep in mind, everyone: Luna was recruited to SM Entertainment for her dancing, not her singing. And today, she is a main vocal and a lead dancer (a very rare sight in the world of K-pop), and also (occasionally, and thankfully!) a solo act. While Korea may not have exactly given this release two thumbs up, "Free Somebody" is incredibly infectious and addictive. Mixing traditional K-pop hooks with EDM and house, the song is incredibly innovative, perhaps ahead of its time even. Not just anyone could do a song like this — it takes the kind of multi-faceted talent that Luna wields so flawlessly to pull this off. Our conclusion: Luna is a gem, and we hope her solo efforts continue as the years go on.
— Kushal
12. "Russian Roulette" by Red Velvet
Red Velvet seems to have a thing for quirky tunes that repeatedly drill their hooks into your brain, and that's not a bad thing at all. The underlying synths and catchy melody create a retro sound without feeling dated, while the video, like the song, is colorful and a bit strange in a good way. Who would've thought that you can make killing your friends look so cute and playful? The visuals of this song is also quite genius with the robotic acting and facial expression of the girls to match the electronic and repetitive beat of the music, making "Russian Roulette" a fun audio-visual experience.
— Katherine
11. "Why" by Taeyeon
Taeyeon showed in this song what she's truly capable of. "Why" is energetic and melodious, but not in an annoying way that "I" often was; it's downright addictive. The way Taeyeon's voice sounds so natural in the midst of the funky instrumentals of the song and how every part of the song seems to blend so seamlessly is audible glory.
— Anna
---
---
10. "Better Day" by 100%
After going from a seven member group to five members, to six, and then back down to a five all within the span of a few years, it's amazing that a K-pop group could still be standing, let alone releasing music. With the return of the group's leader from military service and the recent loss of another member, 100% held strong and released their comeback song "Better Day." The song is about wishing to return to a past relationship and has a dark mature sound with a heavily synthesized backtrack. But this song is really all about highlighting the group's amazing vocal abilities. The vocals on this track are mind-blowing (yes, they sound like that live as well), and Rockhyun and Hyukjin do an extraordinary job conveying that sense of longing that can be felt within every commanding note. The group does a good job balancing soft vocals with powerful notes all while lacing in solid and steady rap verses, creating a dynamic song that is something that should not be underrated.
— Katherine
9. "The 7th Sense" by NCT U
While the different NCT sub-groups released a few singles and even an album this year, NCT U is the clear ground breaking satellite that actually brought something new to the table. To say "The 7th Sense" is yet another K-pop song would be a tragic disservice, for it's too great to be reduced to such confines. It's a chaotic yet smooth trap-infused trance; an acid trip meant to mesmerize the senses with the R&B vocals. With every listen, you find new sounds — whistles, doors opening, yawns, monk-like chants — making it a true intricate piece of sonic art. SHINee is the known SM Entertainment group that handles the "experimental" releases, while the "dark" is reserved for EXO. Will NCT U have the "weird" and "interesting" down? One can only hope that this particular sub-group is a permanent one for it dropped the best SM song in 2016.
— Alexis
8. "Fly" by GOT7
2016 was an exceedingly busy year for the members of GOT7. They released their fifth EP Flight: Departure earlier this year, had their Fly Tour, circling throughout Asia and North America this summer, and released their second full-length studio album Flight Log: Turbulence this fall. It's clear that they took their "Fly" concept to heart, because the guys definitely took flight this year. Ha-ha, get it? "Fly" showed off the members various skills and even charismatic personalities through their individual lines. Considering that they're still under the control of their company, the members might not openly admit or even have the time to do this, but they're all still at the prime stages of dating and wanting to be in love, so as cheesy as these lyrics are, can you really blame them? Why are you afraid of being loved, I'm next to you so why are you scared and afraid? Yeah, why would you be afraid of anything if it's GOT7?
— Tam
7. "Galaxy" by Ladies' Code
Ladies' Code may as well change their name to "Phoenix," because "Galaxy" brought new life to the career of the girl group after one of the most devastating moments of recent K-pop history. In 2014, two members of Ladies' Code passed away in a car accident, reviving interest in the b-list group and turning Ladies' Code into martyrs. "Galaxy" turned the trio into survivors, and into one of the most musically innovative K-pop groups of 2016. Rather than return to their original colorful retro-pop styling, their comeback single brought Ladies' Code into the realm of ethereal, jazzy R&B. The combination of gentle synths with jazz instrumentals, mellow vocals, and lilting chimes is a pure eargasm that doesn't limit itself to K-pop banality. "Galaxy" doesn't soar, and it's not song to play at a party: it's soft, and it's simple, and it's melancholic. And it's safe to say, it's near perfection.
— Tamar
6. "FXXK IT" by BIGBANG
Taeyang's opening lines to "FXXK IT" definitely set the tone for the rest of the song. It's a bright, delightful and cheerful song; all of which might've been purposely done in order to leave fans with positive feels as the members get ready to enlist in the following years. "FXXK IT" is all around carefree and simplistic, and despite this not being your typical BIGBANG adrenaline pumping tune, it's smooth enough to make you want to get down, get drunk, and party (maybe one day with BIGBANG). This is a well balanced composition; the entirety of the song blends well with no excessive tunes or over usage of certain lyrics. Although it only took them a year and a half to finalize the MADE album, if that's what it takes for full gratification and perfection, then we'll happily take it.
— Tam
5. "Oh NaNa" by K.A.R.D
From the first few seconds of this song, it was clear that K.A.R.D meant business. The quality of this song was both incredibly impressive and very surprising, considering that DSP Media's groups have been on a downward spiral recently due to a lack of musical or popular impact. But "Oh NaNa" is an entirely different story. With two impressive female vocals and two charismatic male rappers, the song is balanced almost perfectly. Not to mention, the "na na na" hook is incredibly infectious. The fact that this song, released only a little more than ten days ago, has been able to make our top five says something tremendous about this group's potential. Maybe co-ed groups are the future for K-pop. Only time will tell. For now, we can keep jamming and hoping that K.A.R.D will start a trend of stronger music releases from DSP on the whole.
— Kushal
4. "Save Me" by BTS
BTS has had an amazing year, chock full of quality releases with their Wings LP and the compilation album The Most Beautiful Moment in Life: Young Forever, earning them the success and recognition they deserve. In particular, "Save Me" stands out with its addictive melody and instrumentals, which feel fresh while still being definitely familiar. It's admirable how BTS's songs are always instantly recognisable as theirs; their group identity as musicians is undeniably strong, which unfortunately can't be said for many other groups in the K-pop industry. If they keep up the momentum, this identity, as well as the members' individual talents and charms, will definitely keep the group at the top for a long while more.
— Anna
3. "The Eye" by INFINITE
While it took INFINITE quite a long while to make a comeback, the wait was definitely worth it for their amazing album INFINITE Only. Its title track didn't disappoint either, with "The Eye" being one of the group's musically better releases in recent years. Accompanied with a heartbreaking and haunting music video, the song combined unique instrumentals with the emotive vocals of INFINITE's members. In particular, rappers Dongwoo and Hoya really stood out for their vocal performances in this rap-less song, while Sungkyu's quiet opening was pitch perfect. While the content of the song is pretty similar to other recent INFINITE releases, its dramatic melody is pretty arresting and makes the song an easy one to put on repeat. The way "The Eye" intensifies through the verse from member to member, building up to the chorus and several mini-climaxes that allow for cool dance breaks, is sonic perfection.
— Anna
2. "Blood Sweat & Tears" by BTS
BTS came back with their widely successful Wings album in the latter quarter of the year, and with it, showed their maturation with the sensual "Blood Sweat & Tears." At the intersection of the burgeoning Moombahton Trap genre and K-pop, the song about a boy who falls into irresistible temptation uses reggae as its base and finds the perfect blends of EDM and trap to form a wonderful medley of sounds accessible to fans and casual listeners alike. The near whispers of the vocals mesh well with its chill synths too, recreating an epicurean spirit in form and content. But the real highlight of the piece is in its chorus, where the trap influences can be found in rapper J-Hope's intonation: wonhae manhi, manhi, manhi (I want it more, more more). It's inexplicably charismatic and familiar. It's easy to appreciate how the song's individual parts work in harmony with each other to form a melodious fusion. The title cannot be any more telling of the ingredients that went into its production.
— Shelley
1. "TT" by Twice
Standing tall amongst the wreckage that is 2016 is Twice. The JYP girl group capitalized on a strong debut, turning into human memes, and delivering catchy tunes to become one of the strongest forces in K-pop. Musically, they didn't really hit their stride until "TT," though. Black Eyed Pilseung found his feet with them, giving them something quirky but not forceful. Their voices are not strained, but wrapped around the beat as if they are all one. Jihyo's vocals are much better as a result; her inflection as she sings, "I eat all day and I'm still hungry" is the best part of the whole song. Numerous musical details litter the song that make every new listen rewarding. The synths are in constant flux along with the electro drum beat that becomes more physical as it signals an increase in tempo. "TT" is perfectly suited to be representative of its group. Twice's joyous oddness was a constant comfort in a year where we all felt like TT. Don't think twice. Get into Twice.
— Joe
Make sure to watch our video countdown to the best song of 2016!
What was your favorite Korean song this year? Share your picks and thoughts in the comment section below and be sure to subscribe to the site and follow us on
Facebook
,
Twitter
,
Instagram
, and
Tumblr
to keep up with all of our posts.
https://kultscene.com/wp-content/uploads/2016/12/PART2.png
800
1280
KultScene
http://kultscene.com/wp-content/uploads/2018/02/KULTSCENE-LOGO-2018-TRANSPARENT-RED.png
KultScene
2016-12-26 15:12:02
2016-12-31 15:49:42
50 Best Korean Songs of 2016: Part 2