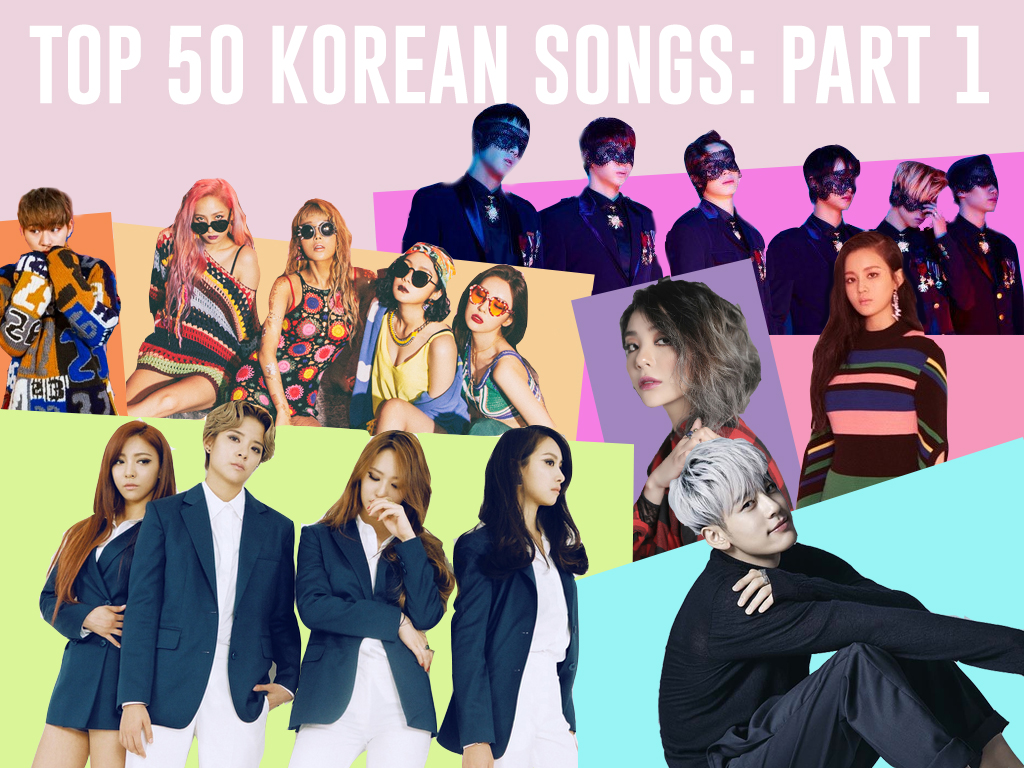 After experiencing one of the best years of Korean releases in 2015, the expectations were high for 2016. This year, however, we were all bamboozled on every front imaginable, making 2016 a monumental year but not necessarily for the reasons we expected. Big names in K-pop disbanded, Korean R&B arose as hip-hop did in previous years, and a dominance of new girl groups became evident. It also marked the year the generational shift began, with older groups falling to the wayside to make room for newer acts. Even though we didn't get to see strong comebacks by more established acts, the newer ones started, or continued, with a bang.
As every year, the KultScene staff determined what songs we thought were above the rest. And after fierce competition, we narrowed it down to the 50 best of 2016.
50. "The Closer" by VIXX
VIXX made a name for themselves with dark, weird concepts that they've developed throughout a few comebacks after their debut in 2012. However, ever since last year, the sextet has been experimenting with their sound. And after last year's releases and another one earlier this year where they veered towards SHINee's funky pop territory, VIXX went back to more somber, fantasy concepts with "The Closer." This time, however, instead of relying on the pop-heavy vocals, they mixed it up with early 2000's R&B for a smoother sound. This track showed just how much the group has grown artistry-wise and proved that what they do, they do it well. A group known for two power vocals in K-pop, the highlight goes to Ravi who, thank goodness, has been on a steady non-cringeworthy rap stride as of late. Now that the cutesy boy band trend is coming back, a concept group like VIXX is highly appreciated. Stay weird, kids.
— Alexis
49. "Secret" by Yuri and Seohyun of Girls' Generation
There has never been a better commercial jingle than "Secret," Yuri and Seohyun's collaboration with Pantene. Yes, the shampoo. "Secret" is a full-blown EDM song that veers towards generic, but the execution by the pair is filled with energy and surprises. Seohyun's well-recognized as a great vocalist, but Yuri comes into her own in "Secret," and the song never falls flat, despite the song's chaotic composition. Pounding beats come to near complete-halts before sonic builds to the whispery choruses. The song is a glorious show of the pair's diversity as singers and leaves us wanting to see what this duo could do together as an actual Girls' Generation subgroup. Hint, hint, SM Entertainment.
— Tamar
48. "Don't Believe" by Berry Good
Perennial underachievers Berry Good rounded out the best year of their careers with this superb slice of tropical house. Jettisoning their trademark big vocals, they let producers Nassun and Big Tone weave "Don't Believe" into something altogether more professional sounding than usual. The girls bring a restrained pain that rises with every part, starting out with some sort of hope but eventually concluding that "all of me is meaningless." It makes the catharsis of the dance break more down to earth. Instead of the euphoric joy of "Angel," Berry Good eke out a final goodbye to love through music and their bodies.
— Joe
47. "Why So Lonely" by Wonder Girls
This song breathed life into the Wonder Girls brand, which had been fading even after the group's return last year with "I Feel You." A self-composition mixing K-pop's trademark sultry female vocals with a unique retro reggae sound, "Why So Lonely" gave the group new relevance as the song blasted up the charts and into fans' ears. In both band and dance form, the song is catchy and relaxing, and proves that an older group can, in fact, survive and thrive in the constantly changing world of K-pop. After "Why So Lonely" received so much success this year, fans are excited that at least some remnants of Second Generation girl groups will remain intact, but with their contracts expiring in January, we can only hope that Wonder Girls will continue to develop their self-composed sound in the future.
— Kushal
46. "I'm Good" by Se7en
Feels like a current K-pop trend is to go with the kind of instrumentals present on the song, but I'll admit it's a great trend. The song feels a bit more current and there's just enough variation artists can spin on this type of instrumental to make it sound different from song to song. Where "I'm Good" excels isn't on the instrumental however; it's on Se7en's emotional and silky vocals. I also like the use of repetition in the song, it fits in with the beat and adds a layer of depth to the lyrics of the song.
— Anna
45. "Flower" by Bada feat. Kanto
To celebrate her 20th anniversary since debuting as a member of first generation girl group S.E.S, Bada released her Flower album, and the title track is one of the most invigorating electropop tracks we've seen this year. The composition is subtle, but intense thanks to gentle synths and the pounding beat. Bada's soft vocals blend with the building electronic rhythm, reminding listeners why she was one of the most popular K-pop singers of the '90s, while rapper Kanto aids a snappy rap to the mix.
— Tamar
44. "Sting" by Stellar
Charismatic girl group Stellar continued their great run of singles and staked their claim to be one of K-pop's greats with "Sting." Produced by Monotree member GDLO, "Sting" utilizes tropical house to create a breezy inquisitive mood. A multitude of sounds combine to great effect, giving layers to the song that build with each listen. Synth wails, funky guitars, and simple bass grooves highlight Stellar's incisive manner of questioning. Along with Digipedi's best video of the year, Stellar confront male ineptitude with brazen confidence. Their sting, both satisfying and necessary, lingers in the skin.
— Joe
---
---
43. "Hold My Hand" by Lee Hi
Lee Hi's debut will forever remain as one of K-pop's best, and because she raised the bar so high for herself already, it was going to be understandably difficult for her to outdo herself. "Hold My Hand" comes close, though. The song is the latter of the two title tracks off of her Seoulite album, and is yet another stellar throwback to Western soul influences. Lee Hi's husky voice suits the doo-wop vocals and bassline of the track well, not to mention that the harmonization of her backup singers lends it some musical authenticity. The diminution on "again" towards the end of the song resolves the overall '60s girl group vibe she was going for effortlessly, at the same time leaving listeners on a soaring high with the progression in the background vocals. "Hold My Hand" is one song we can all listen to again and again.
— Shelley
42."All Mine" by f(x)
f(x) may not have formally promoted in 2016, but their clapping EDM SM Station song "All Mine" was one of the year's best party songs. After 2015's onslaught of EDM, K-pop took a step back from the genre, but f(x) has always been able to take tried and trued genres and put their own spin on them. "All Mine" is bright and uplifting in its electricity, with the foursome's voices belting (plus Amber's rap) above the pounding beats. Plus, f(x) released it with a self-made video featuring Krystal scaring Amber and their friendship is absolutely adorable.
— Tamar
41. "Love Paint" by NU'EST
As far as underrated male groups go, NU'EST, by far, takes the top spot. Truth is that since debuting, the group has consistently delivered complexly crafted pop perfection, and "Love Paint" is no different. This song starts out with orchestral elements before turning into a smooth yet futuristic R&B ethereal experience. The juxtaposition between the first part of the song and the chorus is one of the most layered and interesting transitions of the year. It's a real K-pop tragedy that NU'EST is slept on popularity wise. One can only hope that they survive another year and drop more pop defying jams.
— Alexis
40. "Home" by Ailee
Unlike her usual K-pop sound, Ailee showcased the more sultry side of her with R&B release "Home." Listeners are probably used to hearing uptempo and lively songs from her, but her best vocal performances are the ones like this. "Home" might not have an impactful punch or intense climaxes throughout the song, but it's still enjoyable and still allows Ailee to apply her versatile vocals. For someone who's been called Korea's Beyonce on multiple occasions and still puts on outstanding performances, she's still rather underrated. This song had so much potential, especially when you have a powerhouse vocalist like Ailee and the legendary Yoon Mirae on the same track. Unfortunately, the song was not as well promoted this time around as previous songs. It could've done better, especially with non K-pop listeners, if there was a little more promotion than what was done. It kind of makes one wonder if this song would be better recepted if there was an English version? Hey Ailee, how about that?
— Tam
39. "Take Me Now" by FT ISLAND
With a definite lack of rock representation on Korean music charts, FTISLAND does their best to fill that gaping void. The band continues to move far far away from their Korean pop rock roots with their latest self-produced album Where The Truth. The title track "Take Me Now" is probably the hardest rock song they have put out to date, at least in Korea. Although it's not a sound that most fans are used to, it definitely shows the direction the band has been driving towards these past few years. Throughout the song, Hongki's voice alternates between haunting verses to a blaring chorus that showcases all of his vocal abilities to a T. The rest of the band does a great job keeping up with the intensity of the song through combined soft and hard vocal progressions to make the dynamic song complete. From the looks (and sound) of it, FTISLAND definitely shed their pop idol band label to make the music that they want. So throw your fists in the air and get ready to rock out!
— Katherine
38. "Crying" by Stellar
If you're going to play it safe after two years of being the most divisive girl group in Korea, then Brave Brothers is your man. With "Crying," Stellar have shown they can a rock a classic Brave Sound track just like the rest of them. The tempo is high, the synths aggressive, and the vocals diverse. Like all great Brave Brothers tracks, the details are what make the potentially generic songs not so generic. Especially the delay in Hyoeun's vocal in the second verse and the layers of synths in the chorus. Even when playing it safe, Stellar are still one of the great K-pop girl groups. You can catch me crying at the club listening to this.
— Joe
37. "Rough" by GFRIEND
Rookie girl group GFRIEND is known to release catchy dance tunes and "Rough" is no exception. With the mix of synth and orchestral instruments, the song creates a more sentimental melody while still remaining upbeat and catchy. The lyrics and the vocals are crisp and bright and seem to have greatly improved from their last release giving a more matured feeling, leaving fans excited to see what else the girls can accomplish.
— Katherine
36. "Someone Like U" by Dal Shabet
2016 kicked off strong with Dal Shabet dropping "Someone Like U" early in January after losing a couple members. They made their comeback by going back to their 80's synth-pop sound by way of a Brave Brother's jam and delivering pop flawlessness. The dance track is a big fuck you to that ex who you didn't even like that much in the first place and now is breaking up with you. And what's more relatable than a spiteful song dedicated to your ex you can dance to? "Hey! Go meet someone stupid like you," is truly what we all would like to tell our exes. Dal Shabet is one of those girl groups who sadly don't get the recognition they deserve. However, "Someone Like U" goes down as one of the best songs in their discography ever.
— Alexis
35. "I Am You, You Are Me" by Zico
Zico has already established himself as a rapper of speed and power, but here he brings it back down to a crawl, preferring grooves over hard beats. Everything about Zico's "I Am You, You Are Me" is hypnotic and infectious. Something about the chimes or the fingersnaps or the ooh's of the backing track makes me feel like I entered a place that I should not have, and to say the least, it's indulgent. The song confirms the Block B frontman's versatility and artistry, and not for nothing his solo career is one of the best there is in K-pop currently.
— Shelley
34. "Me Like Yuh" by Jay Park
It seems like you just can't go wrong when Jay Park sings over a Cha Cha Malone track. This time, Cha Cha and Jay tried their hand on one of 2016's biggest trends, the Caribbean inspired, tropical dance song. After establishing himself as a rapper last year, Jay dropped his album Everything You Wanted and is, well, everything we wanted: an R&B album, which is what the performer does best. His clear standout of the year, "Me Like Yuh," is somewhere between Justin Bieber's "Sorry" and Drake's "Hotline Bling" but with Jay's signature high-pitched, honey R&B vocals that's all about the groove and how the song feels. Jay may rap about asses and sex all the time, but there's just something about when he gets a bit romantic and vulnerable that comes across genuinely. Jay and Cha Cha are a match made in heaven that we can only hope lasts for a very long time and results in many bomb releases.
— Alexis
33. "Very Very Very" by I.O.I
This song is the epitome of addictive. Bringing all eleven members of I.O.I back together, this song served not only to diversify I.O.I's limited discography, but also reassert their dominance as the monster rookies of 2016. The song uses a fast beat, infectious repetition, and an occasional rap to bring out the members' various charms — whether it's Yeonjung's vocals in the prechorus, Doyeon's killer aegyo, Yoojung's outgoing stage presence, or Somi's powerful roundhouse kick, each member gets to shine in ways that prove I.O.I's unique and lovable group character. While the group may not be around for much longer, "Very Very Very" is clearly unforgettable, whether you liked it or not.
— Kushal
32. "Toy" by Block B"
They may be better known for their fun, hip-hop songs, but Block B really exceeded expectations with "Toy." The sedate, dreamy track showed a softer side to the boy band through jazzy piano notes and mellow, scattered synth beats. The song's composition layers different rhythms and melodies with sentimental vocals, to create the overwhelming, lovelorn ambiance of "Toy." It's different than what we've seen from Block B in the past, but the Zico co-composed song shows maturity to the group's sound and we hope to see more of this style from the septet in the future.
— Tamar
31. "Galaxy" Bolbbalgan4
From the first note, it's clear that this isn't K-pop as most people think of it. In fact, calling it "K-pop" would be a disservice to this sweet song, since K-pop typically describes songs sung by K-pop idols. But Bolbbalgan4 is an indie duo that appeared on Superstar K6 in 2014 and shot to fame with this single after its release in August. The song begins with an otherworldly, high pitch tone that sounds similar to what one would expect if they licked a finger and ran it around the edge of a glass filled with water. Ahn Ji Young's sweet, breathy vocals are backed up guitarist Woo Ji Yoon, who also provides harmonies and a quirky rap, and '60s inspired instrumentals blended with a medley of soft electronica sounds. "Galaxy," the fun and innocent sound of the indie rock track, ended up making it one of the most popular songs of 2016 in South Korea.
— Tamar
---
---
30. "Bermuda Triangle" by Zico x Crush x Dean
"Bermuda Triangle" is a great fusion of captivating sounds and diverse talents. The combination of these three artists is truly a match made in music heaven. The transitions between the sick beat along with Zico's killer raps, Crush's (sudden and shocking) badass verse and Dean's velvet-like vocals were smoother than butter. All three artists consistently show up and always give a stellar performance in their own individual songs, so it was no surprise that "Bermuda Triangle" was done to pure perfection. If you didn't love this song right away, then you need to get on it. One of Zico's earlier lines is "What happened in 1992?," well, basically, the birth of three phenomenal musicians happened, that's what.
— Tam
29. "Whistle" by Blackpink
While this song may not be everyone's cup of tea, it gave the K-pop world a much-needed dose of attitude. With the rise of TWICE, GFriend, and I.O.I and the disbandment of acts like 4MINUTE and 2NE1, there's been a tragic dearth of edgy, badass girl groups. With the exception of BLACKPINK, that is. With addictive melodies and fast-paced rap sections, this song brings back hip-hop dance themes so reminiscent of K-pop a few years ago, while also including some newer, unique musical elements. As the generational shift brings us back to cutesy, feminine girl groups on top, Blackpink and their songs like "Whistle" do the important work of carving greater musical and stylistic diversity into K-pop's current era.
— Kushal
28. "Overcome" by NU'EST
The saddest part of NU'EST's history is that people think their heyday was their debut with the phenomenal "Face." 2016 was, without a doubt, filled with the group's most avant-garde singles "Love Paint" (no. 41) and "Overcome." This is electropop at its finest, and NU'EST's members at their best; their vocals and adlibs are near flawless on this brassy synth track. Layers upon layers of overdubs flit throughout "Overcome," as if it challenged the listener to pick out the individual elements. After beginning with punctuated beats, the song incorporates scattering synths, brassy percussion, falsetto, digitized piano notes, and much more to overwhelm the senses. Then, "Overcome" ends off on a gentle, sleepy melody in a way that seems to put the whole sonic experience to rest. NU'EST, we'd like to see more of this in 2017.
— Tamar
27. "Navillera" by GFRIEND
Few do synthpop dance songs as well as GFRIEND, and "Navillera" was an ideal follow-up to the more sentimental "Rough" from earlier this year. The bright, rock-tinged "Navillera" wouldn't seem out of place on an INFINITE album (and the opening drum beat callback to the opener of "Man in Love"), with its retro-tinged electronica sound. The song's title is a reference to a Korean poem about a butterfly, and the high-pitched synths and underlying electric strings help create a quirky, fluttering sound. There's a few verses, but the majority of the song is built around a soaring pre-choruses followed by the speedy chorus, which in actuality serves as an intro for the fast-paced dance break. The guitar solo at the end is so atypical for K-pop that it helps "Navillera" further hone in the idea that this song, and the group, is a long-awaited breath of fresh air.
— Tamar
26. "Bonnie & Clyde" by Dean
Where's the sign up sheet to be Dean's Bonnie? Because as long as Dean is Clyde, he'll be winning over hearts. Every song he's released has been absolute gold, and this one is no exclusion to the rule. "Bonnie & Clyde" leaves you feeling such a natural high, sitting on a cloud not wanting to get down. It's just so damn easy to be engrossed in that sweet, bewitching voice of his.
— Tam
Also make sure to check out the first half of this list, featuring our picks for the 25 Best Korean Songs of 2016.
What was your favorite Korean song this year? Share your picks and thoughts in the comment section below and be sure to subscribe to the site and follow us on Facebook, Twitter, Instagram, and Tumblr to keep up with all of our posts.
https://kultscene.com/wp-content/uploads/2016/12/KultScene-2016-Best-K-Pop-Songs-1.png
768
1024
KultScene
http://kultscene.com/wp-content/uploads/2018/02/KULTSCENE-LOGO-2018-TRANSPARENT-RED.png
KultScene
2016-12-25 15:07:31
2016-12-28 05:02:35
50 Best Korean Songs of 2016: Part 1