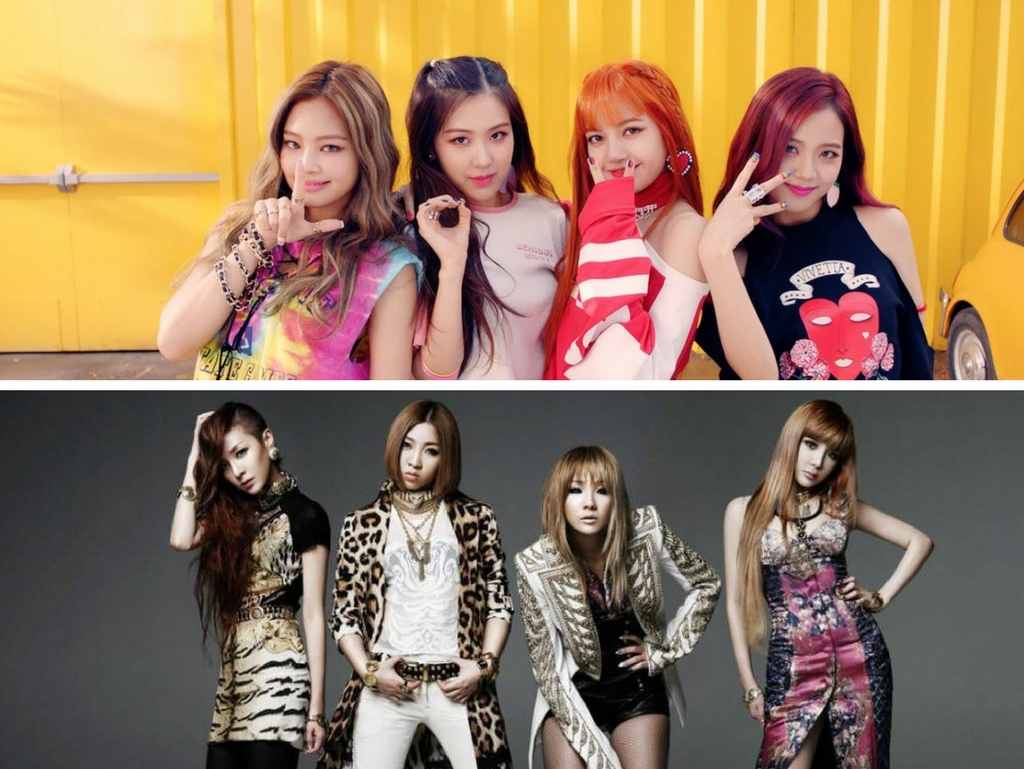 On Aug. 8, 2016, YG Entertainment's long-anticipated girl group BlackPink debuted with their first digital single album Square One with title tracks "Whistle" and "Boombayah." Now a household name in the larger K-pop fandom, BlackPink was the label's first girl group since 2NE1's debut in 2009, a fact that immediately warranted comparisons to their predecessors thanks to their similar musicality and four-member lineup. As 2NE1 inched closer towards disbandment in late 2016, Blackjacks saw BlackPink's debut as a nail to the 2NE1 coffin, and remained especially hesitant to support the new group.
Alongside an introduction post about the new group, I constructed only weeks after their debut an in-depth comparison of the two groups and arrived at the conclusion that the groups were uncomfortably similar. To summarize, both groups had four members , an edgy electropop/hip-hop infused sound, and members that grew up both within and outside of Korea among other similarities. The only small differences were in the ages of the members, visuals of each group, and the lack of an assigned leader in BlackPink.
At the time, this analysis was valuable in forming an informed opinion about BlackPink's individuality (or lack thereof) as a group. But they have now reached their one-year anniversary, and have three more tracks, variety appearances, and other developmental factors from which a collective group character is beginning to emerge, one that was not very visible only weeks into their debut. Upon reevaluation, BlackPink and 2NE1 seem more different than we originally thought they were.
---
---
Since their summer debut last year, BlackPink has since released three more tracks — the EDM-influenced "Playing with Fire," campfire bop "Stay," and bubbly electropop "As If It's Your Last." The group has also begun to perform on more music shows than just SBS Inkigayo (YG Entertainment's relations with other Korean broadcasting stations has been notably cold in recent years), and has appeared on Weekly Idol, Radio Star, and Knowing Bros in addition to various CFs. For comparison, 2NE1's activity in the same time period includes disbandment in November 2016 and the release of their last song "Goodbye" as three members before entirely parting ways in January of this year.
Despite 2NE1's disbandment, the question remains: How does BlackPink, now a sustained and trending K-pop artist in their own right, compare to 2NE1 at its peak years ago?
At the time of the group's debut, "Whistle" and "Boombayah" wielded a powerful impact, but failed to show onlookers that the group was very different or new. With electropop, EDM influence, rap, and some attitude, BlackPink debuted with largely the same sound as that of their YG predecessors (albeit updated to match more current music trends). Had BlackPink continued entirely on those lines, the group's musical color would be nowhere near as unique as it is now.
But through the promotion of their more recent releases, we have seen greater variety in their discography, performance, and aesthetics. Their next release, "Playing With Fire," utilized structural changes rarely present in 2NE1's music and employed noticeable differences in performance and styling.
BlackPink's member structure initially seemed almost identical to that of 2NE1, but with the release of new singles, differences slowly became more apparent. Within 2NE1, CL both rapped and sang, while Minzy debuted mostly as a rapper and transitioned into singing more over time. At debut, Jennie's role in the group largely took after CL as a rapper and singer, but her role seems to have at least slightly changed over time — she only sings in "Playing With Fire," "Stay," and "As If It's Your Last." Main dancer Lisa, unlike her 2NE1 counterpart Minzy, handles mostly rapping in BlackPink's three latest tracks. These differences may seem minute at first, but they clear up one of my biggest assumptions from a year ago: that each BlackPink member would take after a specific 2NE1 member. While this is still at least somewhat true — Jisoo still largely takes after Dara, and the same can be said of Rosé and Bom — any differentiation here is valued, and it becomes even more important when examining the larger structure of BlackPink's songs.
Most of Lisa's lines in "Playing With Fire" are found in the rap section after the first chorus, similar to her part in accompanying A-side track "Stay." 2NE1's songs, on the other hand, took on two structures, either a back-and-forth between rapping and singing in verses — "Fire," "Go Away," "Falling in Love," "Gotta Be You," and more — or consisted entirely of singing — "Ugly," Lonely," "I Love You." BlackPink songs have developed a largely different structure, delegating singing parts to three members who do not (usually) rap, and instead having one member handle one rap section along with occasional singing lines here and there.
This structure segregates rap and singing more aggressively than YG releases have in the past, conforming more closely to other K-pop releases from groups like f(x), SHINee, 9M– USES, and others in which only one rap section is included after either the first or second chorus of the song, handled by a rapper who doesn't appear much outside of those lines. This structure was almost entirely absent in 2NE1's music, and demonstrates a large shift away from 2NE1's sound that, in many ways, did not conform with that of the rest of K-pop. Here, we see BlackPink deviating from YG's sound on the whole to be more typically mainstream K-pop.
"Stay" is also an interesting departure from the YG sound. By all means, the label excels at releasing reflective and evocative ballad-oriented music, with 2NE1's "Missing You" and "It Hurts (Slow)" as great examples. But the incorporation of a folk-inspired sing-along chorus in "Stay" differentiates it entirely from any 2NE1 or BIGBANG song. While we have yet to see BlackPink's somber side develop, the instrumental and melodic construction of "Stay" tells us that the group's overall sound may be different than that of their YG predecessors.
Beginning with "Playing With Fire," the performance and styling elements have contributed most significantly to BlackPink's emerging individual identity. While 2NE1 opted for crazy stage costumes with bright colors, crazy shapes, and outrageous yet trendy hairstyles (see: Dara's palm tree hair), BlackPink has opted for a style that is more traditionally pretty in the world of K-pop, wearing school outfits and elegant red carpet outfits instead of crazy Jeremy Scott designs (see: CL's unicorn dress) and bright, feathery jackets and dresses. BlackPink's style, which is also reflected in their choreography, facial expressions, and other performative nuances, is slightly more delicate and feminine. And despite the fact that many girl groups, including TWICE, GFriend, and Red Velvet sport more feminine fashion, BlackPink largely establishes their own trends, as their dress is high-fashion and chic, often coming from luxury brands. While 2NE1's outfits were less flattering to facial beauty and body curves, BlackPink shows off regality and poise with their fashion, and precipitates into a more chic and feminine performance as well.
2NE1 & BlackPink: Comparing Fashion & Styling
Many of these differences are once again visible, if not amplified, in the release of their recent "As if It's Your Last." While many fans felt this track was reminiscent of 2NE1, the BlackPink members explained that this song captures the group's "Pink" side, which differentiates from previous releases that were more "Black." And the dichotomy is clear — this song has the members smiling, making cutesy expressions on stage, and wearing school uniform-inspired outfits even in the music video.
The major difference here is, while 2NE1 had a cuter side as demonstrated by songs like "Falling in Love" and "Do You Love Me," none of their music ever fit into a "Black" or "Pink" dichotomy, as their music was usually along a smaller spectrum within what we could consider on the "Black" side. 2NE1 was undoubtedly edgier and more hard-hitting, while BlackPink fuses some of that style with more delicate visuals and musical elements in their discography. This difference, like many of the others, leans again towards current mainstream K-pop genre, as the majority of girl groups at the moment are very, if not entirely, focused on cute concepts and feminine delivery.
Surprisingly, BlackPink's deviation from the characteristic YG style in favor of the stylings and strategies of other K-pop groups contradicts with what the group has said in response to comparisons with 2NE1. When asked about the similarities, the members say that they "do not purposely try to be different from 2NE1," and remain focused on maintaining the YG sound. However, as the group continues to diverge from YG's sound and style, their response becomes less consistent with their performance and music. Rather than maintaining the YG sound, it seems BlackPink is more focused on expanding and diversifying it with contemporary K-pop colors.
Clearly, BlackPink has largely distinguished itself from 2NE1, and for that reason, Blackjacks and older K-pop fans in general may feel more comfortable supporting the group and its members going forward. As BlackPink deviates, however, it does conform more strongly to the K-pop mainstream, and for that reason among others, the group seems to lack some of the impact that 2NE1 had on the larger industry.
2NE1 were known as Korea's top digital sellers for a while because of the sheer power of their songs — "Fire" and "I Don't Care" exist among the top-selling songs in South Korea's history, while almost all of their following singles have charted within the top four of weekly Korean song charts, including a total of eleven number-one singles (excluding their post-disbandment release "Goodbye"). At their peak, 2NE1 had the ability to entirely take over music charts and flatten competition, and much of their music won daesangs (major awards) at end-of-year shows. The group existed among few girl groups to amass a large fandom, allowing them to sell albums in huge quantities in Korea as well. It is for these reasons that 2NE1 was immediately considered the definitive number two next to Girls' Generation, and the now 10year-old group's strongest competition at each group's respective peak.
---
---
While BlackPink has sold considerably well and seen the development of its own fandom, the group has failed to excite the public to the same extent as their predecessors did. Obviously, BlackPink is an incredibly successful girl group, but their only single that has really taken over charts to date is "Whistle," and some of BlackPink's singles like "Boombayah" and "Stay" have already charted lower than pretty much any of 2NE1's singles. BlackPink has failed to clear out competition the same way 2NE1 could, as "As if It's Your Last" had some difficulty competing with MAMAMOO on the charts upon release. The group has also yet to win many major awards, and has not distinguished themselves as the definitive competitor next to the generation's top-performing girl group, which is, at this point, TWICE. Instead, that title would likely go to Red Velvet or GFriend at the moment, likely because these groups have promoted more and debuted earlier, and have already captured the public attention.
It seems that, along with confounding factors like the oversaturation of the girl group market (especially with post-I.O.I debuts and comebacks), BlackPink's blend into the mainstream has hurt its competitive viability. While the group will enjoy success, BlackPink's music, style, and promotion strategy might need to be reconsidered if YG wants to replicate the explosive responses 2NE1 received.
Contrary to initial (and still popular) belief, BlackPink truly is different from their predecessors 2NE1, but from the standpoint of success and achievement as musicians, that may or may not be a good thing.
How different are Black Pink and 2NE1? Share your thoughts in the comment section below and be sure to subscribe to the site and follow us on Facebook, Twitter, Instagram, and Tumblr to keep up with all of our posts.
https://kultscene.com/wp-content/uploads/2017/08/BlackPink2NE1.jpg
769
1024
Kushal Dev
http://kultscene.com/wp-content/uploads/2018/02/KULTSCENE-LOGO-2018-TRANSPARENT-RED.png
Kushal Dev
2017-08-11 15:25:16
2017-08-11 15:25:16
BlackPink & 2NE1: Unexpectedly Different