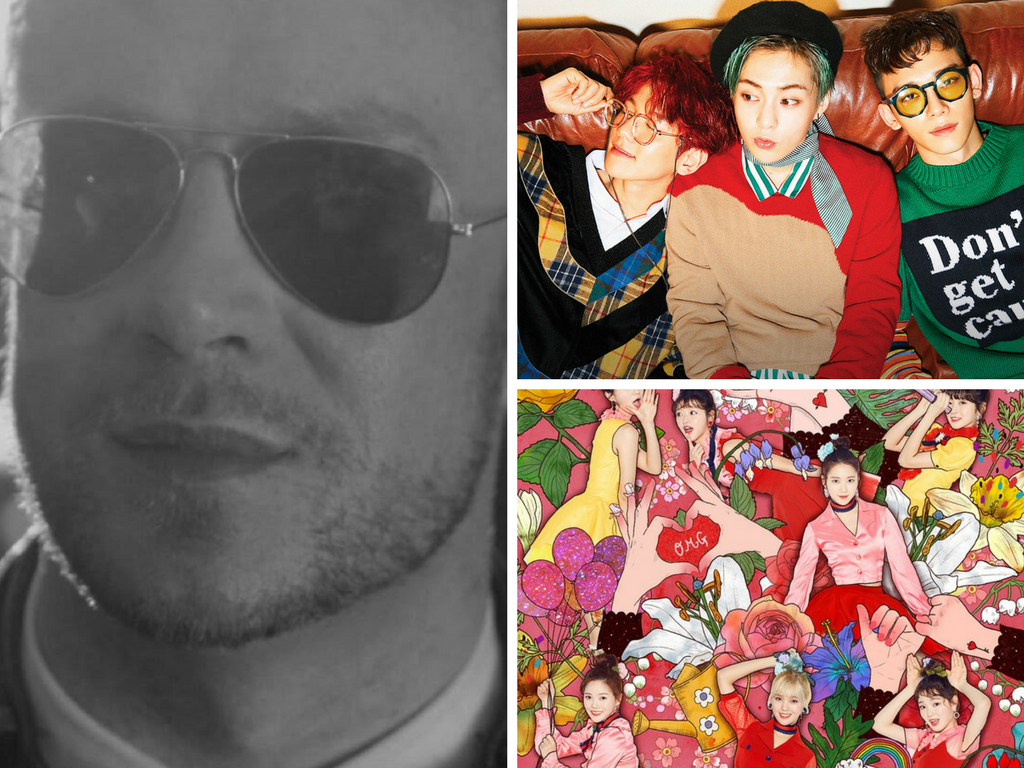 It's no news that many of the songs released by Korean and other Asian acts are written and produced overseas: some of the biggest K-pop hits from the last few years were made by songwriters based in the Americas and Europe. It's not like you have to have been born or raised in Korea to understand what it takes to write a song that Koreans will love. You can literally sell thousands of copies and have your songs placed with top class K-pop acts such as EXO and Twice without ever really having been in Seoul.
That's the case of David Anthony, a British songwriter and producer who has placed around 20 (and counting) songs with huge Korean agencies like SM Entertainment and JYP Entertainment. He talked to KultScene about how he got into the K-pop market and what it has been doing for him.
"You can be in the toilet or in an one million dollar studio, it doesn't matter. What matters is your creativity," said Anthony. He's been in the music business for years, but it was when Korean agency WM Entertainment got interested in his creativity that he saw his life (and income) changing. His entrance into the K-pop market was the song "Liar Liar," which ended up being recorded by girl group Oh My Girl.
"Liar Liar" would become the first of many times Anthony worked with Oh My Girl – he also wrote and produced "I Found Love" and their latest comeback single "Coloring Book." "They make happy & positive pop songs, and I love making them because it's just fun. I would say we are a good match."
---
---
In spite of having always been into catchy, fun, and feel-good pop music, boy and girl groups, and all the elements that make a great K-pop song, the K-pop world was something unknown to David Anthony – and somehow it still is. "I'm still learning, to be honest." It's only been nearly 18 months since "Liar Liar," but Anthony is already able to see what makes K-pop so different from other music styles and markets. "First, the openness. K-pop is more accepting, there is so much creativity to be allowed. It's like a big party. No one is being, like, too cool to listen to this stuff." Second, but no less important, it's the financial reward. "Because there's just so much money to be made and so many productions."
Anthony certainly understands there's money in the market: even his non-single cuts gave him remarkable rewards, like EXO-CBX's "Cherish" and Twice's "Only You."
"'Cherish' was my first cut with EXO[-CBX], I wrote and produced it on my own, and it was actually the second highest seller song of the album. I was so pleased because it sold around 100,000 copies itself and the album sold about 400,000" "Only You," in its turn, was featured on Twice's fourth mini album, which sold incredibly well in Korea, Japan, and also made Twice the first Asian girl group to enter the Top 30 in the United Kingdom. "I got my first Top 30 in my own country due to an Asian group!"
But this wasn't all: getting a song recorded by the most relevant K-pop girl group of the moment also improved Anthony's relationship with JYP Entertainment, resulting in him writing and producing the debut track "How Old Are You?" for JYP's latest act, super young boy group Boystory, in collaboration with JYP head Park Jinyoung. The group's first comeback, expected for December 2017, is also planned to feature a song by Anthony.
"K-pop for me has been a very natural process," he said. "When I heard the acts I really wanted to connect with. I knew I could make that type of music. I just needed time, connections." It seems to be working pretty well for him. But, of course, this doesn't mean it's easy. "They just don't give anyone a cut. You have to be bloody good."
When asked if his creative process was affected by his relationship and experience with K-pop professionals, he said that he didn't really have to make drastic changes. "It's just about doing what I'm doing – and love doing – with a slight tweak here and there to, hopefully, fit what they want. I knew I just needed to make sure that the final product was high quality."
---
---
Well, at least for Anthony, we can assure that the future still holds quite interesting things: besides the above mentioned comeback of Boystory, he's recently contributed one of the songs featured on B.A.P.'s last mini album, "Blue," and potentially has upcoming music with Oh My Girl and other Asian acts yet. (The B.A.P track, "All The Way Up" has since been embroiled in a rights controversy, about which Anthony said he wasn't aware that the song couldn't be sold to different artists in different countries. According to the CEO of The Kennel, Anthony's music publisher, Hayden Bell, it was a newcomer mistake. Anthony has since apologized to TS Entertainment and B.A.P. for the misunderstanding).
According to Anthony, both the competition behind the scenes and among K-pop acts explains why few songwriters and producers are getting into this small circle. "Demos these days have to be so good because the competition is so high, so you just have to be on top. [And] in Korea, there are so many products being released, so naturally some are gonna be better than others." But, at the end of the day, David Anthony is proof that even though, nowadays, the K-pop market might seem a little bit more accessible for non-Koreans, it's not for everyone, and the bar is surely not low. But Anthony has what it takes to make his music click with K-pop companies and audiences, and will keep doing so as long as he can.
What's your favourite song written by David Anthony, amongst the ones we've mentioned? Let us know your picks and thoughts in the comment section below. Be sure to subscribe to the site and follow us on Facebook, Twitter, Instagram, and Tumblr to keep up with all of our posts.
https://kultscene.com/wp-content/uploads/2017/09/Untitled-design.png
768
1024
Ana Clara Ribeiro
http://kultscene.com/wp-content/uploads/2018/02/KULTSCENE-LOGO-2018-TRANSPARENT-RED.png
Ana Clara Ribeiro
2017-09-14 06:19:28
2017-09-14 13:34:59
David Anthony on songwriting & succeeding in the K-pop market [interview]