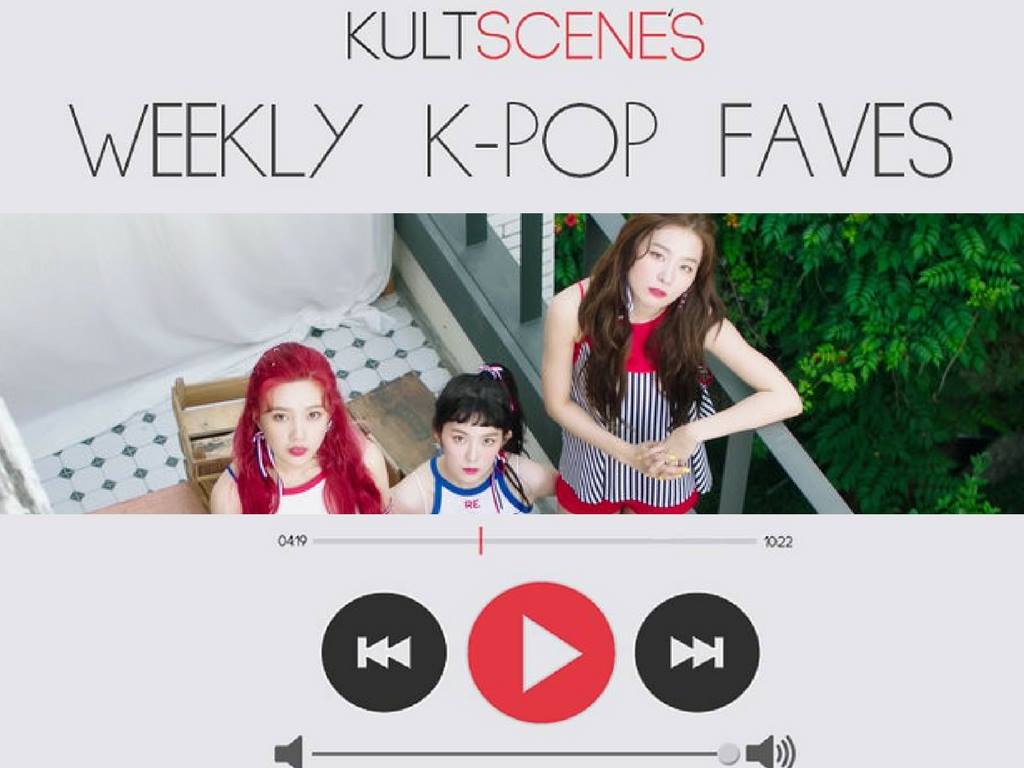 Each week, the KultScene crew look back at their favorite new K-pop songs and performances of the past week. In the first full week of July, we liked new music from Red Velvet, and older versions of songs by EXID's LE and Super Junior.
"Cream (Solo Version)" by LE (Released July 7)
When EXID's Street album came out last year, a clear stand out for me was the b-side "Cream." And while they never released it as a single in Korea, they did a Chinese version to promote themselves in said market. Being the queen of suggestiveness and double entendre, LE wrote this song about eating cream and it ruining their bodies because they get fat. It's been said that cream stands for some other creamy substance, and with this solo version, she's basically proving that theory right. And I'm living for it. Just by the English lyrics, "I love the cream cream cream/ All over my body" and "Baby boy love me up all night" at the chorus, we get a clear picture as to what's she's singing about. But lyrics aside, this stripped down version and the fact that she also sings makes the version more sensual. "Cream" solidifies my thought that LE needs *clapping emoji* a *clapping emoji* solo *clapping emoji*. Like, yesterday. Move over CL and Hyuna (who she actually taught how to rap and has written for, by the way), LE is the baddest queen in K-pop.
— Alexis
---
---
"Red Flavor" by Red Velvet (Released July 9)
Over the years, Red Velvet has become that group in the K-pop industry. With quirky outfits and infectious hooks, the group has, throughout the past year, delivered addictive music and markedly unique stylings with impressive consistency. "Red Flavor" is trademark Red Velvet, but with tighter production than that of their previous release "Rookie" (at least in my opinion). While this release is very reminiscent of their past two promotional cycles, the electro-pop is notably smoother at some parts of the song, specifically the prechorus sung by Wendy and Seulgi, calling back to their first EP's title track "Ice Cream Cake." Still, the chorus preserves the brash, loud quirk that the group has pursued most ambitiously with songs like "Dumb Dumb" and more recently, "Russian Roulette" and "Rookie." Overall, "Red Flavor" is a valuable addition to the group's repertoire, albeit slightly exhaustive. This release makes me wonder how much further they can pursue this kind of concept before it wears down. As great as "Red Flavor" is, the song makes me want to see something new from RV, and hopefully their next comebacks will make that a reality.
— Kushal
---
---
"Sorry Sorry & Bonamana" by Super Junior (Performed July 8)
There's something incredibly sad about watching Super Junior appear on stage with only three members as they did at last night's SMTown. Even when a fourth member, Heechul, appears mid-way through "Sorry Sorry," there's something disheartening about seeing what was once a revolutionarily large group be driven down to only a handful of people. (But don't even get me started how they have nine backup dancers to get things up to SuJu's original OT13. Or how Henry and Zhoumi could and should have most definitely been part of the performance, and Super Junior in general…) With the recent protest by fans against Sungmin, Kangin still on hiatus after the second drunk driving incident of his career, plus the rest of the members in the army, Super Junior's available four members still delivered energetic performances, with the four —Leeteuk, Shindong, Heechul, and Yesung— stepping up to fill in the void left by the loss of the Super Junior's mass of members. It's not my favorite Super Junior performance by far, but seeing them persevere in spite of the virulent outpouring of hate they just received makes this one of their most memorable lives of all time.
— Tamar
What was your favorite K-pop release of the week? Tell us what you think in the comment section below and be sure to subscribe to the site and follow us on Facebook, Twitter, Instagram, and Tumblr to keep up with all of our posts.
https://kultscene.com/wp-content/uploads/2017/07/19885639_10209877340995108_45370384_o.jpg
768
1024
KultScene
http://kultscene.com/wp-content/uploads/2018/02/KULTSCENE-LOGO-2018-TRANSPARENT-RED.png
KultScene
2017-07-09 20:05:08
2017-07-09 20:05:08
Weekly K-pop faves: July 3-9