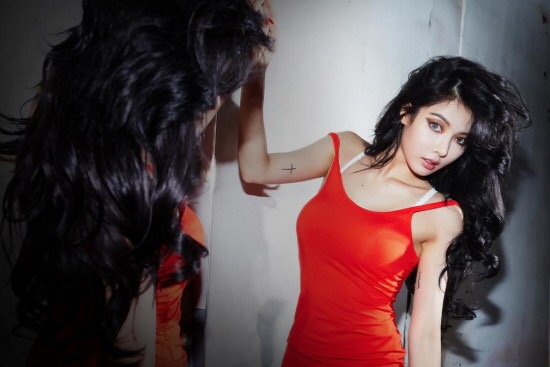 K-Pop is a musical genre that is as colorful as music can be. There are a lot of bright colors in music videos, K-Pop acts with color in their name, etc. Here are some of the most popular songs in Korea that have the color red in their name.
HyunA Red
You may know this song. It has over 16 million views on YouTube, and Hyuna's Red made a lot of headlines for its sex-filled concept. Red reached number one on several music charts, and the music video stayed atop of China's Yin Yue Tai V-Chart for four days. The rapid-fire rap, HyunA's twerking, and electronic-EDM-hip-hop elements seems like a mess at first, but Red is an enthralling song, filled with red-related passion.
SMTOWN Red Sun
One of SMTOWN's from 2006, multiple SM Entertainment artists including TVXQ, BoA, Kangta, The TRAX, Super Junior etc. lent their voices to the song. Some of the artists are no longer active or have since left the company (the three members of JYJ, ex-Super Junior members, The TRAX, Black Beat, CSJH The Grace,) but the song is still an upbeat summer song that will make you want to head to the beach and enjoy the sun. Fun fact: Pre-Girls' Generation SM Entertainment had only less than ten active female singers.
Shinhwa Red Carpet
Shinhwa may be one of the longest running groups in K-Pop, which made its comeback in 2012 after a four year break. On that comeback album, The Return, Red Carpet stood out as a strong dance track. The song was written by member Minwoo (known as M,) and is a synth-dance mix up that emphasizes Shinhwa's vocal line.
f(x) Red Light
One of the most experimental songs out of SM Entertainment in years is f(x)'s hit song Red Light. The song is an electronic house song with a rhythmic beat that is addictive. Red Light's promotional period was cut short due to member Sulli going on hiatus, but it still did well on multiple music charts, including reaching the top 5 on the Billboard K-Pop Hot 100 chart.
IU Red Shoes
A song meant to show the transition of IU from Korea's little sister to a more mature singer, Red Shoes describes a woman trying to find her way. Red Shoes uses a big band sound, evoking swing and jazz music. It, and other songs from IU's Modern Times album, won multiple awards and gained much acclaim in South Korea.
Heyne Red Lie
Not to be confused with Hyuna, Hyene is an up-and-coming solo singer. Her cute voice may be typecast to sickeningly sweet love songs, but Red Lie is anything but, with lyrics like "love please go away." The song and cinematography of Red Lie are really unique and definitely worth listening to. Fun fact: There's very little red in the video. Perhaps a shout out to red being the color of lies, as the title suggests.
Son Dambi Red Candle
Composed by SHINee's Jonghyun, Son Dambi's Red Candle is a sophisticated track that depicts celebrity life. The gentle intro into the song seduces the listener to the gentle Latin-fusion style that's different than Son Dambi's typical dance song. Dance is prevalent and the music video is absolutely beautiful with a black-and-white film noir feel to it.
Did we list all your favorite "red" songs? Look forward to the rest of this ROGYBIV series in coming weeks. Share your thoughts in the comment section below and be sure to subscribe to the site and follow us on Facebook, Twitter, Instagram, and Tumblr to keep up with all of our posts.
https://kultscene.com/wp-content/uploads/2014/11/IMG_3431-0.jpg
367
550
Tamar Herman
http://kultscene.com/wp-content/uploads/2018/02/KULTSCENE-LOGO-2018-TRANSPARENT-RED.png
Tamar Herman
2014-11-20 13:21:20
2014-11-20 13:21:20
The Colors Of K-Pop: Red