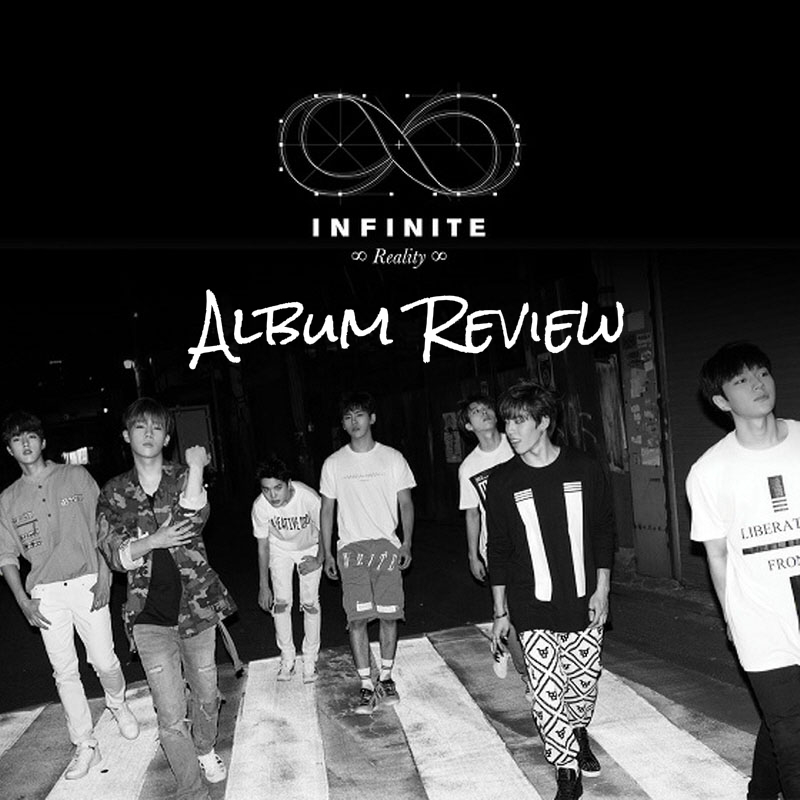 A year since their last return with "Be Back", INFINITE is back with their newest album "Reality", which has topped music charts ever since it was released on the 13th of July. Through this album INFINITE shows development and growth, not just as a group but individually as well.
"Betting"
As with every INFINITE album, the first track is always an instrumental. It starts simply with a piano riff, but gradually increases in its intensity as more layers are added to it, finally cutting to silence at the peak of the short instrumental. It works effectively as a prelude because it is dramatic and delivers a lot of anticipation for the rest of the album.
"Bad"
This song was a surprise, not because it didn't sound good, but because it was so different from INFINITE's usual dance-pop style.The underlying string section that is continuously on repeat throughout this track is very effective, adding a layer of intensity that is pivotal to the success that is this song. The group pulls off this track well, with the amazing vocals provided by all the members rather than the emphasis occasionally over-placed on Sungkyu and Woohyun, although the raps did take a backseat this time around. The chorus is extremely addictive and the climax of the song is hit during the bridge part, a part that I particularly enjoyed, all in all making this a great title track and a promising start to the album.
---
---
"Moonlight"
We return back to familiar INFINITE territory with this fun dance track which makes for a good listen. This track seems like the cheerful partner to "Bad," which had a darker feel to it, as can be seen by the lyrics of this love song.
Moonlight, shine the way you're going, I'll run to you so I can hug you.

Moonlight, on this beautiful night.

So we can see the end of it.

Like the bright moonlight, smile for me, that's all I need.

Like the sky light, like the moonlight.

On a moonlit night, so I can reach you.
The instrumentals used in this song added vibrance and I especially enjoyed the use of Sungjong's and Sungyeol's falsetto voices throughout the song, since the two rarely have lengthy lines. The repetitive chorus also made the song very catchy. It sounds a little too familiar for me though, and its similarity to earlier INFINITE songs such as "As Good As It Gets" makes "Moonlight" more forgettable than the other more different releases of the album. There was no rapping in this track as well, the addition of which might have spiced up the song more.
"Walk to Remember"
This song was slower than I expected, and adopted a more laid-back and relaxed tone as compared to the previous tracks on the album. This gave the members more room to show off their skills, be it in rapping or in the use of more vocal techniques. Their vocals all sound smoother in the track, making for a really great listen. If anything, the relaxed beat of this track makes it easy to nod along to, and the high notes by Sunggyu and Woohyun are the cherries on top of this delicious cake of a song.
 "Between Me and You"
Without a doubt, this song really blew me away. It might be a somewhat safe ballad but the vocal talents showcased by all the members in this track amazed me. From Woohyun's ridiculously high (and long) notes to Dongwoo's charming voice, I thoroughly enjoyed listening to the members and I could really hear their growth as musicians and artists. In particular, Sungyeol has improved tremendously, not just from his debut with INFINITE but even from his latest album with the subunit INFINITE F. His confidence has certainly grown with regards to singing and it can be heard through his steady and sweet voice. Credit must also be given to the other members of INFINITE F (L and Sungjong) because their vocals are noticeably stronger in this song, and the album as a whole. Although the raps were somewhat unexpected in this song, they were passionate and added life to the track. The song started out quietly, but the instrumentals built up towards the climax of the song along with the strength of the members' voices, giving more emotion to the song. The harmonies that are present in this track show that the members of INFINITE know how to complement each other very well. The song faded away quietly, which I feel is my favourite part of the song and all in all, this is definitely my favourite track of the album.
---
---
"Love Letter"
I was not expecting two ballads in succession but I'm happy to report that the ballads are different in various ways. For one thing, the mood of this song is definitely happier and more romantic as compared to the song "Between Me & You" and describes how much the protagonist loves the girl of his dreams.
Looking at the stars floating in the night sky, I just keep walking.

Without expecting anything, I hope you appear.

But probably it was me being greedy.
As compared to the previous ballad, there are fewer vocal techniques used in the song, and instead of high notes appearing every few bars, the singing is more comfortable and sincere, adding to the emotions of the song and bringing out the heartfelt meaning of the lyrics.
"Up to You"
The mood is brought up again with this final track and to say the least, it's an interesting combination of raps, generally good vocals, and crazy instrumentals. The song sounds better than it reads though, and it provides a cheery finale to this diverse album. It's good to hear INFINITE experimenting with styles that they've never tried before and it's even better to know that they succeeded.
Overall Thoughts
This is one of the rare albums that I thoroughly enjoy every single track of, and I feel that INFINITE showcased a variety of styles through this album, showing their growth as artists. This album also felt more evenly distributed than usual, in that each member had several opportunities to shine, and this is a welcome change from INFINITE that I would hope to see for the rest of their releases. The only problem I would have with it would be that the songs do not have much coherence together, even though they are great individually. It would be nicer if the songs followed a more consistent meaning or storyline, such as in previous EPs like "New Challenge", which had an overarching theme about being happily in love. However, it is a minor problem, and does little to diminish the perfection that is "Reality". I cannot wait to see INFINITE's live performances of the songs from this album and I'm already looking forward to their next release.
Did you agree with my sentiments about INFINITE's album? What are your thoughts on this release? Share your thoughts in the comment section below and be sure to subscribe to the site and follow us on Facebook, Twitter, Instagram, and Tumblr to keep up with all of our posts.
https://kultscene.com/wp-content/uploads/2015/07/infinite-feature-image-.jpg
800
800
Anna Cheang
http://kultscene.com/wp-content/uploads/2018/02/KULTSCENE-LOGO-2018-TRANSPARENT-RED.png
Anna Cheang
2015-07-13 18:22:21
2015-08-04 19:31:55
INFINITE's 'Reality' Album Review