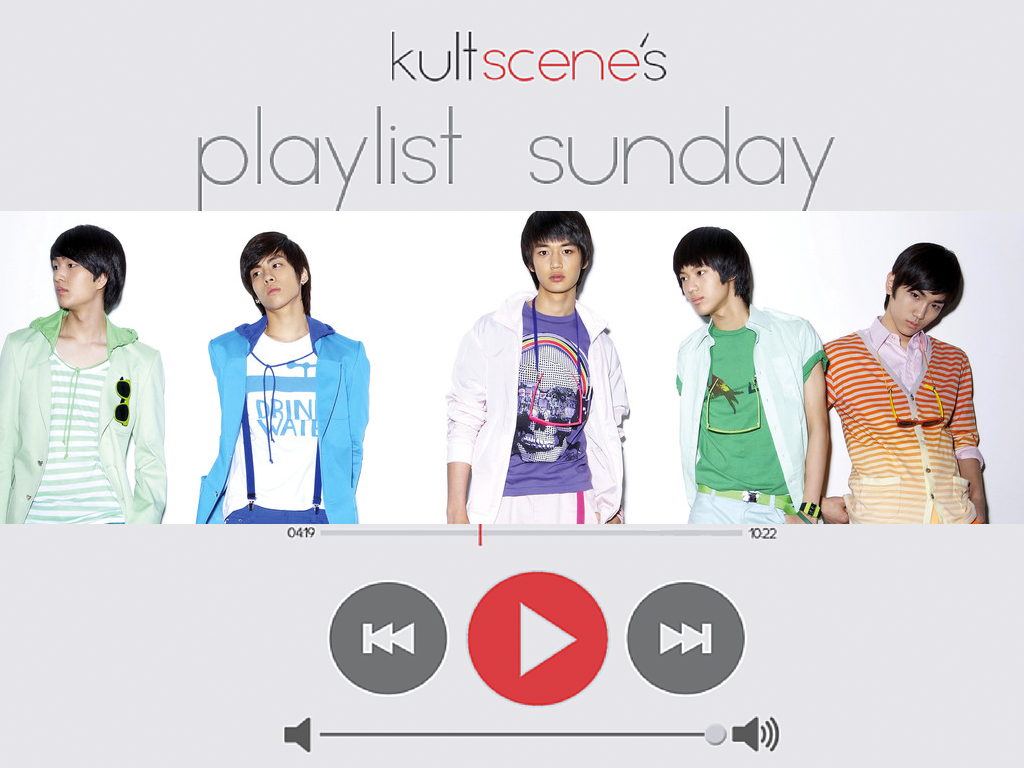 K-pop is full of addicting hooks and songs that will get stuck in your head, but not every popular Korean song is going to stand up to the test of time. There are those special songs that every person can listen to on repeat wherever, whenever. This week's Playlist Sunday is dedicated to all the songs that make our team press the replay button.
Could it be Doojoon's sudden but mesmerizing intro that sets the mood in Beast's "Fiction?" Or maybe it's the addictive "fiction, fiction" chorus? Whatever the reason may be, it's clearly a replay favorite. According to my iTunesI've played this song 783 times since January of 2012. Whoops! Although "Fiction" is about a broken relationship that the members wished they could rewrite, I can't help but rather feel a sense of warmth and tranquility. And if the song itself doesn't already bewitch you with it's obsessive melody on its own, the music video, which shows off their popular "penguin" dance, will make even the non-dancer (like myself) get on up in an attempt to try it out. If you haven't already, check out their original music video for "Fiction" and also their live orchestra version at the MAMA 2011 awards!
— Tam
---
---
From the moment the retro drumroll began and led to the unique synth sounds that identify this as an INFINITE song, "The Chaser" stole my heart away. When the song was released, I vividly recall thinking "I need to be sedated" because my heart was filled with such euphoria upon hearing this oh-so-perfect song. Fast forward to several years later and "The Chaser" is still the INFINITE song nearest and dearest to my heart. If I'm having a bad day, I'll turn to its belting, uplifting melodies. Each member gets their moment to shine throughout the song as it's one of INFINITE's most expressive performances to date, which isn't easy to do amidst a dance song. And, vocal performances aside, the song's musical arrangement is unique amongst K-pop songs and easily one of the best songs by a K-pop group ever. The live orchestra version of "The Chaser" from SBS' 2012's Gayo Daejun is still one of the best year-end show performances ever, and each year I find myself watching it multiple times just to admire how extraordinarily versatile this pop-synth song truly is as it seamlessly changes into a rock power ballad. The song also has one of INFINITE's most subtly sensual performances to date, and four years later, I'm still madly in love with every aspect of "The Chaser."
— Tamar
Hands down, my favorite song of 2014 was BEAST's "Good Luck." It's perfection, case closed. However, the next best thing was the other song they promoted alongside the single, "We Up." While "Good Luck" tugged at your broken heart, "We Up" was simply a fun jam. So fun that even the members seemed like they visibly looked amused performing it and being playful with the dancers — a rare sight for music shows and K-pop artists altogether. Not to mention it is almost impossible not to sway your shoulders and follow the choreography at the chorus.
— Alexis
---
---
Look at those guys above me listening to old songs. Get over it, guys. It's all about the new in K-pop, didn't you know? On replay for me is "Deepened" by the newly revamped Brave Girls. The silky smooth trap R&B is a popular sound nowadays that the girls have executed to perfection. The Calvin Klein-esque styling and lushly simple choreography as well show a confident new direction for these brave girls. Best of all is the rap which comes halfway through the song. The way the rapper turns it into a high pitched vocal, the way it goes on that bit too long. I love its excess and emotional delivery. The new Brave Girls is where it's at.
— Joe
What's your favorite K-pop song to put on replay? Share your thoughts in the comment section below and be sure to subscribe to the site and follow us on Facebook, Twitter, Instagram, and Tumblr to keep up with all of our posts.
https://kultscene.com/wp-content/uploads/2016/02/playlist-sunday-replay.png
768
1024
KultScene
http://kultscene.com/wp-content/uploads/2018/02/KULTSCENE-LOGO-2018-TRANSPARENT-RED.png
KultScene
2016-02-28 18:27:56
2016-03-02 12:14:38
Playlist Sunday: Press The Replay