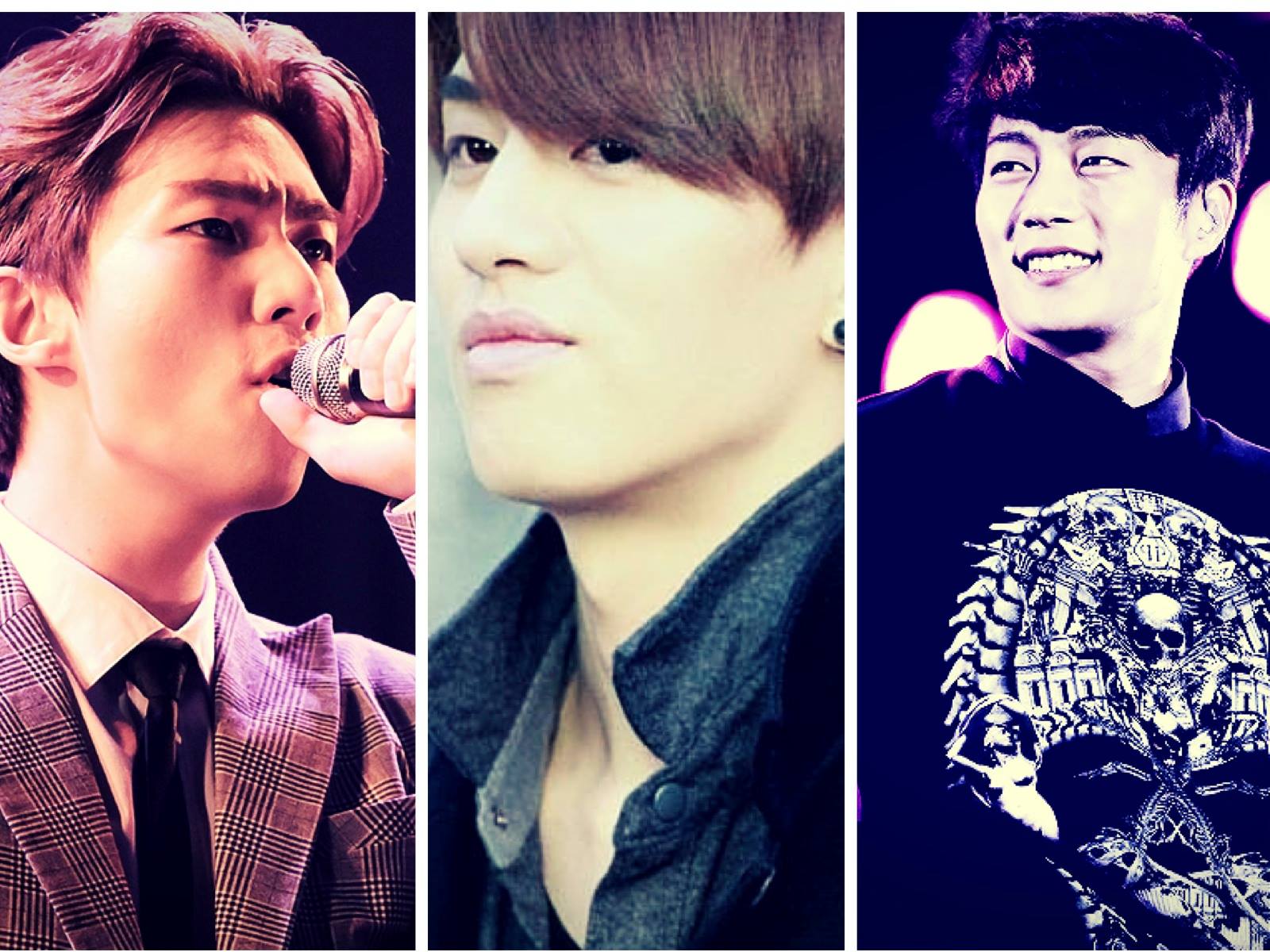 There are lots of K-pop groups out there, but not all of them are popular. What's more, within a group, some members are always no more popular than others. But this doesn't mean that some are greater than the rest, I mean, who doesn't love an underdog? That's why we've listed a few members from underrated, ocassionaly neglected groups that deserve the spotlight. Here are our picks of a few personal favorites that a lot of K-pop fans may be underestimating.
5. Yoon Doojoon (윤두준) known as Doojoon from BEAST (비스트)
Doojoon is the leader of one of the top Korean boy bands, BEAST (also known as B2ST.) Although he comes from a popular group, it hasn't been all fun and games for Doojoon. And, for those who have any idea of what the entertainment industry is like, you also know that it's a long and tiring battle to get to the top. However, BEAST's leader  didn't always dream of being a singer. He played soccer all throughout elementary and middle school and had even planned on becoming a physical education teacher, but abruptly changed his mind one day after watching MTV's BIGBANG Documentary. Even though everyone around him was against the idea of him becoming an entertainer, Doojoon still went for it (and I'm glad he did!)
Doojoon first caught my eye when he was featured as the love interest in fellow label mate, G.NA's music video for I'll Back Off So You Can Live Better. Even though he had no lines in the song itself, he had a very strong presence in the music video, which made me want to know more about him. Doojoon is considered to be a sub-vocal member in the group, and will also occasionally rap. When BEAST first started out, Doojoon and another member, Dongwoon, received the least amount of lines and were usually the ones to dance in the back while the other members were in the middle and towards the front. Granted, our leader didn't specialize in dancing  or singing like some of the other members, but there's something very specific and distinctive about his voice that I wish he was able to display more often! Doojoon's singing isn't bright and ringing but it's a lighter and more delicate voice; it has a crisp nasally sound which makes him all the more different, and Doojoon's parts in BEAST's songs are always exemplary.
Aside from being a talented and overlooked singer, Doojoon has also managed to steal a lot of hearts through his acting in productions such as All My Love, Iris 2, and Let's Eat. Those are only a few of the roles Doojoon has acted in. There are many artists out there who try to juggle singing and acting at the same time but  very few can actually do both well; Doojoon is one of those rare few. Until you've seen a sitcom or drama that he's been in, don't tell me otherwise! 
Doojoon has always been extremely active, and is well known in the industry as the soccer-dol amongst the idols; it's a legacy in which I hope he'll be able to carry on even after his idol days are over. Whenever he's performing, whether it's with BEAST or on his own, whether it's on or off stage, on a movie/drama set, or at a sporting event, you can see the charisma and passion oozing out of Doojoon's body, from head to toe. As a leader, and an artist, the idol is one who  always gives everything. Doojoon gives 200% of his all, and he'll always take those who are with him to the top.
4. Jo Kang Jun (조강준) known as Kangjun from C-Clown (씨클라운)
Jo Kang Jun always knew that he wanted to be a singer, but wavered at one point. He changed his focus from becoming a singer, to studying design, until he found out that he passed the audition for Yedang Entertainment, after which he then dropped out of school to pursue his dream.
Kangjun is the enthusiastic main vocalist in C-Clown. He's known as the goofball, mood maker, and troublemaker in the group. He's also the only member of the group that uses his real name. Kangjun has a playful personality; he's the guy that will show up at someone else's party and becomes the party. He's always going around self-proclaiming about being the visual of the group, and I don't necessarily disagree. This guy has no shame, and he's proud of it! Even though he goes around and does all these things that potentially makes him look like a clown (no pun intended,) it's not hate-inducing. Kangjun's  perky personality quickly absorbs you and it almost makes you want to be like him!
Apart from being a contagious happy virus, Kangjun definitely has what it takes to be the main vocal. His voice is steady and calm. He delivers every syllable and word clearly. For someone who is barely 5'6", Kangjun has a lot of power in his voice and showcases his singing with such clarity. With only eight months of training before debuting, I think he's done pretty well for himself.
Although C-Clown has been around for two and a half years now, and it was only recently that they've been gaining recognition (although they're still considered rookies,) I believe that a lot of that has to do with not only Rome (C-Clown's leader) and his broad relations with a lot of his fellow foreign idols, but also Kangjun putting himself out there for the world to judge, literally. He's like an onion; you won't know what you'll get out of him until you peel the next layer!
3. Jo Jong Hwan (조종환) known as Jonghwan from 100% (백퍼센트)
Jonghwan is the vocalist and was the first member chosen for 100%. He was initially set to join fellow label mate group, Teen Top, but failed to pass the "final test". Even though he only picked it up as a hobby, Jonghwan is a very skilled guitarist  and is quite the beat boxer. Jonghwan's love for the guitar and music in general stems from the core goal of one day  becoming a songwriter like JYP Entertainment's founder, Park Jin Young.
Jonghwan is very quiet and reserved, especially when he's around his members, but when he's in front of the fans he's shooting hearts left and right! With every new concept, it's a different Jonghwan. Whether it's from his amazing vocals to his powerful dancing, to him doing both at the same time and not missing a single beat, Jonghwan is exceptional! It also helps to be as athletic and nimble as he is, so that he can stay consistent with the nonstop commanding movements of 100%'s choreography.
A lot of people view 100% as the underdog, since Teen Top are their superiors. But both groups contain excellent dancers, and both group's have awesome rappers. However, one factor that differentiates the two is the fact that 100% is also able to provide raw music for their audiences. I think a lot of that has to do with how passionate the members are with playing their own instruments and not necessarily having to rely on a machine to do all the work. And Jonghwan's voice, of course.
When 100% was a group with seven members, it had a total of 4 main vocalists, so sometimes it was hard to pick out Jonghwan's voice. But now that there are five active members (three of whom are the vocals), he get's more lines and it's easier to hear his parts.
2. Han Ji-hyun (한지현) known as Tey from MR.MR (미스터미스터)
Tey is the main vocalist and visual of MR.MR. Since debuting in 2012, the group has yet to create a big name for themselves. However, every time they release a new music video it garners more and more attention from the public.
Tey is the definition of suave. He has a deep baritone that helps accentuate his natural sex appeal even more. His strong and distinctive facial features can make him seem harsh at first glance, but he's actually a big softie! He's the second youngest in the group and at times may look like an ahjussi (old man,) but when he's not on stage, he's a wacky guy. Being the main vocalist of the group, he undeniably excels in all his parts, anywhere from hitting the high notes to the fast paced choreography, down to the simplest facial expression.
The idol recently had his solo debut, with the single Dangerous. There's been a lot of mixed feedback, some are claiming and criticizing Tey, saying that he copied Taemin's (from SHINee) concept, while others who knew him from MR.MR said that this was what they've been waiting for and the MISOs (official fans) were extremely excited for his solo!
Tey definitely has what it takes: the voice, the moves, and the appeal to make it in the industry. It's just a shame that there isn't as big of a following and not enough promotion going on.
1. Kim Ji-yeop (김지엽) known as Kevin from ZE:A (제국의 아이들)
Not to be confused with Kevin from U-KISS, JiYeop, better known as Kevin, is the oldest member of ZE:A. He's not the leader nor is he considered the "main" anything in the group; you're always going to run into uneven distribution of parts, especially if the group consists of more than four people, let alone the nine members that ZE:A has. That's why I wish people would take more notice and discover how amazing of an artist Kevin is.
ZE:A has been in the industry for a little over four years now, and even then there are still a lot of people who don't know who the individual members are. Most people who know of the group know them because of Kwanghee, who is known as the plastic-dol, and the actors Siwan and Hyungsik.  Because of Kwanghee's comedic acts and the superb acting skills of Hyungsik and Siwan, , some people don't realize that ZE:A consists of members of whom excel in singing and dancing, particularly..
While growing up in Australia, Kevin was very active in music, taking part in musicals and plays, such as Aladdin, and touring with a choir. He may have a smaller frame, but his dance moves are tremendously powerful. He has astonishing vocals and is a diverse singer. His moves are always intricate and precise, and you'd be surprised at his flow! Kevin's singing style is relaxed and captivating. He has a buttery, smooth, tranquil and polished voice. No matter what genre of music he sings, he always delivers.
ZE:A doesn't promote much as a team of nine; so whenZE:A5 was created,  Kevin had his opportunity to break into the scene. He also played a part in making the album by composing a few of the songs on their mini album Voulez-Vous (he also worked on ZE:A's 2nd EP First Homme). Kevin was recently a part of  the project group Nasty Nasty, with Nine Muses' Kyungri and Sojin.  The trio promoted their single Knock Knock, which received a lot of attention for it's sexy concept.
Kevin is currently the host on Arirang Hot Beat, in which he has a segment during the radio show where he covers songs, ranging from Korean trot music to old school R&B and hip hop to current day pop. He's able to showcase his impressive  wide vocal range and I hope that he'll be able to use the radio show as a stepping-stone in furthering his career and popularity.
Share your thoughts in the comment section below and be sure to subscribe to the site and follow us on Facebook, Twitter, Instagram, and Tumblr to keep up with all of our posts.
https://kultscene.com/wp-content/uploads/2015/02/11009605_10203588538854397_40211131_o.jpg
1200
1600
Tam Huynh
http://kultscene.com/wp-content/uploads/2018/02/KULTSCENE-LOGO-2018-TRANSPARENT-RED.png
Tam Huynh
2015-02-25 22:34:46
2015-02-25 22:34:46
5 Occasionally Neglected Male K-Pop Idols