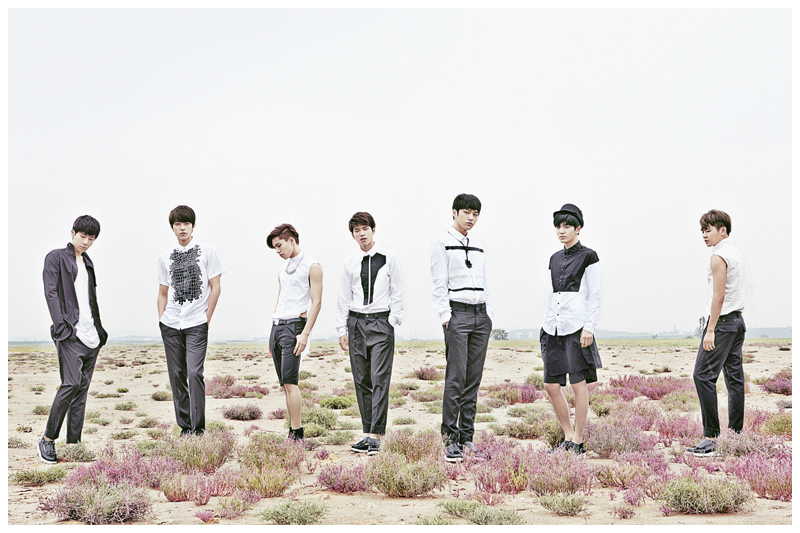 Let's go back a little less than a year ago in Seoul: INFINITE gets up on stage at the first night of their world tour, performs a bit, and then starts to talk. With tears on their eyes, they apologize and promise fans that things won't change, and swear that INFINITE will always be INFINITE.
No, a member didn't leave, but news broke that day anouncing that INFINITE's company, Woollim Entertainment, would be merging with SM C&C. And yet, in that moment, sitting in the audience, and only picking up every few words with my limited knowledge of Korean, I thought that INFINITE was disbanding. Or, at the very least, a member was heading to the army. The way that INFINITE acted towards Inspirit (the group's fanclub), seemed like the members had to apologize for practically killing someone. Why?
This slideshow requires JavaScript.
In South Korea, SM Entertainment is both respected and feared. The first few days after the announcement of the merger, fans wrote articles saying things like, Did SM buy INFINITE's company so that the group wouldn't compete with SHINee and EXO? (Both groups are some of SM's most popular).
Fans feared that INFINITE would be relegated to some backburner by SM and not be able to be competition. What many fans missed (but others pointed out) was that Woollim Label (no longer an entertainment company in its own right) would still have control over INFINITE and other Woollim artists, like Nell and Tasty. This meant that INFINITE would, hopefully, still have the artistic guidance that it had had since debut.
In Retrospect, Why The Merger?
First thing's first: Money. INFINITE, almost singlehandedly, took care of Woollim. Yes, Nell is extremely popular in Korea, but it doesn't rake in the income from various appearances on television, concerts, CFs, and more, that INFINITE does. The two Tasty twins also aren't even close to being big enough to take care of an entertainment company. Woollim has always been amazing at what it does, but has been too small to really support several artists because only one group was bringing in constant funds.
Second: SM is bigger, which opens more doors in Korea.
Third: INFINITE really was competition for SHINee and EXO. The group filmed a $1 million blockbuster music video in the U.S., even though it was never released. The original video included a plane wreck scene, and due to the Asiana Airlines crash of 2013, Woollim decided it would be insensitive to release. Moreover,  they had embarked on a world tour, and had members debuting as solo artists (Sungkyu) and becoming incredibly popular actors (L and Hoya), to name a few.
Check out these cool articles around the web
INFINITE was, and is, big. So when a big company sees a little company being successful, the typical response is, "let's buy it out." A merge helped both Woollim and SM –Woollim got the financial backing it may have been lacking, and SM got rid of competition by incorporating it.
A Year Later, What Happened? 
Pretty much, just that—INFINITE came back with Back, and it's been well-received so far. Last Romeo also topped the charts, although fans' generally thought that it wasn't INFINITE's best song. But, it meant that the group would still be active —which it had been doing since the merger occurred.
Since the merger occurred, other than releasing the album Last Romeo and its repackage Be Back, the group also released The Origin, a completely instrumental album of all of INFINITE's best songs.
Moreover, INFINITE has held several concerts, introduced an upcoming subgroup INFINITE F (Sungyeol, Sungjong, and L), and appeared on the variety show This Is INFINITE.
Separately, the members have also been busy –Woohyun, Sungyeol, and L have all acted in dramas, while the other members have frequented variety shows.
What Did INFINITE Gain By The Merger? 
Well, for one thing, there was this little thing called ToHeart—INFINITE's Woohyun and SHINee's Key, who have long been known to be best friends, were able to have a project group now that they were both under the SM umbrella. And people really liked it!
Then, there's the support from SM; while idols at different entertainment companies generally are civil, they rarely promote one another. But when Sungyeol appeared on Law of The Jungle – Caribbean & Maya, members of Girls' Generation cheered him on. There have been several other cases now where SM artists and INFINITE have been seen together in a way that they never had appeared before.
[As a side note: Since the merger, SM artists and Woollim artists have been collaborating more in general – on We Got Married Global Edition, f(x)'s Amber and Tasty's Soryong have worked together as MCs.]
Oh, and, of course, INFINITE (and other Woollim acts) now appear at SMTown concerts.
So… What Was The Freak Out About?
Pretty much? Nothing really.
So is SM still a threat to INFINITE's integrity? Probably not.
There was definitely room to worry,  but then it turned out that INFINITE would still be INFINITE. The group pretty much has kept doing what it's done in the past- make really good, retro-inspired music with perfect synchronization.
And continued to be the derps they started out as.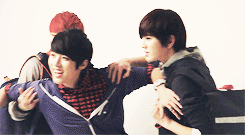 What do you think? Has INFINITE changed since the merger? Be sure to share your thoughts and follow us on Facebook, Twitter,
Instagram, Tumblr, and Bloglovin' so you can keep up with all our posts.
https://kultscene.com/wp-content/uploads/2014/07/infinite-back.jpg
533
800
Tamar Herman
http://kultscene.com/wp-content/uploads/2018/02/KULTSCENE-LOGO-2018-TRANSPARENT-RED.png
Tamar Herman
2014-07-22 18:10:38
2014-07-27 15:59:55
Let's Discuss: INFINITE & The SM-Woollim Merger