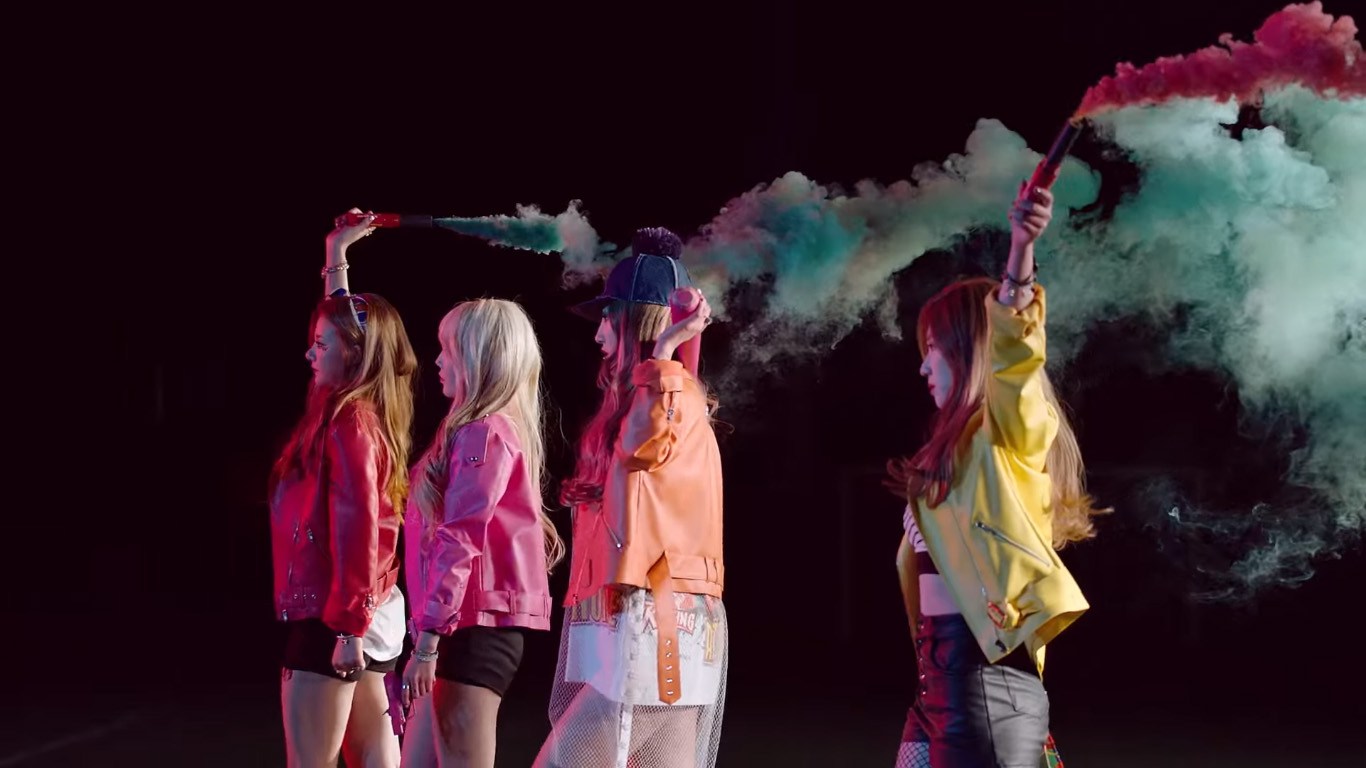 When 4Ten released their first album "Jack of All Trades" earlier this month, the title and tracklist got me thinking about their career so far. The term "Jack of All Trades" when referred to pop groups brings to my mind groups like 4minute, SHINee, and TVXQ. Groups with talent across the board or talent so good that even the seemingly-less talented members are given their chance to shine. The tracklist of "Jack of All Trades" does little to show the variety of 4Ten. It contains three old tracks re-recorded with the new members and two new ones. Less than half are new and those re-recordings removed some key elements to those old songs. Hardly "Jack of all Trades."
Let's take a step back for now though, it is just a title after all.
4Ten are a four member girl group who debuted under Jungle Entertainment in 2014. The name is derived from the English word "potential." Try pronouncing the number "4" as if you were Korean (since Korean doesn't have an "f" sound) and it'll make more sense. The original four members had a, shall we call it, distinctive look. It wasn't something K-pop fans would not be familiar with. Their faces were, well, let down by the doctors. Two especially, Hyeji and Eujin, were operated on by surgeons with Parkinson's disorder. TEM, the rapper, doesn't look like an idol although she was probably scared of surgery after seeing her groupmates. The remaining member looks like a regular enough idol which in a way is boring for this group.
---
---
Hoping to blow away their competition (zing!) 4Ten debuted with "Tornado" in August of 2014. Like all rookie groups coming from smaller companies, the low production value is immediately obvious in the song and music video. "Tornado" is a messy club banger that somehow combines Crystal Castles and David Guetta into a relatively palatable pop song. Everything about it is close to being at least something that could be popular, but everything about it is also something that should be left as a demo. The pianos that should twinkle in contrast to the synths are flat and not varied enough. Those big synths are not clear enough so get lost amongst a million other things in the chorus. The video was shot in a bunch of dusty brown exteriors that do little for the girls except make them feel at home. The choreography needed a lot more practice too, not that it looks particularly difficult. The one saving grace is TEM, whose rap is genuinely good and promises the possibility of building around her for the future.
That future resulted in "Why." It does not make TEM the focus but it can be called an improvement. It recycles the cheap synths for a europop verse that is almost hard to get through but builds by adding a rock drum beat. Mostly it's the chorus that makes "Why" superior to "Tornado." Its hook is pretty generic but it has an authentic energy that was missing before. After the chorus, it transitions straight into a rap, which is again the highlight. TEM has a few more little spits towards the end that indicate a possibility that Jungle have realised the real talent of this group. Let's look for — hey TEM where are you going? No, wait, please don't go. Goddamn.
Let's start again I guess.
---
---
Poten are a five member girl group who debuted under Jungle Entertainment in 2015.
After the departure of TEM and Eujin, 4Ten rebranded themselves by adding three new members, Hio, Yoon, and Haejeong and changing their name to free themselves of the number four. Not that that stopped groups before — I'm looking at you Nine Muses and Day6 (too soon?). This all proved to be beneficial, however, as the revamp gave the girls their best song. "Go Easy," released in the summer of 2015, is a slick funky track that sounds a million miles from their precious work. The loss of TEM is more than made up for with great vocals and great production. In the video, they once again dance and pose in an American town, but this time they themselves and the camerawork actually looks good. The life of a young girl group is a difficult one, but it's always good to see when a group starts to even slowly improve.
4Ten are a four member girl group who debuted under Jungle Entertainment in 2016. Goddammit not again.
This time it was Haejeong's turn to leave, and with her departure the chance to revert to their original name and pretend Poten never existed, which was too enticing for Jungle. Luckily Haejeong had little to do with "Go Easy's" quality, so her loss was not damaging. 4Ten returned in February 2016 with the aforementioned album and lead single "Severely." It continues on the work of "Go Easy" by going full 80's throwback. "Severely" would be up there with all the great throwbacks we've had recently if its production was that bit better. The vocals are great, they snap out of the track with power. The chorus group singing is especially good, evoking the period perfectly. The synths are just that bit too drowned out to be really satisfying. I can so nearly imagine Tom Cruise kicking ass in a training montage with this in the background. In reality, it's closer to "Wet Hot American Summer" than "Top Gun." (I embedded the live version because it has more bite than the video and might make me love it wholly).
So maybe 4Ten are not jack of all trades, but does it really matter? What I really like in underdog groups like these is the almost tangible feeling of desperation that comes from their songs and videos. The sense that even if it looks and sounds like it cost $5, that they put their all into it and for a split second thought they could be the next Girls' Generation. With the K-pop industry becoming less exclusive to groups out of the big three companies, it is a lot easier for this to potentially happen. Yet we can always count on new upstart companies to try in earnest with groups like 4Ten. Maybe members won't be able to dance, maybe they won't be as pretty as Suzy, maybe they can't even sing that well. Groups like these have to try new things in order to grab our attention and sometimes that yields great results. With 4Ten we have gotten one great song, an interesting failure, and some spectacular misfires. Most importantly they gave me a good time. I hope groups like these never die out.
What's your favourite 4Ten song? Share your thoughts in the comment section below and be sure to subscribe to the site and follow us on Facebook, Twitter, Instagram, and Tumblr to keep up with all of our posts.
https://kultscene.com/wp-content/uploads/2016/02/4ten-severely.jpg
768
1366
Joe Palmer
http://kultscene.com/wp-content/uploads/2018/02/KULTSCENE-LOGO-2018-TRANSPARENT-RED.png
Joe Palmer
2016-02-29 15:03:23
2016-02-29 15:39:43
Artist Spotlight: 4Ten