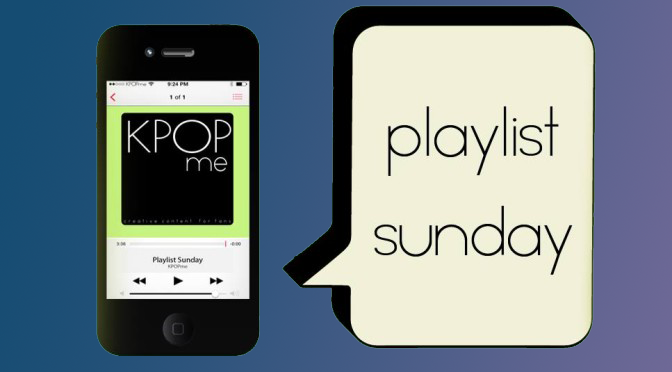 When it comes to love, it's safe to say that it doesn't come in a packaged, conventional way. No; love has many shapes and forms and can't be restricted to just one definition. It can be big and boisterous for a higher power, or small and growing for a significant other. For this week's playlist, we chose songs that talk about overall love, whether it's love confessions, feeling desperate over it, or just embracing and rejoicing it.
After seeing BTS at their free showcase, Show & Prove, in Los Angeles this week, they became my current obsession. So naturally when I found out about the theme for this week's playlist, I automatically thought of their song, Boy In Luv. This is one of my favorites from BTS; it's cute, but it still showcases their tough side. The beginning is the part that I love the most: telling the girl "I want to be your oppa" is just too cute coming from them. They are in love with a bad girl, and they don't know what the girl wants or what to do to be with her. Poor guys; the girl just keeps playing and teasing them! The music video is very fun and has the group looking very cute and sexy with school uniforms. Get ready to get addicted to the song's chorus; it's very catchy.

–Alejandro
Ailee's Evening Sky isn't a typical love ballad about a couple; her composition actually brings up her faith and devotion to her religion and God. While that isn't a romantic sort of ordeal, the song is still a wonderful example of another kind of love that can exist. She showcases her beautiful voice and amazing control in this piece, as she goes from soft and soothing to powerful vocals seamlessly.
Her lyrics are also extremely poetic, as she struggles with keeping a personal attachment to God despite sharing the faith with many other people. Even if you look past such allusions, it's not difficult to see that this is a sweet song of adoration, confusion, trust, and acceptance. What else do you need in love? You don't have to be religious to enjoy this, and that's just another reason why I picked Evening Sky for this week's playlist.

–Thuc
Check out these cool articles around the web
One of the most tender songs I've ever heard is Falling In Love With A Friend by Beige, featuring Super Junior's Ryeowook. Although it's a featured song, the two really are collaborating, singing each part of the couple that's struggling to make the jump from being good friends to something more. The confession itself is beautiful, depicting the nervous anticipation of friends who have reached this point.
Rather than being a slow, soft ballad to depict the anxious emotions, Beige and Ryeowook's duet has an upbeat melody that helps portray the happy feelings of each other as they realize that they want to be closer. The music video is also well done, partially being a behind-the-scenes look while the two recorded, but it also features the two as friends in circumstances where they bond and grow more fond of each other. All in all, it's an adorable song about reaching out and confessing to your beloved.

–Tamar
I don't remember when or how I first heard 15&'s Can't Hide It, but, from the opening lines, I immediately knew this would be on repeat for a while. The chorus of the song is mostly in English ,and the girls sing "I'm in love" throughout it. I'm in love with this song! Can't Hide It is a perfect spring and summer love piece.
The beat and music is reminiscent of '90s and early '00s R&B. Jimin and Yerin's voices are perfect for this genre. The ladies' power vocals carry the notes effortlessly, and I can't get enough of it. It's always on my car playlist, and, every time it comes on, I blast it and sing along enthusiastically. I have to admit that I try to convince myself that I sing as well as the talented duo (which I clearly don't). These girls own their live stages, too, which is amazing. If you haven't heard Can't Hide It, then I suggest you listen to it and then go buy it; you won't regret it, I promise!

–Tara
Earlier this week when watching ASC After Show, Eric Nam and GOT7's Jackson and Mark danced to their song, I Like You. I instantly had it stuck in my head all week. The backup vocals repeating nan niga joha, niga joha had me doing the elbow swaying dance as I jammed along. Some people in my household (who will remain unknown) said that it was annoying, but I love it! I dig that all the boys got to showcase their talents –Yugyeom, Mark, Jackson, and Bam Bam with their fierce rapping while Jr., JB, and Youngjae with their powerful yet soothing vocals — to the max. I Like You is the boys' love confession to a girl, complimenting her on everything they like about her. It kind of made me draw parallels between this track and One Direction's What Makes You Beautiful. I listen to it while driving or writing (or pretty much all the time). The music doesn't overpower their vocals, making them the true stars of the song and not just the producer.

–Alexis
What's your favorite K-Pop love song? Let us know in the comment section below. Don't forget to follow us on Facebook, Twitter,
Instagram,Tumblr, and Bloglovin' so you can keep up with all our posts.
https://kultscene.com/wp-content/uploads/2014/07/ps-1.png
372
672
KultScene
http://kultscene.com/wp-content/uploads/2018/02/KULTSCENE-LOGO-2018-TRANSPARENT-RED.png
KultScene
2014-07-20 23:33:15
2014-07-21 12:44:52
Playlist Sunday: Love Edition