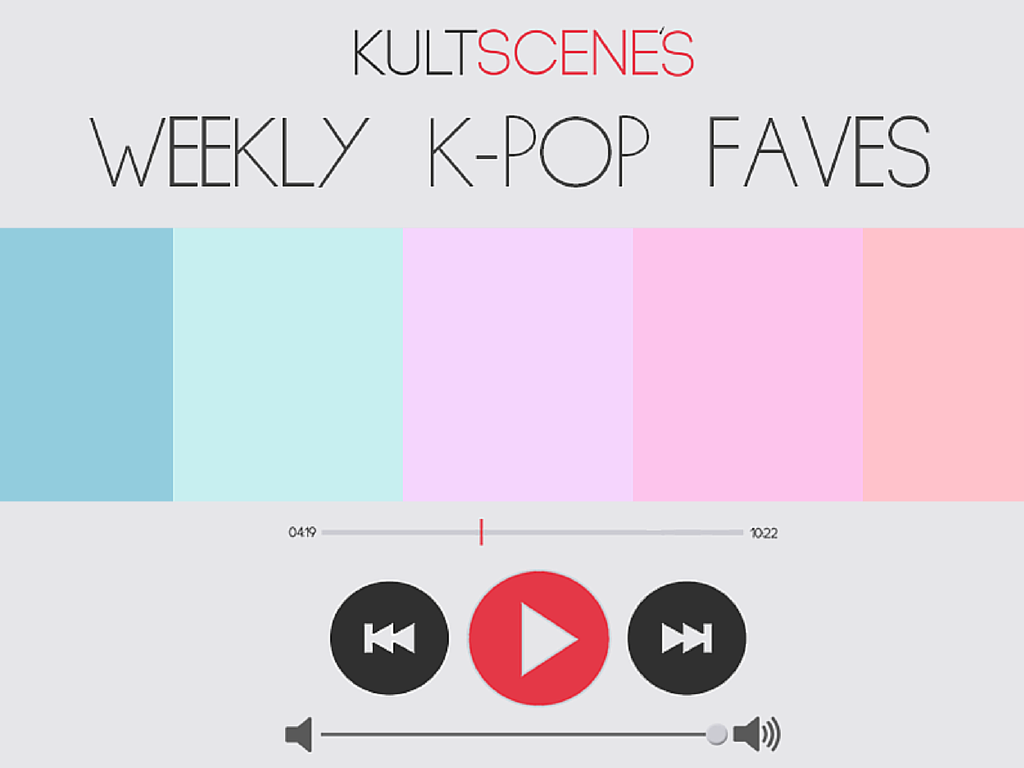 The final (full) week of May brought a lot of returns from some of our team's favorite artists. Girl groups, boy groups, solo artists, and a wide variety of genres are represented in this week's KultScene weekly K-pop faves.
"Windy Day" by Oh My Girl (Released May 25)
With "Windy Day", Oh My Girl threatened us with a most dreaded coffee shop ballad. I nearly stopped listening after twenty seconds due to intense disappointment, especially this being the best and most exuberant of all rookie girl groups. I perked up by Yooa and Binnie's angelic pre-chorus and was absolutely hooked by the Middle East-inspired break after the chorus. Between these parts, the song is driven by Oh My Girl's perpetual dynamism. First by the chorus vocals in which seven of the members participate in and then by those wonderful strings (might be an Oud) and choreography. No group has exuded such youthful apathy towards musical norms quite like Oh My Girl. They are the rightful heirs to Girls' Generation's throne.
— Joe
"Life in Color" by Beenzino (Released May 26)
After the lackluster that was "We Are Going To," it's comforting to see that Beenzino is back at it making up for the lost momentum after his "Up All Night" album. It's no secret that Beenzino is #artsy: one of his most artistic music videos is last year's "Break." Continuing the concept and, with another Digipedi music video, comes "Life in Color." The track is more on the experimental, hypebeast hip-hop side rather than the Southern rap stuff Illionaire regularly does, which makes it that more refreshening. Korea is all about making rap music that doesn't sound like rap music (mainly slow tempo tracks with a singer at the chorus), but Beenzino mastered this practice by creating something interesting and new while keeping it upbeat. I for one am now highly anticipating his new album (which drops tomorrow!) and hope we see more songs on par with "Life in Color" rather than "Break" and "We Are Going To."
— Alexis
"so-so" by Baek A Yeon (Released May 23)
I accidentally came across this song while scrolling through Youtube. Baek A Yeon's soothing vocals blended with the soft melody is easy on ears. This ballad track has R&B and soul effect to it which portrays the feelings of being single and lovesick. The lyrics are quite relatable and hold some bitter reality to them. The subdued effect of the song is neutralized by using pastel shades for the video. The music video has a cute concept and is pleasing to eyes. Baek A Yeon's "So So" is skyrocketing the music charts, like her previous hits.
— Sana
"Monodrama" by Lay (EXO) (Released May 26)
I really missed hearing R&B from EXO, and even though he only makes up a ninth of the group, Lay's "Monodrama" was enough to satiate that musical craving. Performed in his native tongue, this song is exactly what I imagine when I think of Chinese R&B. And like all quintessential R&B slow jams, this too makes generous use of layered claps and sensual guitars, giving it a very classic, old school sound. I don't have to read into the lyrics (I mean, I did) to understand that this isn't exactly a celebratory song because the instrumentals more than expressed the heartache that "Monodrama" is all about. Lay may not be the strongest vocally in his group, but with this comeback he definitely was able to brandish more than he did when he had to share lines with eight other members. Those several laudatory high notes alone probably made this one of SM Station's best releases yet.
— Shelley
I was thoroughly absorbed in the music video for "All In" when I heard it the first time, to the degree that I honestly missed much of the song and had to go back to listen again. This music video, which appears to set up a dystopian trilogy featuring some of the members of Monsta X committing suicide, had me thinking of Nazi Germany, The Lord of the Flies, Japanese-occupied Korea, The Walking Dead, yaoi manga, and at least ten other K-pop music videos from the past decade. All at the same time. That said, because of the convoluted plot I feel like the music video honestly didn't suit the song. As with all Monsta X singles, "All In" has an aggressive sound. Despite the pounding chorus and horn-heavy raps, the song isn't actually about war or anger, so I feel like it should be accompanied by a music video about sports or some other difficult to achieve goal rather than a fight-for-life plot. The lyrics reflect being all in a relationship; translating this to being all in on a team or a competition makes sense while depicting it through revolution seems off the mark. But, back to the song, within two listens this pounding beat got stuck in my head and I really enjoyed the raps; It's their most diverse single to date, while still retaining their specific style.
—Tamar
What song was your favorite of the week? Share your thoughts in the comment section below and be sure to subscribe to the site and follow us on Facebook, Twitter, Instagram, and Tumblr to keep up with all of our posts.
https://kultscene.com/wp-content/uploads/2016/05/Untitled-design-2-1.png
768
1024
KultScene
http://kultscene.com/wp-content/uploads/2018/02/KULTSCENE-LOGO-2018-TRANSPARENT-RED.png
KultScene
2016-05-29 21:09:03
2016-05-29 21:10:53
Weekly K-Pop Faves: May 23-29