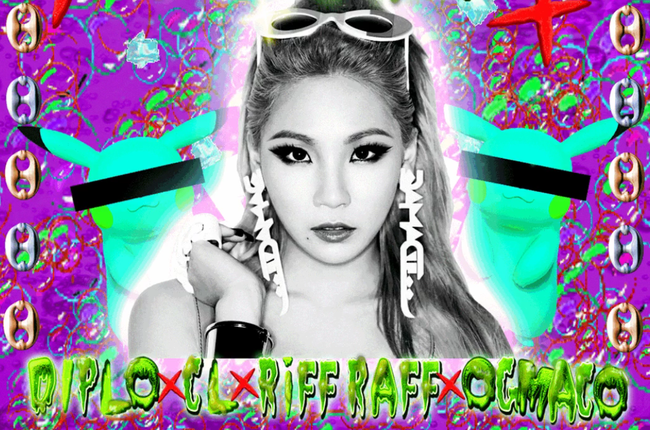 The time is finally here for K-pop's greatest hope in the West to begin her attack. As K-pop fans, we have seen many before her attempt and fail to break the musical holy land, America. BoA, Se7en, Wonder Girls did not have what it takes. They, however, did not have the backing that 2NE1's leader CL has at her disposal. Her overall style since her debut has generally taken a greater influence from the West, anyway. She seems to believe in and love her music which, whether true or not, is more common to a Western pop artist. Her performance style is more about putting on a good show than delivering crisp choreography. Moreover, she always has the famous friends like Jeremy Scott, Diplo, and M.I.A. Collaborations with them could raise her profile in the future.
It comes as no surprise that Doctor Pepper is a sleazy hip-hop track so relevant to the US musical environment right now. Does this live up to the hype of K-pop fans though? And is it going to push her career in the US?
Song
Given that hearing Major Lazer on mainstream radio stations is very common these days, Doctor Pepper is the ideal jumping off point for CL. It's a heavily synthesized piece of hip-hop that we have come to expect from everything Diplo works on. Musically, it doesn't deviate from its stabbing electro riff for the most part. The clip clopping drum beat behind it keeps things interesting though. It's a far cry from what most K-pop listeners will be used to. Yet, like Diplo said, K-pop is broad enough to be able to accept and promote just about anything, even super weird Atlanta hip-hop.
This is really a showcase of the rapping talent featured with CL taking centre stage. It is here where the song really delivers. The repeating hook which CL lays at the beginning is a lot of fun. At first listen, it comes across as pretty cheesy, but there's a wry cleverness to the lyrics that I like. It's not a silly little rhyme about a soft drink, but an introduction of the baddest female.She's letting the US public know how cool she is. Ice cool, if you needed help getting that.
---
---
Her rap that follows is similarly simple in its lyric. It contains, however, some slight similarities to CL's K-pop roots. The vocal inflections and auto-tune recall for a small moment more popular elements. Not to say this is exclusive to K-pop though, most rappers do switch from rapping to singing within one verse a lot. Here though, it seems much more natural due to CL's incredible vocal range. It appeals to CL's die hard fans and the party loving Western fans she wants. It's a pretty good verse to officially open up herself to the public. But in order to leave room for supporting acts, it's her only verse though.
Those supporters are RiFF RAFF and OG Maco. Raff delivers a typically wacky and fun time while Maco has the Atlanta style flow that perfectly suits this music without overshadowing anyone else.
The Future
The success or failure of Doctor Pepper will have a big impact on CL's future American career. How the public reacts to it will probably affect what kind of music she continues with, i.e. sticking with Diplo's signature sounds or going in a more popular root. The success of Nicki Minaj and Diplo's own work on the charts with Major Lazer show that the style should not be a problem though.
What will probably be the biggest issue is race, unfortunately. The public's reaction to an Asian pop star getting involved in rap, especially Atlanta style since it's so local, could be contentious, to say the least. Even though it's very much in the popular realm now, rap fans have a strong loyalty to their music and artists, not unlike fans of K-pop. The roots of rap are also found in oppression and suffering, whereas CL is a well-travelled superstar who has seemingly never suffered a day in her life.
---
---
It might seem unfair to assume that people will think this but it's happening right now to Iggy Azaela, so we know it can happen again. Iggy is constantly being accused of cultural appropriation and it seems to have started hurting her career. I hope the difference between Iggy and CL is that CL actually makes good music. A lot can be forgiven for music that really speaks to people.
While Doctor Pepper may not work as a complete song it does give out good vibes for the future. The style is at once popular and legitimate. The big name connections are there. CL herself is devoted to her music and wants to connect with new audiences. If this isn't enough to push CL further than those who have tried to break America before, then I hope K-pop stops trying. No one else can do it.
What do you think of CL's Doctor Pepper? Share your thoughts in the comment section below and be sure to subscribe to the site and follow us on Facebook, Twitter, Instagram, and Tumblr to keep up with all of our posts.
https://kultscene.com/wp-content/uploads/2015/05/doctorpepperartwork.png
430
650
Joe Palmer
http://kultscene.com/wp-content/uploads/2018/02/KULTSCENE-LOGO-2018-TRANSPARENT-RED.png
Joe Palmer
2015-05-25 16:17:23
2015-05-25 19:29:07
CL's 'Doctor Pepper' Song Review