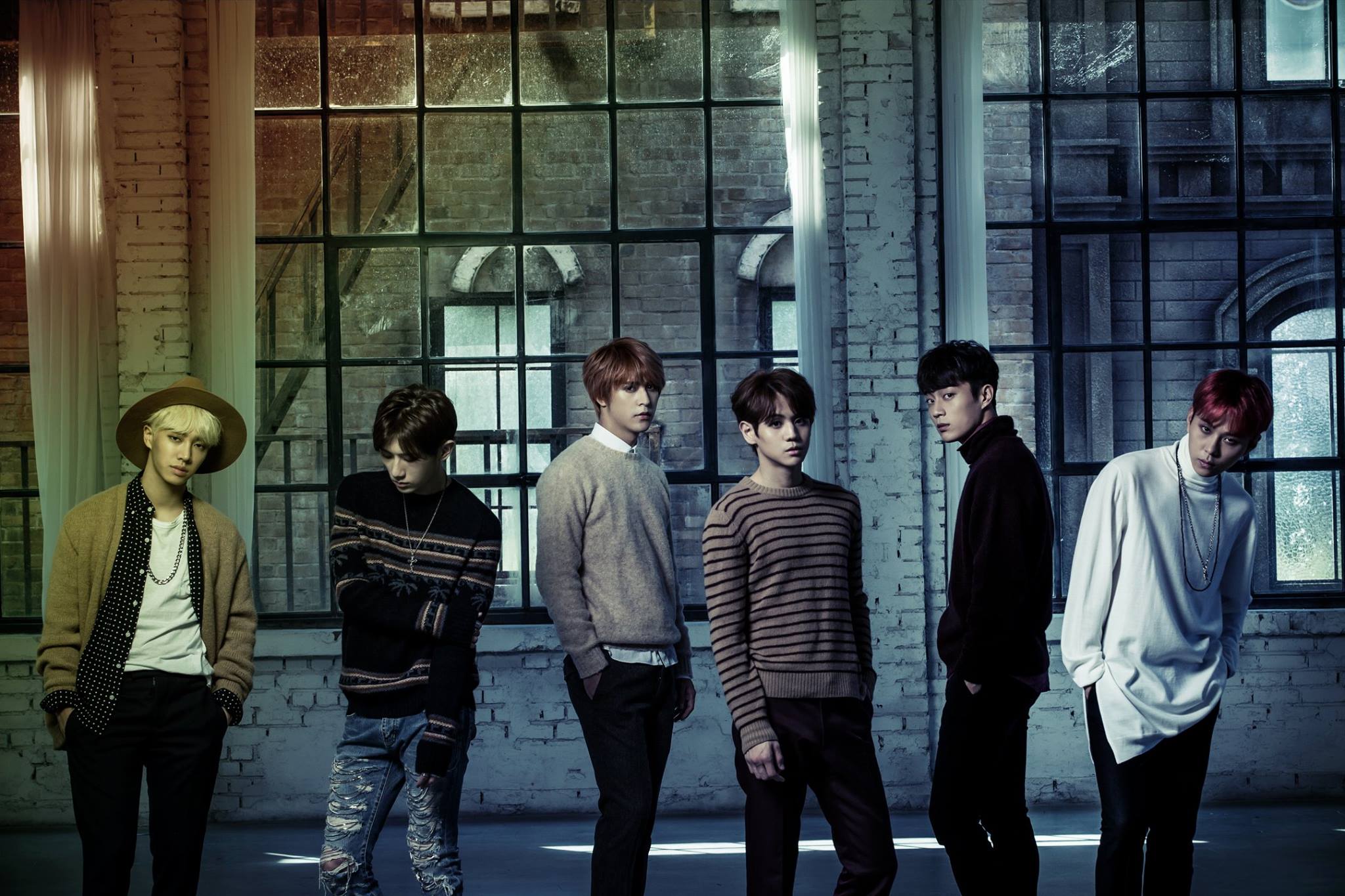 After having a formidable comeback with their sixth mini album Good Luck this past August, BEAST found a way to make a great comeback with their newest mini album TIME. This highly successful K-Pop group takes the listener, hence the name, back in time with their sounds and through a rollercoaster of emotions. If you pay close attention to how the group arranged their tracklist, you can really appreciate how they build a story with this album: The nostalgic journey of a man longing for his lover.
---
12:30
The first track of the album is the lead single, 12:30. The ballad starts out with a beautiful and soothing piano. As the drums kick in, they lead the way for Yoseob to open the song. Then, every member gets their own part and demonstrates their beautiful vocals. The tone in their vocals seems very melancholic and gives a feeling of sorrow that pairs well with the meaning of the song.
As time goes by, the hands of the clock start separating, and they are used throughout the song as a metaphor of a relationship that has grown apart and become distant, thus leading to the inevitable breakup. Even if the song is a ballad, the chorus gets very subtle yet powerful electronic beats and dubstep sounds that reference the chaotic relationship described in the lyrics. And so the story begins…
---
Drive
After the inevitable breakup on 12:30, the next chapter for this story is Drive. BEAST buries us into a man's feelings after breaking up with his lover. The guitar riffs give a sense of masculinity along with Junhyung's rap, which is predominant in this song, and his voice really lets us know of the frustration and anger inside this man. The riffs continue throughout the song, but they range from powerful to very soft riffs, which let us know about his unstable emotions. The trumpet and drums in the chorus give off a jazz feel, taking the listener on a trip to when this genre was at the height of its popularity.
The jazz in the chorus allows for an exaggerated nostalgic feeling of the driver. What he really wants to do is just drive and forget about everything, but even driving doesn't let him have a time to reflect on himself and forget about his lost relationship. From his GPS with his lover's house as a favorite location to that time he put on her seat belt to protect his love, a drive that was supposed to make him forget has become a very nostalgic trip down memory lane.
---
It's All Good (좋은 일이야)
The previous song really took the listener on a journey where a man was having trouble dealing with his recent breakup. It's All Good (좋은 일이야) places him in a reflective and accepting stage when dealing with his emotions and breakup. The guitar at the beginning of the song creates a very cool acoustic vibe. Right after the first "It's all good," drums and synths come into the song. The music arrangement really states how this man really believes that everything is good and how determined he is now of accepting the breakup. It allows the listener to paint a picture of the story where this man is alone in his room reflecting on his past relationship. He understands now what the problems were in the relationship and how they are better apart than together. He wants to let his lover know that it's all good now.
The harmony in the chorus is perfect; it even seems that there is only one member singing it. This perfect harmony reinstates one more time how this man's believes after his reflective time.
---
Close My Eyes (눈을 감아도)
This track fast forwards the storyline to a few months after the previous song. This man thought he was ready to move on, he had accepted not having his lover in his life anymore, but he was wrong. He saw his ex-lover with her new relationship and all his feelings came back. The different range of vocals, instruments, and sound effects create a confusing feeling. There are a few trova and R&B rhythms on the song that create a state of confusion, but they enhance this man's confused feelings and frustrations.
He is angry and confused. He thought that he had moved on but his feelings came back after looking at his lover. He doesn't know what to do and starts pondering on those questions that everyone asks themselves after a breakup. Do they think about me even if they are with someone else? Do they still feel the same way I do? Did their feelings come back again?
---
Stay
TIME's last chapter comes with Stay. It's been a few months or maybe years now, and this man hasn't had any contact with his ex-lover. He still thinks about her and wonders where they would be if they had stayed together. He states that even if he knows that his lover doesn't have any feelings for him anymore, he really wants to be with her again, stay by her side, and wishes for his lover to not forget him as time passes. He wants his lover to reflect on what he had that her new lovers would not give her. He just really wants her back.
The track takes the listeners back to the '90s and continues with the nostalgic theme of the album. The song starts out with an intro that is very similar to the chorus of the song. The placement of every part of Stay (the chorus, the bridge, and the climax) is what really makes this song reminiscent of the great classic '90s songs. Back in those days, most songs started with a few words from the chorus and then the bridge, the chorus, and then lead into the climax at the end, ending the song with the chorus (i.e. Britney Spears' Baby One More Time).
Stay sticks to this formula and gives a very fresh and modern twist to it. Its flow conveys the overall feeling of the album. This is the only song on the album that is very upbeat, but it sums up the emotional rollercoaster of the man of the story that BEAST created with TIME.
---
So Hot (Physical Album Bonus Track)
This bonus song talks about a man and woman having a one-night-stand. So Hot has a very sexy feeling in the music and BEAST's vocals. It still continues to have a nostalgic feeling that makes the listeners think that this song is the beginning of this man's story. If we think about this song as the beginning of this man's relationship with his longing ex-lover, we can finally know how this couple met. We get to picture his flirtatious ways and everything he does to attract the woman that he felt attracted to. There is something about her that makes him lust and desire this woman, and he wants her to enjoy and get rid of her inhibitions.
After hooking up his lust turns into a more intense attraction that makes him want to turn this one-night-stand into a relationship. This ultimately leads us to the title track, 12:30, the inevitable breakup that started this man's emotional journey.
---
Concluding Thoughts
I have always been attracted to albums that tell a story and have a very clear concept to it. With TIME, BEAST really went back to creating an album that flows very well and has a story that can be very relatable to the listeners. The album is produced impeccably and the use of the '90s formulas for music gave a fresh yet known feel to it. This album really showcased the group's maturity with more up-tempo ballads and having their classic "BEAST moments" with songs like Stay and 12:30. TIME is the perfect companion when dealing with a break-up. The emotional rollercoaster that the music and lyrics take you through could really help any listener that's going through the same as the man depicted in the album.
Did you love BEAST's new mini album TIME? We'd love to hear your thoughts and don't forget to follow us on Facebook, Twitter, Instagram, and Tumblr, so you can keep up with all our posts.
https://kultscene.com/wp-content/uploads/2014/10/beast-time2.jpg
1365
2048
Alejandro Abarca
http://kultscene.com/wp-content/uploads/2018/02/KULTSCENE-LOGO-2018-TRANSPARENT-RED.png
Alejandro Abarca
2014-10-25 18:44:34
2014-10-25 19:39:47
Album Review: BEAST "TIME"