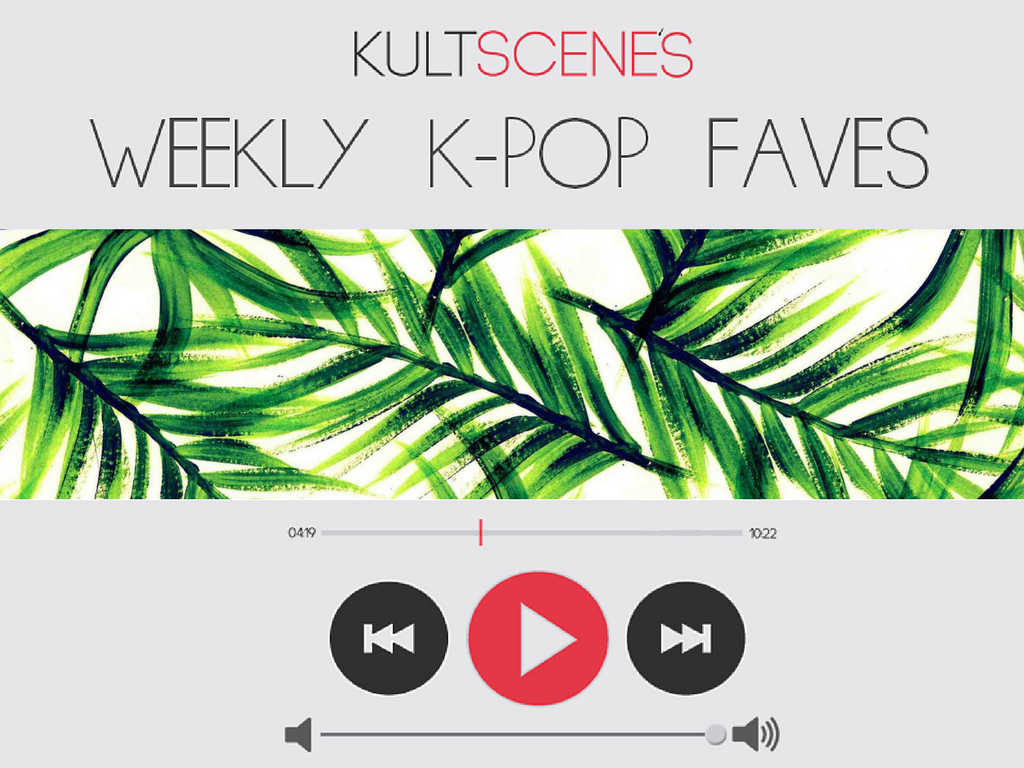 Each week, KultScene's team gives you a taste of their favorite new Korean music of the past few days. The second week of August 2017 brought some new music from Gugudan's subunit Gugudan 5959, the debut of Produce 101 group Wanna One, and a special anniversary celebration from former Girls' Generation member Jessica Jung.
"Ice Chu" by Gugudan 5959 (Released Aug. 11)
Between this and their last single, "A Girl Like Me" Gugudan are proving that they can hold down chaotic tracks with relative ease, and they pack a huge amount of musical details into standardly structured songs. With "Ice Chu" the first (and hopefully not last) release from sub-unit Gugudan 5959, made up of maknaes (youngest members) Mina and Hyeyeon, the pair deliver a funky summery disco track. Brass takes the frontline for the gloriously fun chorus but as the song progresses more electronics are added to change the tone, notably at Mina's second rap and the voguing breakdown in place of a bridge. The thing that really sets apart Gugudan is that they add personality to their music through their vocals, especially Mina whose raps here are just the right amount of sweet and cheeky. In what feels like a particularly crowded battlefield of new girl groups forming out of I.O.I's corpse, none of the other groups can claim this yet.
—Joe
---
---
"Burn It Up" by Wanna One (Released Aug. 10)
After participating in the second season of competition show Produce 101,Wanna One finally made their debut this week. And while fans voted for "Energetic" to be their debut track, they also released a music video for the runner up "Burn It Up." On this track, the boys showed a darker, sultrier vibe than the bubbly and, well, energetic from the debut track to match the hard-hitting EDM sound. "Burn It Up" is not particularly bringing anything new to the table, but as a Wannable (their fandom name), I was obviously sold on the choreography, the styling, and the waterworks on the music video. Although Wanna One has plenty amazing dancers, with "Burn It Up," the rest of the guys showed their growth as performers, mainly Guanlin and Jaehwan. For me at least, this video shows that Wanna One isn't just a group of popular members who got through solely based on looks or likeability. And even with a couple of more seasoned performers, the group looks cohesive and proved they can go up against any other boy group.
—Alexis
---
---
"Summer Storm" by Jessica (Released Aug. 10)
With Girls' Generation's long-awaited 10th anniversary comeback crowding the airwaves this past week, the release of Jessica's third mini album has been shown markedly less attention. And that is truly a shame, because My Decade's single "Summer Storm" is nothing short of a pop confection, as Jessica's signature sound becomes ever more clear with each release. The song begins with the musical twinkle of a Disney movie: she hits notes lightly but with poise and precision, mixing Korean and English lyrics with greater ease than most K-pop artists can (fitting of the Korean-American singer). While verses carry a building sentimentality and nostalgia, they quickly, but effectively, move into an infectious chorus, characteristically uplifting despite lyrics centered around what seems to be a breakup. But the conspiracy theorist and Golden S<3NE that I am, I can't help but question Jessica's lyrical motivations. "Will we be able to go back?" she asks, calling herself a fool "tied up with the memories." Is she talking to a lost love, or maybe her former groupmates? As tension builds during the bridge and resolves into the final chorus, Jessica makes it clear that she still has mixed feelings towards someone. And on her 10th anniversary, she unwinds that anxiety into a song that is unapologetically her own, adding further definition to her budding career as a singer-songwriter.
—Kushal
What was your favorite K-pop song released this week? Share your picks and thoughts in the comment section below and be sure to subscribe to the site and follow us on Facebook, Twitter, Instagram, and Tumblr to keep up with all of our posts.
https://kultscene.com/wp-content/uploads/2017/08/weekly-k-pop-faves_june-2017-1.png
768
1024
KultScene
http://kultscene.com/wp-content/uploads/2018/02/KULTSCENE-LOGO-2018-TRANSPARENT-RED.png
KultScene
2017-08-13 20:51:42
2017-08-13 20:51:42
Weekly K-pop faves: Aug. 7 – 13