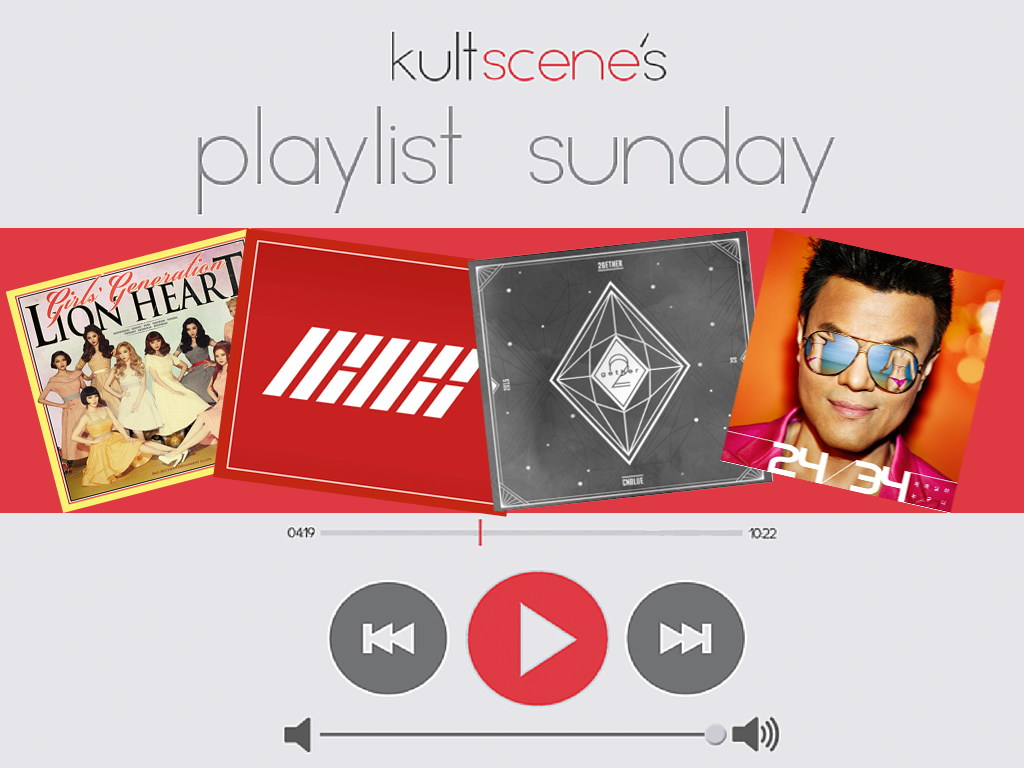 Now that 2016 is well under way, we're definitely ready to say "goodbye" to some of K-pop's worst singles of 2015. For this week's Playlist Sunday, KultScene's staff members each picked their least favorite songs of the year.
[Disclaimer: These picks are based on individual taste, so feel free to disagree in the comments.]
I get it. "Lion Heart" is the epitome of what Girls' Generation represents: The archetype for the perfect feminine and demure woman. The song's beat and the overall styling of the music video takes us back to the '50s and early half of the '60s, when young women aimed to look like their older and glamorous mothers. When the sexual revolution and women's liberation was about to explode and a woman's value equated to her looks and how refined she seemed. But fine, it's a pop song, and every woman can choose to be anyone they want and dress however they want. But. That. Chorus… If you want to torture someone, just play "Lion Heart," it'll make their eardrums bleed. Truth is, SNSD's latest album and singles (with the exception of "You Think") were largely disappointing compared to their previous work. Especially considering that the album had better bubblegum pop with throwback feel contenders like "Fire Alarm." The whole concept behind "Lion Heart" makes sense for a group like Girls' Generation, yes, and we all like them for their girly ways. However, musically, they don't have the vocal chops to carry that chorus, no matter how nasally and high they make Yuri sing.
— Alexis
Girls' Generation's "Party" makes me want to dive into the body of water that they're filming the music video on and stay submerged for as long as humanly possible (without dying, of course). Can someone please tell SM Entertainment and Girls' Generation to stop it with their attempts at rapping? Oh, and for Tiffany to stop it when her random ass English segments in their songs. Yeah, yeah, we get it, it's party time. "Party" had a lot of ups and downs (emphasis on the down) moments for me; I couldn't figure out if they were trying to make this a summer anthem or if it was an attempt of them being sensually cute by experimenting with livelier beats and adding alcoholic beverages in their lyrics but either way, I was disappointed. There were too many transitional breaks throughout the song, too many moments that had me waiting for someone to hit a higher/lower note than they actually did. Sure the music video was semi fun to watch, also very scattered, but the song just makes me want to pull out every strand of hair on my head. Can they have more concepts like "Oh!", "Run Devil Run," and "The Boys"?
— Tam
JYP Entertainment had a great year in terms of music. miss A released a pretty solid album, Wonder Girls finally came back, and the company even debuted two new rookie groups, both of which quickly grew in popularity. They did everything right and more… Except for one disservice. I don't know what they were thinking with giving the green light to 2PM's "My House," but the song is a far cry from their usual good releases. I get that they want to spice up their sound and want to show that they are more than party boys and sex icons, but something feels lacking. Where are the interesting beats? Where is the build-up? Maybe it's because I have been babied by fast-paced songs like "A.D.T.O.Y." or "Go Crazy," but "My House" feels bland. It's very forgettable, and doesn't add much to their already remarkable repertoire. The only saving grace was the video, which contained an underlying fairy tale thematic.
Oh well, better luck in 2016, boys.
–Shelley
Maybe I loved "Can't Stop" way too much to have realistic expectations for anything CNBLUE could offer for their comeback but I was woefully disappointed with their 2015 release "Cinderella." They may have achieved a lot of commercial success (as usual) for this song but while the song isn't horrible, I've definitely seen (and heard) CNBLUE do so much better than this auto-tuned track that seems to only have two lines and a bridge that hardly seems like part of the same song. To make it worse, their album "2gether" actually has some great B-sides such as "Roller Coaster" and "Radio" that overshadow this title track completely. Seriously, what was going on in the heads of the album producers? In a K-pop industry with more and more popular bands (both indie and idol ones) CNBLUE really has to step up their game in 2016 to show fans what they've truly got.
–Anna
Let's get one thing out there. Park Jin Young aka JYP is a great producer. But he's a misogynist, and his hit song "Who's Your Mama?" highlights that more so than just about everything else he's ever said or done. The song's funky, jazzy beat is good, and Jessi's solo rap is nothing to sneeze at, but Park Jin Young is literally describing his perfect woman's ass and saying that that's all what he looks for when looking at women. I wish I could say that it's satire a la Psy's "Gentleman," but that doesn't seem the case. The song begins with Park asking a woman what her hip and waist measurements are before going into a song describing his love of big butts. "Shake that booty" is one of the most prominent lines of the song as Park diminished women as anything other than physical beings for him to oggle. "Who's Your Mama?" is K-pop's "Baby Got Back," and the song did exceptionally well on charts, but that still doesn't make it okay. 2015 was the year of the booty, but JYP took it to another level in a way that was blatantly sexist. We're in 2016, let's put an end to this obsession with equating women with their ass-ets.
–Tamar
I could have picked any song from the many iKon released towards the end of the year, but for sheer lack of imagination, I'll go with "Airplane." Apart from their whole shtick being based off what's popular in K-pop right now (rap,) iKon also come across like Big Bang-lite (so like another WINNER but even less interesting.) "Airplane" has twee synth and piano sounds that are used to make their ballad sound less like a ballad. I'm all for ballads not sounding like ballads but this screams of trying too hard, "it's not a ballad guys, we rap, we're cool, I was on that rap show remember?" Speaking of Bobby, I'm also not one to care too much about line distribution but this is ridiculous. It's unfair to both B.I and Bobby who should be in a duo or going solo and to the rest of the members whom might as well not exist. Mostly I hate how YG thinks he can put a bit more rapping into a song and that makes it good enough to be recycled over and over. It was great back in 2008, but it's time to move on.
–Joe
https://kultscene.com/wp-content/uploads/2016/01/worst-songs-2015.png
768
1024
KultScene
http://kultscene.com/wp-content/uploads/2018/02/KULTSCENE-LOGO-2018-TRANSPARENT-RED.png
KultScene
2016-01-03 16:41:48
2016-01-03 16:45:43
Playlist Sunday: Worst Korean Singles of 2015