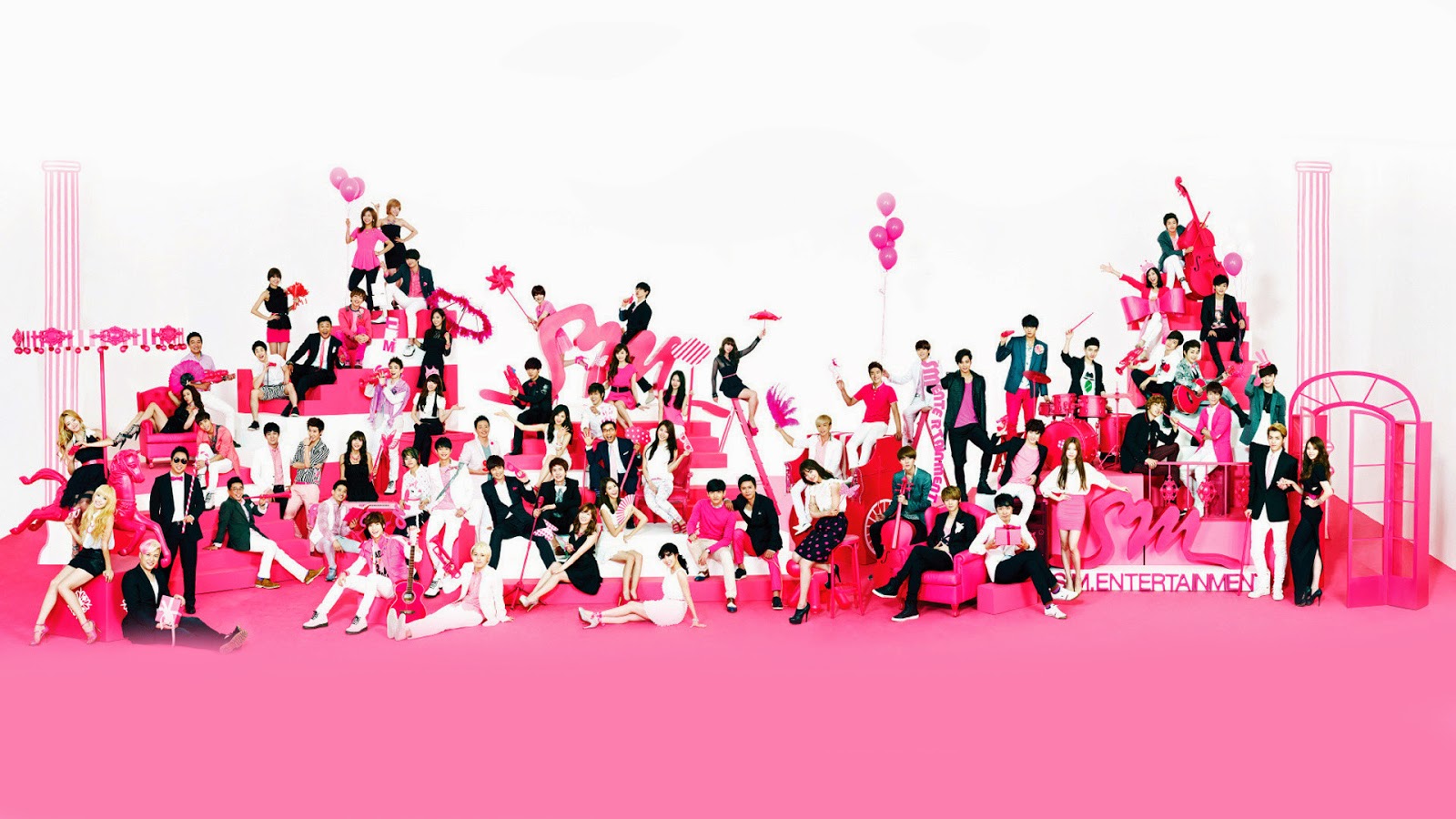 A lot happened at SM Entertainment in 2014 and very few of those things were good. Multiple artists leaving the company in very public scandals reflected badly on SM, as opposed to its main rival YG Entertainment that has kept stock prices high despite a few scandals of its own. That's why in order to maintain its place as one of the top entertainment companies in K-Pop, SM Entertainment needs to have an extremely solid year in 2015.
In case you missed what happened during the tumultuous year, here are a few things that happened to the company itself and its artists that you should know before reading KultScene's analysis of what 2015 will potentially bring.
2014:
January
-Sooyoung of Girls' Generation confirms relationship days after YoonA confirmed to be dating Lee Seung Gi
February
-Baljunso, an indie music label, acquired by SM Entertainment
April
-Girls' Generation's Tiffany confirms relationship with 2PM's Nichkhun
-Girls' Generation's Hyoyeon reported for assault on ex-boyfriend
May
-Kris (Wu Yifan) leaves EXO
-SM Entertainment stock falls 10 points
June
-Girls' Generation's Taeyeon and EXO's Baekhyun's relationship confirmed
July
-Sulli goes on hiatus from f(x)
-Super Junior's Leeteuk discharged from army
August
-Red Velvet Debut and Music Video Controversy
-Sulli confirmed to be in relationship with Dynamic Duo's Choiza
September
-Girls' Generation renews contracts with SM
-Jessica removed from Girls' Generation
October
-Luhan leaves EXO
-SM stock falls 10 points
-SM Entertainment releases statement implying outside forces are affecting EXO
-Zhoumi debuts as solo artist
-SM Entertainment surpassed in market value by YG Entertainment
November
-Kyuhyun debuts as solo artist
December
-Super Junior's Sungmin gets married
-SM Rookiez Taeyong's cyberbully past exposed, SM Entertainment releases apology
Separate entertainment agencies' (Woollim, Baljunso) artists under SM not included in this list.
Until April, everything was developing fairly well for SM Entertainment. Artists were releasing music, appearing in dramas, variety shows and films, and holding concerts. The dating scandals, once devastating to idols' careers, were accepted with grace by fans. Even Hyoyeon's potentially devastating assault case was relatively quiet.
Starting in May, SM saw multiple members leaving from some of the top groups; Girls' Generation, EXO, and f(x) all lost members. But the company has seen mass exoduses before. In 2009 three members of TVXQ (who are now known as JYJ) and a Super Junior member (Hangeng) left their groups while two others went inactive (although Kangin has returned to the group).
How did SM get over the changes that time? It promoted different groups like Super Junior and SHINee to fill the void when TVXQ's two members were almost entirely inactive. Super Junior, despite members leaving, is a large enough group that it was able to make up for the losses. EXO may very well do the same this time around, but with further rumors that members will be leaving, SM Entertainment may change its entire format for the upcoming year. Furthermore, Sulli's hiatus from f(x) and Jessica's departure from Girls' Generation are also troublesome for the company, which has lost serious face.
The ongoing struggles between artists and the company have led stocks to drop extremely low, and both shareholders and fans have little faith in it. SM Entertainment needs to make 2015 one of its best years ever, otherwise face the signs that it may not be the top entertainment company in South Korea anymore.
What SM Is Likely To Do:
-Release a new SHINee album in the first quarter of 2015. SHINee is SM Entertainment's only group, other than Red Velvet, that hasn't seen any lineup changes since it debuted in 2008. The group's stalwart songs will likely be well received and raise faith in SM. A SHINee member is likely to debut as a solo artist, joining the youngest member of the group.
– Debut more solo artists. SM Entertainment has confirmed that f(x) rapper Amber and at least one male artist will promote as soloists in 2015. EXO and SHINee members are likely options due to popularity.
–TVXQ: Yunho will likely join the army in 2015, which means that TVXQ will probably release at least one song, possibly an album, before his enlistment. There are some rumors that Changmin will be attending the army at the same time, but it is possible that he will join the list of SM artists who have been going solo.
-Girls' Generation:Two options-
1. Nothing will change. Despite Jessica's departure, Girls' Generation has been doing well, holding concerts in Asia. More members will likely have acting roles in dramas, films, and musicals. Girls' Generation's nine members, including Jessica, renewed contracts with SM in September.
2. Girls' Generation will disband. The girl group's members will stay under SM and subgroup Girls' Generation TTS may stay active. Many of the members have their own lucrative specialties that they may take as their sole career as they get older.
–TRAX: Both members of SM Entertainment's only band group are out of the army. Jungmo has been visibly active at the company, and will likely release a song on his own if not with fellow member Jay. TRAX has a small but strong fanbase, and SM needs to remind older fans why they like the label.
–Super Junior: Super Junior will be holding Super Show 6 around the world. Members will continue to appear on variety shows, dramas, and radio shows. The group will likely release a new album at the end of the year. Leeteuk will appear on more and more variety shows to return to the role he held before the army, possibly gaining a MC spot. Siwon, for his part, will appear in a drama or film, and Kyuhyun will release a follow up to At Gwanghwamun probably at the start of the year. At least one member, if not more, will head to the army.
Sungmin's marriage is problematic, but he had few solo activities that will be affected. If he leaves the group, it will be traumatic for fans. But Super Junior will likely continue on as it has, unless other members decide that the group is too old to promote.
– SHINee: See above. Barring any scandals where a member leaves, the group will likely become SM's headline group in 2015.
–f(x): Amber will release a solo album in the first half of 2015. With or without Sulli, f(x) will continue on and most likely promote Krystal even further into the spotlight. Luna will possibly appear on variety shows and Victoria will continue on with her activities in China. The group will make a comeback in the summer.
–EXO: The group is once again in the midst of rumors, hinting to further member's suing SM Entertainment, and rumors are already flying about their disbandment.
EXO should be another Super Junior-esque situation, but it's turning more and more into a TVXQ-like one, where fans have lost faith in SM Entertainment's management. TVXQ took nearly a two-year hiatus when three of its members left. The group is planning a 2015 comeback, but things in EXO can change at a minute's notice. If the rumors prove true once again, SM Entertainment may very well move the group to a backburner and have individual members promote without forcing the whole group together.
–Red Velvet: With Girls' Generation and f(x) in trouble, Red Velvet will likely start appearing in dramas and variety shows. They will probably make a comeback in the second quarter.
–SM Rookies: Due to EXO's issues, SM Entertainment may release a new boy group sometime in 2015.
Woollim Entertainment: Also under SM are INFINITE, Nell, Tasty, and Lovelyz. INFINITE and Lovelyz are technically rivals of Red Velvet, SHINee, and EXO, so they'll likely not promote at the same time. INFINITE will probably make a comeback shortly after EXO does, and the same with Lovelyz following a Red Velvet comeback. Tasty will probably release Chinese music, but the duo hasn't been overly popular in Korea so its unclear whether there will be a comeback. Nell needs to become SM's rival to YG's Epik High, as a group that attracts more mature listeners.
Everything, essentially, is up in the air. Some groups are more stable than others, but many of SM Entertainment's groups have a lot of question marks.
What do you think SM Entertainment needs to do to make 2015 the reverse of 2014? Share your thoughts in the comment section below and be sure to subscribe to the site and follow us on Facebook, Twitter, Instagram, and Tumblr to keep up with all of our posts.
https://kultscene.com/wp-content/uploads/2014/12/SM-Family.jpeg
900
1600
Tamar Herman
http://kultscene.com/wp-content/uploads/2018/02/KULTSCENE-LOGO-2018-TRANSPARENT-RED.png
Tamar Herman
2014-12-11 16:49:07
2014-12-11 16:49:07
What Will SM Entertainment Look Like In 2015?