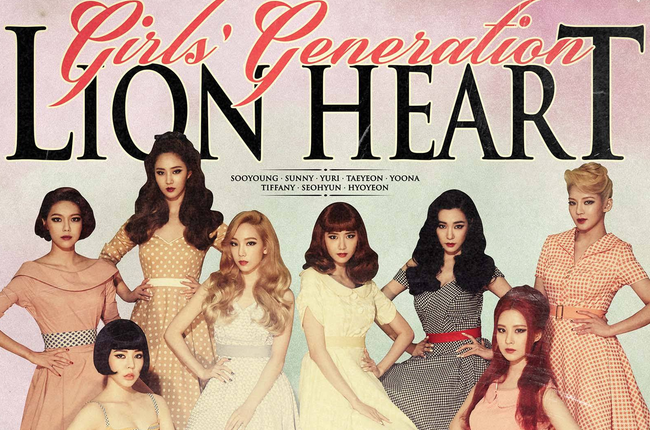 I don't know if it's just me but Girls' Generation seem to have been slightly forgotten this year. Maybe off the back of Jessica leaving and other controversies people don't see them as the sweetest girls in Korea anymore. Maybe people are just bored of them being sweet. This is all despite releasing some great music. "Party" was underrated, lots of fun and totally suited to the summer. "Check" is their sexiest song to date, yet no one took notice of it. Even generic banger "Catch Me If You Can" was revitalized by the live stages. They are still successful of course, but the excitement for new material from them is slowly dying.
The release of "Lion Heart" and "You Think" comes a pivotal moment then. It's a statement of intent as to who these girls, or more accurately women, are. It's an answer to calls for them to grow up. I, for one, am still excited about what they can still do.
Songs
"Lion Heart" takes a straightforward structure to work in and clutters it with many elements. Girls' Generation can pull off almost any type of song you throw at them, and this is no different. It is perfectly pop and sweet while still maintaining some more difficult aspects.
The song is built on a simple but weighty guitar riff. It grounds the song in its retro settings and allows it move around lots of vocals without disrupting the rhythm. Instead of the traditional drumbeat for the verse, "Lion Heart" has hand claps and finger snaps which are pushed as one of the loudest elements. They resonate really well giving the song a strong acoustic sound. Musically, the song stays quite simple throughout allowing the vocals to really shine.
---
---
If I were to ever have anything bad to say about Girls' Generation it would be that their vocals are not that diverse. They have never really had a song to burst out of their comfort zone, continually relying on Taeyeon, Tiffany, Seohyun, and Jessica, when she was still around. "Lion Heart" completely dispels those worries. They don't just push their ranges as far as they can though, the song is more clever than that.
By using only Taetiseo and Yuri in the chorus, the producers make sure that it always bursts with as much life as possible. The transition from verse to chorus creeps up on you and makes the hook even more effective. It's a genuine outpouring of joy that makes me smile every time. It gets even better though, as the post chorus brings in the a cappella moments which will become vital to the song. These moments are a rare use of the collective voice in K-pop, where we are used to one dominant voice even in choruses. They give a great sense of unity and depth to a song.
The bridge, as well, uses their voices well as members swap out quickly. Hyoyeon's deeper kind of rap contrasts especially well against Seohyun's high pitched part. There's a lot going on here, but never goes off the rails thanks to the quality of vocals. It also allows the chorus to remain the climax of the song as the bridge is more of a comedown as it leads into the most beautiful a cappella part of the song to lead us out.
---
---
What was that about vocals? "You Think" goes hard too.
"You Think" marks Girls' Generation's first full foray into the ever popular hip-pop territory. Like "Lion Heart," it has hand clap beats except this time in the trap sense. Musically, it's actually quite simple with these beats taking up most of the runtime. Horns come in every now and then, but there's little deviation. This is a technique rappers have been using since they started, taking out the middle melody of a song to replace with their raps. Here, it's to let the vocals of the girls shine once again.
This is why Yoona, Sooyoung, Hyoyeon and, Yuri barely get a look in. It's one of those times where unequal line distribution is important for the song. In place of them, Tiffany, Seohyun, Taeyeon and, Sunny wail and shout in all manner of ways. Sunny especially surprises with a great energy to her voice, she sounds genuinely angry at the silly boys she's singing about. It's a great display of talent but doesn't save the song. Everything in it works but still, it doesn't get past being generic. It's no better than the equally safe "Catch Me If You Can," but people will like it more because of the bells and whistles.
Women's Generation
What all this really says to me is that Girls' Generation still have a lot to offer. They are still in the process of becoming women and it can be seen in their music. These last three releases have shown a wide variety of sounds and looks. They have done this while always sticking to what made them the great group they are today. They are still the sweet, feminine girls we know from "Gee" yet they can be sexy, classy and, fierce too. Girls' Generation are exploring what is to be a woman performer.
This is seen not only in the visuals but the lyrics too. "Lion Heart" is about a girl who is so obsessed with a guy that doesn't notice her. "You Think" is about a girl who has had a boy obsessed with them and the girl knows she's too good for him. Obsession works both ways. Girls' Generation are seeing things from different sides and refuse to come down one side. They will not be pinned down.
Overall
These two songs show the girls have still got it. You have absolutely no reason to lose interest in Girls' Generation. More than anything else the girls have matured vocally in impressive ways. With both songs we get belters and interesting new techniques.
As for the songs themselves, I prefer "Lion Heart" over "You Think". While tonally completely different, they are similar in structure. "Lion Heart" wins out here thanks to its wonderful a cappella. Most of all, I continue to be excited for what Girls' Generation can produce in the future and I hope they can continue to mature and show us even more new sides to their ever growing personalities.
What do you make of SNSD's new songs? What kind of song would you like to see them perform in the future? Share your picks in the comment section below and be sure to subscribe to the site and follow us on
Facebook
,
Twitter
,
Instagram
, and
Tumblr
to keep up with all of our posts.
https://kultscene.com/wp-content/uploads/2015/08/original.jpg
1428
1428
Joe Palmer
http://kultscene.com/wp-content/uploads/2018/02/KULTSCENE-LOGO-2018-TRANSPARENT-RED.png
Joe Palmer
2015-08-18 16:06:21
2015-08-20 15:51:25
Girls' Generation's "Lion Heart" and "You Think" Song Review