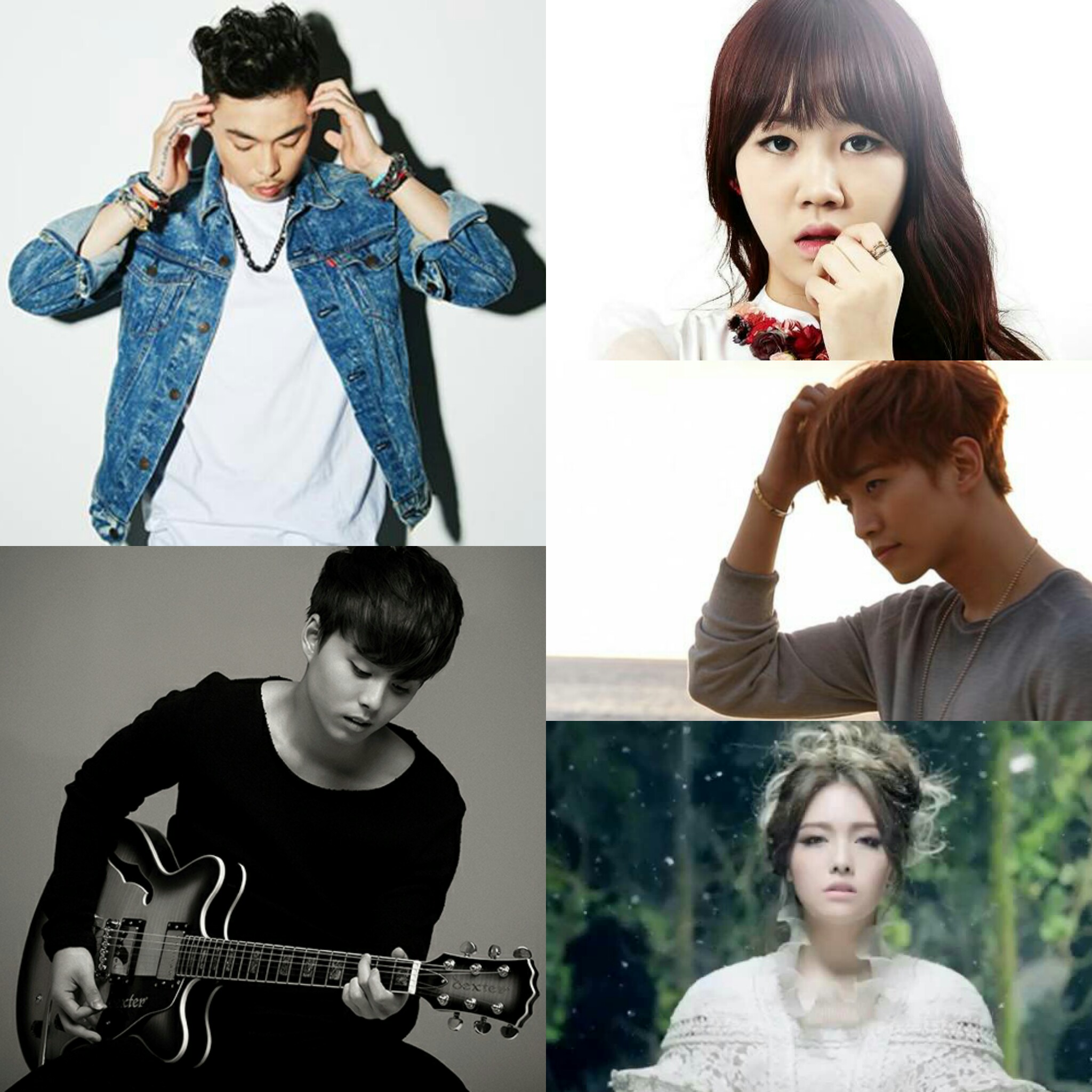 2015 was a year chock full of K-pop goodness, both for groups and for solo artists. In particular, there were many idols who made their solo debuts this year. While some of them were well-received in Korea and on international charts, there were also some others who didn't garner so much attention. As with most K-pop related things, album sales largely have nothing to do with the quality of the music produced, so here are five underrated solo debuts that deserve more love.
1. G. Soul
At the start of the year this soloist made headlines when he finally made his debut after 15 years as a JYP Entertainment trainee. With his album "Coming Home," G. Soul thoroughly showcased his vocal abilities and charmed listeners with his silky emotive voice. His lead single "You" was also a strong track complete with wonderful composition and a catchy chorus. He even released an acoustic version of the song subsequently, which further highlighted his amazing voice, and it was this version that made me a fan of his.
Unfortunately, despite releasing three EPs and singles over this year (most recently in September), he is still relatively unknown in the K-pop industry. With almost zero promotions on music programs and variety shows, it's not very surprising that he's unable to compete in popularity with other idols who are very active in the entertainment scene. However, one of his newest songs, "Beautiful Goodbye," has been gaining attention recently because of EXO's Kai, who performed a cover of the song during their concert.
Hopefully this trend will continue in the future and he will become more well-known. With the quality of music that he's been creating and his voice, he certainly deserves all the respect and more that he's getting now. In fact, he recently made Kultscene's Top 50 Songs List for the year with his latest release "Crazy For You." 
2. Mckay Kim
I've watched this soloist since his early days on "K-pop Star Season 2." Mckay Kim's voice was so charismatic that I fell in love with it (and him) almost instantly. From his wonderful partnership with Brian Shin and Kim Min Suk (Raccoon Boys) on the competition to his solo debut earlier this year, his music has always been amazing. He debuted with a collaboration with Jeff Bernat, a Filipino-American singer songwriter who is quite well-known in Korea, and their voices blended together perfectly through the song "Angel 2 Me." Kim, in particular, has a soothing and smooth voice that is so comforting to listen to. Whenever I listen to this song, I feel relaxed even if I'm on a crowded public bus or doing math problems in my room. The harmonies and chill beat of this song are therapeutic but still alluring and charming.
Mckay also came back with another track in June, appropriately titled "Month of June," but this release gained even less attention than his previous one. It's a sweet song filled with the light-heartedness of summer and being in love. On his own this time, Mckay was able to show off even more of his vocal skills and musical ability, which is why it's even sadder that this song wasn't as well-received. Both in terms of natural talent and music quality, Mckay has the potential to become a mega star in this K-pop industry, he just needs a chance to break out now, and the sooner the better. I can't wait for his future releases (he really needs an album) and I'm confident that he'll continue releasing great music.
---
---
3. Park Jimin (15&)
A member of K-pop girl duo 15&, Park Jimin made her solo debut in March this year with her title track "Hopeless Love." Despite having amazing vocal talent and good songs, she has been an underrated singer ever since her debut in 15& and as a solo artist. Another alumni of "K-pop Star," she won the first season of the show in 2012 but has been relatively low-profile since then. With "Hopeless Love" however, she brought something new to the table with this ballad that isn't really a ballad. With her strong high notes and charismatic voice, Park Jimin brought out the various emotions that are presented through the lyrics of the song. In particular, one line that sums up the pain of having an one-sided love: "Even though it hurts I just can't turn away." It's a great release and solo effort so it's such a pity that she didn't get more attention for it. As of August this year, she formed a project group called M.O.L.A with Seungyoun of UNIQ and another rapper Nathan with whom she released tracks showcasing her rapping skills as well. For a singer as talented as Jimin, she deserves so much more success in her career so I'm hoping that this won't be the end of her solo efforts!
4. Minah (Girls' Day)
Unlike 15&, Girls' Day can't be said to be unknown or underrated, not by a long shot. So what is Minah, the popular main vocalist of the girl group doing in this list? She has made her name as a soloist a long time ago with the various drama OSTs she has released and has already acted in several dramas herself but her solo debut earlier this year largely went under the radar of most K-pop fans. While she did debut at a time filled with several other hot comebacks like EXO and Miss A, I fail to understand how she received so little praise and attention from the public.. With "I Am A Woman Too" Minah showed off her impressive vocal talents and her ability to sing strongly and yet gently at the same time. However, her release received criticism in regards to the choreography, which netizens complained looked awkward. In terms of song quality however, this song was produced well and is catchy. While Minah does shine even within the rest of her group, her solo effort was a chance for her to showcase different sides to herself and in my opinion she managed that. I hope that this debut's lack of commercial success would not affect her chances for a comeback in the future because I'm eagerly waiting for it!
---
---
5. Lee Junho (2PM)
I'm not saying this just because I'm a Hottest but Junho's solo debut was one of the best and yet most underrated debut I have ever seen. As the lead vocal of 2PM, Junho's charming voice has been showcased ever since their group debut but he's been continually improving his vocal skills over the years, something which is evident in their later releases. Apart from just working on his singing, he's also been composing and writing songs for the group, the most recent of which is "Nobody Else" from their latest Korean album "No. 5." As a solo artist, he debuted in Japan two years ago and has produced three Japanese albums since then. He only made his solo debut in Korea this year however, with his album "One," which he promoted for a short period of music shows. This album, with title track "Fire," displayed not just his amazing singing but also his compositions because he wrote almost all the songs on the album.
With an addictive chorus "Fire" isn't just a good song it also thoroughly shows how self-aware Junho is as an artist. He knows his voice and abilities very well and is able to present the best side of himself through his songs. In this album he also tried more rapping to very satisfying results, as evidenced by tracks like "Pressure" (the rap starts around 3:12).
Thankfully for Junho it seems like JYP recognises his potential as a soloist so here's to more amazing albums in the future!
What do you think of these underrated soloists? Who else do you think should have made the list? Share your thoughts in the comment section below and be sure to subscribe to the site and follow us on Facebook, Twitter, Instagram, and Tumblr to keep up with all of our posts.
https://kultscene.com/wp-content/uploads/2015/12/PicsArt_1451054804154.jpg
2048
2048
Anna Cheang
http://kultscene.com/wp-content/uploads/2018/02/KULTSCENE-LOGO-2018-TRANSPARENT-RED.png
Anna Cheang
2015-12-25 06:52:54
2015-12-25 15:12:13
5 Underrated K-Pop Solo Debuts of 2015