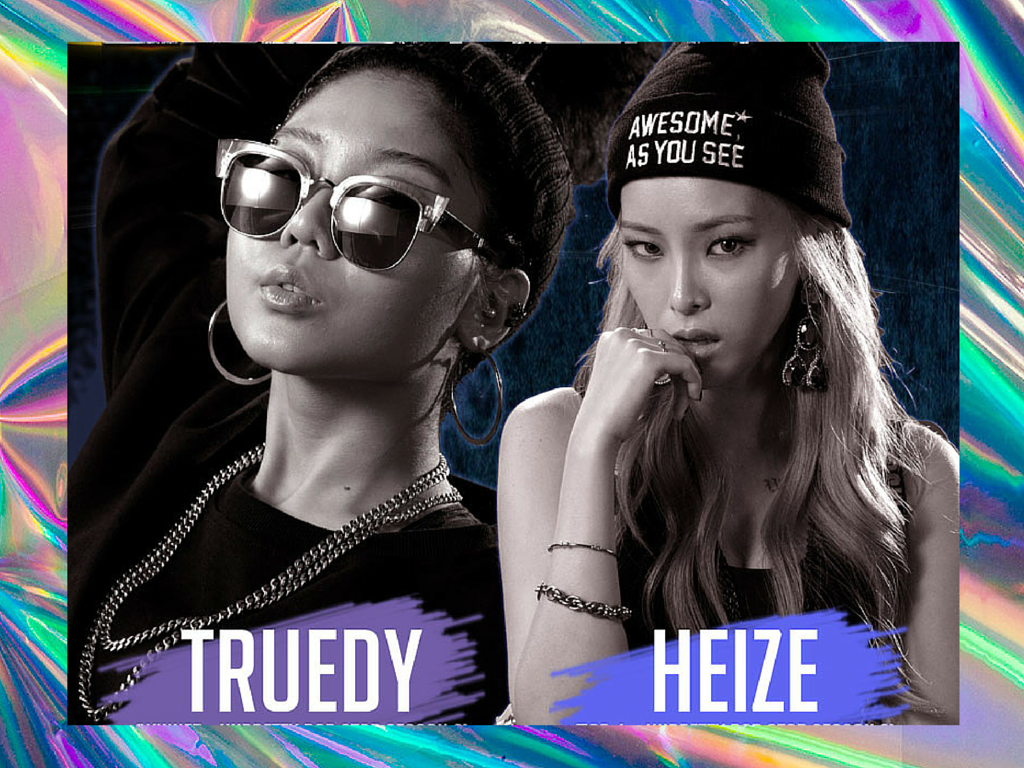 After starting more than a few highly talked about feuds, performing in major stages like 2015 MAMA, and coming out with some of the hottest collaboration tracks of the year, there's no denying the popularity and influence of the hit show Mnet "Unpretty Rapstar." Whether we're talking about season one or two, there's no doubt that both installments showcased a lot of talented female rappers that are slowly becoming household names. It was only a matter of time before these acts made their way to the US where they've also established a fan base.
The first "Unpretty Rapstar" contestant to hold a show in Los Angeles last October was Jessi. But while we still have to wait for that season's winner, Cheetah, to pay us a visit, the latest winner Truedy and semi-finalist Heize are set to host a K-Pop Club Night in the City of Angels. The two rappers will perform at the Conga Room inside the LA Live on January 22. Tickets are already on sale through Powerhouse and they're $35. However, this is a 21+ event — sorry kids!
---
---
Unlike Jessi or other "Unpretty Rapstar" participants, Heize and Truedy hadn't had a long career before appearing in the show. Despite this, the tracks that they have released, either independently or because of the show, were fire. So let's revisit a few of their songs to get us hyped and ready for the show.
"Don't Make Money" by Heize
Among the songs in the semi final, Heize's "Don't Make Money" is one of the best. With the concept in mind — Heize telling her family not to make money because she's going to provide for them — paired with the pump up beats make it the perfect song to turn up to.
"If It Wasn't for Music" by Truedy
Truedy started off the season strong, and that's how she rapidly landed a feature one of the first songs. And if Verbal Jint being the producer wasn't awesome enough, season one's winner Cheetah also featured on the track. Interestingly, Truedy's old school flow fits perfectly with Vebal Jint's clean and modern sound. As a result, "If It Wasn't for Music" offers a perfectly balanced throwback feeling.
"I Know" by Heize
Based on the fierce and sexy image Heize portrayed on "Unpretty Rapstar" and what she repeatedly said throughout it, we've come to associate it her with a harder concept. After all, she wants to be the first female rapper signed to Illionaire Records. So imagine our surprise when we came across "I Know," a song where she sings more than raps — and is not bad at it. On the contrary, "I Know" is a chill song to sway. It's unlikely that Heize will perform this track on the concert, but even so, we dig it.
"Bandz Up" by Truedy
Compared to her first win track, "Bandz Up" produced by Dok2 fits her hard image better. On this track, we can honestly say Truedy spit fire and showed that her style fits more traditional hip-hop feels rather than something more experimental.
"My Boyfriend Thank You" by Heize
While Heize was still on "Unpretty Rapstar," news broke that she had dated fellow Korean rapper Crucial Star. Is this song about him? We're not quite sure. However, we do know that this song resembles Crucial Star's laid back flow and soft beats. With Heize's soft and girly vocals, "My Boyfriend Thank You" is also a feel good song.
---
---
"After I've Wandered a Bit" by Heize
As previously mentioned, Heize and Crucial Star used to date, so it makes sense that two rappers who share a similar style and flow would collaborate. The end result is "After I've Wandered a Bit," a song about taking a break from a relationship. Even if the theme is a bit somber and the rap is serious, Heize's voice at the chorus gives the song an overall bittersweet feel.
"Pride (feat. Gummy)" by Truedy
Ultimately, Truedy was the season's winner. And with her crown came the last featuring song, which was a collaboration with singer Gummy. Even if Truedy didn't produce it herself, "Pride" was tailor made for her, with it's bouncy, old school hip-hop feel.
Which of these songs are your favorite? Share your thoughts in the comment section below and be sure to subscribe to the site and follow us on
Facebook
,
Twitter
,
Instagram
, and
Tumblr
to keep up with all of our posts.
https://kultscene.com/wp-content/uploads/2016/01/Untitled-design.png
768
1024
Alexis Hodoyan-Gastelum
http://kultscene.com/wp-content/uploads/2018/02/KULTSCENE-LOGO-2018-TRANSPARENT-RED.png
Alexis Hodoyan-Gastelum
2016-01-07 18:14:52
2016-01-08 10:40:16
5 Songs to Get You Ready for 'Unpretty Rapstar' Heize & Truedy's Los Angeles Show