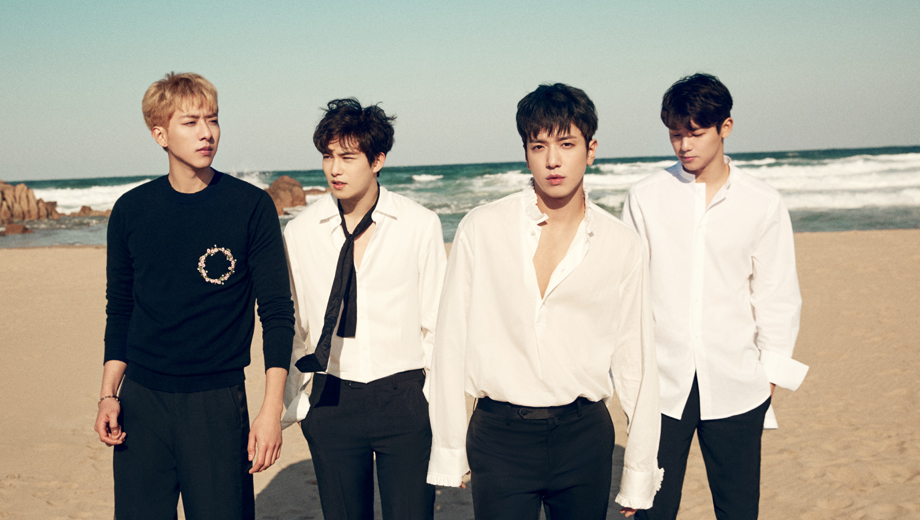 CNBLUE's music has changed greatly over the years and their newest song "Between Us", released on Mar. 20, adds even more layers to their unique sound. With this new track, they continue to evolve as musicians while still portraying the talented band we all love. Having had their last comeback in April 2016 with "You're So Fine," "Between Us" has been highly anticipated by fans the world over. At long last, the wait is over.
Song
Musically speaking, CNBLUE has changed drastically since they first debuted back in 2009. Listening to one of their earlier songs, such as "Love Girl," and then listening to "Between Us," the fact that they're sung by the same band is almost unrecognizable. Over the past couple years, CNBLUE has definitely leaned more towards the pop and electronic side of music, which they've added to their rock band roots.
---
---
That's not to say, however, that they've lost sight of who they are. "Between Us" has a funky, synthetic sound, but it's clear that instruments are still an integral aspect of their music, performances, and music videos. Some fans might love their new style, and others may prefer their earlier songs, but by delving more into pop music, their fan base will only continue to grow.
While the song is heavily influenced by electronic beats, some of the strongest aspects of the music are actually the instruments that CNBLUE have made a name for themselves with. Yonghwa's piano playing and Minhyuk's drumming in particular stand out and are even highlighted through their contrast to the rapid and sporadic EDM. The lyrics of the song themselves focus on the confusing relationship of two people who are in between being friends and being something more. This concept makes it easy for listeners to relate to the song and the artists themselves, with it being such a universal situation that many people find themselves in.
Music Video
The music video for "Between Us" is pretty typical for CNBLUE. The members played their instruments with vigor in between scenes of them speaking on the telephone with a confusing lover. It was very interesting, however, to see Yonghwa without an instrument. Unfortunately, it came off as a little awkward, as if he wasn't quite sure what to do with himself, but it was nice to see a different side of him through this video.
Overall, I wasn't that impressed with the video because while the song is upbeat and exciting, the video felt a bit flat. There was very little interaction between the members, aside from them walking around each other, and there really wasn't a storyline at all. With the lyrics of the song, the video could've been so much more interesting than it was. It wasn't a bad video per se, but it's certainly nothing we haven't seen already from CNBLUE. Videos such as "Love," "Hey You," and even more recent releases like "Supernova" have shown much of the same music video formatting as this one. It's time for them to release a music video in which the members interact with each other a little more.
---
---
Overview
"Between Us" is upbeat and both musically and lyrically well-made. It adds yet another dimension to this band's sound and portrays their growth as artists. And while I love the song, I can see why some fans may be put off by it. There will always be fans who prefer the more pop-punk vibe that the group started off with, and that's valid. However, I think if listeners give it a chance, they'll grow to embrace this new side of CNBLUE. Unfortunately, the music video did leave a little bit to be desired, but that's the only complaint. I think no matter what they do, CNBLUE will always be incredibly talented and devoted to their music and, as fans, that's all we can really ask for.
What do you think of "Between Us"? Tell us what you think in the comment section below and be sure to subscribe to the site and follow us on
Facebook
,
Twitter
,
Instagram
, and
Tumblr
to keep up with all of our posts.
https://kultscene.com/wp-content/uploads/2017/03/799bad5a3b514f096e69bbc4a7896cd9000026.jpg
520
920
Veronica Traggiai
http://kultscene.com/wp-content/uploads/2018/02/KULTSCENE-LOGO-2018-TRANSPARENT-RED.png
Veronica Traggiai
2017-03-30 20:34:03
2017-04-02 18:29:17
CNBLUE's 'Between Us' music video & song review