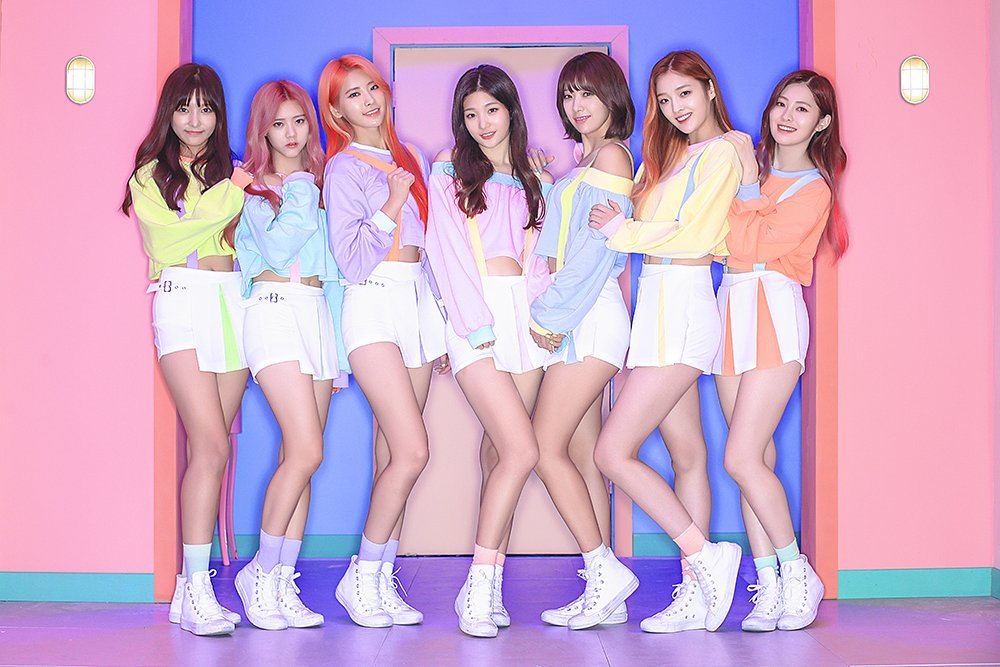 Lesser known girl groups losing their unpredictability after becoming overnight successes is something that plagues my mind all too often. This was a distinct possibility with DIA, a group who were capable of profoundly weird and exciting music before their increase in awareness. Their first song since Produce 101's and particularly Chaeyeon's rise in popularity,"On The Road" was a safe but sweet track that didn't bode well for DIA's advancement. Luckily now with the help of a certain British wizarding superstar DIA are back with an eclectic mix of sugary and volatile sounds on "Mr. Potter."
Song
"Mr. Potter" immediately brings to mind DIA's "My Friend's Boyfriend" in that it's hard to know if you're supposed to be scared or enticed. That's the best thing about DIA, they take the cuteness we are so used to in K-pop and bring to the absolute max, making us almost uncomfortable. With "My Friend's Boyfriend" that felt entirely deliberate but on "Mr. Potter" it's harder to tell.
Written and produced by ATM and STAINBOYS (who remixed Suran's "Ddang, Ddang, Ddang") "Mr. Potter" has almost no regard for the cute and goes straight for the heavy sounds. It opens with some great xylophone and moves swiftly onto crushing hip-hop beats and sporadic synths. These work to contrast with the girls' voices, which are sweet but manic thanks to the layers and quick delivery. They're almost shrill in a way that will be off putting to many listeners, but for those who aren't turned off the chorus is a strange heaven.
---
---
The chorus keeps the same style of sound but changes the tone to make it slower and more melancholic, usually the opposite of what a chorus should do. DIA's rare qualities shine in it thanks to the absolute business of it. Sci-fi synths scream as the beat gets bigger and the girls finally let go of their feelings. Their vocals take on a rhythmic chant with high pitched peaks. It's a vocal style unprecedented in a chorus. It moves the song from a possible rehash of "My Friend's Boyfriend" without the tongue in cheek aspect to something unique.
"Mr. Potter" moves along with assurance as well, mellowing out a bit to highlight the xylophone again and give room for Cathy to rap without too much interference. Her second part is also interesting; towards the end the song sounds like it's about to reach its climax but transitions without a hitch into more rapping and xylophone. At every turn "Mr. Potter" is enriched with an unpredictability only DIA could muster up.
Music Video
Despite the strangeness of the song, "Mr. Potter's" music video will probably be the most contentious thing about it. Even for those who weren't fans of DIA the video seemed exciting as it could have been an interesting dip into the Harry Potter universe. Unfortunately without knowing the name of the song you wouldn't automatically guess this was a song about Harry Potter. The video uses iconography from a large number of fairytales along with JK Rowling's series. It seems a total waste of time regardless of how it turned out. They also copied Girls Day's "Expectation" choreography (although they have the same choreographer Bae Yoon Jung).
---
---
That being said there are a few things I like about it. Maybe it's just me but DIA seem like a better group of actresses than most other groups. Their expressions are always fun and really in sync with the tone of the song and video. Especially when they're sitting eating popcorn with glasses on, it's sort of confrontational as if they're aware that many fans will be confused by the song and video. The pastel colours are well worn out by K-pop by now but are great here, encompassing the whole video. It genuinely feels like a different world. I also love the bad CGI, it again suggests an awareness on their part that the audience is being tricked.
Overall
I'm so relieved that DIA continue to be a divisive group. "Mr. Potter" hits on a lot of weird levels making it a difficult proposition. Considering this and "My Friend's Boyfriend" though, it's clear that this is what they do best. They're at home parodying the overtly cute girl groups who only pine away for men. DIA bring that to logical levels of mania with an aggressive assurance that sets them apart. Despite the apparent cuteness and subject matter, "Mr. Potter" is a hard track to find cute. It has a pace and electricity that doesn't allow much thought on first listen. It squeezes you into a bewildered daze, confronted by DIA's singular charm.
(who else would perform a six minute rock version of their single at a showcase)
What do you think of DIA's "Mr. Potter"? Share your thoughts in the comment section below and be sure to subscribe to the site and follow us on Facebook, Twitter, Instagram, and Tumblr to keep up with all of our posts.
https://kultscene.com/wp-content/uploads/2016/09/DIA-Mr-Potter-MVT-3.jpg
667
1000
Joe Palmer
http://kultscene.com/wp-content/uploads/2018/02/KULTSCENE-LOGO-2018-TRANSPARENT-RED.png
Joe Palmer
2016-09-13 14:17:24
2016-09-14 07:17:08
DIA's "Mr. Potter" Music Video & Song Review