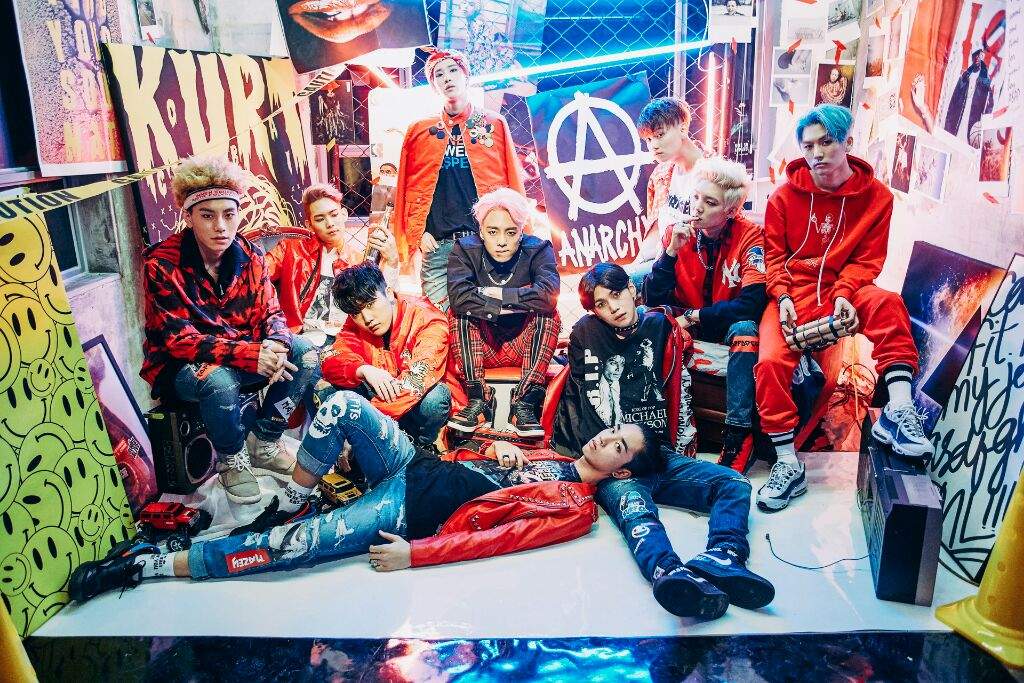 Following the recent shock departure of Gohn and Kidoh, Hunus Entertainment's ten member rap group Topp Dogg staged a comeback on October 19 with their fourth mini album, The Beat. It is the group's first release in a year and shows a marked maturity, not only in terms of vocal accomplishment, but also the choice of material. The songs incorporate influences from around the world and Topp Dogg inject life and energy into all of them.
"Runaway"
The album bursts into life with this up-tempo song, which effortlessly fuses hip hop and retro rock with several brief interludes of dubstep. The aggressive guitar playing and strong beat drive the track along at a furious pace and are guaranteed to get listeners dancing in no time, making "Runaway" a fantastic opener for the EP.
"The Beat"
This totally addictive title song is one of Topp Dogg's most interesting musical experiments to date. It combines their signature rap sound with elements of both Bollywood and bellydance music. The vocal harmonies here are superb, but the highlight of the track has to be the rap verse from Yano and Jenissi.
---
---
"O.A.S.I.S"
Topp Dogg get into funky disco mode in this catchy and upbeat song. A prominent brass section, synthesizers and electric guitars inject a sense of fun into this lively composition, which brings to mind the music of the 70s. Although the members slightly mispronounce the title, "O.A.S.I.S" is hugely enjoyable.
"All Eyez On Me"
Jimi Hendrix style guitar playing opens this edgy song, which inventively mixes gangster rap, jazz and funk genres to great effect. Composed by former member Kidoh, with current member Yano, this is a truly standout track which really showcases Topp Dogg's unique talents to perfection.
"Emotion"
This 90's style ballad marks a massive departure from Topp Dogg's usual street sound and subsequently feels slightly incongruous on "The Beat". The brief rap breaks up the flow of the song unnecessarily, so the whole thing doesn't gel successfully. Top marks to them for attempting something different, though.
---
---
"Sweetheart"
Sangdo's solo track, composed by fellow member, Yano, takes an unexpected turn down the sophisticated jazz ballad route, yet it works surprisingly well and has a sound that is reminiscent of Zion.T's output. Sangdo's vocals here are smooth and heartfelt and the piano solo towards the end really sends the EP out on a high.
Overall Thoughts
In spite of the recent upheaval in the group, "The Beat" proves that Topp Dogg are still on top form. This is a must listen to cd for fans of Korean hip hop music, which should allay any fears that Topp Klass (the group's fan club name) may have about their ability to carry on with reduced numbers. May Topp Dogg continue to go from strength to strength.
Did you agree with my sentiments about Topp Dogg's album? What are your thoughts on this release? Share your thoughts in the comment section below and be sure to subscribe to the site and follow us on Facebook, Twitter, Instagram, and Tumblr to keep up with all of our posts.
Topp Dogg - The Beat Mini Album Review
https://kultscene.com/wp-content/uploads/2015/10/Eves-Topp-Dogg.jpg
683
1024
Eve Backhouse
http://kultscene.com/wp-content/uploads/2018/02/KULTSCENE-LOGO-2018-TRANSPARENT-RED.png
Eve Backhouse
2015-10-26 07:40:56
2015-10-26 13:33:26
Topp Dogg's 'The Beat' Album Review