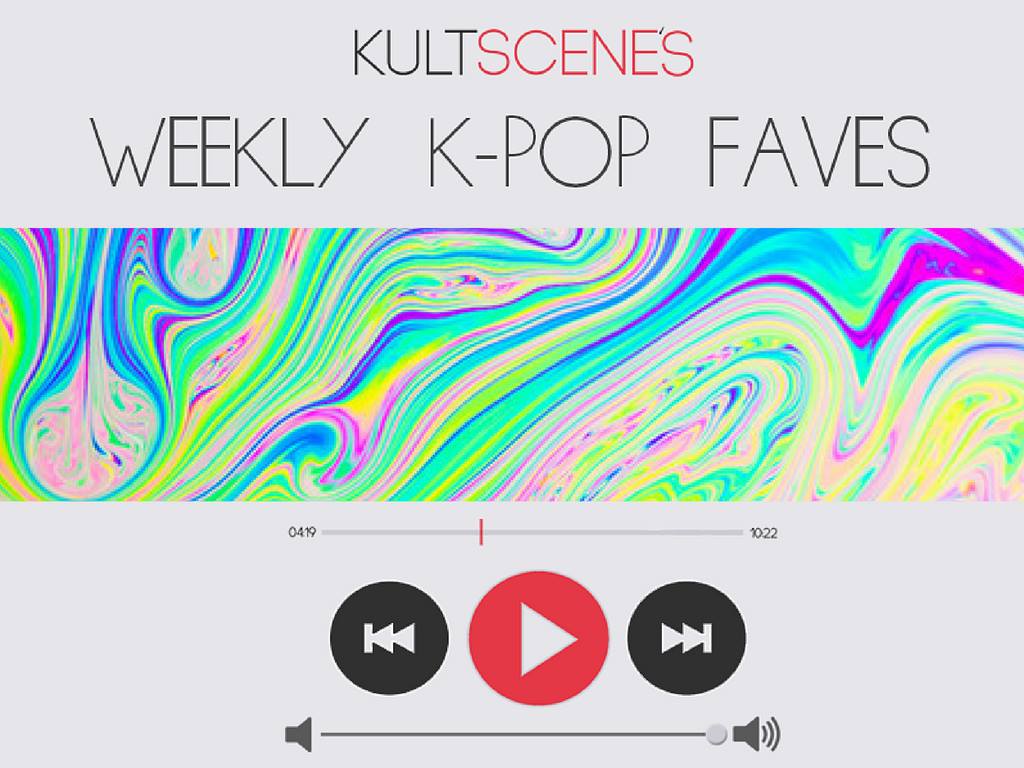 As summer comes to a close, K-pop releases are beginning to slow down. However, we still racked up a short list of our weekly faves, which have proven to be a bit biased, but oh well! Gotta work with what we're given.
"Shh" by Nine Muses A (Released August 4)
Considering their seemingly imminent demise, it's a great relief to hear anything from Nine Muses, even if it is a sub-unit. Nine Muses A consist of Kyungri, Hyemi, Sojin, and Keumjo and are debuting without the usual tag of a cute or badass or whatever version of their parent group. Their album "Muses Diary" is a superbly tight work of sexy and sweet pop. The standout is "Shh," a blistering mix of euro pop and orchestral music. It has an anime theme song feeling to it with its pulsing bass drum and swirling strings that build momentum. Each moment brings back different memories of pop for me. The aforementioned anime influences, the rapping in pop which K-pop has revolutionised, and best of all the Max Martin-esque chorus with its little delay before the beat kicks in again.
— Joe
---
---
"That's My Jam" by B.A.P (Released August 7)
Throughout the years, B.A.P has experimented with music a lot. Their discography has a diverse range; from fighting everyday injustices, innocent first loves, to just down right having fun. The group's latest EDM infused release "That's My Jam" is unlike anything they've ever delivered before. Prior to it's release today, fans had already gotten a taste of the group's strong interest in EDM and rock during their recent Live On Earth 2016 World Tour.
This energetic song and it's consistent overflowing addictive beat will without a doubt get you on your feet! Even without watching the music video, you can easily sense the members high enthusiasm and "fighting" spirits. Their delightful (and Yongguk's heavily attractive) voices will quickly absorb and hypnotize one into a deep trance. Oh but if we had to talk about the music video, all I have to say is "VISUALS."
"That's My Jam" showcases a brand new side of B.A.P, which can only make us anticipate for what's to come in the future. As the members matured and grown, so has their styles. It's great seeing them getting away from their darker concepts and actually enjoying themselves, even with fake beers in hand. If you were in search of summer anthem, then this is your jam!
— Tam
"Stuck" by Monsta X (Released August 7)
Monsta X was clearly busy while in Los Angeles earlier this week. Between opening up the second night of KCON 16 LA and flying between the US and Korea, they had the time to film the music video for "Stuck." They pulsating track brings Monsta X's style of aggressive dance music that they've been promoting over the past few months, but their vocals really shine and the distribution between the seven members may be the group's best yet. (There's no "Trespass"-style dominance by rapper Jooheon and vocalist Kihyun). "Stuck" is a gift to fans but even people who haven't heard their other songs will be grooving to this track. (Plus, the music video has an insane dance break with Shownu flaunting his abs so if that's your thing make sure to watch).
— Tamar
---
---
"Do Better" by Y Teen (Released August 5)
I promise we don't have an agenda to push Monsta X down your throats. But since last week's KCON 16 LA, I have to admit I've been paying more attention since coming face to face with Shownu's arms. Alas, I digress. The point is that now that I'm paying attention I found this collaboration with a few members of fellow Starship Entertainment's girl group Cosmic Girls called Y Teen. Their collab song, "Do Better," is a CF for… something requiring them as models… and sounds like your regular Monsta X song with the EDM-y, clap ridden jam. However, I could've done without the cutesy element Cosmic Girls brought into the mix. And while it may not offer anything new necessarily, it's still a fun song where the rappers dominate and excel — especially Exy from Cosmic Girls who hasn't been allowed to showcase her full potential. Monsta X kill it though, but what else is new?
— Alexis
What's your favorite song of the week? Share your pick in the comment section below and be sure to subscribe to the site and follow us on Facebook, Twitter, Instagram, and Tumblr to keep up with all of our posts.
https://kultscene.com/wp-content/uploads/2016/08/13977981_10157515082770019_2144684297_o-1.jpg
768
1024
KultScene
http://kultscene.com/wp-content/uploads/2018/02/KULTSCENE-LOGO-2018-TRANSPARENT-RED.png
KultScene
2016-08-07 19:34:33
2016-08-09 13:57:20
Weekly K-Pop Faves: August 1-7