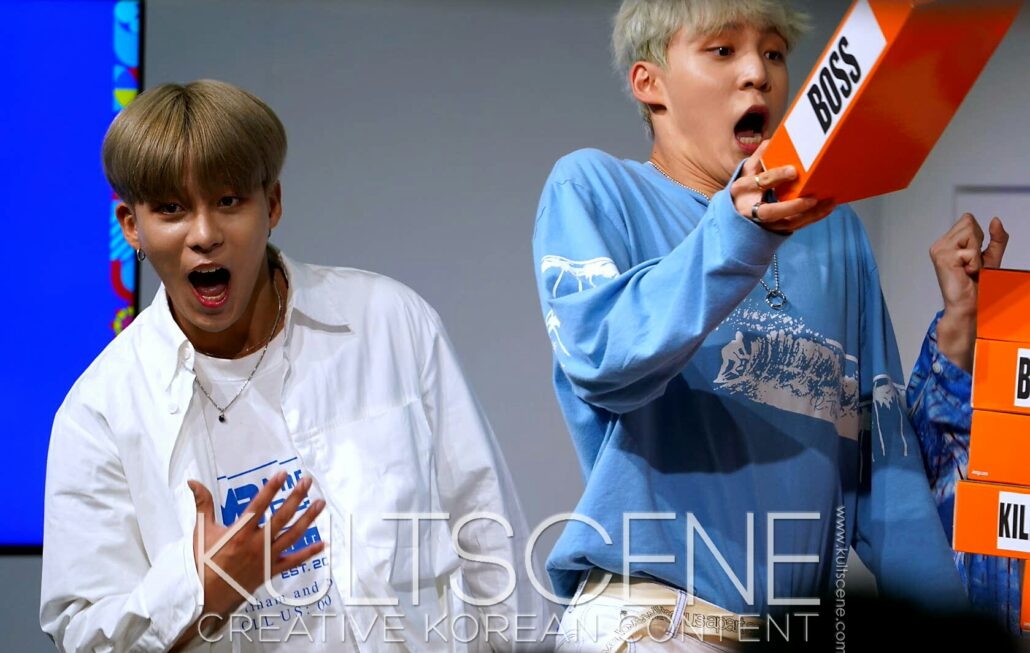 For the first time ever, KCON New York took place in the actual city of New York. The 2019 edition of the biggest South Korean entertainment convention in the United States moved itself from Newark, New Jersey to the iconic locations of Javits Centre and Madison Square Garden on July 6th and 7th. It felt destined to be an equally grand weekend with more acts, more guests, and most importantly, more fans.
The hallowed halls of the Javits Centre, home to most of New York's largest conventions, quickly filled up the first morning of KCON. They just as quickly felt like home to the many fans checking the best of Korean culture available to them. As always, the major highlights at the convention was the panels, a rare chance to get an in-real-life perspective on the many facets of K-pop and also time to speak to many of the best journalists and Youtubers that K-pop has to offer.
The weekend's offerings opened with a panel exploring the potentially tricky area of "Stan Culture." Moderated by PopCrush journalist Lai Frances, the panel of guests steered nicely clear of controversy without ever feeling too soft on stans. Each of them went through some of their own experiences with quality fandoms and toxic fandoms. The most interesting exchange came prompted from an audience member when they asked about how the writers themselves feel they can change the more negative sides of fans. Of course, none of the panelists had an exact answer or even a feeling if they did, but they demonstrated the necessity for cultural critics well.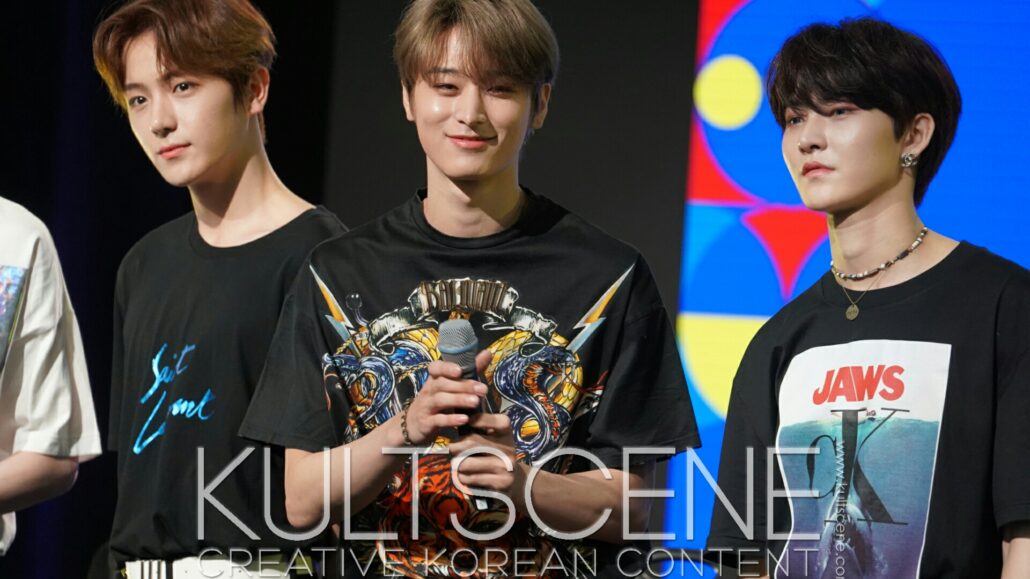 The other great panel of the day was run by Emma from Reacttothek, and featured producers Andreas Oberg and David Amber and critic Jakob Dorof. Titled "What's the Difference between American Pop and K-Pop?" the four of them attempted to describe how K-pop came to sound the way it does and how that compares to modern American pop. The panel was full of insights into how production works thanks to the two producers, but Emma as well was just as adept at explaining musical terms and elements. Jakob, who lives in Seoul, provided the Korean context. He talked about how the karaoke market is something important to pop in Korea, as well as the fact that the genre-bending type songs we hear now may have their roots all the way back in the 1940's. One of the most interesting little tidbits though, was his revelation that SHINee's "Everybody" had ninety different versions before being completed. Apparently they would have a finished song, go to choreograph it, and find that it needed a little something extra here and there before finally thinking it was good enough.
---
---
At the expo itself, there was a never ending stream of potential things to do. Many corporate brands had stalls doing games and giveaways, and there was lots of merch and K-beauty products to purchase, and even a glass box in the middle of the room where idols came out to play. Coco was there on this to host for Ateez. They played some Jenga and whoever made the blocks fall would have to dance to a random song. It's a fun game to watch idols play, but being in the box meant it felt a little less intimate. At the Prudential Centre in previous years, the groups would come out to stalls but still be quite close by. It's this kind of intimacy that an event like KCON should strive for.
There was also a noticeable lack of fan stalls in the expo. There had always been only a small amount, but given the extra space, there could have been more of an effort to bring in fan artists. Fans could get together in rooms near the panels as fan clubs, but again, that felt too distant from the expo as well as being too specifically catered to one group's fans at a time.
Day two rolled around swiftly and the panel area began with a packed schedule. There were three separate events going all around at the same time. Two meet and greets, one with now KCON legend, and former U-KISS member, Kevin, the other with four of the team from Reacttothek, and one returning panel "Women in Hallyu Media." Our very own Tamar Herman was moderating and led the esteemed panelists through a frank and vital discussion. The reality of the pressures even the most successful journalists and media women was totally laid bare. They touched on the issue of women in K-pop and the lack of tours and coverage they get in the west. It's a never ending cycle of not getting enough news space because the groups aren't big enough, but never being given that space to get the fame in the first place. Jenny Zha made a remark in relation to this that would feel relevant for the rest of the day: she basically said where the money goes determines all of this, touring and coverage.
Later on, there was another chance to get up close and personal with some idols in the M2 glass box. There was more Jenga playing, this time from (G)I-dle. This included a happily embarrassed Miyeon dancing to "Baby Shark." Verivery and SF9 took the to the KCON stage, where they partook in showcasing their rookie talent and sitting down for an interview, respectively.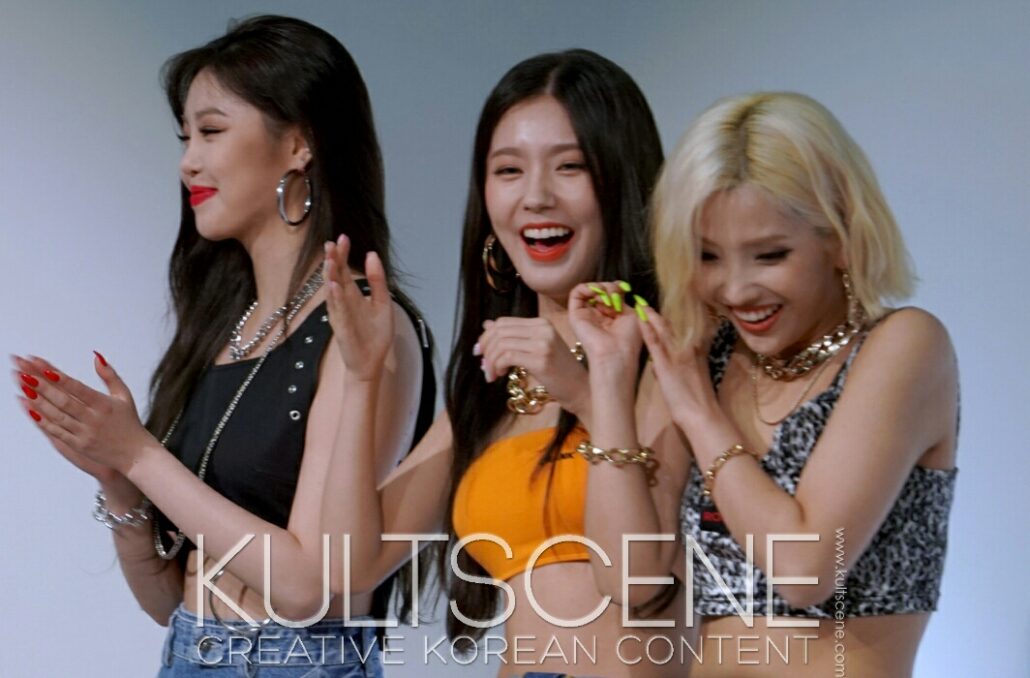 ---
---
Again the panels were the easy highlight of the day with more exciting work like the "K-pop and Mental Health," "Breaking News in K-pop," and "2019: Year of Girl Groups." The latter took on a very comfortable sort of half fan club, half panel vibe that played into the positivity of the topic itself. The expo lost even more of its charm by the second day though, as there's only so many free slices of pizza and ice pops that can keep you distracted long enough to stick around when there are few offerings and interactive events.
As KCON takes a big step in the right direction in New York City, it frustratingly takes some more smaller steps in the opposite way. Zha's comment from the "Women in Hallyu Media" panel sticks in the mind. Growing in size requires extra money, and extra money requires more sponsorships, which ultimately leads to less creative control over how the convention is run. The panels and concerts are slowly becoming the only reason to go to these events, and who knows how long they'll last as well, though, as this year is more heavily focused on rookie and Mnet-oriented groups, the TV channel under KCON organizer CJ ENM than ever before. The true danger of this progression is if fans follow this corporatization. Of course, KCON isn't the leader in how fans consume K-pop, but it can be a litmus test for a general look at what the Stateside portion of the fandom might be feeling at one point. Events like this need fans' money, but long term, they need their support way more.
All photos credit to Jean Libert.
This slideshow requires JavaScript.
What were your take on KCON 2019 NY? Share your thoughts in the comment section below. Be sure to subscribe to the site and follow us on Facebook, Twitter, Instagram, and Tumblr to keep up with all of our posts.
https://kultscene.com/wp-content/uploads/2019/07/IMG_20190707_075058_KCON19NY.jpg
1065
1679
Joe Palmer
http://kultscene.com/wp-content/uploads/2018/02/KULTSCENE-LOGO-2018-TRANSPARENT-RED.png
Joe Palmer
2019-07-18 17:04:33
2019-09-04 21:29:39
Inside KCON NY 2019