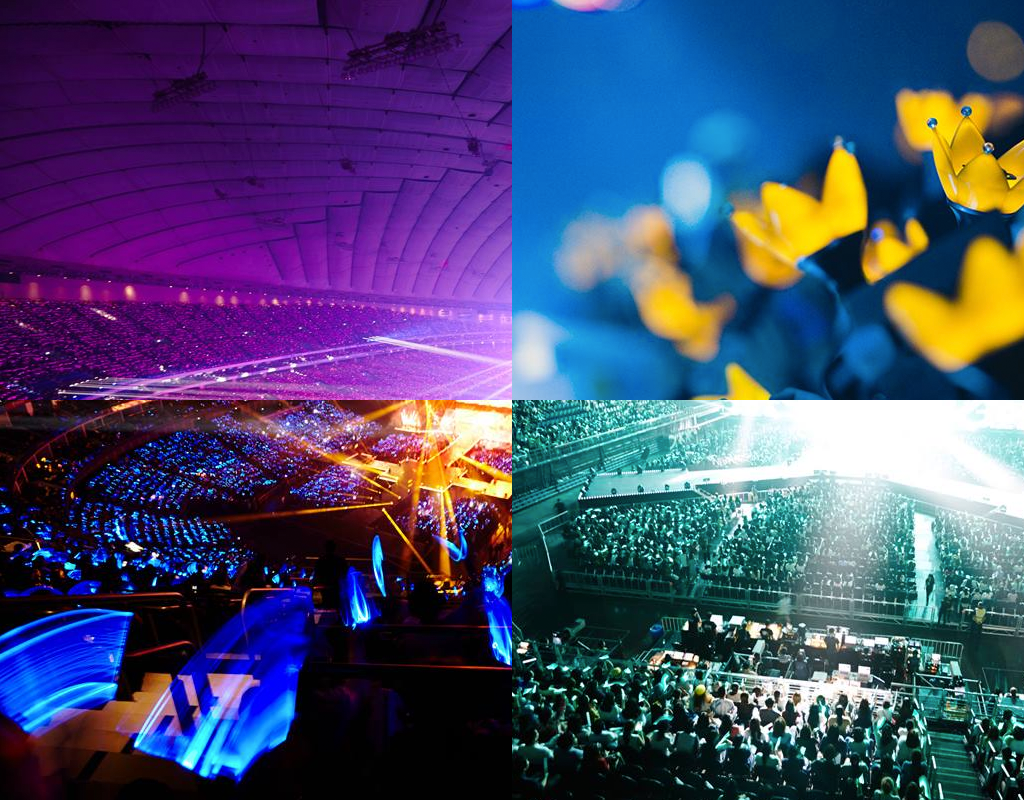 When a friend of mine recently asked why K-pop is a fandom rather than a genre, it was puzzling; of course K-pop is a fandom. Looking around at K-pop's international fanbase, the question hardly makes sense; it'd be like saying The Beatles are a genre when they are in fact so much more. But that doesn't resonate with people unfamiliar with what K-pop is, who just assume that K-pop is a very specific type of music rather than an entire entity.
K-pop, at its heart, isn't one sound but rather a production style coming out of South Korea today and the pop culture surrounding it. K-pop is Korea's music industry and all that it contains. Similar to Hollywood being the umbrella term for the industry, its stars, and its products, K-pop is the blanket term for music, celebrities, and a variety of other aspects of Korea's pop culture.
---
---
Understanding that K-pop is the overarching term for a variety of music coming out of South Korea is key to erasing the idea that K-pop is a single musical style. What most people think of "K-pop" is actually idol music, pop music acts produced by large entertainment agencies. There are usually, but not always, synchronized choreographies. K-pop doesn't just mean idol music though, since all of South Korea's mainstream music is now coming under the title. But that's not everything under the sun in South Korea, and even Korean indie acts are falling under the broader K-pop umbrella; this year's SXSW's K-Pop Night Out includes a girl group, two R&B artists, an IDM producer, an alt-punk indie duo, and a glam metal band.
And they're all included in the idea of K-pop to some degree, despite their blatant genre differences.
Because of its utter enormity, fans of K-pop aren't just fans of a specific style of music, which would in fact make K-pop a genre. A fan may be a fan of an act act, such as idol groups like SHINee or 2NE1, but unlike fans of musical genres, K-pop fans express affinity to the artists rather than the musical style; musical affinity isn't bound to being a fan because K-pop is impossible to pin into one individual style. While both SHINee and 2NE1 have distinct styles within the K-pop world, their songs themselves are known for genre-blending and musical experimentation rather than sticking to one specific musical style.
Saying K-pop is a musical genre is limiting, since the songs falling within K-pop's realm range from folk to R&B to bubblegum pop to hip hop and beyond. (It also diminishes the face value of music coming out of South Korea today, since K-pop gets a bad rap as a wholly manufactured industry with little innate artistic value.)
In a recent interview, members of Korea's most popular boy band Big Bang deplored the idea that K-pop is a single genre. Seungri argued that the title doesn't express what is good K-pop versus bad K-pop and G-Dragon highlighted the fact that K-pop isn't K-pop to Koreans; it's just music. Meanwhile,T.O.P argued that the terminology itself was a failing, and implied that there were racist connotations to lumping all Korean music under the idea of a single genre.
"It's like this," he told the Washington Post. "You don't divide pop music by who's doing it. We don't say, for instance, 'white pop' when white people make music."
But clarifying that K-pop is just general Korean mainstream music isn't really easy to explain in a casual conversation since most people are not likely to understand the nuances of why it's not a single musical style, making it difficult to expand on the broader definition of how and why K-pop is dissimilar specific genres like country or metal.
Metal fans, like other fans declaring favoritism to a specific style, favor acts that fall under a specific overarching musical genre. Just like K-pop, they identify one another on the streets based on band tees and get excited when a new act comes to town. But without the specific tones of being a metal band, those same fans won't be interested. If a metal band put out an album inspired by jazz music, their fans would likely be confused and pan the album. K-pop fans eat up that sort of experimentation, since it's part of what makes certain songs fall under the K-pop title.
But with K-pop, the most genre-bending music "genre" of all, the music is just the beginning of the pitfall that leads fans to start liking all aspects of the K-pop scene. While many songs sound similar, and there are trends in K-pop overall, a K-pop fan can be biased towards the slower, more mellow ballad tones rather than the dance music, but still be a K-pop fan. Most fans of K-pop claim partiality to specific acts and join that act's fandom (i.e., Big Bang fans are known as VIPs as a whole) but still are a part of the overall fandom of K-pop. They cheer when a K-pop act beats out other acts internationally, coming together to support the industry's international growth, and get upset collectively when a single fandom may be under attack from outside fandoms.
---
---
While "K-pop" once stood for the specific idol music coming out of Korea, it is now essentially a word handed out freely to describe all Korean pop and even all Korean music. Looking at idol groups alone, there are allegedly hundreds of different sounds and concepts. But when someone says they're a fan of K-pop music, they're not saying that they're a fan of the specific sound of K-pop music because there is no such thing. Rather, they're saying that they are a fan of the world of K-pop. What that world is is up for debate in South Korea nowadays, just as Big Bang said, but K-pop is no single musical style, despite the Guardian trying to peg Grimes as K-pop in a recent article.
If K-pop were a genre, it'd be the all-encompassing world of Korean pop music and then some. It's the industry consisting of music production companies in South Korea and the musicians themselves as well as the music. Some of it is idol music, some of it is hip-hop, ballads, indie-style folk music, etc., but it's the production value and promotional aspects that makes K-pop what it is and why fans love it. It's an idea moreso than a genre.
Yes, K-pop songs are mostly Korean pop songs, and you could say that K-pop is a genre. But a genre is a style with a limited range of musical tropes. K-pop is definitely an entity, but that entity is so much more than any music genre; it's an entire scene that, yes, surrounds a certain type of music, but is so much more than a single genre.
What do you think of defining K-pop as a fandom rather than a genre? Share your thoughts in the comment section below and be sure to subscribe to the site and follow us on Facebook, Twitter, Instagram, and Tumblr to keep up with all of our posts.
https://kultscene.com/wp-content/uploads/2016/03/Fandoms.png
800
1024
Tamar Herman
http://kultscene.com/wp-content/uploads/2018/02/KULTSCENE-LOGO-2018-TRANSPARENT-RED.png
Tamar Herman
2016-03-14 06:05:24
2016-03-14 06:10:41
Fandom, Not Genre, K-Pop Surpasses The Limitations Of Music