We've all seen the music videos for "Gangnam Style" and "Gentleman," and now Psy's about to be back with "Hangover."
The song features Snoop Dogg, and there's no news about whether the song is in Korean or English. It's probably in Korean, since none of the 2 billion people who watched "Gangnam Style" seemed to mind. And most of those people will probably, at least, take a glance at "Hangover," so the song is probably going to be a major hit.
Will it reach 2 billion views on YouTube? Probably not. Megahits can launch careers, but it's hard to follow them up. Snoop Dogg's appearance will probably make "Hangover" more successful to English-speaking audiences, but could also backfire—Snoop Dogg, also sometimes known as Snoop Lion (?!), is popular, but it may look like Psy is trying too hard to be a success.
Which is funny, because Psy isn't just about being funny and a global sensation. "Gangnam Style" makes fun of a type of the Gangnam lifestyle and "Gentleman" makes fun of dating in Korea and sexism in the country). I bet "Hangover" will have some deeper meaning also.
Korea's gained a lot of attention lately because Koreans drink more alcohol than almost any other culture, so perhaps he'll be discussing that and the consequences of drinking too much? If that's the case, "Hangover" will surely be ridiculous. Although, we all expect Psy's craziness at this point.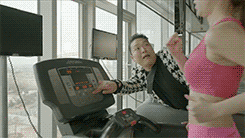 But is he actually that much of a Psy-cho?
Check out these cool articles around the web

Obviously, he's not.  Psy's in the music industry to make it big and he's not going to go down without trying. But his music isn't as goofy as we think, either.
The Korean audience gets Psy's satire, which often mocks Korean society, but most of the world just thinks, "Oh, he's a funny fat man who doesn't look like he should be famous."
But Psy isn't just a comedian; his songs aren't just meant to be funny. They're meant to make you laugh, yes, but also to make you think about what exactly is Psy doing here?
Why is he sitting on a toilet in "Gangnam Style" while wearing a suit? Why is he being disturbingly raunchy towards Ga-In in "Gentleman?" You're supposed to laugh at how ridiculous it is because you're supposed to recognize the absurdity of the situation in Korean society nowadays.
Sadly, the meaning is lost on most foreign viewers since they don't pay attention to the lyrics of the songs, but instead just watch the hilarity and get the chorus stuck in their head.
But with Snoop Dogg singing in English on "Hangover," it may be interesting to see how people react. Will Snoop Dogg's part of the song be as crazy as Psy's? Probably. But it will be understood by more listeners, and it may resonate with them.
Then again, the song may just be a party song about drinking all night and getting a hangover.
What do you think?  Will "Hangover" resonate with Psy's fans? Or is this his last hurrah? Don't forget to subscribe to the site and follow us on Facebook, Twitter, Instagram, Tumblr, and Bloglovin' so you can keep up with all our posts.
https://kultscene.com/wp-content/uploads/2014/06/psy.png
500
1500
Tamar Herman
http://kultscene.com/wp-content/uploads/2018/02/KULTSCENE-LOGO-2018-TRANSPARENT-RED.png
Tamar Herman
2014-06-02 18:03:45
2014-07-03 02:36:53
Let's Talk About: Psy, "Hangover," & His 'Craziness'