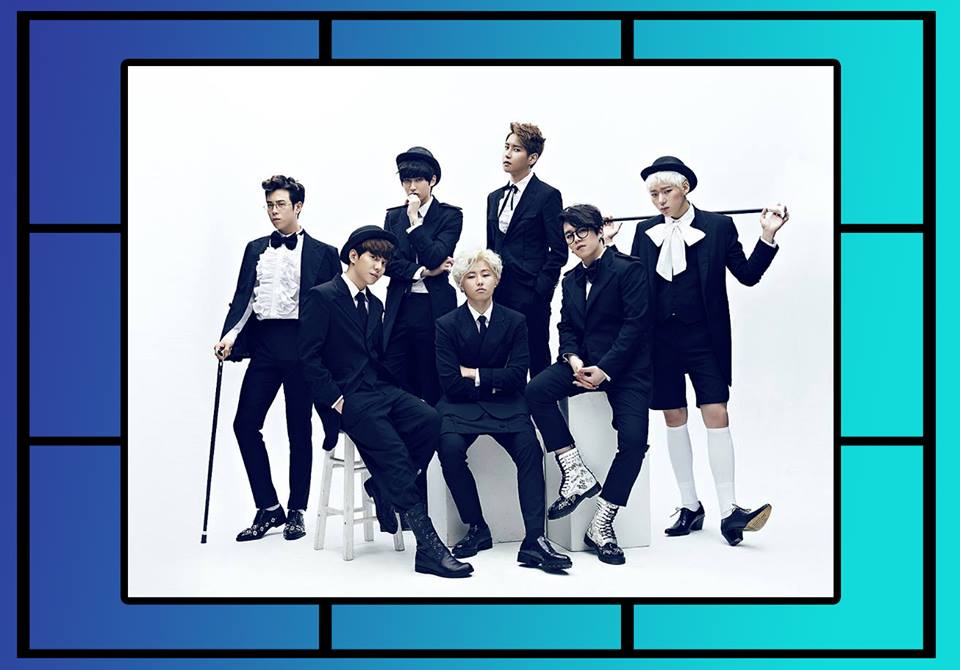 Early Sunday evening in the middle of nowhere Long Island, Block B held their first showcase in New York. The seven member idol group played at NYCB Westbury Music Theater in Long Island, which was a bit of a hassle to get to for many fans. Buses were arranged to bring fans who met up in New York City, and by the time I got there about four hundred fans were standing in line in the sweltering heat.
But there wasn't really a need for fans to be doing that. All seats were assigned in advance, so it would have made more sense to just have fans wandering about enjoying the sun. Instead, fans grew impatient as they waited to be allowed. Even this small planning issue didn't make fans too annoyed, since they were so anxious to see Block B.
Doors opened on time, but it still seemed to drag on. However, excitement was palatable since the theater was extremely cozy (small), meaning that Block B would be relatively near to even the cheapest priced seats. The small, round theater meant something else that fans quickly picked up on: Block B would have to walk through the crowd to get to the stage.
Check out these cool articles around the web
The energy was crazy as the group began the showcase with Very Good, one of Block B's most popular songs. The members then performed a combined mash-up of Freeze and Wanna B before stopping for introductions. An emcee was in charge of the event, dealing with translating the member's words for the primarily English-speaking audience.
Because it was a showcase rather than a concert, Block B was able to interact really freely with the fans. The guys would sing a few songs, and then did a special activity. The members picked names out of a box and brought seven lucky fans on stage to receive roses as Block B serenaded them, and then afterwards played a game of charades with another set of seven fans. The fans were all extremely grateful, with one fan even commenting that she now "knows there is a God," resulting in many laughs from the fans.
However, because only a few fans were involved and there were less songs than American K-Pop-concert-goers are used to, some fans were a bit disappointed. The performances were great, but the new style of a showcase threw a few people off.
Despite a little bit of confusion about the concept of the showcase, every time the group performed, the crowd became crazy. Even though everyone was seated, if Block B opened their mouths to sing then the fans stood up. Nalina and Blockbuster evoked a crazed response from the audience, with the atmosphere being similar to a club; everyone was dancing and jumping as the stood by their seats. Even calmer songs like Be The Light were popular among the fans, who couldn't resist singing along.
When Block B left the stage, there wasn't even a split second before fans immediately started to cheer "encore, encore." Block B didn't let them down, and came out to perform two songs, including a rock version of the hit song that they opened with, Very Good.
The members were clearly thrilled to be in New York, and it was nice to see so many international fans supporting the group after all of its hardships. Hopefully Block B's remaining US showcases will go well, and the group will continue to flourish both abroad and in Korea. Block B has a showcase in DC tonight (June 24th) and a showcase in Florida on June 27th.
Here's an exclusive KPOPme video recompiling a few highlights from the show:

Moreover, check out a few pictures too:

This slideshow requires JavaScript.
What's your favorite Block B song? Share it with us! Don't forget to subscribe to the site and follow us on Facebook, Twitter, Instagram, Tumblr, and Bloglovin' so you can keep up with all our posts.
https://kultscene.com/wp-content/uploads/2014/06/10486950_10152090436066627_1867621771_n1.jpg
670
960
Tamar Herman
http://kultscene.com/wp-content/uploads/2018/02/KULTSCENE-LOGO-2018-TRANSPARENT-RED.png
Tamar Herman
2014-06-24 14:16:56
2014-06-24 14:23:18
Review: Block B Showcase in New York