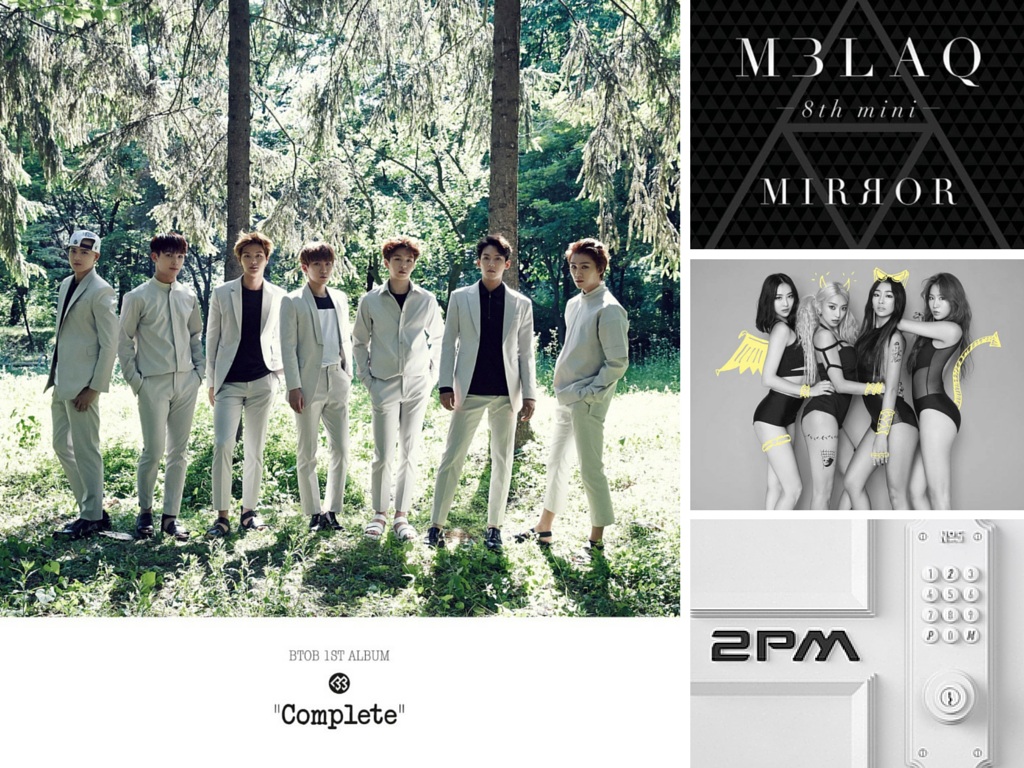 To say that June was not a busy month for K-pop lovers is an understatement. In the past month, we saw comebacks not only from the big three entertainment companies (SM Entertainment, JYP, and YG), but also from those who are just as reputable, such as Cube and Starship Entertainment. Competition is stiff, so choosing the right title track that will best represent an album as a whole is critical if an act wishes to stand out from among its adversaries. And while the companies would like to think they know which song is best for a group to promote, sometimes fans might disagree with their decision. Oftentimes, the true gem lies hidden as a B-side, which was the case for some of the highly anticipated June comebacks. With that said, here are a couple of the K-pop B-sides we believe either had lead title track potential or should have replaced the single altogether.
EXO "Tender Love"
Okay, so nothing was particularly lacking in EXO's single "Love Me Right," but as I previously mentioned in my review for their repackaged album of the same name, it's an upbeat song which is very unlike EXO's style. Rather, the bass and brass infused track is what we are used to hearing from other acts, particularly their senior group SHINee. Since I had to first get over the fact that the cosmic ride of a song was indeed brought to us by EXO (you know, the same guys that sung about being ferocious wolves?), it actually took a couple of spins before the track could grow on me.
But what if the boys had came back with their funky retro track "Tender Love?" True, it still deviates away from their usual R&B and electronic sound, but the song follows a storyline that would be too perfect to pass up for a music video. The theme here is all about being stuck in the friend zone, and though it's one that is often played out to death, we have yet to see a music video from them which adhered to a plot and which isn't just an intricately shot choreography. Besides that, this feel-good tune would also suit the wave of summer comebacks and is capable enough to hold its own even without a video to accompany it. Recently, it gained even more exposure when it was featured in EXO's eye contact clip, released in honor of hitting 15 million views on their "Love Me Right" music video.
MBLAQ "I Know U Want Me"
MBLAQ came back as three with their single "Mirror," a symbolically dense and special song to the group. It's a beautiful ballad which speaks to a lover's betrayal or, in their present situation, a colleague's (or two!) departure. Because it is a ballad, however, it runs the risk of being too slow, especially in light of popular idol group Big Bang's latest club bangers. To remedy this, the group should have also considered promoting another song off of their mini-album, one with a catchy hook that would inadvertently lure listeners in. Very appropriately named for the job, "I Know U Want Me" does this nicely.
"I Know U Want Me" is a light and smooth jazz track that works well to balance the somber tone set by "Mirror." The lyrics are flirty and suave, yet as the song progresses into the chorus, the notes start to become sanguine. Think elevator music meets K-pop. As ridiculous as it sound, the boys make it work with their honey vocals and raps. MBLAQ is probably one of the few groups that can pull off this type of genre without eliciting some raised brows, and I expect no less from the trio who are working hard to reinvent themselves.
---
---
2PM "Jump"
I must give props to 2PM for coming back with the single "My House," which was written and arranged by their very own member, Jun. K. Once again, he proves to us that he is always trying to outdo himself, as this is not the first time he is responsible for producing the group's lead title track (see "Go Crazy!"). But as much as I admire his passion to constantly grow as an artist, maybe it is also time to hand the baton over to another fellow member.
Indeed, I could not help but be a little disappointed at the group's lackluster comeback. The boys have a reputation of churning out party hits, so of course, what else was I to expect? When they did not deliver, I looked for an impact — an oomph — but never found it. Not to say that I do not catch myself humming the song occasionally, I merely felt that there were much more promise in some of the other tracks on the album, namely in the penultimate number "Jump."
Written and composed by rapper Taecyeon, this is exactly what I was looking for from the boys. It's a mash up of different electronic sounds and unbridled vocals that will have any listener jumping in a mosh-pit-esque demeanor. The group probably knows this too and will use it to their advantage by closing with the dance track in a future concert, leaving concert-goers hyped for an encore performance. With the release of their fifth studio album, "No. 5," we can see that the members are lending more than just their vocals as they directly participated in the writing and composition process. Surely, 2PM is gradually proving themselves as a self-made group.
AOA "Luv Me"
Let me be the first to say that I absolutely adored AOA's comeback song "Heart Attack," written and composed by the infamous Brave Brothers. The members were able to each bring their charms to the table and, vocal-wise, I can't complain. It's really no wonder the music video was able to surpass two million views only a few days after its release.
Another strong contender for the position of lead title track though would have been "Luv Me," again, a Brave Brothers production off of their third mini-album. The track features the adorable giggles and chatters of the members as backdrop to the upbeat summer B-side, and the subtle oohs add a beachy feel to the already catchy "do you love me" hook. It would be a total shame if AOA do not follow up with their promotions with this lively pop track.
Sistar "Go Up"
Another well-known act that came back the same day as AOA was Sistar, who have been doing girl groups right since 2010. The quartet has successfully shown that they are sexy and sassy time and time again, and with this June comeback, they are no different.
Unfortunately, that's where their fault lies. It's sensual in its own right, and there is no denying the members can't belt a note, but their concept has become rather overdone. And like 2PM's comeback song, nothing absolutely amazed me in "Shake It," arranged and written by the music producer team Duble Sidekick. It is a typical Sistar song that makes use of brass loops, which ultimately makes it easy to mistaken it for another one of their many summer comeback songs, such as "I Swear" or "Loving U." I suppose that is what happens when you hire the same team to produce most of your songs.
This leads us to why "Go Up," the concluding track to the fifth mini-album "Shake It," should have been the lead track. Produced by YG Entertainment's producer mastermind Big Tone, it offers something new by implementing electric guitars and synths, yielding a captivating pop-rock track that is sure to be a hit at events like beach barbecues. In addition, as opposed to "Shake It," which at times felt more like a cheerleader anthem rather than a song, "Go Up" allows the girls to have more variation with their voices. "Go Up" definitely gives off a fun summer vibe, possibly more so than "Shake It" does.
---
---
Teen Top "Hot Like Fire"
As per usual, when Teen Top released the music video for their single "Ah-Ah," they of course had to tease listeners with another one of their tracks off of their recent EP "Natural Born Teen Top." Nevermind the rest of the video for "Ah-Ah," let's discuss the funky beats during the opening scene where the members size up the girls who walk into the diner.
The source of those funky beats can be found in Teen Top's starter track "Hot Like Fire." It's the direct antithesis to the creamy disco track "Ah-Ah" as this number applies elements of trap to an incessant synth line to create a wonderful blend of sounds. With lyrics that encourage drinking up and forgetting the present moment, it is no doubt a club banger. It is this exact high-spirited side to Teen Top that I miss hearing and hope to see more from in the future. Also, I can't be the only one who keeps hearing Super Junior's "Victory Korea" during the chorus, right?
BTOB "My Friend's Girlfriend"
BTOB released their first full-length album "Complete" on June 29, getting their comeback in just before the close of June. Unlike most other groups who opt to promote with their most animated song off of their album, a custom that is common around this time of the year, the group decided to come back with a reassuring ballad to listen to on a rainy summer day, "It's Okay." The selection paid off as for the first time in their four years since debut, the boys were able to rank first on various music charts, including Melon, Naver, and Mnet.
Could they have achieved the same feat had they promoted with another track? After giving the whole album a once over, I think so. Maybe it is because I am a sucker for all things old school, but "My Friend's Girlfriend" just spells out total win. Based off of the title alone, it is not hard to predict what the theme is about. Cheesy, yes, but it retains the '90s hip-hop sound backed by gospel vocals which will never go out of style. Not to mention, I see so many possibilities for an accompanying music video. "My Friend's Girlfriend" continues where their past hit "WOW" left off and, especially with the whole '90s revival that is all the rage these days, would make for a wise comeback song as well.
Do you have other June K-pop B-sides you wished could have been the lead title track? Share your picks in the comment section below and be sure to subscribe to the site and follow us on Facebook, Twitter, Instagram, and Tumblr to keep up with all of our posts.
https://kultscene.com/wp-content/uploads/2015/07/June-Kpop-B-sides-That-Should-Have-Been-the-Lead-Title-Track-Feat..jpg
768
1024
Shelley Foo
http://kultscene.com/wp-content/uploads/2018/02/KULTSCENE-LOGO-2018-TRANSPARENT-RED.png
Shelley Foo
2015-07-07 17:01:47
2015-07-07 17:01:47
June K-Pop B-Sides That Should've Been the Lead Title Track