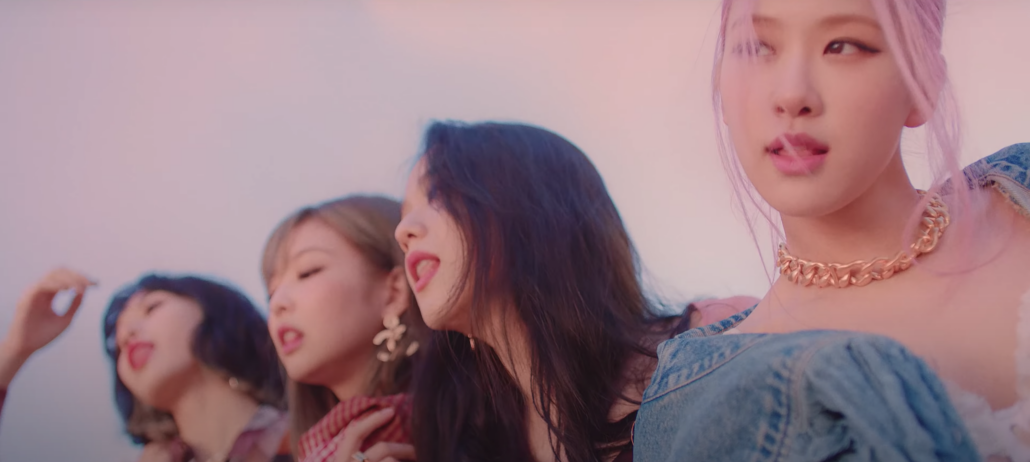 Pull the windows down. You're going 80 an hour on the freeway, and you and your friend just pulled into one of those long tunnels with endless rows of yellow, almost-strobing lights.
"What can we say?" Jennie sings, her trademark attitude audible even in a four-word question. She has a point—what can we say? We're 200 days into quarantine, at a point so deep in hopelessness that it has morphed into strained, almost shameful optimism. Like a faint, approaching light at the end of a dimly lit tunnel…
And suddenly, you emerge into the night. "We are the lovesick girls," the four women of BLACKPINK chant into the sky, and you hear it ricochet off of the clouds and airplanes and into your eardrums. It is the kind of stratospheric pop that makes us all feel warm and cold at the same time, like when you stick your torso out of the window of a fast car, cruising away from all of the bullshit and heartbreak you don't yet want to face. "But we were born to be alone / Yeah, we were born to be alone," they belt, letting the pain fray away like the seams of the thin sweater you're wearing to stay warm in the early fall dusk.
---
---
Perhaps one of 2020's defining releases, "Lovesick Girls" is a chanting, pulsing, screaming love letter to no one and nothing but our own aching hearts. For the four women, who have effortlessly kept a world of listeners on their toes for the better half of a horribly turbulent year, the track is a meditative, mind-blowingly impressive effort at blending the group's normally disparate "BLACK" and "PINK" sonic identities into one song. Instead of fearing the turbulence, they jump into it — head first, nosedive. The duality of BLACKPINK has never felt so uniform and coherent. It's comfortable, but daring. Familiar, but electrifying.
"Everyone eventually leaves / I've become numb to crying / Hurt over and over again," Rosé sings in one of her most pristine, emotionally powered vocal performances to date. Don't even bother denying it — no matter what "it" is and how much you think you're over it, you never really are. We're all "Lovesick Girls" in the end. Pull the windows back up, and go home. 
What are your thoughts on "Lovesick Girls?" Let us know in the comment section below and be sure to subscribe to the site and follow us on Facebook, Twitter, Instagram, and Tumblr to keep up with all of our posts.
KultScene is a writer-driven website dedicated to creating a platform where diverse voices' takes on K-pop can be heard. If you like this post and would like to see more by helping support KultScene's writers fund, please email us for more details.
https://kultscene.com/wp-content/uploads/2020/10/article.png
1146
2556
Kushal Dev
http://kultscene.com/wp-content/uploads/2018/02/KULTSCENE-LOGO-2018-TRANSPARENT-RED.png
Kushal Dev
2020-10-02 12:53:04
2020-10-02 12:53:10
Fast Take: BLACKPINK's "Lovesick Girls"