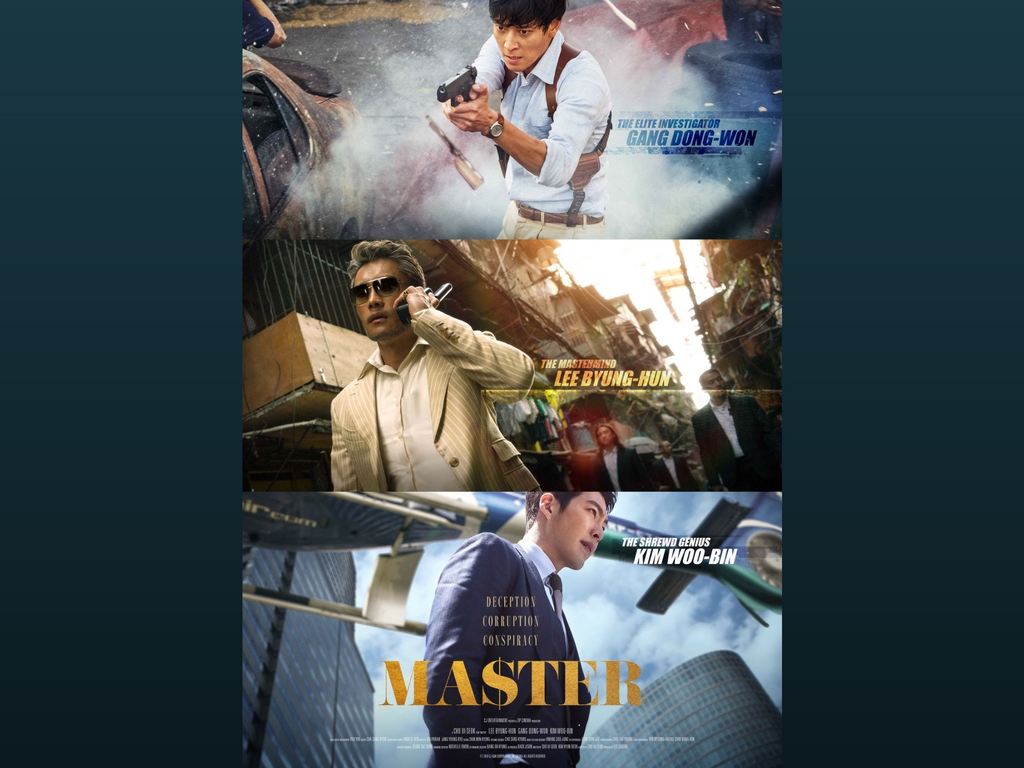 The most intriguing moment of South Korean film Master comes within the first five minutes, when actor Lee Byung Hun preaches to an audience about the capricious state of public opinion and naysayers. While it's a speech given by his character, charismatic con artist Jin Hyejang, it's as if Lee breaks character from his role in Master to speak directly to the viewer.
"Even if there's a person you trust and respect, when he becomes a subject of rumors and ridicule and is criticized by society, your trust in him slowly fades too."
Lee has been involved in multiple lawsuits relating to his sexual conduct, resulting in negative public opinion despite the fact that he has more or less successfully crossed over to the American film industry. Master isn't only about Lee Byung Hun (it also stars the talented Kang Dong Won and Kim Woo Bin), but it sure feels like the movie focuses quite a bit on his wrongdoings.
The question that hangs in the air throughout the film, thanks to this first scene, is whether the viewer can separate the actor from his role. Like many Korean action movies, the first hour is relatively slow and sets up the more blockbuster second half, giving the audience more than enough time to digest the film's opening dialogue. Lee is daunting as Jin the conman, a bit crazed even. He takes pleasure in controlling others, enjoys hunting, drinking what appears to be blood, and has little problem with victimizing others for his gain. Clearly this is a character and not the actor himself, but the first few lines pull together fiction and reality.
---
---
But just as villainous as Lee's Jin is, he has a counterpart in Kang Dong Won, a police officer intent on taking down the man robbing thousands of people. Both characters are extremely intelligent and sly, but Kang's detective Kim Jae Myung regrets the violence and pain that accompanies his investigation as he inches closer to capturing Lee. There's a sense of desperation from Kim as he hunts Jin; every moment that he doesn't have the conman in custody, somebody else is losing their livelihood and, occasionally, their lives.There are moments where Kim appears to be enjoying the game of cat and mouse, and the finale is positively cathartic, but the character repeatedly expresses distaste at how things are turning out. While Kang Dong Won is a terrific actor, Kim has no real backstory to support his intensity and overall this leads to the film feeling a bit lackluster. Master seems to have shunned the excess of sentimentality found in many Korean movies in favor of focusing on the action, to its detriment; it may as well be a study in stereotypes of cops and robbers.
While Lee and Kang are overpowering actors in their own right, their characters were written a bit flat and one sided. In comparison, Kim Woo Bin's Park Jang Goon is the only character to go through true growth in the film as he contemplates how his past and future actions affect those around him. He tries a bit of double crossing, and attempts to use his charm as a weapon, but it's never quite clear where his loyalties lie. Park is like the odd man out with the other lead two characters: he's a computer genius and the mastermind behind Jin's plans, but when he gets involved with Kim's police operation he seems at a total loss. (Neither Jin nor Kim ever seem baffled by what life, and the other, throws at them.)
---
---
For an action-crime film, Master is two hours of a solid face off between the law and the lawless. It offers Lee's nefarious Jin as an antagonist for audiences to revile while Kang's detective Kim is the eternal Good Guy, with Kim's Park serving as the only character with any real depth. Master failed at giving either of the primary two female characters, played by Uhm Ji Won and Jin Kyung, a whole lot to do, as most of the time the men were pulling all the shots. There's plenty of action, and some great surprises, but this cast deserved a bit better than the rather straightforward plot.
Master is directed by Cho Ui-seok, and was released in Korea on Dec. 21. According to Korean media, the film earned over $20 million USD in less than a week. It opens in the US & Canada on Jan. 6.
Have you seen, or do you want to see,
Master
? Let us know what you think! Share your thoughts in the comment section below and be sure to subscribe to the site and follow us on
Facebook
,
Twitter
,
Instagram
, and
Tumblr
to keep up with all of our posts.
https://kultscene.com/wp-content/uploads/2017/01/Untitled-design-6.jpg
768
1024
Tamar Herman
http://kultscene.com/wp-content/uploads/2018/02/KULTSCENE-LOGO-2018-TRANSPARENT-RED.png
Tamar Herman
2017-01-05 19:34:17
2017-01-05 19:36:56
Lee Byung Hun taunts the public and Kang Dong Won in 'Master'