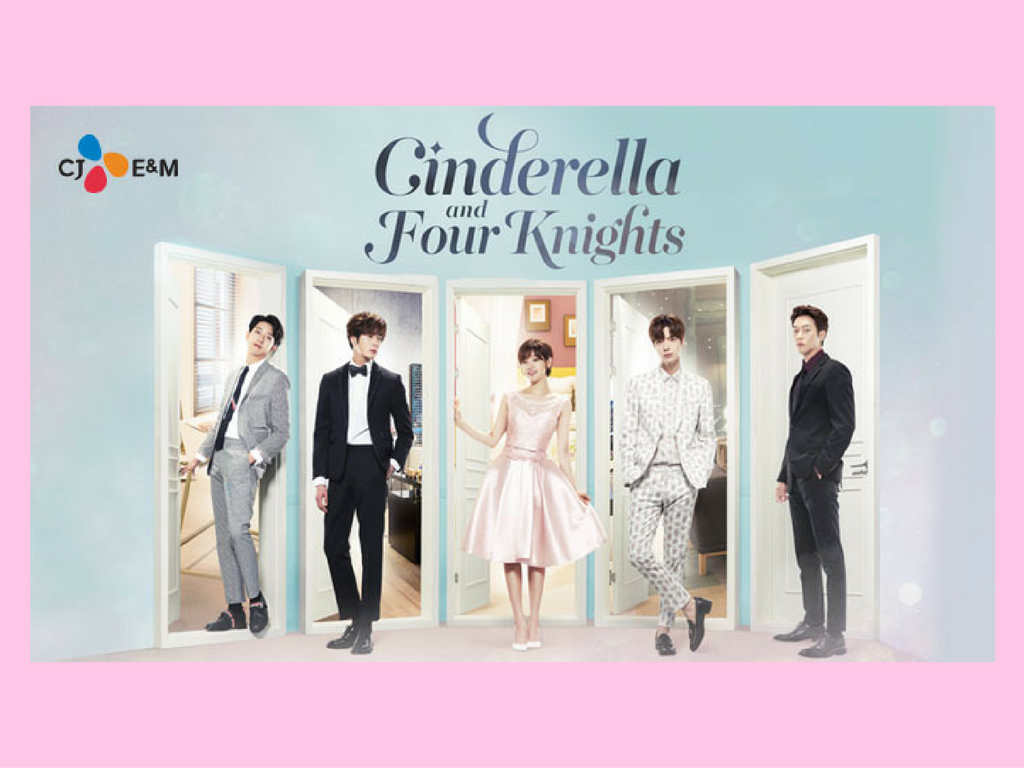 Ever since we watched the last episode of Boys Over Flowers, there's been a void in our hearts. Many K-dramas with their jaded chaebols and their flower boy cliques have tried to fill up the emptiness, but nothing really feels quite the same. But then came Cinderella and Four Knights with its three good-looking, rich cousins who hate each other and the relatable heroine who will help them be normal and better people. Yup, sign us up.
Starring Jung Il Woo(The Moon Embracing the Sun), Ahn Jae Hyeon (Blood), Lee Jung Shin (of group CNBLUE), Choi Min (Yong Pal) and Park So Dam (Because it's the First Time), Cinderella and Four Knights recreates a classic tale with a Korean twist. It follows Eun Ha Won (Park So Dam) as she moves into a fancy mansion with four handsome billionaires after being kicked out of her house by her mean stepmother. She takes on the job of improving the guys' personalities.
With only five episodes in, it's not definite who Eun Ha Won will fall for: the player Kang Hyun Min (Ahn Jae Hyeon), the dreamy Kang Seo Woo (Lee Jung Shin), the reliable Lee Yoon Sung (Choi Min), or the badass Kang Ji Woo (Jung Il Woo). However, us viewers are already setting our eyes on which knight we like the best. And to help you make a better informed decision on who to stan and make your heart race a little, KultScene has an exclusive clip of today's episode of Cinderella and Four Knights streaming on DramaFever. More on that later…
---
---
Have you already fallen for one of the knights? Are you still on the fence? Want a little help to reinforce that you've made the right choice? Or maybe we can just help you make it. Take our quiz and find out who your ideal Cinderella and Four Knights guy is:
…Of course it doesn't end with knowing who your Cinderella and Four Knights beau is. If you've been keeping up with the drama, you can't wait to find out what's next, and we're hooking you up with an exclusive clip for today's episode. Check it out here:
Are you watching
Cinderella and Four Knights
? How are you liking it so far? Share your thoughts and quiz results in the comment section below and be sure to subscribe to the site and follow us on
Facebook
,
Twitter
,
Instagram
, and
Tumblr
to keep up with all of our posts.
https://kultscene.com/wp-content/uploads/2016/08/Untitled-design-3.png
768
1024
Alexis Hodoyan-Gastelum
http://kultscene.com/wp-content/uploads/2018/02/KULTSCENE-LOGO-2018-TRANSPARENT-RED.png
Alexis Hodoyan-Gastelum
2016-08-27 11:00:03
2016-08-27 11:00:03
Who's your 'Cinderella & Four Knights' ideal guy? [QUIZ] [EXCLUSIVE CLIP]