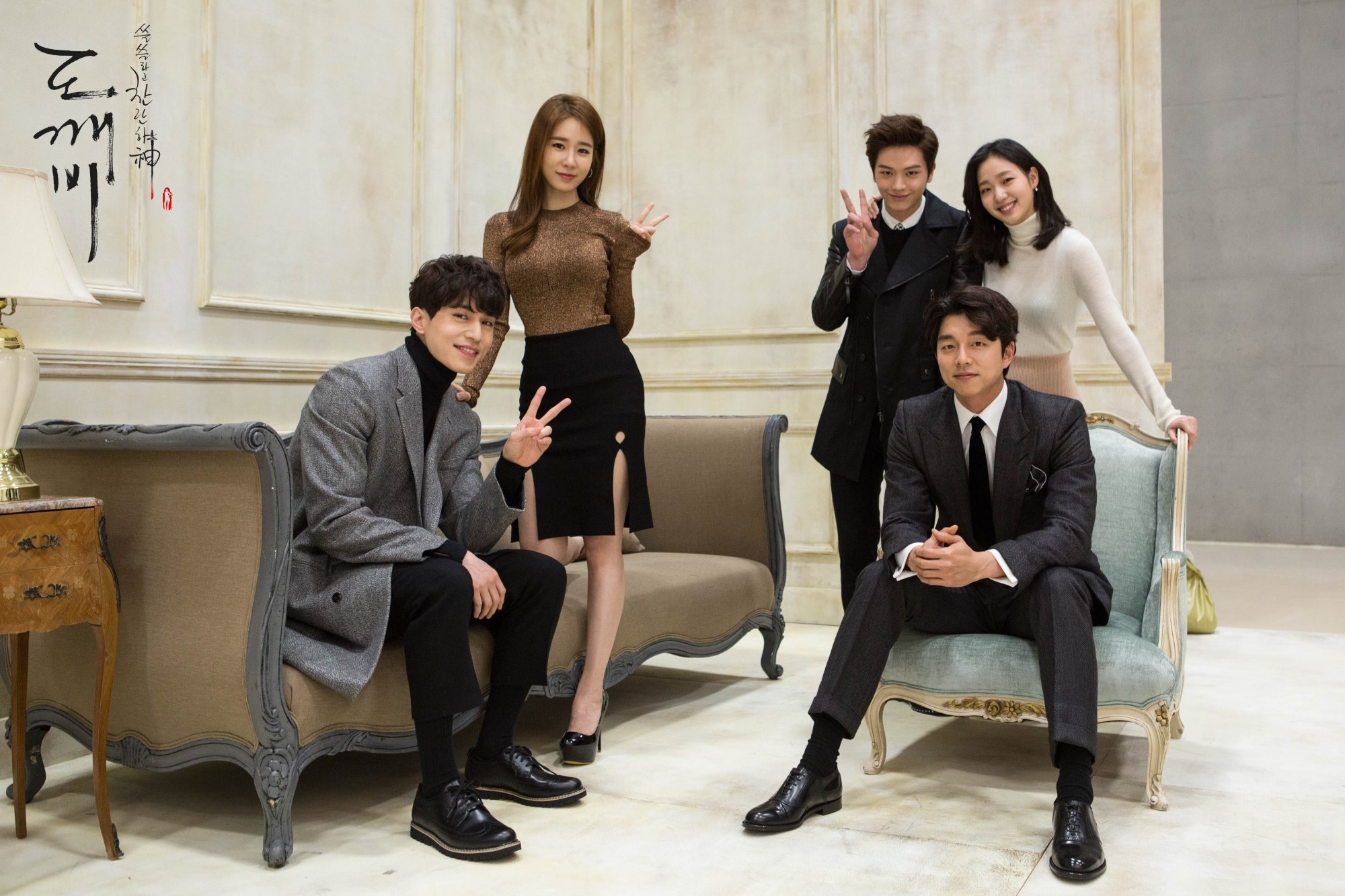 Swooping in at the end of the year, tvN's Goblin is quickly is on its way to being one of the most watched Korean dramas of all time. Only two weeks into its eight-week-long run, Goblinhas already surpassed this year's previously most popular K-drama, Descendants of the Sun (aka DOTS); Goblin's second week of ratings was on par with DOTS's fifth week.
The new series tells the stories of a goblin who has spent a millennium looking for his bride who will — wait for it– put an end to his life and suffering. It stars Gong Yoo, Kim Go Eun Lee Dong Wook, Yoo In Na and BTOB's Yook Sungjae as the motley crew of characters who have entranced K-drama fans internationally in a way no other show in 2016 has even come close to.
But why? Why is this one show, a short, 16-episode miniseries essentially, getting such a roar of approval from audiences who have already seen several well-received dramas of 2016?
Quality Truly Does Matter
To compare Goblin with other 2016 hits, like DOTS, W, Moon Lovers: Scarlet Heart Ryo, Cheese In the Trap, or Answer Me 1988, would make a lot of sense. But the fantasy romance has surpassed all of those and other popular dramas of the year, simply thanks to its amazing production value.
---
---
The show was partially pre-produced in a year when pre-production seems more like a curse than a blessing for some K-dramas. But knowing when and how to use pre-production isn't the only thing that showrunners have excelled at on Goblin. They have made the most of its limited episode-length and actually done something most Korean television shows struggle with: make a coherent plot without the need for unwarranted filler.
While it's only four episodes in, every moment in the drama seems to have a point. The stillness of the quiet moments, the hilarity of the bromantic fighting between the Goblin and the Grim Reaper, the main character getting bullied in school… Each moment on its own could be seen as a subplot keeping the two main characters apart and avoiding the inevitable moment when Kim Go Eun's Ji Eun Tak attempts to put an end to the Goblin's suffering. But none of it comes across that way, and the show's writing and cinematography stage the tale so perfectly that (in the first four episodes at least) every storyline runs into one another and nothing comes across as pointless scenes to kill time. The relatively small ensemble fills each episode fully while the scripting and storylines make viewers care for each character.

Kim Eun Sook has written numerous popular dramas, including Secret Garden, Gentleman's Dignity, The Heirs, and, yes, Descendants of the Sun but she's turned things up a notch for Goblin. While several of those shows were built to appeal to millions around the globe, it seems that Goblin's home on a cable channel has given Kim the environment to create a show and characters that are a pleasure to watch rather than poorly written characters portrayed by major stars. The multi-faceted characters are the best Kim Eun Sook have written, even more so than the fully-leshed out playboys from Gentleman's Dignity, and if tvN is what she needs to provide actors with wonderful scripts, she should never leave cable. The dark comedy is the best thing she's ever had her hand in.
The Actors
After the fiasco that was Cheese In The Trap, placing Kim Go Eun as the lead in any show seemed risky. Although Kim herself wasn't the problem with Cheese, she was attached to it and carried the weight of the show on her shoulders. But her portrayal of Ji Eun Tak hits all the right notes: She's a spunky high school student who has dealt with more than her fair share of hardships but strolls into Gong Yoo's Goblin's life like a burst of sunshine.
Gong Yoo, in turn, is providing his best performance to date as the stoic title character who goes from vicious warrior to adorkable "what if she doesn't like me?" bridegroom on a moment's notice. His chemistry with Kim, whose character is in high school, works because neither character's intensity overwhelms the other: although they're involved in an epic love story, there are still the individual quirks that make lovers attracted to one another.
---
---
Then, aside from the two leads (although it really feels like each of the quintet has some lead value), there's Lee Dong Wook and Yook Sungjae acting as the Moe and Curly to Gong Yoo's Larry. But each actor provides so much more to Goblin than just characters to act as foils to Gong Yoo's less-than-perfect hero. Lee's Grim Reaper brings the perfect amount of gravity to guiding humans to the afterlife, never taking pleasure in his role as intermediary between life and death but instead seeing it as penance for the life he himself cannot remember. His interactions with Gong Yoo's Goblin are tinged with a hatred, jealousy, and appreciation, and a pleasure to watch. (The bromance between the two supernatural entities is filled with some of the best K-drama moments of 2016.)
Meanwhile, Yook Sungjae is acting as the annoying little brother (or nephew) character for the show's titular character and doing his best to figure out why a Goblin and Grim Reaper live with one another. (And get his credit card back from Grampa…)
And after her mother's death and being raised by horrible relatives, Kim Go Eun's character finds support in Yoo In Na's Kim Sun (Sunny? Still unclear!) as an older sister mentor figure. Yoo In Na has had the least amount of screentime in the four aired episodes, but she's had a major impact as a flirty but serious shop owner looking for financial success and love.
The male-dominated show needed another woman for Kim to interact with, and choosing to go with the strong-willed, independent Yoo instead of the obvious choice of a high school classmate was a perfect decision by the showrunners. (Fans speculate that Lee and Yoo's characters also may have a wider connection than currently explored on the show, related to in the series' pilot and the Goblin's curse. We'll just have to wait and see!)
Production
2016 has proved that bigger isn't necessarily better, with well-funded K-dramas like DOTS and Moon Lovers not being able to deliver on well-written plots that matched their sizeable budgets. Goblin, which doesn't appear to be troubled by an excess of sponsorships, has taken the characters to autumn in Quebec and historic battlefields with some of the most beautiful cinematography coming out of Korea in 2016.
Combined with a soundtrack filled with appropriately haunting ballads, Goblin's setting is the perfect accompaniment for the plot and characters. While often considered lesser than the actors or screenwriters, Goblin's crew deserves a round of accolades for being able to put together what is one of the most perfectly created K-dramas of the year, if not decade.
Also, it's
extremely self aware for a K-drama. 
Only time will tell if Goblin lives up to the promise delivered in the first four episodes, but for now we're enthralled.
Are you watching? If not, it's available on DramaFever in the US. Share your thoughts in the comment section below and be sure to subscribe to the site and follow us on Facebook, Twitter, Instagram, and Tumblr to keep up with all of our posts.
https://kultscene.com/wp-content/uploads/2016/12/mug_obj_147969686725553367.jpg
1333
2000
Tamar Herman
http://kultscene.com/wp-content/uploads/2018/02/KULTSCENE-LOGO-2018-TRANSPARENT-RED.png
Tamar Herman
2016-12-14 08:25:48
2016-12-14 08:42:22
The magic of tvN's 'Goblin'