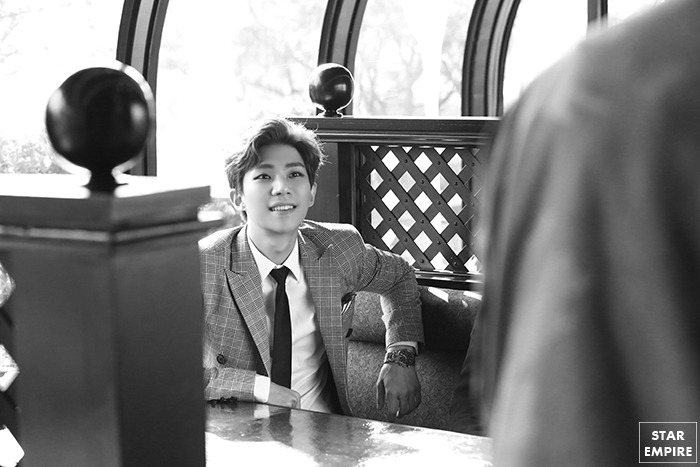 What makes you love a group? How do you choose a bias? Or is it in the opposite order? Do you unexpectedly stumble upon a member and then find yourself falling in utter and complete love, to later on being converted into that person's' actual band? Sometimes, that's the best way to do it. Discovering Kevin Kim and seeing him singing on "K-Pop: The Ultimate Survival" and thinking to myself, "Is this real life? Is that really him singing?" was a pivotal moment in my K-pop life, a definite game changer.
Not to be confused with Kevin Kim from U-KISS, JiYeop, better known as Kevin, is the oldest member and one of the main vocalist from boy band ZE:A. He was born in South Korea but he emigrated to Australia at the age of nine. While living in Australia, Kevin was extremely musically active, taking part in musicals and plays, such as "Aladdin," and was also a part of a choir that toured internationally, many stops being in Korea.
With the Korean music industry pumping out idol groups left and right, especially within recent years, not only is it hard for these new comers to make a name for themselves, but it has also become harder for older groups to stay afloat and relevant. There are multiple factors that come into play when it comes to making it in this industry, but some of the key ones are talent, exposure, and timing.
---
---
Kevin is a man of many talents. His vocals are smooth like honey; his dance moves are electrifying and full of pizazz. Moreover, he's fluent in English, which is a great asset to have when traveling, and, oh, he's also one good looking fella with a killer smile! He has all that going for him, but the only downside, which has lingered beside him throughout the years, is ZE:A's lack of exposure. The era that they debuted in, circa 2010 when groups like Teen Top, Infinite, and JYJ formed, definitely attributes to ZE:A's less than known status in the Korean music industry. Sometimes it's hard enough trying to keep track of a group that has five members, let alone the nine members that ZE:A has. Whenever you encounter a group that consist of that many members, as a whole, they may work together but it's almost as if the individuality of each member is stripped away from them.
ZE:A has been in the industry for almost six years now and even then there are still a lot of people who don't know who the individual members are. Most people who know of the group know them because of Kwanghee, who is known as the plastic-dol, and the actors Siwan and Hyungsik. Because of Kwanghee's comedic acts and the superb acting skills of Hyungsik and Siwan, some people don't realize that ZE:A consists of members of whom excel in singing and dancing, particularly Kevin.
Kevin's one of three main vocalists in ZE:A. You'd think that lines would be spilt up a little more evenly, at least between those three, but it almost feels like he gets the bare minimal. He has astonishing vocals and is a diverse singer. Kevin's singing style is relaxed and captivating. He has a buttery, smooth, tranquil, and polished voice. No matter what genre of music he sings, he always delivers. Not only are his vocal skills stellar but he has major moves! They're always intricate and precise. He may have a small frame but this guy will blow you away with his tremendously powerful dance moves. His kicks and arm flicks and hip thrusts just all move in the right way. If anything, Kevin should be dubbed the dance machine in ZE:A.
---
---
When ZE:A5 was created in 2013, a lot of people held their breaths in hopes that this was going to be Kevin's big break to gain popularity. The subunit didn't excel as hoped but it was a nice stepping stone for Kevin, considering there were only five members, which meant, more lines and more opportunities. Aside from taking part in composing a few of the songs on ZE:A's mini album "Voulez-Vous" (he also worked on ZE:A's 2nd EP "First Homme"), somewhere in the back of their minds, I'm sure the members of ZE:A and Star Empire (ZE:A's label) knew that Kevin could potentially be a golden ticket for them. There were talks that Kevin was finally getting his own solo, at this point, my heart was racing and the adrenaline was pumping because like others I thought "this is it, it's finally his time!" only to find out that this was going to be yet another subunit.
The project group was named Nasty Nasty, which included Nine Muses' members Kyungri and Sojin. Although we had hoped for a Kevin solo, the fact that he was the only male member in this trio almost became good enough. The trio received a lot of attention for their sexy concept, which raised a few eyebrows but for the most part reeled more people into learning more about this Kevin guy from ZE:A. With the exposure of being apart of ZE:A5, for those who only knew of the 'prime' members of ZE:A (Kwanghee, Siwan, Hyungsik, and Dongjun) and Nasty Nasty, these people are now able to see the hidden gem that Kevin is and the diverse talent that he's able to bring to the table.
Whenever ZE:A goes on a show, the host will usually ask Kevin to sing a snippet of whatever his current favorite song is, and because of that, he's been able to showcase his mesmerizing voice to a wider audience, one in which may not have known of him otherwise. Not only is he able to showcase his impressive wide vocal range on these TV appearances but because he's currently the host on "Arirang Hot Beat," in which he has a segment during the radio show where he does song covers, ranging anywhere from Korean trot music to old school R&B and hip hop to current day pop, he's able to capture hearts that way too. Every time Kevin opens his mouth to sing, whether it's one of ZE:A's songs or a Korean and English cover, he'll leave you in absolute awe from the moment he sings that first note, to his falsettos in between, down to the last heart tugging lyric.
The way that he effortlessly delivers the lyrics with his angelic voice, it's as if he's singing this song for and directly to you. The diversity in his voice, the way that he adapts to every song that he's asked to sing, his remakes and ad libs will have you weak at the knees. Whenever Kevin sings a song, it doesn't feel like he's singing yet another song but it feels like he's sincerely pouring all his emotions into it and delivers it so well that it truly feels as though he's only singing this song to you. There's something about that firm and silky voice of his that just speaks to your soul. His pleasant and soothing voice will easily and gently cradle you fast asleep. With such a full resume under his belt, why aren't there more people out there that realizes how insanely talented he is? As an artist, Kevin's already blossomed so much but there's still a lot left in him, so we can only cross our fingers, wait and hope that'll he'll become a household name one day!
Share your thoughts in the comment section below and be sure to subscribe to the site and follow us on Facebook, Twitter, Instagram, and Tumblr to keep up with all of our posts.
https://kultscene.com/wp-content/uploads/2015/09/Kevin.jpg
467
700
Tam Huynh
http://kultscene.com/wp-content/uploads/2018/02/KULTSCENE-LOGO-2018-TRANSPARENT-RED.png
Tam Huynh
2015-09-23 18:51:35
2015-09-25 05:18:37
Artist Spotlight: Kevin Kim (ZE:A)