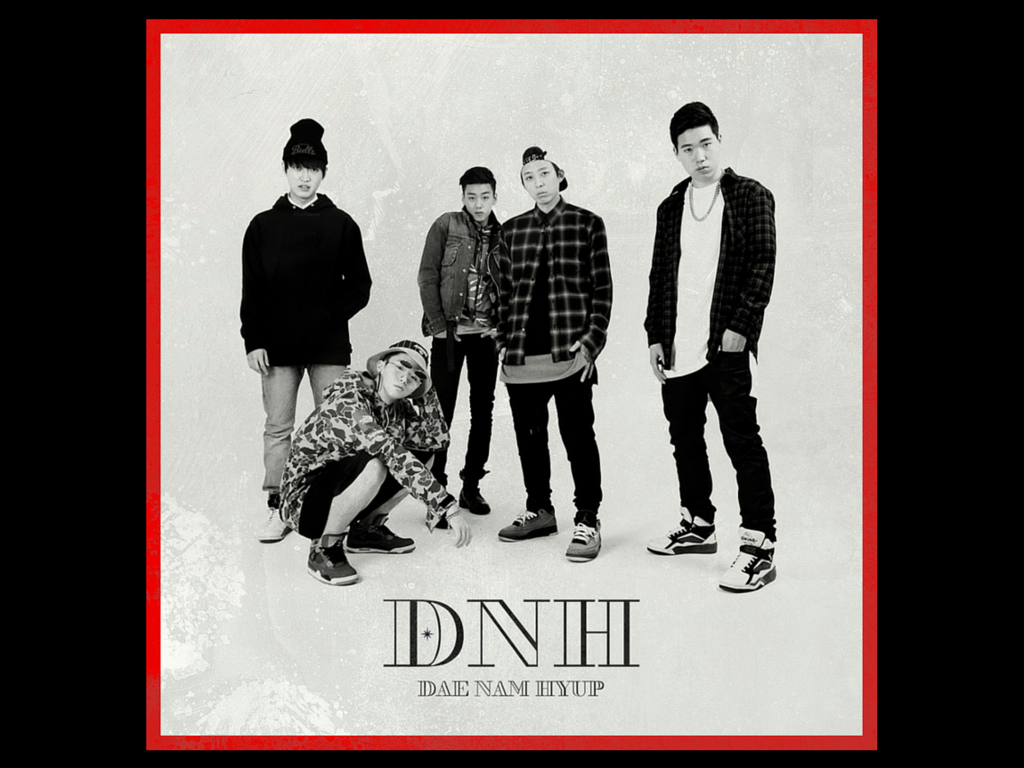 Nowadays, it's not just K-pop that benefits from the Hallyu craze. Korean hip hop has been on the rise for the last two years, with more and more rappers achieving international fame and recognition, like Beenzino, Dok2, and Simon D. After years of struggle, Korean hip hop is rapidly finding and cementing its way to the mainstream. And while there are big names out in the game killing it, you can't forget where they came from or the one's who are still underground. Hell, some of our favorite idol rappers started out in the underground in crews.
Such is the case of DaeNamHyp, short for "great southern joseon [Korea's last dynasty] hip hop cooperative," a Korean hip hop crew comprised of rappers and producers Marvel J, i11evn, DJ Snatch, Supreme Boi, Kyum2, Samsoon, ILLIPS, Iron (아이언), Kidoh, and Rap Monster. Yes, you didn't read that wrong. BTS' Rap Monster and ToppDogg's Kidoh are still part of the collective, even though they currently focus on their idol groups. Marvel J is the crew's leader, and their ages range from 28 to 21-years-old, with several '94 liner members. They have been active since 2009.
DaeNamHyp, or DNH, as a group, is not signed to any label and release their music the old fashioned way, through mixtapes. Their latest release 제 1차 회동 (First Meeting) features all of the members with the exception of Rap Monster (who was really busy last year with BTS) either rapping or producing. Their sound draws influence from Southern rap (the American South, of course) and krump. While their flows and rap styles vary, they all spit with a little aggression, dropping their verses hard. As opposed to the established rappers' albums, 제 1차 회동 lacks overproduction, and its rawness and emphasis on the members' rap is what gives the mixtape a fresh and authentic feeling.
Their rapping styles are best represented on the tracks where they show their clique love, DNH Cypher and Crew Love. As for sound, Do It and Uranus show the range of talent DaeNamHyp has, going from the hard hitting beats to the mellow, easy-going raps, but killing it either way.
However, hip hop crews are not like idol groups who are always together. It's more of a group of friends who share the same interests that sometimes release group material, but also pursue solo work. While Rap Mon and Kidoh are the only members currently in idol groups, Supreme Boi is a producer for Big Hit Entertainment and has worked with BTS before. He recently dropped the fresh and feel-good track Hawaii under Big Hit.
Iron, for his part, came in second place on the competition TV program
Show Me The Money 3
and recently delivered a rap verse for SHINee's Jonghyun's first solo project
Crazy
. He previously released his first mixtape
Ixtape
, and has featured on other artists tracks, such as Hyorin X Jooyoung's
Erase
. Iron has a deep, hoarse voice that is reminiscent of BIGBANG's T.O.P, but his spit and demeanor are far more aggressive than the BIGBANG member's raps. Moreover, Iron was once part of the original BTS lineup, but is now signed with Polaris Entertainment and is slated to debut in a group called HIVE.
Marvel J and i11evn are not as active as the previous members with their solo work, but do upload tracks to their soundcloud pages. i11evn is signed to Factory Boi Records and recently collaborated with Supreme Boi on Kidoh's
So Busy at 1 o'Clock
off of his solo mini album
Small Album
.
As mentioned before, Kidoh is part of ToppDogg, but missed out on a group promotional cycle in order to release his solo mini album Small Album last year. This release was different from what was previously seen by him under ToppDogg or DNH since he sang more than rapped. The title song, Taxi on the Phone, is a jazzy, piano and electric guitar lead song. His fellow ToppDogg member Sangdo featured on the track, but Kidoh kept DNH love flowing by having Iron appear in the music video playing a drunk. Moreover, So Busy at 1 o'Clock, with Supreme Boi and i11evn, sounds more like DNH material, being the only traditional hip hop track on the album.
Rap Monster, as A.R.M.Y. (BTS' fanclub) knows well, uploads solo tracks to
BTS' soundcloud
 now and then. His verses on these tracks show a less restrained Rap Monster, spitting about topics he wouldn't on his idol albums.
Samsoon and ILLIPS, for their part, are said to be currently inactive in DNH activities and haven't released any solo work lately. Kyum2 is currently in the army and has released solo songs, but requested that fans wouldn't upload them to any platform. Lastly, DJ Snatch is still grinding, uploading pictures to his Instagram in support of Supreme Boi's recent showcase and a video with Kidoh in a studio, which suggest he's still working with his DNH members. He is also expected to debut with HIVE.
DaeNamHyup's released their latest mixtape early last year and had a showcase in March. They also held a concert with Royal Cla$$ in the summer, attended by Kidoh but not Rap Monster. And in order to bring 2014 to a close, Iron, i11evn, Kidoh, Supreme Boi, Marvel J, and DJ Snatch performed at Speakshow with other rappers like Crucial Star, GEEKS, and Giriboy.
Even if some of the DNH members are in idol groups and others are pursuing their own solo careers, the boys always support one another by holding showcases together or featuring on each other's work. All of the members are still in their 20's, which, contrary to K-pop idols, means they're just getting started. Whether it's as DaeNamHyup or as solo acts, the crew are on their way to slay the Korean rap game.
What's your favorite DaeNamHyup song? Share your thoughts in the comment section below and be sure to subscribe to the site and follow us on Facebook, Twitter, Instagram, and Tumblr to keep up with all of our posts.
https://kultscene.com/wp-content/uploads/2015/01/Untitled-design1.png
768
1024
Alexis Hodoyan-Gastelum
http://kultscene.com/wp-content/uploads/2018/02/KULTSCENE-LOGO-2018-TRANSPARENT-RED.png
Alexis Hodoyan-Gastelum
2015-01-13 17:15:52
2015-01-13 17:15:52
Artist Spotlight: DaeNamHyup